Hey there! As an Amazon Associate, We earn from qualifying purchases. We greatly appreciate your support!
Learn More
Whether you're an amateur or a professional guitarist, some guitar accessories are a must have for everyone. We have selected 17 awesome must have guitar accessories that will make your musical journey a smooth ride. No matter what your style of music is or what genre you're into, these best guitar accessories will come in handy for all.
List of Must Have Guitar Accessories
Now without any more ado, let's check out this essential guitar accessories list.
1. Additional Guitar Strings
Nothing is more frustrating than having a guitar string break right in the middle of a performance. Save yourself the trouble by carrying an extra pair of strings. You also need to change your guitar strings regularly to maintain that sharp and in-tune sound.
Some of the best acoustic guitar strings on the market today include the Martin Lifespan SP and the Elixir Nanoweb HD Light. These are sure to last you longer than the average acoustic guitar strings while maintaining a clean and crisp tone.
For an electric guitar, you'll require much stronger and more reinforced strings than the ones used for acoustic guitars, especially for hard rock or heavy metal gigs where playing a badass solo is essential to compete against the spiraling ego of the lead singer.
The Ernie Ball Tone Pack is an ideal pack of electric guitar strings for those unsure of what tone they prefer. This pack offers three different sets of strings, each one varying from the other in terms of tone, output, and stability.
Other high-quality and ultra-strong electric guitar strings include D'Addario XL Nickel Wound Strings and D'Addario NYXL Nickel Plated Strings.
On the other hand, D'Addario Pro-Arte Nylon Strings (EJ45) is one of the best-sounding strings on the market for classical guitar.
2. Additional Guitar Picks
All guitarists know the pain and suffering that they have to go through to find their lost guitar picks after they've been sucked into an infinity vortex that looks like Mick Jagger's mouth. To avoid such a hassle, you should always have plenty of picks handy at all times.
A few inexpensive packs of picks that you should consider having include the Dunlop Tortex Standard Picks Sample Variety Mix Pac, D'Addario DuraGrip Guitar Picks, and the Fender Premium Picks Sampler. They're all available in a variety of thicknesses for you to pick from.
You should go for heavier-gauged picks for shredding or for a generally heavier sound. However, you should go for a lighter-gauged pick for acoustic playing or strumming.
Also Read 
If you are confused to choose the right guitar pick, this article provides a complete guide on guitar pick thickness.
3. Electric Guitar Cables
Unless you're planning on performing in front of a clairaudient crowd, you're definitely in need of some electric guitar cables so that you can plug them into an interface or amplifier. While some cables provide slight advantages in terms of durability and noise, there's no need for expensive cables as most guitar cables sound almost the same.
The Fender Deluxe 10′ Instrument Cables are a cheap and reliable option that will get the job done. They also come in a variety of length options for your convenience. Just make sure that your guitar cable is long enough for the rehearsal room or the stage you're performing on.
4. Guitar Pedal
a) Pedal Tuner
Pedal tuners are really essential guitar accessories for acoustic, electric, and bass guitar players. One of the best pedal tuners is the TC Polytune 3 Mini Pedal Tuner. It's perfect for beginners who often face problems in setting up the tone in polyphonic mode. It lets them tune up all guitar strings at once.
b) Drive Pedal
Drive pedals are essential guitar accessories. Many professional guitarists find the BOSS Super Overdrive Guitar Pedal to be the greatest of all drive pedals. It's because both beginners and advanced guitar players can easily use this. It can generate warm, natural distortion while balancing the subtle nuances of your picking technique.
c) Delay Pedal
Delay pedals are necessary for making the chorus, phaser, and sound cleaner. You can easily do that with the MXR Carbon Copy Delay Pedal. These delay feature modulation controls enable you to emulate tape echo tones. No wonder why it's considered the best compact analog delay pedal.
d) Looper Pedal
You'll need to use a looper pedal if you want to get amazing at playing guitar. The BOSS RC-1 Loop Station will let you do that with ease. It has an easy-to-operate functionality, as well as a display to keep tabs on the current loop mode. Overall, it's the best one for all sorts of guitarists.
5. Guitar Amp
Guitar amps are cool accessories for guitar players. They come with so many sounds and cool effects, as well as different amp tones to experiment on. The Roland Micro Cube GX is one such amp that will let you do that efficiently.
This compact guitar amp can provide you with an impressive 8 COSM amp tones including extreme, classic, stack distortion, and acoustic. It's equipped with a 5-inch speaker. It mainly runs on battery or AC power.
Also, from this amp, you'll have 8 FX like delay, flanger, and reverb, as well as a memory function, which will let you save your own settings.
What you'll love the most about this device is it features an i-Cube link jack. Thanks to its addition, you'll be able to connect it to your iPhone, iPad, iPod touch, and Android devices. Also, it has a record out you could plug into a USB audio interface, but there is no direct computer/USB connection.
Overall, it's inarguably one of the most highly recommended and the best guitar accessories for beginners.
Related Article: 
If you need a good stand for your amplifier, check out our buying guide on guitar amp stands.
6. Guitar Headphone Amp
Headphone amps are needed the most, especially if you're residing in an apartment with either your friends or family. It's really difficult to play the electric guitar at full volume if you're in that type of living situation.
With the help of headphone amps, you'll be able to play the guitar as much as you want without disturbing your neighbors or family, no matter how high the volume level is. Headphone amps are quite easy to use, as they're small in terms of size. All you have to do is connect it to your guitar and plug in your headphones.
The VOX AP2AC Headphone Amplifier has been in the top position for a long time. It offers 7 types of amps such as classic rock clean tone, metal, and more. Each type comes with an amazing unique tone.
Overall, it's one of the finest electric guitar accessories for practice for both beginners and expert guitarists.
7. Headphone
If you prefer to play guitar with a guitar headphone amp, then you need to purchase a decent pair of headphones. Most guitar headphone amplifiers utilize a standard 3.5-millimeter jack, so you can stay assured that you won't face much problem finding the right ones.
However, one thing you should be careful of when shopping for headphones is the quality. You do not want to buy yourself headphones of cheap quality, no matter how easy the price tag goes on your budget. It's because they stop working only after a few months of use.
We suggest that you purchase the Audio-Technica ATH-M50x. In terms of quality, these headphones are the best you can get your hands on. Though they're pretty expensive, their sound quality and build are excellent.
They feature a professional-grade earpad and headband. They can deliver extra durability and comfort. Overall, they're great for beginners and advanced players alike.
8. Guitar Tech/Tool Kit
As a guitar player, you'd already know that you'll be requiring tools and to preserve those tools you'll need a tech/tool kit.
A guitar tool kit is useful for keeping many guitars' must-haves including a string cutter, tuning pegs or string winder, polishing cloth, hex wrenches, screwdrivers, etc. Shortly speaking, it'll help you keep everything you'll need to use with your guitar.
If you don't know which guitar tech kit is the best one for you, then stop looking because we have the one we think will benefit you the most: The Ernie Ball Musician's Tool Kit. This tool kit is perfect for all types of guitarists.
It's an all-in-one instrument care system. It features all of the basic things a guitar player will need the most for changing guitar strings and setup works.
It even includes a handy carrying case. Therefore, you can stay assured it'll be able to withstand serious impacts when you're traveling.
9. Guitar Cleaning Kit
Guitar cleaning kits are one of the very few things every guitarist needs. From beginner to pro, every guitarist has to take care of their instruments.
The only way they can maintain their perfect condition is by using a guitar polish and cleaner. The market is full of incredible guitar cleaning kits that will assist you in cleaning and protecting the guitar and its accessories.
We recommend that you look for the Jim Dunlop System 65 Guitar Maintenance Kit. This kit comes with everything you'll need in order to keep your guitar in the perfect shape.
It contains five cleaners for the guitar's body, neck, and strings. Moreover, it features a micro-fine fret polishing cloth, two 100% cotton cloths, and care instructions. All of these care products are great at keeping your guitar safe from corrosion and extending its longevity.
10. Guitar Capo
Let's say you're stuck in a band with a singer that barely has a 2-octave vocal range, you're going to have to change your chord shapes just so you can match the singer's preferred key.
Enter the capo, a simple yet effective tool that you can place on any fret of your guitar and it will let you play multiple songs while having the same chord shapes you're used to.
Guitar capos are extremely important and essential guitar accessories to possess and are super cheap, so do yourself a favor by getting one, at least until you find a vocalist with a formidable vocal range.
A great choice for you to buy is the Shubb S1 Stainless Steel Capo. You can use this capo for most acoustic and electric guitars, or even for some bass guitars. Also, Shubb has some other versions for classical and 12-string guitar.

11. Clip-On Tuner for Guitar
Whether you're an advanced or a beginner guitarist, you should always have a tuner handy at all times. A clip-on guitar tuner is a very affordable and accurate option that you can use. Just clip the tuner onto the guitar's headstock and observe the note displayed on its screen when you strum a string.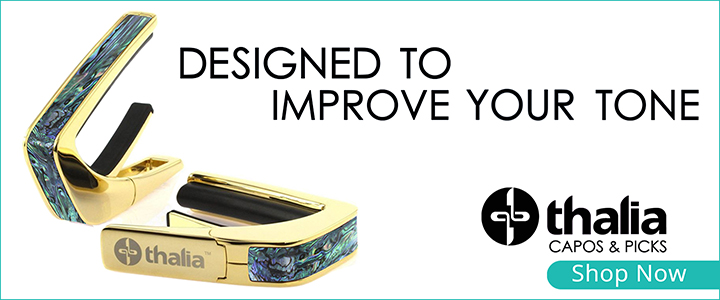 How exactly do they work? The clip-on guitar tuner senses the vibration produced by the string and then translates it into a readable pitch.
A couple of very affordable and efficient clip-on tuners that you should try are the Snark SN5X Clip-On Tuner and the D'Addario Accessories Guitar Tuner. Both models have a high-definition display and a metronome mode that will help you in your practice. You can also utilize clip-on guitar tuners for pretty much all other fretted instruments.
12. Guitar Strap/Strap Lock
Guitars are pretty heavy and you most likely have to be standing up when performing on a stage, which means that you'll have to add a guitar strap to your list. A strap will help you hold your guitar at a certain height while playing. You can adjust the strap to have your guitar hanging at the height that you prefer.
The Ernie Ball Imperial Paisley Purple Jacquard Guitar Strap is a cheap, durable, and comfortable strap that you can buy. The length of this strap can be adjusted anywhere from 41″ all the way up to 72″.
However, if you're looking for a more high-quality strap, the KLIQ AirCell Guitar Strap will offer comfort with a stylish and professional look. The KLIQ AirCell strap is 3″ wide and is adjustable from 46″ to 56″ long.
Now, if you want to demonstrate some showmanship and entertain the audience with some guitar spins and flips, you're going to need some strap locks because you don't want to experience the dreaded look on everyone's face when your strap is suddenly undone and your axe is sent flying from your hands and into someone's face.
A guitar strap lock will help protect the well-being of everyone around you by keeping the ends of your strap securely in place so you can flip and spin your guitar without any difficulty. The Guitar Savers Premium Strap Locks and the D'Addario Accessories Universal Strap Locks are great choices for you to choose between.
13. Guitar Stand
The mere task of finding a place for your electric and acoustic guitar can be quite difficult to accomplish. However, you can make it simple enough just by getting a guitar stand. Guitar stands are one of the most crucial acoustic and electric guitar add-ons one must have.
They not only help you save a lot of space but also set down your guitar like it's in an exhibition. They'll protect your guitar from accidental falling. Besides, you'll get all of these advantages at an extremely affordable price.
We highly recommend that you spend your money on the Amazon Basics Guitar Folding A-frame Stand. This stand is one of the best guitar accessories equipped with 3 adjustable width settings.
Also, you don't have to waste your energy on setting this guitar stand up, as it comes fully assembled. Overall, it's one of the greatest stands for all levels of electric and acoustic guitarists.
14. Gig Bag/Guitar Case
Gigbag or guitar case is one of the most important guitar accessories every guitar player should have. Without them, they'll have a hard time carrying the guitar when traveling.
Many players prefer to use a gig bag as they're less robust and can be carried on the back like a backpack. On the other hand, guitar hard cases are capable of providing the guitar more protection than gig bags.
Whichever you choose, both of them are good choices for carrying your guitar, as well as keeping other necessary equipment like extra guitar strings, picks, tuners, etc. at bay.
If you think a gig bag is the best option for you, look for the Gator Cases Pro-Go Ultimate Gig Bag. It comes padded and contains an adjustable 3-point interior padding system to protect the headstock, neck, and body. It's the best option for acoustic guitar players.
Contrarily, if you want to use a guitar hard case, you should get the Gator Molded Flight Case. It features a soft-grip handle so that you can enjoy a comfortable carrying experience. It's best for electric guitars.
Related Post 
If you're looking for a gig bag that offers some of the advantages of hardshell cases without being too heavy or bulky, check out our full review on Best Gig Bag for Acoustic Guitar.
15. Pick Holder
By keeping track of your picks, you reduce your chances of always having to buy new ones. Think about it, instead of wasting all your money on an endless supply of picks, you can just buy a holder for the pick that will eventually pay for itself considering that you'll no longer be buying guitar picks on a regular basis.
Not that pick holders are expensive anyway. There isn't a specific quantity of picks that a pick holder can keep, it all depends on the thickness of your picks.
A very cheap and basic pickholder that you can use is the Dunlop Series 5005 Pick Holder. This pick holder is made of durable plastic and is loaded with a spring that will keep your picks ready at all times. Moreover, it features an adhesive backside that can be used to mount it close by while you're playing guitar.
The Dunlop holder has the capacity to store around 5 to 10 picks that would have otherwise been devoured by a black hole in deep space, never to be seen again.
16. Foot Stool/Foot Rest
Footstools or footrests are essential guitar player accessories mostly ideal for classical and studio electric players. Playing guitar while sitting is pretty much hard to do so, especially if you're playing for a long session.
Footrests will keep your posture balanced while you're playing guitar for long sessions sitting. They'll offer you different height settings. Besides, they're foldable, so carrying them from place to place is trouble-free.
So, if you want to get a footstool that will provide you with all these benefits, we urge you to buy the On-Stage FS7850B Guitar Foot Rest. It's perfect for acoustic, classical, flamenco, and electric guitar players.
It's a durable footrest constructed from solid iron. It has 5 height positions. You'll be able to adjust all of these positions with ease. It even comes with a non-slip rubber surface in a high-quality finish. Overall, it's undoubtedly one of the best classical guitar accessories.
17. Guitar Slide
If you love creating perfect, soothing blues music, then you must immediately get yourself some guitar slides. They'll help you in creating an almost unlimited number of notes. With them, you won't ever be restricted by the number of frets anymore.
However, guitar slides are of different sizes and shapes, alongside materials. So, choosing them in accordance with your own requirements is very much a tough job. This is why we suggest you to the guitar slide set from Be Valiant.
This guitar accessory set comes with 3 slides, which all are made of three different materials; glass, steel, and brass. Apart from being equipped with 3 slides of 3 different materials, it also features 6 guitar picks and 4 finger picks.
No wonder why blues players choose this set most of the time. Overall, it's indeed the best one for them, especially if they're starting out for the first time.
Importance of Guitar Accessory
If you're a fellow guitarist then you're aware of the gazillions of conveniences these little goodies will provide. However, you're probably wondering do I really need all these accessories? We want to assure you that we carefully picked the items to help you play better while keeping your guitar in a good shape.
Well, wouldn't it be wonderful to get a bunch of accessories at an affordable price that will not only help you learn better but also keep your instrument in better shape?
The best part is, most of these accessories are quite inexpensive and you don't need to make a dent in your wallet to get them. Do get yourself these accessories and we bet you won't regret the decision.
Does a Guitar Player Need All of these Accessories?
There are tons of different accessories out there and you can spend hundreds of dollars on them. Now the question is, do you need 'em all? Perhaps not. However, we have listed some of the most essential guitar accessories that will benefit most guitarists across different levels of expertise and musical style.
We can assure you that these accessories will at the very least help you take fine care of your guitars with little effort and overall make your life a bit easier.
Also, they'll benefit beginners by making learning guitar easier and to, some extent, enhancing their playing skills as well. You can also add a few other accessories based on your playing style or requirements.
Final Words
There are a plethora of best guitar accessories out there and it's hard to pick only a few from them. Each of them has its unique feature and purpose that every guitarist will love for sure.
We have selected 17 essential guitar accessories so that you can make the most of your musical endeavors. They'll surely make the guitar-playing process a lot easier and hassle-free. Do give them a try and get ready to rock on!