Hi there! When you buy through links on our site, we may earn a small commission at no extra cost to you. We greatly appreciate your support!
Learn More
Musicians love their gear and you can be sure that guitarists simply adore them. Have you heard about GAS? Not the state of matter but what guitarists and musicians alike call the Gear Acquisition Syndrome. 
Guitarists are the most appreciative people you can give gifts to. Even if it would be a simple tuner or a set of strings you can be sure that all of it will be put into good use.  
Having said that, here are some of the best gifts for guitar players.
Gift Ideas For Guitar Players Under $25
1. Pick Geek TRIO Premium Guitar Picks
The Pick Geek TRIO Premium Picks is best suited for a new and even for a versatile guitar player. A beginner can check, test, and choose from 50 different picks where it can also be convenient for some musicians who play the six-string, the bass, and acoustic guitars at the same time.
This set is full of great quality picks with a variety of gauges that should fit well on any guitar style. With the right thickness and shape that fits your fingers properly, you can play a lot of genres with this set for sure.
They also offer free acoustic and electric guitar courses for both beginners and experienced players with every purchase.
Check Price And Reviews on Amazon
2. Ibanez MTZ MTZ11 Quick Access Multi Tool
Guitarists are masters of DIY. They tweak and tweak until they get their desired tone or the right action for their fretboard. Having said that, this compact size Ibanez Multi-Tool should be more than enough for their playing.
It's got 11 of the essential guitar setup tools that a guitar player would need to fix their gears on the fly or during downtime. Personalization and customization are always a musician's calling card.
Check Price And Reviews on Amazon
3. Pick-a-Palooza DIY Guitar Pick Punch and Gift Box
Talk about unique gift concepts, then a pick puncher should be on top of your list. This DIY Guitar Pick Punch should be your best bet as a Christmas gift for guitar players.
While there are a lot of readymade plectrums/picks, some prefer to make their own. This gets their creative juices flowing and adds personalization to their picking game. Plus, they can make their picks with the material that they want and need for their style of playing.
Check Price And Reviews on Amazon
4. Music Nomad Premium String Care Kit
Most musicians take good care of their gears with a passion. For one, they aren't cheap and secondly, guitars are more than just instruments but already a part of their lives.
Getting the Music Nomad's premium three-piece care kit should help with their playing as it would lead to clean and well-lubricated strings. Clean strings lead to great solos and the guitar's tone would be maximized.
Check Price And Reviews on Amazon
5. Junlin 3-in-1 Acoustic Guitar Sound Hole Cover
The first entry for our gift ideas for guitar players is the Junlin 3-in-1 Acoustic Guitar Sound Hole Cover. This one is best for acoustic guitar players especially for those who perform as a profession.
Soundhole covers make sure you reduce feedback as you adjust your volume when you perform so your music is heard the way that it should be. This particular guitar soundhole cover triples as a humidifier and dehumidifier too!
Check Price And Reviews on Amazon
6. Guitar: The World's Most Seductive Instrument (Book)
Looking for great gifts for guitar enthusiasts? Then this illustrated full-color book should be your best bet. It's not only going to be informative but also quite entertaining.
Learn about iconic musicians, guitarists, and artists to build your overall music knowledge the right way. Guitars are indeed the world's most seductive instrument and knowing the roots of the industry is just as important as knowing how to play.
Check Price And Reviews on Amazon
7. TENOR String-Tie Tailpiece BridgeBeads Set for Classical or Flamenco Spanish Guitar
The TENOR String-Tie Tailpiece BridgeBeads Set is not just functional but also stylish. String-ties make restringing a quick and easy task and not a bore to do. Plus, the design gives your classical guitar some added flair.
This accessory also improves and enhances the sound of your classical or flamenco guitar by focusing the tension at the right section of your guitar which is the end of the bridge.
Check Price And Reviews on Amazon
8. Guitar Tab Manuscript Paper Spiral-bound
The Guitar Tab Manuscript is perfect for those who write music. Sometimes, musicians love to scribble some original compositions and since this booklet comes with tablature staves, chord grids, and fretboard diagrams, then writing compositions should be a breeze.
This is not just for advanced players but for those who are starting out as well, to provide them a way to write notes early on as that is sometimes the biggest challenge even seasoned musicians face in their careers.
Besides seasoned musicians, this is also an outstanding gift for both guitar teachers and learners when they write music for giving or taking lessons.
Check Price And Reviews on Amazon
9. D'Addario Varigrip Hand Exerciser
The D'Addario Varigrip Hand Exerciser is the perfect gift for beginner guitar learners. This creative and problem-solving tool should help build the strength to wield a guitar and at the same time dexterity and familiarization for a guitar's feel.
That's not all, this simulator is adjustable to cater to the tension that you want or need to exercise on. It can be a great practice tool when you're not with your guitar anywhere you may go.
Check Price And Reviews on Amazon
10. Best Music Stuff Guitar Cheatsheets Bundle
Speaking of beginner guitarists, this pocket-size reference should inspire and educate your budding musician. Learning the chords should be a priority if you're still learning the ropes for guitar playing.
Fundamentals are essential if you're going to develop skills fast. Knowing the fretboard should be key for soloing and being a decent rhythm guitarist overall.
This bundle includes three laminated 6×9 inches cheatsheet of guitar chords, scales, and triads. This double-sided pocket reference is one of the essential presents for guitarists of all levels.
Check Price And Reviews on Amazon
11. Fender Play Instructional: Learn to Play Guitar Lesson Platform for Beginners
Another great gift for your budding guitarist is this prepaid gift card for an online guitar lesson, provided by the most trusted brand in music, Fender. This 3-month prepaid lesson should be enough for a beginner to hone some much-needed fundamentals. However, the Fender Play subscription is also available for a 6-month and 12-month period.
This set of lessons employ proven micro-learning strategies to develop guitar playing fast. It also includes a vast library of songs from different genres so the learner might never get bored.
Check Price And Reviews on Amazon
12. Smartphone Guitar Capo | Android and iPhone Compatible Dock Headstock Neck Clamp
Best Gifts For Guitar Players Under $50
13. Hercules GSP38WB Mountable Acoustic Guitar Wall Hanger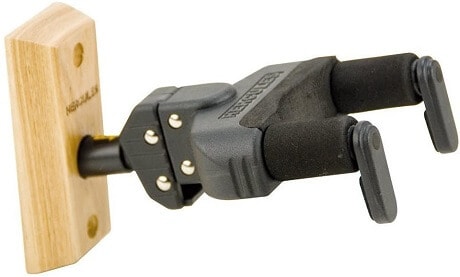 Good guitarists who play their guitars frequently know that the best way to keep and store it at their hand's reach is by hanging them. So we advise that if you know one, then you present them this Hercules Mountable Guitar Wall Hanger.
This attractive wall hanger is made of fine wood and adjusts by rotating automatically if you're going to hang up a bass or six-stringed guitar. The auto grip system should securely lock in your instrument so you're fully confident to hang it up whenever you're not in session.
If you need to know some tips, tricks, and safe methods to hang a guitar on the wall, you can learn different ways here.
Check Price And Reviews on Amazon
14. Korg TM60BK Tuner and Metronome Combo With Clip On Microphone
Speaking of the essentials the Korg TM60BK Tuner and Metronome Combo is a great choice for guitar lovers. Tuners are a versatile and useful tool for guitarist performers and casual players alike.
They are useful for quick and accurate tuning of your instrument whenever and wherever you may need to. On the other hand, Metronome is an awesome tool for speed and rhythm training.
While there are applications nowadays, those software aren't that accurate and can get affected by other external noises. But Korg Tuner & Metronome Combo is tried and tested as one of the best guitar related products out there.
Check Price And Reviews on Amazon
15. Ernie Ball Musician's Tool Kit
Imagine the delight of a guitarist should you gift them Ernie Ball Musician's Tool Kit. This instrument tool kit has got it all! Everything a musician would need to tweak not only guitars but other musical instruments as well.
It's got a string cutter, polish cloth, a stainless steel ruler, peg winder, wrenches, and a 6 in 1 screwdriver. Throw in a fretboard conditioner, instrument polish, and a string cleaner and you're all set.
Check Price And Reviews on Amazon
16. Gruv Gear FretWraps 3-Pack String Muters
Talk about exceptional gift items for guitar lovers, these Gruv Gear FretWraps 3-Pack String Muters are essential for clean recordings or training sessions. While most muters or string dampeners are employed by advanced players, beginners may also use them to cut overtone and unwanted resonance during training as they learn the craft.
These are essential for lead guitarists so dead strings stay muted and you hit the right tones at the right time.
Check Price And Reviews on Amazon
17. Levy's Leathers Right Height Guitar Strap
Levy's Leathers Right Height Strap is a unique kind of strap for all types of guitar players. It's got a simple pull-tab for quick and easy height adjustments and has a split body type to best position it on your shoulders.
This strap is easily adjustable from 43- 57 inches for a variety of playing styles. Right height strap handcrafted in Canada from another powerhouse of guitar accessories manufacturer, Levy's Leather. This one is characterized by a black garment leather and natural suede back.
Check Price And Reviews on Amazon
18. The Beatles Complete Chord Songbook- Spiral-bound
The Beatles Complete Chord Songbook includes chord symbols, chord boxes, and complete lyrics of all 194 songs sung and written by The Beatles. This professional musician edition (spiral-bound version) is easier to use for learning or playing songs and the best collectible for any guitar teacher, student & skilled guitarist who loves the Beatles.
This must-have book would be a useful gift for a fan who knows Beatles music by heart or someone who is learning guitar and wants to learn some of the most appreciated songs from one of the greatest bands of all time.
Check Price And Reviews on Amazon
19. Ernie Ball Power Peg Pro – Battery Powered Peg Winder
The next product on our cool gifts for guitar enthusiasts is the Ernie Ball Power Peg Pro. Winders are best to quickly restring your guitars and get them in tune real fast.
This battery-powered peg winder, in particular, winds your strings 80% faster than if you do it by hand. It comes with a power adapter as well as rechargeable batteries. What's best is that it should fit most tuning keys.
Check Price And Reviews on Amazon
20. VOX AP2AC amPlug 2 AC30 Guitar/Bass Headphone Amplifier
This versatile VOX AC30 amPlug 2 Guitar/Bass Headphone Amplifier is up next on our list of unique gifts for guitarists. This tiny lightweight amp is a great way to play and practice guitar quietly without disturbing others but listen to your tunes with style and clarity.
Works well for both the frequencies of bass or electric guitars and has several models to choose from for different styles like blues, classic rock, metal, lead, etc. You should have no issues carrying it around for convenience and listening sessions on the fly.
Check Price And Reviews on Amazon
21. Alpine MusicSafe Pro Hearing Protection System for Musicians
Sometimes, the decibels can get loud especially during live gigs. So, as musicians who are constantly around these places, we need to protect our hearing for it is, after all, an asset for us all.
That's why the Alpine MusicSafe Pro Hearing Protection System. The three exchangeable filters help prevent hearing loss while not compromising the sound quality of what you're listening to.
It's comfortable and is barely visible to boot.
Check Price And Reviews on Amazon
Best Gift For Guitarist Under $100
22. Thalia Capo Brushed Black Blue Abalone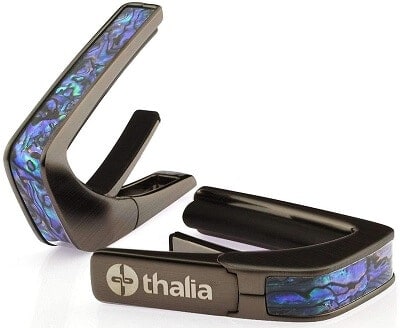 Give that acoustic guitar player friend the elegant Thalia Capo. This feature-rich piece of art capo is stylish looking gem due to its black chrome finish with blue abalone inlay. Most of all, it's durable and will provide that guitar the right tone it needs.
Capos are essential for performers and cover artists alike as they can perform the songs they want at the right pitch.
If you are searching for a capo for a 12-string guitar player, then this article provides a complete capo buying guide for that.

23. String Swing CC29 Folding Hardwood Guitar Case Rack
The String Swing Guitar Case Rack is a great way to organize and store guitars. You can't just throw your instrument anywhere in your house as they'd get rusty, damage, and bent.
A guitar case rack is a perfect gift idea should you have a few more bucks to spare. If your friend is a known guitar collector or touring musician, then this USA made wooden rack is the right gift to spend some money on.
Check Price And Reviews on Amazon
24. Mogami Gold INSTRUMENT-10R Guitar Instrument Cable
The Mogami Gold Instrument Cable is a high-quality connector that your guitarist friend would surely appreciate. It's a bit pricey but it's not all luxury because it enhances the guitar's overall tone.
Some would spend their money on effects pedals without thinking about cabling and that's a bit wrong. Proper cabling is what separates good guitarists from great ones for they create far superior quality outputs all the time.
Check Price And Reviews on Amazon
25. Heet Sound 3-Piece Bundle: EBow Plus Electronic Bow for Guitar
The EBow Plus Electronic Bow for Guitar is a mini effects bow that's handheld. This unique tool creates a variety of fades, sustains, bowing, and tonal effects that would definitely brighten up your sound and give it range.
Guitarist in your life would be surprised by what he or she can do with it as it's probably one of those guitar gadgets that is fun to experiment with to produce cool sounds.
Check Price And Reviews on Amazon
26. Audio-Technica ATH-M30x Professional Studio Monitor Headphones
If a guitarist in your life or acquaintance is also recording his or her own material, then the Audio-Technica Professional Studio Monitor Headphone is the perfect gift item.
High-quality headphones are a must if you want clarity as well as integrity for your music. This product won't only be awesome for guitarists but all kinds of musicians as it captures and outputs sound like the best of them.
Check Price And Reviews on Amazon
27. ErgoPlay Tröster Guitar Support
The ErgoPlay Tröster Guitar Support is for the classical guitar player. This is great support for right-handed players so they can situate it on their thighs while playing. This product is also great for larger players plus this item is made of lightweight aluminum so you may take it anywhere you need to.
Rather than providing comfortable posture for classical guitarists, this support system also effective for lute, mandolin, or bouzouki type classic instruments. So, this is a useful gift for any classical musician who wants to perform with style, class, and comfort.
Check Price And Reviews on Amazon
28. IK Multimedia iRig HD 2 Digital Guitar Interface
Another prominent gift for your guitarist friend who also does their own recording or wants to play his/her guitar through mobile phone, tablet, or laptop for any reason. The iRig HD 2 Digital Guitar Interface from IK Multimedia works with smartphones and computers alike so they can record on the fly whenever, wherever they would want and need to.
It does guitar, bass, and any other instruments so it's a one-stop recording interface that your guitarist friend would definitely appreciate.
Check Price And Reviews on Amazon
29. Blackstar Electric Guitar Mini Amplifier, Black (FLY3)
Sale
Cool Gifts for guitar players under $150
30. Zither Wooden Guitar Stand
If you're offering a guitar player friend or family member a guitar stand, then make it the Zither Wooden Stand. This one is available of different premium solid wood and is handcrafted to perfection.
This is also a versatile stand for acoustic, electric, and even classical guitars. Made to last and to look stylish, you won't have any issues displaying your guitar of a collection on it at all.
Check Price And Reviews on Amazon
31. Xvive U2 rechargeable 2.4GHZ Wireless Guitar System
Electric guitarists or bassist who like to jam and roam on stage but wants to eliminate guitar cables to play wirelessly, this Xvive U2 Wireless Guitar System should make an ultimate selection for them.
This effective rechargeable unit boasts no signal loss of up to 120 feet range outdoors. Its compact size and simple design allow easy setup and flexibility to use. It is also quite easy to interface plus it runs for 7 long hours.
Check Price And Reviews on Amazon
32. ROADIE 2 Smart Automatic Guitar Tuner & String Winder
The next good entry under $150 on our best guitar-related gift ideas list is no other than the ROADIE 2 Smart Automatic Tuner & String Winder. When you are on tour, you'd need tools that can do a lot of things for you.
So this tuner and winder should work quite well for the busy musician. While not advisable, should you need to quickly replace your string and then tune it before a set then this tool should be your best companion.
Another great gift idea for sure!
Check Price And Reviews on Amazon
33.

Peterson StroboPLUS HD Tuner Bundle With Blucoil Instrument Cables And Celluloid Guitar Picks
Peterson StroboPLUS HD Tuner for Guitars, Pianos, Acoustic and Electrical Instruments Bundle with Blucoil 2-Pack of...
PROVIDES ULTRA-FINE 0.1 CENT TUNING ACCURACY - The Peterson StroboPLUS HD Tuner delivers 1/1000th of 1 semitone (1/10th of one cent)...
SUPPORTS 92 "SWEETENED TUNINGS" - The Sweetener is a set of preset tunings modified to work with specific instruments (guitars, piano,...
DISPLAYS REAL-TIME TUNING RESPONSE - The 512p strobe LCD screen is easy to read and delivers the smoothest response even to the minutest...
OFFERS UPGRADEABLE METRONOME FUNCTION - Register your StroboPLUS HD at Peterson Connect App and purchase the "BodyBeat Upgrade." NOTE:...
Gift Ideas For Guitar Lovers Under $200
34. Stellar X2 Large Diaphragm Cardioid Condenser XLR Microphone
It's not hard to find guitarists that are also great singers. So if you know someone yourself, then the Stellar Cardioid Condenser XLR Microphone should be on top of your music lover gift basket list.
Needless to say, this microphone captures and outputs sound superbly using its high-quality diaphragm, low noise circuit, and high strength iron body. It's also quite easy to interface with your computer.
Check Price And Reviews on Amazon
35. Roland MICRO CUBE GX Portable 3-Watt Guitar Amplifier
Guitar players need to be able to play their instruments whenever, wherever. That's why this lightweight amplifier from Roland should be the perfect gift for the guitarist in your life that's always on the go.
This battery-powered ultra-compact amp is, of course, portable gives nice quality output and lets practice licks and riffs whenever necessary. It comes with effects and can be interfaced with smartphones too.
Check Price And Reviews on Amazon
How To Choose The Right Gift For The Guitar Player In Your Life
Here are a few tips and tricks so you can make that guitar lover friend happy!
Know Their Playing Style
There are a lot of types of guitarists. There are your acoustic players, lead guitarists for a rock band, or the classical musician. Before you buy a gift for your guitarist friend or family member, try to get to know their playing style a little bit better.
From there, you'd know the best thing to get for them. For example, lead guitarists would probably need a strap with a lock, or maybe even good quality and accurate tuner for they played in loud venues and won't have time to tune their guitar by ear.  
An acoustic player would probably need a capo for some of the songs in their set while a classical musician who wields guitars with nylon strings may need a peg winder for they are a bit tedious to setup.
Once you know their genre or style you'd have a vast array of unique and useful gifts that you can offer them.
Pick The Essentials
Almost 100% of guitarist gears are all functional. From the guitar pick to the effects pedal, everything adds a little bit to the player's tone and overall sound. Gears and accessories add convenience and efficiency in practice, or prepping and performing on stage.
So when you think about gift ideas then pick something useful and of decent quality. 
Add A Little Bit Of Flair To It
Knowing some brands goes a long way, but no one can appreciate signature gears as guitarists do. Guitar brands sometimes bank on the names of famous guitarists to attract buyers. So get a set of strings endorsed by famous guitarists like Van Halen or Petrucci and you'd surely make a guitarist happy.
Visual style on gears also adds confidence for a player so that should be a consideration too.
What About Giving The Gift Of A Guitar?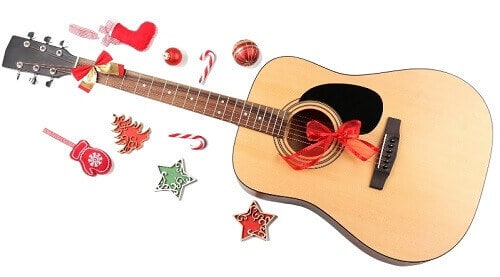 For our review, we also decided not to include any guitar effects pedal or guitars in general because:
These are usual gift choices but should not present to any guitarist without knowing their particular taste.
They can be a bit expensive, and 
We want to list down unique and underrated but super-useful gears that you can use to surprise the musician in your life.
Final Thoughts
Now you know what to pick up for your guitarist friend or family for this holiday season. Take note that they'd remember you through your gift every time they utilize it on practice or on-stage so for sure, no matter what you get they'd not only make use of it but have fun with it.
These are the best practical gifts for guitar lovers so go ahead and grab one or two of them now and make a guitarist feel appreciated. After all, music makes everything a little bit more bearable.