As an Amazon Associate, We earn from qualifying purchases.
Learn More
So you just got your first acoustic guitar – congrats! Whether you're a beginner or a seasoned pro, everyone knows that playing guitar while standing up or moving around is so much more fun than being stuck in one place.
But how do you make your acoustic guitar mobile without straining your back or arms from holding it? The answer is simple – get yourself a quality guitar strap!
In this guide, we'll walk you through everything you need to know about choosing, adjusting, and caring for the perfect guitar strap for your acoustic.
We'll cover different materials, hardware options, and proper strap lengths so you can start rocking out in comfort. With the right info, finding a strap that fits your style and playing needs is a breeze. So strap in and let's get started!
Choosing Your Strap
When it comes to guitar straps, you've got options. Let's break down the key factors to consider when picking out the perfect strap for you and your acoustic axe.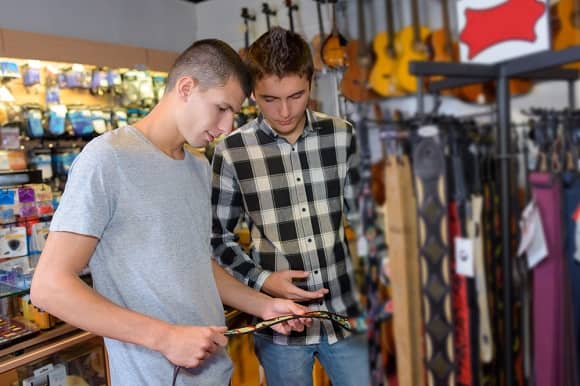 Materials
Guitar straps come in a variety of different materials, each with their own aesthetic, comfort, and durability factors.
Leather – A classic choice loved for its stylish look and rugged durability. Leather straps are comfortable right off the bat and form your body over time. With proper care, a leather strap can last many years. The downside is leather's higher price tag.
Suede – Similar aesthetics and durability to leather, suede offers a softer, more flexible feel. The napped surface can show scuffs more easily than smooth leather. Suede straps provide a great grip against clothing.
Cotton – Affordable and lightweight, cotton straps offer breathability and a casual vibe. Cotton lacks the ruggedness of leather but holds up better than polyester. Expect to replace a well-loved cotton strap every few years.
Polyester – Cheap and cheerful polyester straps come in endless colors and designs. Not as durable as natural materials, but a budget way to show off your style.
Nylon – Tough as nails, nylon straps are built to handle heavy instruments and active players. Nylon's sporty vibe suits rockers and metalheads. Less style than leather, but ultimate durability.
Padding
Thicker straps usually incorporate some type of padding or cushioning to prevent neck strain and distribute weight. Memory foam and neoprene are common materials used.
If you expect long practice sessions, opt for a wider, padded strap. If not, an unpadded strap saves weight and bulk.
Width
Standard guitar straps range from about 1.5 to 3 inches wide. In general, wider straps spread out the weight of the guitar better and reduce pressure points.
For larger instruments or long sessions, aim for at least 2.5 inches of width. If you prefer a slimmer, more streamlined strap, 1.5 to 2 inches is plenty.
Aesthetic
While fit and comfort should be top priorities, a good looking strap can really tie your whole gear ensemble together. Leather straps offer a classic, refined style.
Vintage-looking straps complement traditional acoustics. Bold prints and colorful fabric straps channel a more modern vibe.
Personalized and customized straps let you show off your personality. Ultimately, choose a look that resonates with your musical style.
Consider Your Guitar
Match your strap to your specific acoustic guitar's size, shape, and style. Smaller bodied guitars feel balanced with slimmer straps. Jumbo acoustics pair better with wider, sturdier options.
Folk guitars look sharp with woven straps, while rock guitars rock leather and edgy prints. You want your strap to complement – not overwhelm – your axe.
Take your guitar with you when shopping for a strap. Trying different lengths and styles right on your instrument makes dialing in the perfect fit easier.
Attaching the Strap
Once you've selected your ideal guitar strap, it's time to get it onto your acoustic. Attaching a strap is a quick process, but proper setup ensures safety and comfort every time you strap on.
Identify the Strap Buttons
Before attaching the strap, locate the guitar's strap buttons. These small, metal posts anchor the strap to the guitar.
Most acoustics have two: one at the bottom of the guitar near the tailpiece, and one at the top back of the body, where the neck joins the body. Some more traditional styles may only have one button at the bottom.
Can't find any buttons at all? You'll need to have the correct number installed by a guitar tech before attaching a strap. You can also check this guide to install strap locks and buttons.
Guitars with Two Strap Buttons
If your acoustic has two strap buttons, you're in luck – the process is straightforward.
Start by orienting the strap so the adjustable end is near the bottom button. If your strap has a plastic slider buckle, point that towards the bottom button. Or, if one end has a thinner or tapered shape, have that end face the bottom button.
Next, push the strap's solid end firmly over the bottom button, threading the button up through the strap's metal loop or slit. You may need to wiggle and work the strap a bit to get it over the button snugly.
With the bottom secured, lift the guitar and bring the other end of the strap up towards the top button, behind the neck. Push the strap's top loop or slit down over the upper strap button. Again, some wiggling and pressure may be needed to fully seat the strap.
With both ends attached, give the strap a few firm tugs and move the guitar around to ensure both buttons are securely fastened. The snug fit keeps the buttons from sliding out accidentally. If the strap feels loose or slips off too easily, you may need a tighter-fitting strap.
Pro Tip: Insert a pencil through the strap's hole and twist it to easily push the strap over stubborn buttons.
Guitars with One Strap Button
For acoustics with just a single strap button on the bottom, you'll need to get creative with how the top attaches. This method is just as secure as two buttons, it just takes a bit more work.
As before, start by orienting the adjustable end of the strap to the bottom and pushing it firmly over the button.
Next comes the fun part. To anchor the strap's top end, you'll need to tie a lace, strap adapter, or other material around the headstock, underneath the strings. This distributes weight evenly and keeps the guitar from diving forward awkwardly.
Many straps actually come with a thin leather lace for just this purpose. Simply thread the lace through the top loop or slit on the strap. Bring both lace ends up to the guitar's headstock.
Now, wrap the lace ends underneath the strings on both sides of the headstock and tie them together in a tight double knot. Having the lace go under the strings helps lock it in place. Experiment with lace placement to find what feels most natural for your playing style.
If your strap didn't come with a lace, you can substitute a leather cord, narrow ribbon, or other thin material. Some players even use unwound guitar strings to lace the strap up. Just keep it thin enough that it won't get caught in the tuning pegs.
Once your top lace is installed securely, tug firmly on both ends of the strap and move the guitar around to ensure everything stays put. If the lace knot slips around too easily, try a tighter knot or a different lace placement. Now you're ready to rock!

Adjusting the Length
Getting the right strap length dialed in is crucial for both comfort and performance. Take the time to properly fit your strap before your first gig or jam session.
Why Length Matters
A proper strap length keeps your guitar in the ideal position without having to strain your arms, back, and shoulders. You want your instrument to hang at a height where you can strum and fret comfortably in both sitting and standing positions.
Going too long or short forces your body into unnatural positions, causing fatigue and increasing the risk of injury. Take care of yourself by finding that sweet spot length.
As a starting point, your strap should be short enough that you don't have to bend your wrist sharply backwards to reach higher frets when standing. But it shouldn't be so short that the guitar rests right on your lap when sitting, either.
The ideal length lets you move and groove without having to think about constantly readjusting.
Adjustable Sliding Buckles
If your strap has an adjustable sliding buckle, getting a custom fit is a breeze. Simply slide the buckle up towards the neck to shorten the strap, or down towards the tailpiece to lengthen it.
Make small adjustments in both directions until you find the "just right" length for your body and playing style. Mark the hole you end up using so you can easily recall your ideal setting later.
Remember to always orient the buckle pointing down towards the bottom strap button. This prevents the buckle's edge from uncomfortably digging into your shoulder.
Straps with Holes and Slits
Non-adjustable leather, suede, or woven straps often use multiple holes or slits to allow length adjustments. This type of strap has two separate pieces – a wide section that goes over your shoulder, and a thinner section that threads through the shoulder piece to connect to the buttons.
To shorten or lengthen the strap, unclip the thin strap piece from the guitar. Try threading it through a different hole or slit on the shoulder piece to see if another setting feels better. You may need to experiment with a few lengths.
Just be sure to keep the thin strap going over-under-over through the shoulder piece so it stays anchored securely. When you find your optimal fit, reattach the thin strap end to the guitar and you're locked in.
Using Strap Locks
Now that you have your strap tuned to the perfect length, consider adding strap locks for extra security and confidence.
These handy devices help keep your strap firmly attached to your guitar, preventing embarrassing drops mid-show.
Avoid the Drop
It's happened to most of us – you go to windmill or thrust your guitar victoriously and suddenly realize your strap has slipped off a button. Watching your prized guitar plunge ground-bound is the stuff of nightmares.
Strap locks make this a problem of the past. They fasten your strap to your guitar almost permanently, needing a firm push to detach. This added stability lets you go wild on stage without worrying about your strap coming undone accidentally.
Twist-On Locks
For a quick and easy solution, opt for plastic twist-on locks. These replace the buttons on your guitar and strap ends with corresponding ridged plastic disks.
You simply push the guitar disk through the strap and twist the ridged strap disk onto the guitar disk to lock them together. Just be sure to buy a full set for both ends of your strap for maximum security.
To remove, firmly twist the ridged disk in the opposite direction and pull the strap end off the guitar disk. It takes considerably more force than a standard button, keeping things locked even through your most intense guitar athletics.
Screw-On Locks
For even more strength, upgrade to metal screw-on locks. Like the twist type, these replace the existing guitar buttons with metal threaded posts and attach matching sockets to your strap. The threaded post screws tightly into the guitar while the socket clips or screws securely onto the strap end.
Removing the strap takes pushing a small lever or button on the socket piece – much harder to detach unintentionally. Screw-on locks offer a rock solid connection for active players and heavy guitars. If you want absolute security, this is the way to go.
Lock Both Ends
Whether you choose twist-on or screw-on locks, it's crucial you install them on both the bottom AND top strap connections. Just locking one end reduces stability. Go for 100% security and use locks on both buttons/ends. Get the full force of strap locks by doubling up.
Now, Watch this video for a visual guide on securing your acoustic guitar strap:
Caring for Your Strap
Okay, you picked out an awesome strap, customized the length, and got it safely secured. Now what? Like any guitar gear, proper maintenance keeps your strap looking great and functioning reliably for years on end.
Follow these tips to get the most longevity out of your trusty guitar strap.
Cleaning
Leather – Wipe leather straps with a dry soft cloth after each use. Condition occasionally with leather oil or polish to prevent drying out.
Suede – Use a suede brush or eraser to remove dirt and restore napped texture as needed. Avoid getting suede wet.
Cotton – Machine wash cotton straps in a garment bag on cold and hang dry to prevent damage.
Polyester – Spot clean polyester straps with a damp cloth. Air dry completely.
Nylon – Scrub nylon straps with warm soapy water and wipe dry.
Storage
Keep straps away from direct heat, moisture, and sunlight which can degrade materials over time.
Hang straps on a secure hook or guitar stand when not in use. Don't leave them loose on the floor.
Avoid tightly coiling straps for storage to prevent creases from taking permanent sets.
Consider keeping a backup strap on hand in case of emergencies!
Final Words
We hope this guide on 'How to put a strap on an acoustic guitar' gave you a good grasp of the ins and outs of choosing and attaching a quality strap for your acoustic guitar. Finding a strap that complements your guitar visually and suits your playing style keeps you looking amazing and sounding phenomenal.
Remember to assess your guitar's strap button situation, find a material and look that speaks to you, and properly adjust the length so you can rock out in total comfort. And don't forget strap locks for that extra security when you really cut loose on stage!
With the right strap, you can easily take your music anywhere – standing up, jumping around, or even rocking out on the couch.
So get strapped and be ready to play your heart out anywhere, anytime. Just you, your guitar, and the perfect strap.

Team Guitar Top Review Talk about Guitars! We are a group of friends that bonded over their shared love of playing guitar. We all have different backgrounds and experiences with music, but we share a passion for writing about the things that we love.