The legendary English rock band The Beatles recently announced they will release a new single titled "Now and Then" next week. This marks the first new song featuring all four Beatles members since the band broke up over 50 years ago.
"Now and Then" showcases vocals from the late John Lennon combined with new instrumentation and production from surviving members Paul McCartney and Ringo Starr.
Thanks to advanced audio processing technology, the iconic Liverpudlian lads came together one last time to complete an unfinished Lennon demo from the late 1970s. Described by McCartney as "quite emotional," "Now and Then" represents the closing chapter in the greatest pop music story of the 20th century.
After decades of being unable to technologically isolate Lennon's vocals, modern AI software allowed McCartney and Starr to finally polish the roughed-out relic. Harrison's guitar playing from a 1990s studio session was also incorporated into the sentimental single.
A corresponding documentary "Now And Then – The Last Beatles Song," with exclusive footage will give fans an inside look into the single's inception and completion.
Lennon Originally Records Vocals and Piano in 1970s
In the late 1970s, John Lennon recorded vocals and piano for an incomplete song while living in his New York City apartment. The original rough recording featured only Lennon singing and playing piano without any other instrumentation or Beatles involvement.
After Lennon's shocking murder in December 1980, his wife Yoko Ono later provided the cassette tape to McCartney and the surviving members.
This unfinished demo would sit untouched alongside two other Lennon song sketches, "Free as a Bird" and "Real Love," which were eventually completed and released in the 1990s.
Previous Attempts Unable to Separate Lennon Vocals
During initial recording attempts in the 1990s, issues with audio technology prevented the isolation of Lennon's vocals from the piano music. As a result, the surviving Beatles were limited in what they could do to complete the song at that time.
Jeff Lynne, who produced the other two Beatles reunion singles in the '90s, also worked briefly on "Now and Then" but could not properly extract the vocal track.
Harrison criticized Lennon's original tape as "f—ing rubbish," leading to the band's decision to shelve the project indefinitely. It would be another 20 years until audio processing advanced sufficiently to cleanly separate Lennon's singing from the rudimentary piano chords.
Cutting-Edge AI Allows Lennon Vocals to Shine
Groundbreaking AI and machine learning software developed for Peter Jackson's 2021 documentary "The Beatles: Get Back" enabled the de-mixing of individual tracks from the band's original mono recordings.
This same revolutionary technology-powered engineer Emile de la Rey and his team finally isolate Lennon's vocal performance from the piano demo.
The new split audio provided McCartney and Starr the foundation to complete the song to their satisfaction. Backing vocals from earlier Beatles recordings subtly enhance the new single as well.

McCartney Calls Experience "Quite Emotional"
For McCartney and Starr, hearing their late bandmate's voice again was an overwhelming experience. McCartney called the recording process "quite emotional," adding "We all play on it, it's a genuine Beatles recording."
He enthused, "In 2023, to still be working on Beatles music, and about to release a new song the public haven't heard, I think it's an exciting thing."
Starr echoed the sentiment, saying, "It was the closest we'll ever come to having him [Lennon] back in the room so it was very emotional for all of us." He continued, "It was like John was there, you know. It's far out."
Beatles Release Final Single Ever: The Last New
With McCartney and Starr at 80 and 82 years old respectively, "Now and Then" represents the absolute final collaboration between all four legendary Liverpudlian lads. This last hurrah closes the book on the most influential and innovative band in rock and roll history.
When McCartney and Starr complete their remaining years on earth, no future Beatles music will ever again materialize. As such, this swan song provides a fitting coda to the cultural phenomenon that shaped the 1960s musical revolution.
For lifelong Beatles fans worldwide, "Now and Then" conjures intense nostalgia for the timeless songwriting partnership between Lennon and McCartney.
Their legendary creative chemistry manifested pop perfection that forever changed music. This posthumous collaboration exemplifies the Fab Four's enduring musical synergy.
The Beatles Releasing "Now and Then" on November 2
The public can hear "Now and Then" for the first time when it will be released worldwide on November 2, 2023.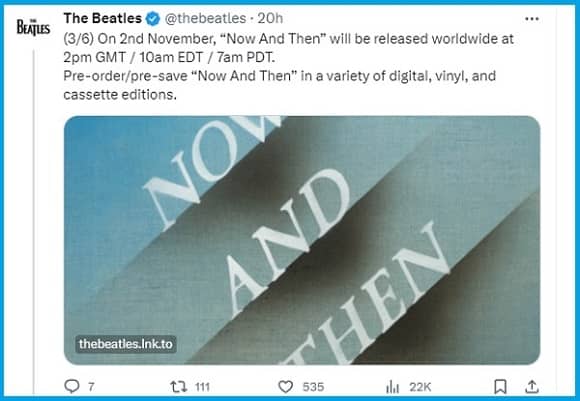 Before that, a 12-minute documentary chronicling the making of the song will premiere on November 1 on The Beatles' YouTube channel. It will feature exclusive footage and commentary from McCartney, Starr, Harrison's archives, Sean Ono Lennon, and director Peter Jackson.
In the United Kingdom, the song will also be released as a limited edition vinyl double A-side single with "Love Me Do," their original debut hit in 1962.
A simultaneous digital bundle pairs the 2022 Swan Song with the 1962 breakthrough that initiated Beatlemania.
This nostalgic pairing officially bookends the saga of the 20th century's most essential band. "Love Me Do" kickstarted the Cultural Revolution while "Now and Then" culminates the legacy decades later.
Expanded Editions of Beatles Compilations Also Arriving
Alongside the history-making single, The Beatles will release expanded Anniversary Editions of their hallowed greatest hits compilations known as the Red Album and Blue Album on November 10.
Originally released in 1973, these collections defined the band for generations of fans. The updated Red Album adds 12 bonus tracks while the Blue Album includes 9 additional songs. "Now and Then" appears on the Blue Album's bonus disc.
Both classic compilations also received digital remixes overseen by acclaimed Beatles producer Giles Martin. The remasters showcase clearer separation between individual vocals, guitars, drums, and other instrumentation.
Although the material is familiar apart from "Now and Then," these aren't just fresh playlists. Martin provided new stereo mixes for 36 songs across both albums that had not been previously remixed for earlier deluxe editions.
Final Thoughts
The legendary English rockers' final masterpiece, "Now and Then" embodies both closure and continuity. This posthumous gift made possible by technology allows the Fab Four's legacy to endure eternally.
Hardcore fans and casual listeners alike will cherish this final chance to hear John, Paul, George, and Ringo unite in sonic splendor one last time.
Recommended To Read:

Team Guitar Top Review Talk about Guitars! We are a group of friends that bonded over their shared love of playing guitar. We all have different backgrounds and experiences with music, but we share a passion for writing about the things that we love.