As an Amazon Associate, We earn from qualifying purchases.
Learn More
For the true music aficionado, everyone knows the importance of owning an amplifier to enhance the sound quality of our instruments. Aside from creating louder sounds, you can also make other adjustments to ensure your music's resulting perfection.
And when it comes to amplifiers, no other name is trusted more than Fender. That's why when I purchased this Fender guitar amp, I was extra curious about what it has to offer.
Find out if the Fender Acoustasonic 15's size matches its performance by reading this review because it objectively evaluates if this mini amp works equally well for practice and small gigs.
First Impressions
I was really curious about this amplifier because I experienced great things with Fender products. When I received it, I was impressed by how light and portable it was. It's a great little amp that packs a decent amount of functionality in a small package.
A smart and impressive-looking acoustic guitar amp, the Fender Acoustasonic 15 amp is a beginner or a street musician's dream come true. As for construction, this amplifier gives the impression of being a robust and well-made amplifier that will likely stand the test of time.
A handsome brown and wheat-colored cabinet gives this portable amp a cool vintage vibe that promises rich, warm tones. The cabinet is made from 5-ply plywood that's lightweight yet incredibly sturdy. It is wrapped in a brown textured vinyl covering to give it that polished retro look that will surely make heads turn.
In addition to the cabinet, the speaker is covered by a black fabric finish similar to the grill, while the stripped back comes with a minimalist look. It also has an ergonomic handle on the top of the body to ensure easy lifting and comfort.
Features And Specifications
The Acoustasonic 15 is a portable solid-state amplifier equipped with a single six-inch woofer and weighs a mere 4.7 kilograms. It has a 15-watt power output, making it ideal for bedroom practice and small gigs.
The woofer features a "Whizzer cone" designed to provide an enhanced high-frequency response; in other words, you won't lose any of your favorite acoustic guitar's sound in the amplification process.
With two channels (a 1/4″ instrument channel for acoustic or acoustic-electric guitar, ukulele, mandolin, etc., and another XLR input for a microphone), a three-channel equalizer, and an onboard chorus effect, the Acoustasonic 15 would seem the perfect acoustic guitar amp for the traveling musician.
Simple but practical EQ controls are very responsive to give you any tone you are looking for and the built-in chorus effect creates a lovely shimmer to the sound. Basic PA functionality can be easily performed with this amplifier, it also gives you flexibility for a range of musical performances.
If you connect the headphones via the 1/4″ headphone jack, the speaker automatically remains silent. This is ideal for private practice sessions or at home when you want to practice in silence.
The volume knob on this amp is carefully calibrated and to turn it takes just enough for an easy, smooth adjustment without having too much jump from very soft to strong with a quick tug.
This amplifier is not battery-powered but uses a fixed AC cable which means that buskers need to find a power source before performing. In addition, there are some convenient functions missing here such as reverb effect, external FX loop, footswitch connection, etc. but these are not a must-have for a beginner.
Enough about the amps' impressive aesthetic and specifications; let's get to where the rubber really hits the road for any musician: how does the Acoustasonic 15 sound?
Tone On The Fender Acoustasonic 15
Most guitarists, myself included, would rather play through a great-sounding amp that looks terrible than through a great-looking amp that sounds terrible. Fortunately for anyone interested in the Fender Acoustasonic 15 amp, this little 15-watt soldier sounds every bit as good as it looks.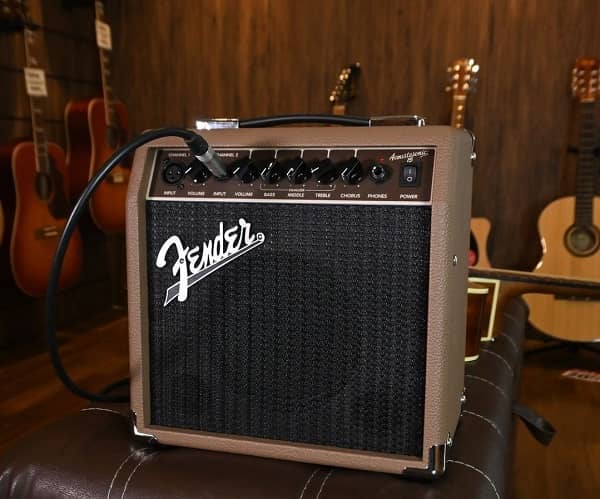 I have to admit; I wasn't expecting the Acoustasonic 15 amp to sound anywhere near as good as it does. It's made by Fender, so I expected quality, but wow! The tones produced are warm and rich, with none of the tinny overtones we've come to expect from portable mini-amps.
Onboard effects on smaller amplifiers often leave something to be desired; such is not the case with the Acoustasonic 15's onboard chorus. Expecting to be underwhelmed, I gave the chorus a shot and was pleasantly surprised.
The effect permeates the already warm tone, rather than seeming to lay atop it, as is the case with many onboard chorus effects. The onboard chorus effect is variable, meaning you can control the response frequency with a simple turn of one knob.
In general, you can't expect a super loud sound from this small amp, but it's quite versatile for what it is. Without the extra effort to put on a mixing board or effect pedals, this small amplifier can offer a decent vocal/guitar balance.
Pros And Cons
Pros:
Sturdy and well made
Classic/vintage style
Portable and lightweight
Ideal for street musicians
Cons:
Has only one onboard effect
15 watts isn't very loud
It's not battery-powered, so you'll need to have an AC outlet nearby to use it.
Who Should Buy The Fender Acoustasonic 15?
Guitarists in the market for a great practice amp or traveling amp should consider Fender's Acoustasonic 15. It's the perfect amp for the traveling guitarist who doesn't feel like lugging around something larger; the Acoustasonic 15 is also ideal for buskers and street performers.
Beginner guitarists looking for a great first amplifier will also be pleased with the portability and rich tones of the amplifier.
Fender's Acoustasonic 15 would likely be more than adequate to play in coffee-house-sized small venues or to play with other acoustic guitarists, but guitarists looking to play in larger spaces or with a drummer will need a more powerful amplifier to be heard.
Related Article: 
If you are looking for a more powerful amp, check our complete guide on the best acoustic guitar amp.
Check out the demo of the Fender Acoustasonic 15 Amplifier:
Alternative To Fender Acoustasonic 15
If you're looking for an alternative to Fender's Acoustasonic 15, you may want to consider the Pyle 15-Watt portable mini amp (paid link). The Pyle practice amp may be a practical alternative, comparably priced, and similar in features to the Acoustasonic 15.
The Pyle 15-Watt amp takes an early lead out of the gate, as this amp accommodates both acoustic and electric guitars. Fender quickly catches Pyle in this race, though, as the latter doesn't come equipped with a microphone line-in. A busker using the Pyle 15-Watt amp will need a dedicated amplifier if they choose to sing.
Regarding aesthetics, the Pyle is a sharp-looking brown and black amp with a leather-covered cabinet, but it doesn't quite have the visual impact of the Acoustasonic 15. Of course, when judging practice amplifiers, aesthetics go only so far; the tone is far and away the most crucial aspect of any amp.
Truthfully, I was expecting Fender to blow Pyle out of the water in terms of tone, but I was pleasantly surprised; the fact is, the Pyle produces a warm, pleasing tone that belies its small size.
As to which is the best practice amp for acoustic guitarists, I would have to give the nod to Acoustasonic. I've always been a Fender guy in the interest of full disclosure, but I believe that even in a blind comparison, I'd have chosen so.
Both amps are sturdy and well-made, but the rich tone of the Fender and the effectiveness of its single onboard effect are what separate the Acoustasonic from the pack.
Related Article: 
If you're in need of a new amplifier stand to make your amp more stable and secure, be sure to check out this article before making your purchase decision.
Final Words
Finally, any review of Fender Acoustasonic 15 (paid link) has to acknowledge the value of the Fender brand; the company could easily have charged another twenty or thirty dollars for this great-sounding small amp and would still have been competitive with comparable offerings.
Overall, I was very satisfied with the amp when I got it for the first time. This pretty good amp is not intended for advanced players or pro guitarists but for a particular user segment due to its limited range of applications.
It is a solid choice for beginners and busker musicians who are looking for a portable and easy-to-use amplifier at an attractive price.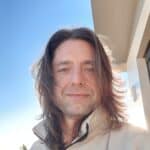 Fabian, a Brazilian guitarist now based in Dublin, Ireland, has passionately played the electric guitar since 2003. As a luthier and product specialist, he boasts nearly two decades of collaboration with top musical instrument brands. Fabian is a sought-after expert, sharing his extensive knowledge with fellow guitar enthusiasts.