Guitar Top Review Talk about Guitars! Talking more specifically, we review Acoustic and Acoustic-Electric guitar. We are a group of friends that bonded over their shared love of playing guitar. We all have different backgrounds and experiences with music, but we share a passion for writing about the things that we love.
What Do We Do?
We publish in-depth product reviews (mainly acoustic and acoustic-electric guitars, gears, and accessories), how-to guides, and tips & tricks articles for guitar students and enthusiasts. We provide our readers with all the information they need as per their interests and skill level to make an informed purchase decision.
The scope of our work is constantly expanding, but we try to focus on content that is truly useful for our readers. We need your help to spread the word about our work, so please subscribe to our newsletter or follow us on social media if you find our content helpful.
Why Do We Do It?
We believe that everyone should have access to high-quality, comprehensive, and unbiased information about guitar products, and we strive to provide our readers with the best resources possible. Too often, people end up buying products that are not a good fit for their needs because they don't have all the information they need to make a choice.
We want to change that by providing in-depth, well-researched, and helpful content that will allow you to find the perfect product for your needs. Whether you're a beginner or a seasoned pro, we hope that our reviews and guides will answer your guitar-related queries and help you find the perfect guitar for your needs.
How Do We Do It?
First and foremost, we are guitar enthusiasts just like you. We take great pride in our work, and our goal with each article is to provide comprehensive, unbiased, and helpful information.
All of our content is written by a team of passionate and experienced guitarists. We believe that the best way to understand how a particular product behaves is to put it through its paces.
We also regularly consult with experts to get their insights and perspectives on various products and topics.
Our team of writers and editors are all passionate about music and guitar playing. We put in a lot of hard work to bring you the best possible content.
We test products hands-on whenever possible, but we also rely on expert opinions to get their insights and perspectives on various products and topics or when it comes to more technical aspects of guitar playing and gear.
We also believe that good content comes from a variety of perspectives, so we encourage our writers to share their own experiences and points of view in every article.
Our editorial team is always on the lookout for new products and trends in the guitar world so that we can bring you the latest information and help you make the best possible choices for your needs.
Our Promise
The team at GuitarTopReview is dedicated to helping you find the best gear for your needs. We only recommend products that we believe in and use ourselves. Our goal is to provide unbiased, honest reviews and guides that help you make the best purchasing decisions possible.
Meet The Team
Guitar Top Review is a team of passionate guitar players and music lovers. We strive to provide our readers with the best possible content, whether reviews, guides, or tips.
Our team is composed of: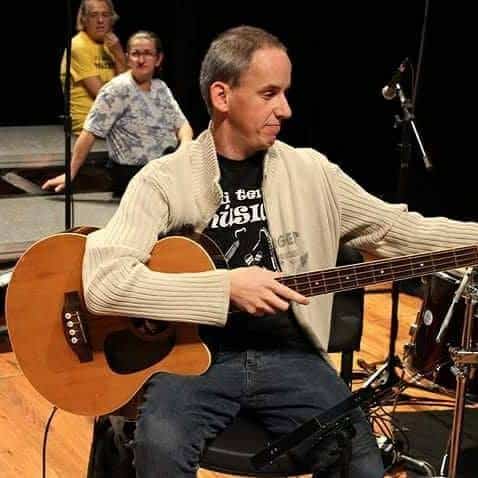 Gustavo Gusmão Beroth, Writer
Gustavo is a music teacher and classical guitar player from Brazil. He discovered his love for music at a young age and has been playing and teaching guitar, also working as a music technician since 2004. Gustavo holds a graduate degree in Classical Guitar Performance from the Federal University of Pelotas.
He has played with several groups like the Symphony Orchestra of Pelotas Música pela Música as a guitarist, bassist, and vocal bassist across Brazil, Uruguay, Paraguay, and Argentina.
In 2018, he moved to Dublin, Ireland, and until now working as an active music teacher with students from all around Europe. Gustavo aims to spread the joy of making music to as many people as possible.
Fabian Zelenski, Writer
Fabian is a musician who is passionate about guitar. He first picked up an electric guitar in 2003 and has been playing ever since. Fabian comes from Brazil but now lives in Dublin, Ireland. He loves sharing his knowledge and expertise with other guitar players.
Fabian has worked with some of the best musical instrument brands for almost two decades as a luthier and product specialist. His experience and knowledge make him one of the most sought-after experts in his field.
When he's not playing or working on guitars, Fabian enjoys skateboarding – which he takes up whenever he gets the chance to travel back to his home country.
Thomas M., Founder & Editor
Thomas has been playing guitar for over 15 years and was a member of his local church band in L.A. He started his music journey by playing Piano and later transitioned to playing the acoustic guitar, his true passion. He along with his hobbyist friends who play guitar out of passion started this site at the end of 2017.
Thomas has also written content for different guitar websites such as MusicianTuts, Vents Magazine, and GuitarGuitar.
---
---
---
If you have any questions or suggestions, please don't hesitate to contact us! We would love to hear from you.
Thank you for reading!