Hi there! When you buy through links on our site, we may earn a small commission at no extra cost to you. We greatly appreciate your support!
Learn More
What is the most common thing that beginners complain about? 'Their Hands and fingers!' More or less everyone has the same complaint that they are playing guitar with small hands or chubby fingers.
I've been teaching guitar for the last 15 years and the most frequent statements are like this: "I think my hands are too small to play the guitar."  Or "My fingers too fat for guitar. I can't play the chords". Even I complained when I first started learning!
But  I'm telling you its all fine if you don't have large hands and playing with smaller hands. Just you need to know how to play guitar with small hands and short fingers.
There is nothing to worry about. It is completely fine whether you have smaller or chubby hands. There are many guitarists out there who play the chords amazingly not having the 'PERFECT SIZED HANDS OR FINGERS'. For example, if you have ever noticed Serena Ryder's guitar playing you'll see how those tiny hands can rock and roll.
So it is absolutely clear that whatever shape or size you got, your hands are completely perfect to hold those guitar strings. It's just that you need to follow some steps and do a lot of practice. Throughout this article, I would be providing you with some advice. Hope you don't worry about your stubby limbs at all!
Why it is hard to play the guitar with tiny hands?
Before starting off with the steps to follow, I would like to share the few reasons why it seems difficult to play with small hands for the beginners:
The guitar may not be held in the correct position. If the neck is too downwards the hand position will be off.
When the fingers aren't curled up properly, only the fingertips contact with the strings.
It needs a little bit of practice to build up muscles in the fretting hand that allows stretching properly.
Tips for playing guitar with small hands
Here we are sharing 8 practical tips best for those guitar players who are struggling to play the guitar due to their physical limitations. Check out all these tips to know your lackings and what to do to improve your guitar playing.
1. Get your guitar size right
First thing's first. You need to get the perfect sized guitar for yourself. If your guitar is not appropriate according to your anatomy you won't be able to hold it properly. When buying a guitar keep in mind that while holding the guitar, it should maintain the perfect height.

The guitar neck shape must be according to the size of your hands and playing style. There are different types of guitar with various neck sizes and neck widths. The standard neck width on acoustic guitars is 1.73 inches (44mm) while the standard electric guitar neck is below 1.7 inches, and the classical guitar neck is 2 inches.
A narrow neck guitar will be more playable for guitar players with small hands rather than a wider neck. In case of smaller hands, you can consider a guitar that has a comfortable neck like ¾ size guitar or short scale compact guitar.
Some guitarists suggest using classical guitars as they have wider/thicker necks and that is preferable for fingerstyle playing. The more the strings will be apart from each other the less your fingers will rub against the wrong strings. But it might be a bit difficult for the small hand or chubby finger owners to play a fat neck guitar.
Another thing to remember that to play efficiently, using a compact size or short-scale guitar for players with smaller hands is not obligatory. You can play regular size guitar after proper training and enough practice.
There are several famous guitarists with small hands who had used standard size guitar, and many would follow them in the future. So test your favorite one at a guitar store and check which one feels more comfortable in your hands before buying it.
In case you need a suggestion about what guitar might be suitable for small hands, we have advised a few in the next section.
2. Hold your guitar correctly
Most of the beginners start off by holding the guitar incorrectly. When your guitar isn't positioned right it will cause you great trouble in terms of producing the proper music.
If you are right-handed, rest your guitar comfortably on your right lap at first. The back of your guitar should be on your stomach, and the neck should be tilted slightly upwards relative to the body of the guitar.
Also, keep in mind that the guitar should not be parallel to your chest. Hold it in an angling position so that the left side can be slightly moved with the left hand and the right side moved backward with your plucking hand.
So, the more correct postures you maintain the more comfortable you'll be while playing guitar regardless of your smaller hand.
3. Thumb position and finger contact with the fretboard
I know a lot of people complaining about their 'fat fingers' just because they use their finger pads, not the fingertips. When you use your finger pads instead of the tip you will create a muffling sound unintentionally. So to avoid this you need to follow some steps.
First of all, take your thumb of the fretting hand back of the guitar neck and rest it in the middle. The top part of your palm must be facing the fretboard of the guitar. Then slightly curl your fingers at the knuckles and place them above the strings.
But some guitarists use their thumbs to fret notes, and that would be quite difficult for someone with smaller hands. So don't try to master that skill at the very beginning stage of your guitar learning.
Usually, beginners play comfortably when fretting just a single string. But when they need to hold chords it becomes a lot difficult for them. They mix up tunes as the adjacent strings also ring up under improperly positioned hands. Once your fingers start stretching, you'll automatically build up a habit of tuning up in the right way.
4. Use light gauge strings
The next thing you need to focus on is the strings. There are various types of guitar strings available in the market with both advantages and disadvantages. For beginners, lighter gauge strings would be much easier to play than heavy gauge strings.
Because heavy gauge strings are hard to bend for a guitarist who hasn't enough finger strength or fingers too short for guitar playing. In that case, consider lighter gauges to play more smoothly.
You can use .010- .047 strings like D'Addario XT Phosphor Bronze for acoustic guitars.  For electric guitars, choose from D'Addario Nickel Wound Super Light Strings (Gauges: .009- .042) or even drop down to .008- .038 extra light strings like Ernie Ball Extra Slinky.
5. Use a Capo
For the beginners out there, I would suggest using a capo on your guitar. Now a capo is a small device that is used to clamp on the neck of the guitar so that the length of the strings shortens.
Try using a capo on the 4th or 5th fret. You'll notice how easier it will get as you don't have to stretch your hands that much. Small hands won't be a problem anymore then!
6. Go Finger by Finger
You don't need to hold all the notes of the chord together at the beginning. Try maintaining one by one. You can take a few notes together and practice.
By doing this frequently you'll eventually understand how to deal with the difficult chords. Though it's a slow and tedious process, it will help you to build up flexibility over time.
7. Stretch your Fingers
A lot of people complain about their fingers because they can't move their fingers swiftly. In the beginning, you will feel as if you're producing muffling and mute sounds on and on. Maybe you'll find the strings way too far to stretch and curse your little hands!
But it's all about practice. Trust me! Not only people with chubby or small hands face trouble but also everyone faces it at the beginning. So, for that, a beginner should do some exercises.
By regularly stretching the fingers your muscles will get used to the calluses and you'll be flexible while playing. It eventually will develop dexterity in your guitar skills. Your patience and hard work will help you to gain that proficiency over time.
8. Practice, Practice, and Practice
The practice is the key to overcome any physical or mental limitations related to learning a new skill. The more you practice; it will become easier to adjust to your weaknesses. Even you may found new techniques to succeed over your obstacles come from smaller hands.
Though at first, it seems very hard to overcome physical limitations but don't give up or leave your practice. There are many examples in front of us that people have overcome all sorts of physical limitations and become an excellent guitarist after a certain period.
Nowadays you will find on various social media that some 6 or 7 yr old kid playing a regular size guitar well enough then most of the elder guitar players. So Practice is the actual real thing that matters.
What is the best guitar for small hands and short fat fingers?
If you have smaller hands or fingers, then you need the right type of guitar that suits your hand size and feels comfortable in your hand at the same time. Since the small body guitar features small or fewer frets or shorter scale length; therefore, certain notes would be more accessible. It also depends on neck size that how comfortable you would feel to plays barre chords.
Here we have reviewed a few acoustic, electric, and classical guitar that would be best fit for fat fingers or small hands:
Best Acoustic Guitars for Small Hands
1. Martin LX1RE Little Martin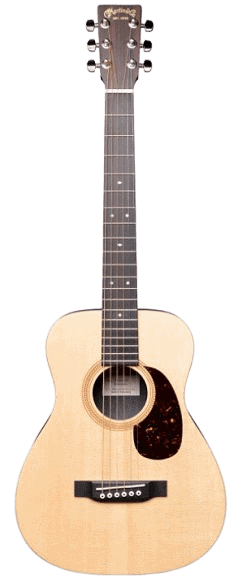 Martin LX1RE Little Martin is a 6-string acoustic-electric guitar with Sitka Spruce top. This product is highly recommended as the best guitar for short hands and fat fingers as well as an excellent travel guitar. This guitar is specially designed for people who face difficulties in playing the guitar because of their short limbs.
This natural colored guitar has a Richlite fingerboard with rosewood patterned HPL (High-Pressure Laminate) back and sides. This acoustic guitar is equipped with Fishman Sonitone electronics and produces a warm tone. The scale length of this small guitar is only 23 inches and has a total of 20 frets where the neck joins the body at the 14th fret.
The unique features of this guitar make it look more eye-catchy and anybody would love to play it. This acoustic guitar is the latest model of the Little Martin Series and more improved than the previous LX1E model, order it fast!
Pros:
Great choice for those who are learning guitar with short hands.
First guitar of Little Martin Series with a pickguard.
Ideal for travel.
Comes with a soft gig bag.
Left-handed version is available.
2. Yamaha APXT2EW 3/4-Size Guitar 
The Yamaha APXT2EW is a reduced scale electro-acoustic guitar that is designed as the smaller version (3/4 size) of APX500III guitar. This guitar has an Acoustic Resonance Technology (ART)-based pickup system and tuner with accurate sensitivity. The APXT2EW is designed with an exotic wooden top which makes it look very classy and attractive.
This guitar has a rosewood fingerboard and bridge with Meranti back and sides. This guitar is available in seven different colors: Black, Dark red burst, Tobacco sunburst, Natural, Light amber burst, and Figured natural.
The scale length of this single-cutaway small guitar is only 22-4/5 inches and has a total of 21 frets where the dovetail neck joins the body at the 14th fret. The comfortable neck, down-scaled fret, and cutaway design of this compact guitar make it one of the top choices for kids and adults with small hands.
If you are looking for the easiest guitar to play with small hands or an inexpensive travel guitar, this is what you need. This guitar is a best-seller with limited stock, grab it as soon as possible.
Pros:
It comes with a free gig bag.
Built-in tuner.
Reasonable Price.
Produce good sound considering its size and value.
Cons:
Tuning Keys are underwhelming.
In some cases, neck edges may feel sharper.
Check Price And Reviews on Amazon
Best Electric Guitars for Small Hands
 3. Fender Duo-Sonic Electric Guitar 
The Fender Duo-Sonic is a funky designed guitar with upgraded features. This guitar is very easy to play because of its 24 inches short scale length. It has a C-shaped maple neck with 9.5 inches radius medium-jumbo maple fretboard which makes it very comfortable to play.
This Duo-Sonic guitar has a master volume, tone control and three-way pick up switch. You can easily control the sound of this guitar and enjoy playing music like punk, indie rock, folk, alternative, or classical rock with two Duo-Sonic single-coil pickups.
The Fender Duo-Sonic produces a peculiar tone that feels like a classic fender sound but slightly different than the Strat and Tele. It is lightweight and available in different colors like Torino Red, Capri Orange, etc.
Due to its reduced scale size and smooth neck, this guitar is best for beginners, students, and those who have small hands or short fingers. If you are looking for something special or anything between the familiar Stratocaster and Telecaster, then check it and order soon!
Pros:
Classic fender tone.
Every note is accessible due to the shorter scale.
More sustain.
All metal pickup switch feels solid.
Cons:
The Neck profile is on the thicker side.
Guitar Sound varies for different amps.
Check Price And Reviews on Amazon
4. Epiphone SG Special VE Electric Guitar
This one is a very beautiful and stylish guitar with a double-cutaway body type. The iconic design of SG Special VE came right from the 1960's hard rock classic Gibson SG style guitar with a Poplar body, a black pickguard, and stunning Vintage Worn color finishes.
It has a solid wooden top material with a Satin orientation body finish. The neck shape is 60's Slim Taper D Neck and the scale length is 24.75 inches. There are a total of 22 frets which are medium jumbo and the radius of the rosewood fretboard is 12 inches.
SG Vintage Edition comes with ceramic magnets along with two Epiphone open-coil humbuckers, SG style LockTone bridge, premium die-cast machine heads, etc. which are pretty good and standard electronics for an entry-level guitar. It is available in three different colors – Cherry, Ebony, and Vintage Sunburst.
This entry-level classic guitar is not a Gibson SG. But Epiphone delivers this model as the vintage rock guitar with the same design and capable hardware but at an Affordable Price tag. So this guitar has high demand, you should have one for yourself too! If you want the best electric guitar for short fat fingers or something great for a beginner or an intermediate guitar player, which is very rare, you can count on this product.
 Pros:
Affordable Price.
Well balanced tone.
Lightweight slim body.
Very Comfortable and playable neck.
Cons:
Need some basic setup.
Some may found sharp fret edges.
Check Price And Reviews on Amazon
Best Classical Guitars for Small Hands
5. Cordoba C9 Crossover Nylon String Guitar
The Cordoba C9 Crossover is a classical nylon string guitar that's the newer hybrid version of the original C9. This guitar is made with a solid Canadian cedar top along with back and sides made of solid mahogany.
The C9 crossover model has a fan bracing pattern, which makes the soundboard vibrate and more responsive to provide a great tone. This model follows the Spanish heel construction method that enables the guitar to vibrate its entire body to generate a loud tone and long sustain.
Like other models of the Luthier Series, C9 Crossover is also handmade in China. The C9 Crossover features a steel string style neck which is hand-carved from mahogany with a thinner profile. This type of steel-string construction style is best for the guitarists who used to play steel-string electric or acoustic guitar.
Besides crossover C shape neck, this full-size classical guitar features a rosewood fretboard, a reduced nut width of 48mm, and 19 total frets. This product weighs about 10 pounds and the dimensions are 38.75 x 14.63 x 4 inches. Only a few of this model is available in stock, so you need to order fast before somebody else does.
Pros:
Comes with a Polyfoam case.
Beautiful rich and loud tone.
Long sustains.
Comfortable playability for short arms and small hands.
Check Price And Reviews on Amazon
6. Cordoba Dolce 7/8 Size Classical Guitar
The Cordoba Dolce 7/8 size classical guitar is easy to play and lightweight to carry. It is the best classical guitar for tiny hands and people who want comfortable guitars. This model is made from a solid Canadian cedar top along with Mahogany sides and back.
Like the Cordoba C9 Crossover, this model also handmade in China and features a traditional fan bracing, reduced 24.8 inches scale length, comfortable c shape neck, total 19 frets, and adjustable dual-action truss rod.
This guitar weighs about 5.2 pounds, and the dimensions are 38.25 x 3.75 x 14.5 inches. This guitar uses good quality Savarez Cristal Corum strings to enhance the sound and is good for beginners. This guitar has a gloss polyurethane finish with a natural color that makes it look appealing.
Excellent features and great value make this small body guitar one of the best for small fingers. Get it before the guitar runs out of stock.
Pros:
Affordable Price.
Smooth fret edges and a narrow neck ensure easy playability.
Bright and warm sound considering the guitar size.
Cons:
May require string height adjustment.
No electronics.
Other guitars we considered
Conclusion
Playing guitar with small hands or chubby fingers it's not a problem you see! Just choose the right instrument for you and keep practicing with patience. Your physic won't be a problem anymore. People around the world mostly survive with bare hands with sausage fingers, they still manage to play and rock their guitar up. So can't you? Just stop worrying and start practicing.