As an Amazon Associate, We earn from qualifying purchases.
Learn More
Learning to play the guitar is often a rewarding experience that can challenge and delight us for the rest of our lives. For children and people with small hands, mastering guitar fundamentals can prove particularly challenging, as standard-sized guitars often prove too large and unwieldy for small hands.
If you've always wanted to learn guitar but have had trouble handling large, full-sized acoustics like dreadnoughts, this article is for you.
We've looked at seven of the best acoustic guitars for small hands, paying particular attention to scale, tonewoods, and playability. Before we go to our complete review of all selected guitars, check out our three top choices of the best acoustics for small hands.
Our Top 3 Recommendation
Best Budget
Body Style: Parlor
Body Length: 18"
Depth: 3.38" to 4.00"
Scale Length: 23.63"
Cutaway: No
Electronics: Yes
Pure Acoustic
Body: Grand Concert
Body Length: 19.5"
Body Depth: 4.38"
Scale Length: 24.87"
Cutaway: No
Electronics: No
Electro-Acoustic
Style: Auditorium
Body Length: 17.75"
Depth: 3.75" to 3.88"
Scale Length: 24"
Cutaway: Yes
Electronics: Yes
Review Of Best Acoustic Guitars For Small Hands
Here we're going to take a more in-depth look at all seven guitars featured in our list of the best guitars for small hands. Without further ado, let's get started!
1. Martin OOOCJR-10E Junior Electric-Acoustic Guitar
The first entry on our list of quality, short scale guitars is the Martin OOOCJR-10E. A handsome guitar with a cutaway, auditorium-style body, Martin's OOOCJR-10E is a great choice for aspiring or practicing guitarists with smaller-than-average hands.
The OOOCJR-10E's back and sides are crafted of Sapele wood, and its top is Sitka spruce. These tonewoods help give the OOOCJR-10E its warm tones and prominent midrange frequencies. Scalloped, X-style bracing is another reason this smaller guitar produces such large sounds.
Designed for players with smaller hands, the Martin OOOCJR-10E has a 24-inch scale length, a fingerboard that measures 1-3/4 inches at the nut, and a string spacing of 55mm at the bridge.
A junior-style neck shape and soft back edge really promote a neutral grip that makes this guitar as comfortable to play as it is fun, allowing smaller hand players to reach frets without having to compensate. We were impressed by how convenient this guitar was to play, and how easy it was to reach for chords and scale runs.
The Martin OOOCJR-10E offers the petite guitarist the best of both worlds, as it features Fishman Sonitone electronics. Just plug in and wonder at the huge sound of this small guitar. The OOOCJR-10E is available in a beautiful, natural satin wood finish for less than $700, including a gig bag.
Pros:
Big, rich sound
Onboard electronics
Comfortable for guitarists with smaller hands
Cons:
A bit more expensive than many comparable guitars
---
2. Yamaha CSF1M Parlor Size Acoustic Guitar
Another standout among short scale guitars is the Yamaha CSF1M and it's one of the best guitars for small hands that we've ever tested. The CSF1M has a mahogany back and sides and a solid Sitka spruce top. These quality tonewoods are partly responsible for this small guitar's rich, vibrant tones.
The CSF1M's forward-shifted scalloped bracing also contributes to this small parlor guitar's tone, adding support while simultaneously allowing the solid Sitka top to vibrate with greater freedom.
This great-looking and sounding short scale guitar has a scale length of 23.63 inches or 600mm, which is 34 millimeters shorter than a full-size guitar, and its string spacing is measured at 11mm. The nut width is also a comfortable 1-11/16 inch or 43mm, which is perfect for smaller hands or short fingers.
Yamaha's CSF1M features an under-saddle pickup with sensors for each string, allowing the younger or smaller guitarist to play with or without amplification.
The Yamaha CSF1M plays beautifully and offers guitarists with smaller hands a guitar that delivers the quality tones of a standard-sized Yamaha acoustic for a price that won't traumatize your wallet.
With a gig bag, this excellent small-scale guitar is available for around $450. It's offered in Crimson Red Burst, Translucent Black, Vintage Natural, or Translucent Sunburst finishes.
Pros:
Natural-sounding amplification
Bracing style increases volume and depth of sound
Spruce and mahogany tonewoods produce rich, warm tones
Parlor guitars compact size ideal for travel
Cons:
Doesn't feature an onboard EQ
---
3. Taylor Academy 12
Next on our list of the best acoustic guitars for small hands is the Taylor Academy 12. As with most Taylors, the first thing you notice is the build quality. This guitar is put together extremely well, and it shows in the finish and overall feel of the instrument.
Another standout among small-scale guitars, the Academy 12 features a back and sides crafted of layered Sapele wood and a Sitka spruce top. As mentioned above, The Academy 12's neck is fashioned of hard rock maple and features an ebony fingerboard.
This eminently playable grand concert-styled guitar features a slender, easy-to-play neck and a built-in armrest for comfort. The Taylor Academy 12 has a body length of 19.5 inches and a 24-7/8 inch scale length.
The slimmer 1-11/16 inch neck means that your fretting hand will run smoothly and chords will be easy to execute. When you factor in the Academy's low action, spot-on intonation and 55mm string spacing, this is a guitar that has to be played to be truly appreciated.
The Taylor Academy 12, easily among the top acoustic guitars for players with smaller fingers, comes strung with light-gauge steel strings. The Academy 12 is available in natural-wood satin finish on Amazon, including a gigbag, for just under $700.
Pros:
Warm, bright sound
Comfortable to play
Onboard electronics
Cons:
A bit pricey when compared to comparable offerings
Somewhat plain in appearance
---
4. Taylor GS Mini Mahogany
The Taylor GS Mini is one of the best sounding and best playing small body acoustic guitars available. With its body length of 17.625″ and 23.5″ short scale length, the GS Mini is well suited for guitarists with smaller hands.
The neck width on this guitar is 1.687″ and the body depth is only 4.437″ which makes it very easy to hold and comfortable to play for extended periods of time. Its low action, 55.5mm string spacing, and light strings also contribute to the playability of this Taylor beauty.
Like the other entries we've looked at, this great scale-sized acoustic guitar has a back and sides fashioned of layered Sapele wood. Unlike previous entries, the GS Mini has a neck of Sapele wood with a West African Crelicam ebony fretboard. What really sets this guitar apart, though, is the decent sound and aesthetic provided by its tropical mahogany top.
The GS Mini is strictly a natural acoustic guitar, meaning it has no onboard electronics. That said, the GS Mini has been praised for its beautiful, vibrant mid-range tones, and there are plenty of low-cost, high-quality acoustic pickups available if playing amplified is important to you.
The GS Mini has several variants, including mahogany, rosewood, and Hawaiian Koa wood. This low-to-moderately priced 3/4-size acoustic guitar is available for under $600 with an included gig bag.
Also Read: Full Review of GS Mini
Pros:
Sound quality comparable to full-size Taylor guitars
Great travel guitar
Quality design and manufacture
Cons:
No onboard electronics
Some owners report the guitar's finish being too thin
---
5. Martin LX1 Little Martin
Our next small-finger-friendly guitar is the Martin LX1 Little Martin. With all the quality and playability of the standard-sized Martin acoustic guitar, the Little Martin is a great-looking instrument that delivers a decidedly big sound.
The Little Martin has a solid Sitka spruce top and mahogany back and sides. The neck is fashioned of rust stratabond and the fingerboard, measuring 1.687 inches at the nut, is either Indian rosewood or solid Morado. Chrome tuning knobs add a beautiful finishing touch to this Martin offering.
And shorter-than-standard scale length (23 inches) of the LX1 Little Martin makes it much easier for short-finger or small-handed players to fret the strings and results in less fatigue during extended playing sessions.

Just a hair smaller than three-quarters the size of a full-size guitar, the Little Martin's string spacing measures 2.125″ or 54mm; this, its low action, and light-gauge steel strings make this Martin guitar a joy to play for guitarists of all sizes.
Overall, we were impressed with the sound quality of this guitar. It projects well and has a warm, full tone. We also appreciate the attention to detail that Martin has paid to make this a truly comfortable guitar for smaller players.
A great travel guitar, or go-to guitar for those with smaller hands, the Little Martin is one of the most moderately-priced entries on our list. The Martin LX1 Little Martin is available for under $400 with included padded gig bag.
Pros:
Great sustain and resonance
Durable, quality construction
Balanced tone
Comfortable to play
Cons:
Lower volume and less depth than standard-size guitars
No fret markers on the fingerboard/fret markers on the neck only
---
6. Epiphone Dove Studio
If you're looking for a guitar that delivers the tonal quality of a classic Gibson/Epiphone, look no further than the Epiphone Dove Studio acoustic-electric guitar.
The scale length of 25.5″ makes it a little less comfortable than the other models on our list, but still very playable with a lightning-fast slim tapered neck and a string spacing of 54.76mm, the Dove Studio is well-suited to players with small hands looking to enjoy a standard size guitar.
Featuring a "square-shouldered" mahogany body and select-maple back and sides, the Dove's solid spruce top allows for enhanced top resonance, which, in layman's terms, translates to a big, rich sound. The Dove Studio also features a hard maple neck with an Indian laurel fingerboard.
This full-scale standout also features onboard Fishman electronics for those times when amplification is a must. Its under saddle pickup operates on one nine-volt battery, not included with the guitar purchase. We were impressed by the big, natural sound of the amplified Dove Studio, which can be controlled with volume and tone knobs.
The 20-fret Epiphone Dove Studio features a handsome Violinburst finish similar to a sunburst finish and is available for under $450.
Pros:
Versatility
Onboard electronics
A great value compared to similar guitars
Great playability
Cons:
Slight variation in build quality
---
7. Gretsch Guitars Jim Dandy
Far and away, the most unique entry on our list of the best acoustic guitars for small hands is the Jim Dandy by Gretsch Guitars. A parlor-style guitar with a decidedly cool vintage 50's vibe, the Jim Dandy features Pearloid dot inlays, open-gear die-cast tuning machines, and a white pickguard decorated with a "G."
With its short 24″ scale length, two-inch string spacing, only 3.75″ body depth and comfortably-low action, the Jim Dandy makes an excellent option for guitarists with smaller hands. This entry has a non-cutaway basswood body and Agathis wood top; its neck is crafted of nato wood and has an 18-fret walnut fingerboard.
Like the Taylor GS Mini, the Gretsch Jim Dandy has no onboard electronics; it is strictly a natural acoustic guitar. This retro beauty of a parlor guitar comes with a Classic Frontier Stain finish. Not only is the Jim Dandy suitable for players with smaller hands, but it's also lots of fun to play.
For female and young players who are shorter in stature, the Jim Dandy is an excellent choice. The guitar is lightweight and can be easily carried around. The shorter scale length makes it easier to fret the strings and the overall size of the guitar is comfortable for smaller hands.
The Gretsch Jim Dandy is advertised as having a two-color sunburst finish, but the Jim Dandy gives the appearance of a solid-colored acoustic guitar. Available for an unbelievably low price tag of less than $200, the Jim Dandy is a great value that sounds great too.
Pros:
Great for young guitarists or players with small hands
Cool, vintage style
An affordable, inexpensive guitar
Nice punchy mid-to-high tones
Cons:
Lacking in low-end
Some owners report the finish as being too thin
---
What To Look For When Buying An Acoustic Guitar For Small Hands?
There are several things to consider when buying an acoustic guitar suited for small hands. The body size, neck length and width, action, string gauge, and the instrument's sound should all be considered.
The size of a guitar's body can significantly hinder smaller players and players with smaller arms and hands. If you have small hands but still want to try playing a full-size guitar, you'll want to steer clear of larger body acoustics like dreadnoughts. A parlor or concert-styled guitar would likely suit you better, though, in most cases, small-scale guitars are the best guitars for small-handed players.
The size and shape of a guitar's neck should also be considered when buying a guitar for smaller hands. Full or standard-size guitar necks can be difficult for smaller-handed players to manage; many small-scale guitar makers consider this and, in addition to scaling the length of the neck, taper it as well.
Finally, you should take into account a guitar's action and string gauge before purchasing. A guitar's action, generally speaking, refers to the space between the strings and the fingerboard. The higher a guitar's action is, the more pressure will be required to finger and hold a note; for this reason, guitarists with smaller hands usually prefer guitars with their actions set as low as possible.
Changing a guitar's strings is simple and one of the first things you'll need to learn as a guitar student; as such, it's no big deal if you buy a guitar with an uncomfortable string gauge. If you have small hands, it's important to consider the size and shape of the neck, body, and string gauge when looking for a smaller guitar for adults.
What Are The Different Options Of An Acoustic Guitar For Players With Small Hands?
If you're an aspiring guitarist with smaller-sized hands, you're probably wondering which is the best guitar for such a case. You may even wonder if trying to learn guitar would be worth the investment in money, time, and effort. The good news is guitarists with smaller hands have a significant range of options regarding suitable six-strings.
The first step in identifying the best acoustic guitar for players with smaller hands is understanding the different body styles of acoustic guitars. Guitarists who worry they have hands too small to be good guitarists often base that assumption on their experience trying to manage guitars that are likely too large for them. Dreadnought guitars, for example, are the most common body type for an acoustic guitar, but they are also the second-largest body type available.
Here's a quick overview of acoustic guitar body styles to help you decide which may be best for players with smaller hands.
Parlor
Perhaps the best full-sized acoustic guitar for players with smaller hands, the parlor-styled guitar is the smallest acoustic body size. Significantly smaller than jumbo or dreadnought-styled guitars, parlors deliver a "punchy" sound that's ideal for accompanying vocals.
Grand Concert
The name "Grand" might lead one to think grand concert guitars are large; in fact, concert guitars are mid-sized acoustics with full waists. The grand concert is an excellent alternative for players who find dreadnought-body guitars a bit too large to handle and play comfortably.
Auditorium Guitars
Auditorium guitars are similar in size and shape to dreadnought acoustics, though their bodies are more curved, so the size and shape of their waists are different.
Another possible alternative for guitarists with small hands is the auditorium guitar, also called an orchestra guitar.
Dreadnought
Initially produced by Martin guitars, the dreadnought acoustic is, by far, the most popular acoustic guitar style. Part of the reason for this are the deep, rich tones a dreadnought can produce thanks to its large body.
Due to their large size, younger or more petite guitarists may find the dreadnought body style unwieldy and uncomfortable to play. That said, guitarists of all sizes are encouraged to try playing on a dreadnought because if you can play on that size, you can play on just about any size.
Jumbo
As the name implies, jumbo guitars have larger bodies than any other acoustic guitars. Petite and small-handed guitarists will likely want to steer clear of this body style, particularly if they've had difficulty playing a dreadnought.
Range/Mini Jumbo
Young guitarists and players who don't quite comfortable learning on a full-size guitar also have the option of a Range or mini-Jumbo guitar. Also referred to as 3/4 guitars or small scale guitars, range guitars are designed for petite guitarists and children.
Range guitars have fewer frets than standard dreadnought or jumbo guitars, and the frets aren't spaced as widely, making them perfect for hands with limited reach. Often, small-scale guitars have curved backs to increase projection and help mitigate the effects of the smaller body on the instrument's tone.
What Should I Do If I Want To Play Guitar But Have Small Hands?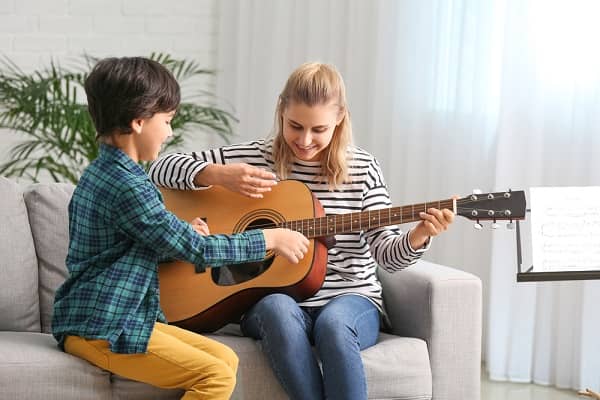 If you want to learn to play the acoustic guitar but worry your hands are too small, don't. The truth is most people with smaller hands are able to manage quite nicely on full-sized guitars. When players with smaller hands have difficulty on a full-size acoustic, it's usually due to the guitar's body size or the length and radius of its neck.
Many full-sized guitars are more than suitable for guitarists with small hands. As mentioned above, acoustic guitars with Parlor, Concert, and Auditorium body styles may all be comfortable for guitarists with small hands.
Many guitarists think their hands may be too small to play guitar because they've experienced some discomfort or difficulty trying to play on a standard-sized guitar. Actually, most, if not all, new guitarists experience some degree of discomfort as they train their hands to move and stretch in new and different ways.
If you're a new guitarist experiencing discomfort or pain in your hands, it could be that the body of the guitar you're playing is too large for you or that its neck is too long or wide; or it could simply be that you aren't used to playing guitar. Finger training exercises, many of which are readily available online for free, can be beneficial in creating new muscle memory in your hands and fingers.
Of course, short-scale and travel guitars are also great options for players with small hands.
Related Article: 
So if you're still wondering how to play with small hands, check and read this article on some valuable tips about playing guitar with short fingers or small hands.
What Size Guitar Is Best For Small Hands?
Ultimately, which is the best acoustic guitar for players will small hands depends on one variable: the player or more precisely to say, the person's hand size. A guitar that is too small will be difficult to play, and a guitar that is too large will be cumbersome to hold and control.
The best way to determine the size of guitar that is best for you is to try out different sizes at a music store. Hold each guitar in your hands and see which one feels most comfortable. You'll also want to make sure that the strings are at the right height for your playing style. If the strings are too high or too low, it will be more difficult to play correctly.
Best Brands For Acoustic Guitars For Small Hands
It shouldn't surprise anyone to learn that most of the best guitars for small hands are manufactured by the world's preeminent guitar companies.
Scale guitars produced by Yamaha, Martin, Gretsch, and Gibson's Epiphone are all included in our list of the best guitars for small hands, but Fender and Ibanez (among others) also offer high quality guitars that are scale-sized.
Frequently Asked Questions
What Is Considered Small Hands?
To reiterate, there is really no such thing as having hands too small to play the guitar. When deciding whether a scale guitar might be appropriate for you, it can be helpful to know the measurement of your hand span.
Determining your hand span is simple; just spread your hand over a ruler and count the number of millimeters between the tip of your thumb and the tip of your pinky. Guitarists with hand spans measuring 170 millimeters or more should be comfortable playing on all but perhaps the largest super-jumbo guitars.
Anyone with a hand span of fewer than 170 millimeters has what may be considered small hands for a guitarist and may want to consider a smaller-bodied, or smaller-than-standard acoustic guitar.
Can Your Hands Be Too Small To Play The Guitar?
Generally speaking, there's no such thing as having hands too small to learn to play the guitar. Guitars aren't designed for people with large hands, after all, and while large hands and fingers can be advantageous for certain skills and techniques, they can also prove problematic while trying to learn the basics.
For example, people with large hands and fingers often have greater difficulty when learning to finger single notes than people with average-sized hands.
When asked, most guitar teachers will tell you they've had students who worried their hands were too small to play guitar, and that nearly all were concerned for no reason. Often, reach difficulties wrongly attributed to small hands or short fingers can be solved by having the student hold the guitar closer to their body.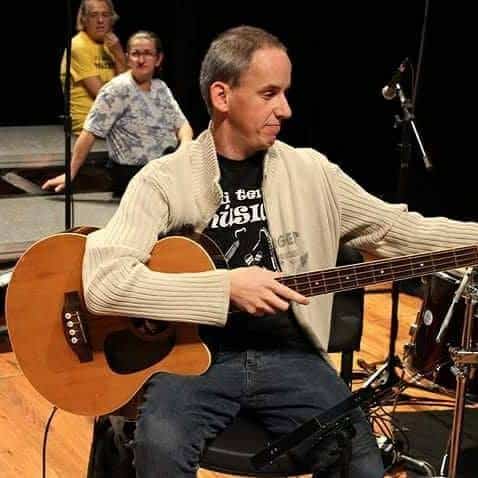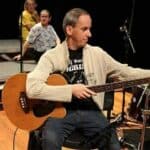 Gustavo is a music teacher and classical guitar player from Brazil, currently residing in Dublin, Ireland. He holds a graduate degree in Classical Guitar Performance from the Federal University of Pelotas. In 2020, Gustavo successfully completed a Master's degree in Sound Engineering from the Academy of Sound in Ireland.