As an Amazon Associate, We earn from qualifying purchases.
Learn More
Guitar strings affect your guitar's tone and your musical sound greatly. That's why your choice of strings is crucial while you either form or maintain your tonal aesthetic as a musician.
There are tons of guitar string brands out there and yes, it's safe to say that not all strings are made equal. Some are obviously better than others although it's also true that there's a point where it will be about personal preference.
If you break only one string, do you need to change only one or the whole set of strings? Do you restring your guitar one string at a time? Do you want to create a customized string set? If so, then can you buy individual guitar strings? Or do you really need to do so per set?
Let's find out the answers to these questions.
Can you buy individual guitar strings?
Well, YES. You can buy individual guitar strings. There are stores that sell them individuality either physical location or online and there are brands that sell their guitar strings individually too.
As mentioned, there are tons of brands out there although some are known to produce better quality and better sounding strings. But here's the catch and this is from experienced guitarists and musicians who have pretty much been around guitars and strings their whole lives, most of these guitar string brands that sell strings individually are the inferior ones.
MOST but not ALL, all right? If you know where to find good quality electric or acoustic guitar strings that are sold individually and not necessarily by set then that's a huge plus. And, we don't discourage buying guitar strings individually too.
BUT WHY DO MOST KNOWN STRING BRANDS SELL THEIR STUFF BY SET? And why do smaller brands sell their strings individually?
That could be because well-known brands are, well, well-known and their reputation for producing good quality strings is enough for them to be confident that people will spend money on their sets as opposed to lesser-known if not obscured brands (most of them are locally made or non-US brands) risk selling their strings individually to at least get a piece of the sales pie.
It's also important to take note that acoustic guitar strings are more available individually as compared to electric and bass guitar strings. Go to your local music store and you'll most often find a variety of acoustic guitar strings available and sold individually than say an electric or bass guitar string.
And that's going to usher us into our next section.
Is it wise to buy guitar strings individually or should you save up for a set instead?
If you are using brand new strings and break just one while tuning your guitar, it would be unnecessary to replace all strings. Preferably you can change only the broken string with a newer one.
Mentionable that the bridge is the most common place where strings can break. Even brand new guitars with a new set of strings can fall into the same situation due to the sharp saddle.
If it appears that your strings are breaking once and again, then you need to figure out the exact reason. Mainly the treble strings (high E, B, and G) manage to break quickly, so you can keep some extra single guitar strings to meet emergencies.
It depends, what are you aiming for? If you want to use the guitar for just personal practice then by all means save on money and patch it up with just a string and you don't need to replace the entire set.
But if you want the best sound quality out of your instrument, replacing the entire set is the best choice. May it be for an acoustic, electric, or bass guitar.
Why? Because a lot of things come into play that contributes to the tonal quality of your guitar here namely string gauge, brand, quality, and overall string condition.
String stretch and takes a beating as you use them, for fresher sound, get a fresh set and not patch it up individually which would mess it all up.

Where to buy single guitar strings?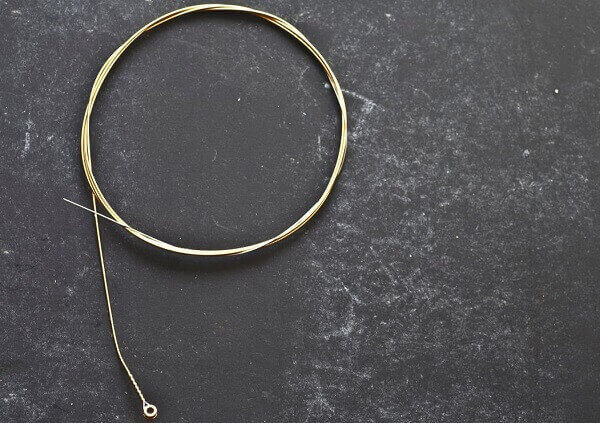 Amazon
Of course, Amazon is on our list. Aptly named, this jungle of an online store has it all.
And we say that it's one of the best places to buy individual guitar strings online because they have the largest catalogs of music-related stuff on the web.
So, of course, you will find different brands online that will allow you to purchase single strings separately. That's pretty much the same with other online retail giants like eBay and Walmart. The selection, ordering, processing, and delivery flow are quite smooth too.
Popular Individual Guitar Strings on Amazon
Guitar Center, Musician's Friend, and Other Stores
As you can see we listed down some of the best and biggest music shops here. And yes, these music stores sell individual guitar strings and it's just a question of whether they do so online as well but for sure, they sell them in their physical stores.
Most of the top music stores nowadays sell online, they have convenient websites for their inventory so just check them out. And, it's not also exclusive to just these 3. Check out some other top music shops like Reverb, Sam Ash, and Zzounds too!
These are some of the best music shops in the US. Unfortunately, most of them don't ship outside the US.
Andertons Music Co., Guitar Guitar, and GAK
These are some of the top music stores in the UK and they sell both in physical shops and online. Just browse their diverse catalog of guitar strings and you'll definitely see what you're looking for. Again, just like with the US music shops, they might not sell strings individually online but do so in physical locations.
That's because buying just one string online is really not practical as it's too small a purchase.
Other Strings Shop
There have some online music shops that sell mainly guitar strings with other guitar accessories. Strings And Beyond, Just Strings, and Strings Direct are a few shops to mention that provide quality musical accessories, especially strings, at a reasonable price. We can bet that you'll find more single-string varieties in these shops than the other largest shops.
Brands that sell single strings
D'Addario, Elixir, and Ernie Ball are just some of the brands that sell their guitar strings individually online and in physical locations. Also, check out Savarez Alliance strings and Hannabach strings.
These brands alone should serve you a wide range of strings from electric, acoustic, bass, and classical guitars. Sometimes, selling them individually is all up to the store, or if in retailers like Amazon, it depends on the reseller and they price them too accordingly.
Single guitar string price
Typically the price of a single string that sells individually is higher than the price of a string from an entire set. It's the effect of the "buy more, pay less" strategy. But it is unacceptable that some vendors sell a single string for the price of a whole pack of strings.
A single string is usually priced at $1 to $6 for both acoustic and electric guitar strings. Bass guitars would naturally cost more at around $4 to $10 on average. Some brands sell their strings by half a set which means 3 strings per pack for acoustic and electric guitars.
Also, consider before ordering a single string online that you might spend as much of the shipping charge as you would on the string.