Hey there! As an Amazon Associate, We earn from qualifying purchases. We greatly appreciate your support!
Learn More
Shopping for the best capo for 12 string acoustic guitars? In our 12-string capo reviews, we will showcase 6 great capos for you to choose from. To help you decide, we'll have a good look at each of the capos, including their advantages and disadvantages.
There is some controversy surrounding 12-string capos and guitar capos in general – we'll address this too. Additionally, we'll give you a few tips on choosing the right 12-string guitar capo right after the reviews.
Make yourself comfortable – we are starting with our reviews right now!
List Of Best Capo For 12 String Acoustic Guitar
Review Of Top 6 Capos For 12-String Guitars
1. S3 Shubb Deluxe Series 12 String Guitar Capo
Up first on our list, we have the S3 Deluxe 12-string capo from Shubb. This capo has received universal acclaim from buyers, and it appears to be a great choice for most 12-string guitars.
At the heart of the S3 Deluxe guitar capo is custom-built rubber that is made to imitate the human finger. The result is even tension in the strings and minimal buzzing.
The S3 Deluxe capo is easy to use as well. You adjust its tension once at the very beginning, and you are good to go – no readjustments are needed after each use. Setting and removing this capo is rather easy as well.
The tension adjustment mechanism here is traditional for Shubb capos – it is operated by a screw and allows for a wide range of adjustments. It's reliable, easy to use, and seems to deliver great performance.
We also like the stainless steel build of the S3 Deluxe. You don't need a guitar capo to be this tough, but this capo feels solid and more premium than many other capos on the market.
Pros:
Imitates the human finger to minimize buzzing.
Tough stainless steel design.
Adjustable tension.
Cons:
Nothing to complain about.
Check Price And Reviews on Amazon
---
2. Kyser Quick-Change Capo for 12-string guitars
Next on our top of the best 12-string capos, we have the KG12B Quick-Change capo from Kyser.
As the name suggests, the key feature of the Kyser capo is its quick-change mechanism. It's loaded by a spring, so to install and remove the capo, you just need to pull the grips together. The Kyser capo can be removed with just one hand too, which many buyers will appreciate.
When it comes to the sound, the Kyser Quick-Change capo appears to produce no buzzing with proper adjustment. The rubber pad seems to distribute tension evenly, and most people didn't have any issues with this capo.
What some of you may also like about the Quick-Change capo is its price – this is quite a pocket-friendly 12-string guitar capo. Its build quality is still very good – the steel spring combined with the aluminum frame should serve you for years.
One thing to keep in mind with the Kyser KG12B Quick-Change capo is that it doesn't have tension adjustment. On one hand, this means that you can mount this thing to your guitar without any setup. On the other, you can't finetune the amount of tension applied to the strings.
This won't necessarily be a problem for you since Quick-Change is tuned to work with most 12-string guitars out of the box. But with some guitars, its stock tension may be inadequate.
Pros:
Wallet-friendly.
Very easy to mount and take off.
Guaranteed for life.
Cons:
Doesn't have tension adjustment.
---
3. G7th Newport Guitar Capo (C32013)
The G7th Newport guitar capo features a patented compensated string pad design. If you have a good look at the string pad, you will notice that it has a series of tooth-like bumps. These are intended to finetune and equalize tension on strings of different gauges.
With proper adjustment, this unique string pad design could deliver way better results than any other capo on the market. On the other hand, keep in mind that Newport doesn't work on 12-string Rickenbacker guitars because they have reverse octave string positions.
For guitars with reverse string orientation, you should get a capo with a uniform string pad surface.
To allow you to finetune sound and mounting, G7th Newport 12-string capo has a tension adjustment knob. The flip lever makes setting and removing the capo very easy as well.
What we also love about the Newport guitar capo is its design. It's a really sleek-looking capo, and although this doesn't matter for performance, the design does set Newport apart from other capos on this list.
Pros:
Sleek looks.
The string pad takes into account different string gauges.
Adjustable tension.
Cons:
Not suitable for 12-string Rickenbacker guitars.
---
4. Thalia Capo 200 Series Brushed Black Blue Abalone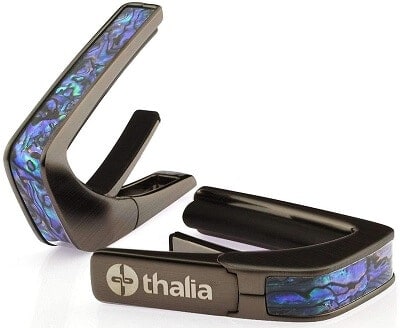 Finally, we have the Thalia 200 Series capo, which is a great choice if you are willing to pay the price for the quality. The Thalia capo is quite a pricey one though, so it's certainly not for those who are shopping on a budget.
When it comes to tension adjustment, Thalia employs a unique approach. Each Thalia 12-string capo comes with 7 standard-tension and 7 high-tension rubber fretpads. The high-tension fretpads are intended for 12-string guitars, ukuleles, banjos, and some guitars with low-profile necks.
What's also great about Thalia capos is that they are made to imitate the human finger, as Thalia outlines in an educational blog post. The fretpads are designed to apply even tension to all strings to avoid buzzing and create a seamless sound.
Sound aside, the 200 Series Blue Abalone capo makes for a great gift. The capo comes in an attractive clear case and includes the mentioned fret pads, a microfiber carry bag, a Santos Rosewood pick, and a Thalia sticker.
Also Read: 
If you are looking for a premium capo that perfectly fits your guitar's neck radius, check out our full review of Thalia capo.
Pros:
Excellent quality.
Great as a gift thanks to the packaging.
Includes several fretpads.
Covered by a lifetime warranty.
Cons:

---
5. Planet Waves NS Capo Pro
The Planet Waves NS Capo Pro is a great alternative to the G7th Newport capo in terms of style. NS Capo Pro looks just about as sleek, and Planet Waves even offers a number of colors for you to choose from.
One advantage NS Capo Pro has over G7th Newport is guitar compatibility. The string pad here is flat and thus will work with any guitar, including Rickenbacker instruments. NS Capo Pro may not work as well as Newport for your particular guitar, but its instrument compatibility is better.
When it comes to sound, NS Capo Pro appears to offer good performance and even string tension. The tension is adjustable via a knob at the base of the capo, like in Newport.
NS Capo Pro is also a fairly cheap 12-string guitar capo, which is nice if you are on a budget. The build quality reflects the price though – if you will be using your capo frequently, then this one may not hold up in the long term.
Pros:
Attractive price.
Sleek design – like in G7th Newport.
Unlike the Newport, works with any 12-string guitar.
Adjustable tension.
Multiple colors are available.
Cons:
The build quality could be better.
Check Price And Reviews on Amazon
---
6. Paige Clik Guitar Capo (12-String)
The Paige Clik guitar capo features a gorgeous vintage design that we really like. If you have a vintage 12-string acoustic guitar, then the Click capo might be the perfect addition to it.
The style aside, the Clik guitar capo features a traditional pad that appears to do a good job of applying even tension to the strings. You may adjust the tension via the knob at the bottom, achieving buzz-free sound and secure clamping.
Speaking of clamping, the Clik guitar capo is fairly easy to put on and take off the fretboard. However, our previous picks are more convenient in this regard since they only require you to flip a lever, while Clik requires that you hook and unhook the string pad wire to the frame for installation.
Pros:
Gorgeous vintage design.
Adjustable string tension.
Cons:
Not as easy to mount and remove as other capos on the list.
Check Price And Reviews on Amazon
---
How To Choose The Right Capo For 12-String Guitar
Now, let's briefly cover the key things to consider when shopping for the best capo for your 12-string guitar.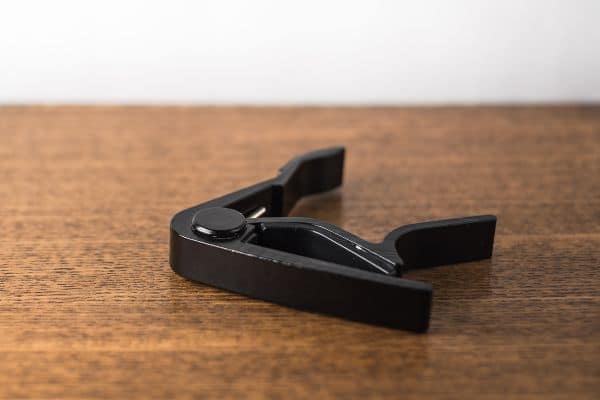 Different Types Of Capo
Guitar capos are available in several styles. Although they all perform the same task, they are distinct in their use, and they have unique pros and cons.
C-clamp Capos
C-clamp capos – like G7th Newport or Shubb S3 Deluxe – have a distinct C-like shape, hence the name.
C-clamps are manually tuned via a screw. By turning the knob at the base of a C-clamp capo, you may adjust the tension of the capo to ensure even pressure on the strings.
C-clamp capos are great in terms of reliability. They are durable and don't tend to put the instrument out of tune. C-clamp capos are quite compact as well, so they don't usually interfere with the musician.
Spring-loaded Capos
Next, we have spring-loaded capos – like the Kyser capo we've had on our #2 spot. These capos put tension on strings via a spring. Not only that, but spring-loaded capos are very easy to mount and take off a guitar, even with one hand.
Spring-loaded capos are also typically inexpensive, so they are a good choice if you are shopping on a budget.
On the other hand, spring-loaded capos typically don't allow tension adjustment, so they aren't versatile enough for every guitar out there. Due to their constant clamping pressure, they may damage some guitars too. With that said, capos like Kyser Quick-Change are intended to fit most guitars out there, so you should have no issues.
Elastic Band Capos
Finally, there are the so-called elastic band capos. These capos are really cheap and are primarily manufactured and sold by Dunlop. Thus, they are great if you are new to guitars and capos.
With that said, elastic band capos are typically flimsy, which is expectable for their price. Aside from that, they tend to put strings out of tune. The tension is frequently not very even as well, which results in buzzing from the strings.
Tension Adjustment
Next, consider how the capos adjust the tension and whether they can adjust the tension at all.
In most 12-string capos that have tension adjustment, tension is regulated via a knob at the base of the capo. A few models – like Thalia capos – require that you change the string pad to adjust the tension.
Capo Size
Smaller capos are better because they are less likely to interfere with your fretting hand. However, capos that are too small may be unable to properly clamp onto the guitar neck, so keep that in mind.
Fretboard Shape
Lastly, consider the fretboard shape that the capo is designed for. Most capos are designed for flat fretboards, but if you have a radiused fretboard, you will need to shop accordingly.
Check This 12-String Capos Shootout By Guitar Songs Masters:
12-String Capo Problems To Keep In Mind
When shopping and using a 12-string guitar capo, you should keep in mind a few common issues:
Uneven tension on the strings. The most common problem with 12-string capos is uneven tension. If the strings are pressed against the fret with unequal tension, you will experience buzzing. This may be treated by adjusting the tension of the capo, as well as using capos designed to mimic the human finger (like Thalia and Shubb capos).
Knocking the strings out of tune. Due to the bending of strings, capos tend to put guitar strings out of tune. After each capo session, you may need to tune your strings anew.
Guitar damage. Capos accelerate the wear in frets and strings as you play. Strings and frets wear out no matter how you play anyway, so you shouldn't worry about this too much. However, if the capo tension is too high, it may seriously damage the guitar.
Interference with the fretting hand. Some capos may interfere with your fretting hand. You may avoid this by going for a more compact capo.
You may prevent issues with 12-string capos by:
Using a good acoustic or electric guitar capo with tension adjustment.
Properly adjusting the capo tension.
Capos will wear out your strings and fret no matter what, but via proper adjustment, you will be able to slow the process down.

Frequently Asked Questions
Can I use a 12-string capo on a 6-string guitar?
If you have a 12-string capo and 12- and 6-string guitars, then you should be able to use the capo just fine. You will need to adjust the tension when you switch guitars, but this shouldn't be a huge issue.
Is there a difference between a guitar capo and a ukulele capo?
There are no big differences between guitar and ukulele capos in terms of design. Where there may be a difference is the neck radius a capo is designed for, as well as tension.
If a capo is adjustable in size and tension, then you will be able to safely use a ukulele capo on guitar, and the other way around.
Do capos damage guitars?
Capos may cause some damage to guitars, but only with incorrect use. For example, if the tension of the capo is too high – which may happen if you've moved the capo from another guitar, for example – the capo may damage the strings or the finish of the guitar.
With proper tension adjustment, you will not see any significant damage to the guitar. However, the capo will somewhat accelerate string and fret wear. Frets and strings wear anyway with normal play, but capos might force you to repair your guitar more frequently.
But again, with proper use, you shouldn't worry about this too much.
Final Words
Now, you should be able to easily select the best 12-string capo for your needs!
Make sure to be careful when choosing guitar accessories like a capo. Although if you properly adjust and mount the capo, it is unlikely to damage your precious guitar, a badly fitting capo will produce buzzing and may wear the strings and frets faster.
Our 6 picks are a great place to start, but there are dozens and hundreds of other capos on the market as well. If none of our suggestions seems right for you, then look around and use our tips to find a better fit for your musical needs.
Related Article: