As an Amazon Associate, We earn from qualifying purchases.
Learn More
The holiday shopping season is upon us, and for guitarists that means one thing—Black Friday guitar deals! Black Friday is the biggest sale event of the year, and retailers pull out all the stops with deep discounts on everything from electric and acoustic guitars to amps, effects pedals and accessories.
Whether you're a beginner looking for your first real guitar, a gigging musician needing new gear, or a collector always on the hunt for your next acquisition, Black Friday 2023 will have incredible offers to upgrade your arsenal.
In this comprehensive guide, we'll cover everything you need to know to save big and find your perfect guitar deal this holiday season.
Featured Deals (Black Friday & Cyber Monday)
Some of the best Black Friday guitar deals are already live, weeks ahead of Black Friday itself (November 24). Let's take a look at the hottest early sales:
Guitar Center Black Friday Deals
The guitar superstore has launched their Holiday Sale with insane discounts of up to 35% off Fender, Gibson, Taylor, PRS and more top guitar brands.
Standout deals include a Fender Player Series Stratocaster for just $599.99 and an Epiphone Les Paul Custom Limited Edition for only $599.99.
Check GC Black Friday Deals Here
Sweetwater
The online musical instrument giant has launched their Early Black Friday sale, running until November 16th. This gives eager shoppers the chance to save big even before the official start of the holiday sales frenzy.
Some sizzling hot deals available at the moment include:
20% off select PRS SE electric guitars
$600 off B.C. Rich acoustics
25% off Mesa/Boogie amplifiers
$300 off the Blackstar 40-watt tube combo amp
Huge price drops on Fender's guitars and basses
Once Sweetwater's Early Black Friday event ends on the 16th, even more insane deals up to 70% off will kick off for Black Friday and Cyber Monday.
Expect epic savings on top brands like Taylor Acoustics, Gibson Les Pauls, and Fender amps while supplies last. Guitarists looking to upgrade their whole rig can score big at Sweetwater right now.
Check Early Black Friday Sale on Sweetwater
TrueFire Guitar Lessons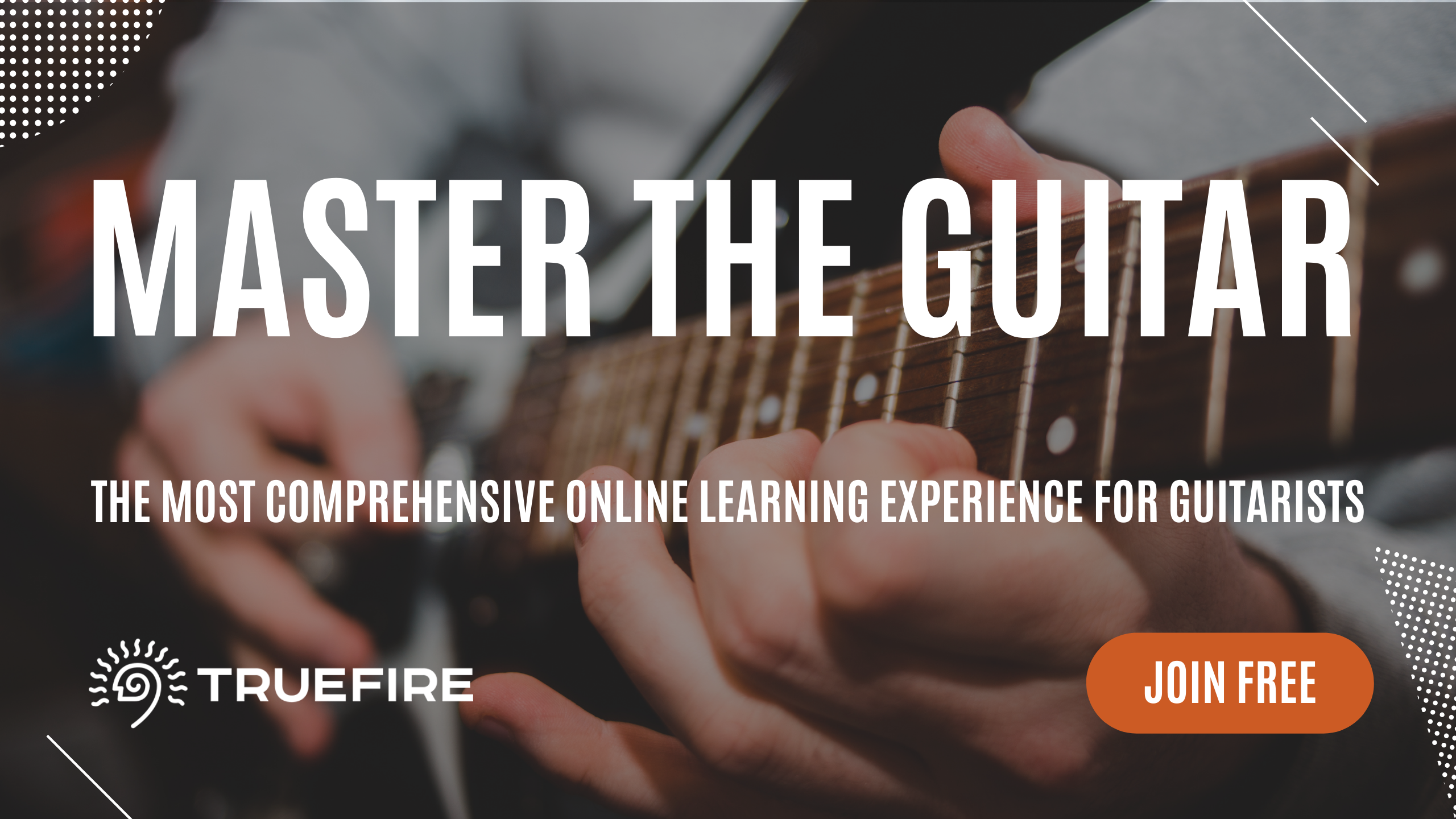 Guitar Educators At Your Fingertips
Online guitar lesson experts TrueFire have announced massive savings for Black Friday and Cyber Monday running November 16-30.
First up, get their All Access annual plan for just $99, 60% off and with the low rate locked in.
Next is the All Access Plus bundle, with a $662 value including extras like a Bluetooth foot pedal, bag, and lesson credits, now only $199 for 70% off.
Additional deals include 60% off Artist Bundles from top guitarists like Marty Friedman, plus thousands of individual $10 courses and jams to choose from.
And for big savers, bundling 5+ lessons gets an extra 10% off and 10+ lessons an extra 20% off.
With deep discounts on world-class video guitar instruction, TrueFire proves Black Friday is the best time to seriously invest in elevating your skills.
Fender Play Subscription
Fender is offering 50% off their acclaimed Fender Play online guitar lessons for the first year. The Black Friday deal applies to new annual subscriptions purchased through Fender's website and is only valid for residents of countries where Fender Play is available.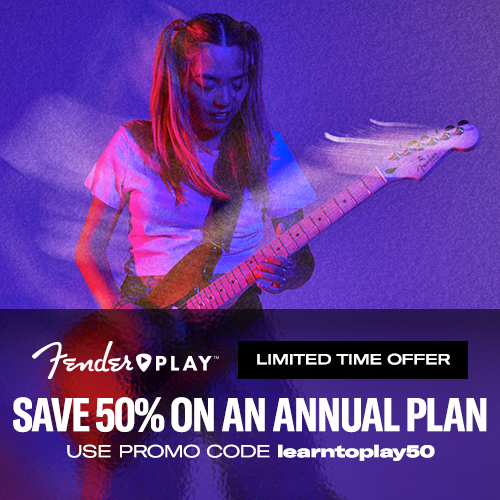 Learn To Play Guitar
Along with bite-sized, song-based video lessons, the offer also includes 10% off Fender gear, but the gear discount is only available in the US and UK.
This is the perfect chance for beginners to start learning guitar from the experts at a major discount.
Amazon
Amazon's extensive Black Friday and Cyber Monday guitar deals are slated to run from November 17th through the 27th. The deals stretch over 11 days, with new discounts across all product categories emerging daily.
For guitarists, this lengthy holiday promotion means ample opportunities to save on instruments, amps, pedals and accessories. Amazon will offer exclusive guitarist-friendly deals from November 17-22, followed by fresh batches of savings for Black Friday through Cyber Monday.
Shoppers can expect rotations of limited-time lightning musical instrument deals dropping as frequently as every five minutes during the busiest periods.
Guitarists should bookmark Amazon's Black Friday page to stay on top of the latest updates and snag must-have guitar gear and accessories before deals expire.
With discounts coming and going rapidly, persistence and good timing will be key to securing the best bargains. Overall, Amazon's dynamic holiday sale has incredible potential for scoring big on guitar goodies.
Check the following selective Holiday Deals on Amazon:
Sam Ash Music
This major music retailer has kicked off their Holiday Sales Event with stellar savings for guitarists. Highlights include:
Taylor's hot "Get One, Gift One" promotion – buy any Taylor 200 series or above and get a free Baby Taylor BT1 ($99 value) or GS Mini Sapele ($199 value)
20% off all PRS SE electric guitars
Up to 50% off Michael Kelly 1960s electric guitars
$100 off Taylor's affordable 100 Series acoustics
Discounts on Marshall guitar amps and heads
$100 to $1000 off Roland electronic drum sets
In addition to these stellar guitar deals, Sam Ash also has big discounts on products like Roland digital pianos, AKG condenser microphones, Samson portable PA systems, JBL speakers and studio monitors, Shure microphones and earphones, and more.
With these early holiday offers, Sam Ash proves they are a destination for major savings on gear for guitarists of all levels.
Fender Guitars
For major savings direct from the source, Fender has launched their holiday sale with discounts of up to 30% off at Fender.com.
The deals include price drops on popular electric and bass guitar models like the Stratocaster, Telecaster, Jazzmaster, Jaguar and Precision Bass.
Standout offers include:
Aerodyne Special Stratocaster: Was $1,299.99, now $999.99
Player Plus Telecaster: Was $1,099.99, now $999.99
Vintera 50s Stratocaster: Was $1,099.99, now $879.99
Player Plus Jazz Bass V: Was $1,249.99, now $1,149.99
Select Fender apparel and merchandise is discounted too, so you can rep your favorite guitar brand in style. But hurry, because these holiday deals won't last for long!
Musician's Friend
The musical instrument mega-retailer has unveiled huge early access Black Friday savings of up to 40% off leading guitar brands. Some juicy highlights include:
Gibson Les Paul Traditional Pro V: $700 off, just $2,499
PRS SE Zach Myers: $170 off, just $679
Taylor 114ce acoustic: $200 off, just $799
Mesa/Boogie 25w combo amp: $420 off, just $1679.20
And the deals don't stop there. You can also score discounts on top guitar gear like effects pedals, live sound equipment, microphones, headphones, recording devices, and more.
Act quickly, as these hot deals are selling out fast during this epic pre-Black Friday sale event.
Online Music Lessons from ArtistWorks
Learn from Master Musicians
Online music lesson provider ArtistWorks has revealed major savings for Black Friday and Cyber Week. Get a head start on deals by saving 50% on all 12-month lesson plans from November 16-26 with code PZFRIDAY50.
Then for Cyber Week (November 27 – December 3), save 50% on 3-, 6- and 12-month subscriptions and get a free Elmore overdrive pedal with 12-month purchases, while supplies last. Use the code PZCYBER50 to avail of this offer.
With world-class instruction available at half off, it's the perfect time to invest in advancing your guitar skills.
Donner Deals
Budget-friendly guitar brand Donner has some great holiday promotions lined up for their quality, affordable instruments and gear aimed at beginner and intermediate players.
Kicking things off is their 11.11 sale from November 7-13, with $15 off orders over $100 and $120 off orders over $600. Daily Black Friday deals then run from November 14-20 with savings up to 25% storewide.
Following that, get up to $150 off electronic drums from November 21-23.
Finally, Donner will offer their lowest prices of the year from Black Friday through Cyber Monday, so expect even more chances to save on their guitars, pedals, amps and accessories.
With stacked savings opportunities all November long, Donner proves you don't need to spend big to score deals on solid gear this holiday season.
Check out Donner Guitars Holiday Deals Here
Orangewood Guitars
Orangewood Guitars has launched an Early Holiday Sale with up to 40% off their beginner-friendly acoustic and acoustic-electric models. The sale includes all body shapes – dreadnought, grand concert, grand auditorium, parlor and mini – at reduced prices.
Additional perks include free shipping and extended holiday returns until January 31st, 2024. This limited-time offer is a great chance for new players to score one of Orangewood's quality, budget-conscious guitars at an even more affordable price point heading into the holidays.
Check Orangewood Guitars Holiday Sale
Positive Grid
For digital guitarists, Positive Grid has cut prices on their acclaimed Spark practice amps, guitar interface and BIAS guitar software. The feature-packed Spark 40 is only $229 and the ultra-portable Spark Mini is just $189.
Their BIAS FX 2 software also sees a generous $180 discount. Additionally, the Positive Grid Guitar Audio Interface is now just $69 after a $40 price drop.
Check All Deals from Positive Grid
Black Friday Instrument Deals – Quick Link
When is Black Friday 2023?
While sales are already happening, the actual date for Black Friday this year is November 24. However, the deals won't stop there. They will continue throughout the weekend, culminating in Cyber Monday on November 27.
Retailers are launching deals earlier, though. So it's a good idea to keep checking for new discounts in the weeks leading up to Black Friday. The most in-demand deals could sell out fast too.
Why Black Friday is the Best Time to Buy a Guitar
Beyond just the unbeatable prices, Black Friday is great for buying a guitar for a few key reasons:
Exclusive Bundles – Retailers offer custom guitar bundles with accessories during Black Friday that you can't get any other time of year. These add tons of value on top of the discounts.
Seasonal Models – Special edition guitars in holiday finishes are released annually for Black Friday. Pick up a festive new 6-string to get you in the spirit.
Gear Upgrades – For gigging musicians, Black Friday is the perfect time to score those key upgrades to your rig before the start of a new performance season.
Gifting – With the savings, you can check off some guitars and gear from your holiday wish list and gift list during Black Friday guitar sales.
Tips for Navigating Black Friday Instrument Deals
To make sure you secure the best Black Friday guitar deals, keep these shopping tips in mind:
Make a list – Planning ahead based on your needs prevents impulse buys on gear you don't need.
Compare prices – Look across different retailers to find the best deal on the guitar you want.
Act fast – The most popular deals will sell out quickly, so jump on discounted items ASAP.
Factor in extras – Remember to budget for essential add-ons like cables, picks and a case.
Understand return policies – Know the return window for pricey purchases in case you change your mind.
Use coupons & cashback – Stack additional savings by using promo codes and cashback.
Online vs. In-Store Shopping
For guitar shopping on Black Friday, both online deals and brick-and-mortar doorbusters have pros and cons:
Online
Wider selection of inventory
Avoid crowds and lines
Easy price comparisons between retailers
Limited ability to try instruments
Potential shipping delays
In-Store
Test drive gear in person
Immediate ownership of purchases
Compete with crowds if scarce stock
Possible parking challenges
Must visit multiple stores to compare
Splitting your shopping between online and in-store is a smart way to enjoy the best of both worlds. Order must-have deals online and visit local shops to try out gear.
Beyond Black Friday: Cyber Monday and Holiday Deals
Once Black Friday ends, your deal hunting isn't over yet! Retailers will launch a fresh batch of savings for Cyber Monday on November 27.
Amazon, in particular, has a huge Cyber Monday guitar sale with low prices on beginner acoustic and electric guitar packs. This makes it a great chance to gift someone their first guitar.
For those with gift lists, Cyber Week deals leading up to the holidays are also bountiful. Keep an eye out for extended sales, especially on guitar accessories which make perfect stocking stuffers.
Final Words
As you can see, Black Friday 2023 will be the best time all year to buy guitars, amps, pedals and other gear at unbeatable prices. With the right preparation and shopping strategy, you can save hundreds on the dream guitar you've had your eye on or find the perfect holiday gift.
Start making your wish list now and monitor early deals so you'll be ready to score big when the best guitar deals on Black Friday start dropping later this month. The wait for serious savings is almost over!
Thomas M., the founder of Guitar Top Review, boasts 15+ years of guitar experience and was a church band member in L.A. Transitioning from piano to acoustic guitar, his first love remains his Taylor GS Mini. Alongside like-minded hobbyist friends, he launched the site, driven by a deep love for music that transcends professional boundaries.