As an Amazon Associate, We earn from qualifying purchases.
Learn More
I've been playing guitars for more than 15 years and checking out all kinds. Finding a good, not-too-expensive one can be a headache, you know?
Well, I got my hands on the CD-60SCE, a budget guitar. At first, I wasn't sure if it could give me the nice sound and comfy feel I wanted. But guess what? It totally did! I tested it for a few weeks, and it went beyond what I hoped for.
In this Fender CD 60SCE review, I'll spill the beans about how it's made, how it sounds, and the techy stuff like electronics. I'm not here for the fancy talk; I'll give you the real deal. My way of testing makes sure you get practical advice that suits your level and what you're looking for.
Why should you read this? 'Cause it's not just me saying it's great; I've got the facts to back it up. If you're wondering if the CD-60SCE is worth your money, I got you covered.
Fender CD-60SCE Acoustic-Electric Guitar Review
This in-depth review explores the Fender classic design guitars (60SCE) build quality, tonal variety, and playability to assess if this acoustic-electric model's quality and features suit your musical needs. But before that, explore the CD 60SCE's essential features and deciding factors at a glance, providing a quick insight into what makes this guitar stand out.
Critical Specs & Deciding Factors At A Glance
Body Shape: Dreadnought Cutaway
Body Top: Solid Spruce
Back & Sides: Mahogany
Neck Material: Mahogany
Bracing: Quarter-sawn Scalloped "X"
Scale Length: 25.3″ (643 mm)
Nut Width: 1.69″ (43 mm)
Electronics: Fishman CD-1 Preamp
Truss Rod: Dual-Action
Tuning Machines: Chrome Die-Cast
Build Quality
The Fender CD-60SCE impresses with its solid build, making it a standout in the affordable acoustic-electric guitar realm. The classic dreadnought shape, a hallmark of Fender's design prowess, enhances projection and resonance.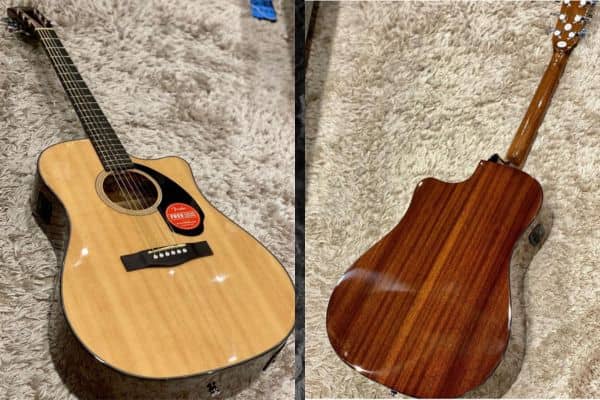 Crafted with a laminated mahogany body, including mahogany sides and a solid mahogany top, this guitar strikes a balance between durability and tonal warmth. The venetian cutaway body style not only contributes to an elegant aesthetic but also facilitates easy access to the upper frets, catering to a range of playing styles.
The mahogany neck, with Fender's easy-to-play neck profile, pairs seamlessly with the walnut fretboard. The 1.69 inch or 43mm nut width provides ample spacing for fretting, ensuring ease of playability, especially for beginners.
Chrome die-cast tuners uphold tuning stability, a crucial factor in the overall playing experience. The walnut bridge complements the guitar's tonewood, contributing to a well-balanced tone. The use of a dual-action truss rod enables precise adjustments to suit individual preferences.
Underneath the top, the CD-60SCE features quarter-sawn scalloped "X" bracing, enhancing resonance and responsiveness.
In summary, the Fender CD-60SCE's meticulous construction, thoughtful choice of materials, and attention to design details make it a compelling option for those seeking an inexpensive acoustic-electric guitar without compromising on build quality.
Sound Quality
The Fender CD-60SCE impresses with its versatile sound, striking a balance between warm and bright tones, making it suitable for various playing styles. The timbre is unique, delivering a distinctive character to each note.
The guitar projects sound admirably, with a well-sustained resonance that resonates across all strings, ensuring a cohesive and balanced sound.
Whether softly fingerpicking or strumming vigorously, the CD-60SCE showcases a commendable dynamic range, adapting seamlessly to different playing techniques. It's particularly friendly to young players and entry-level guitarists, providing a forgiving response to the fretting hand.
Playing through an amp, the onboard preamp enhances the guitar's adaptability, making it suitable for live performances. In terms of resistance to feedback, the CD-60SCE performs well when plugged in, a crucial factor for those exploring various styles of playing, including genres like delta blues or chord-heavy arrangements.
Overall, this Fender acoustic guitar delivers a commendable sound quality, making it an excellent choice for players seeking an affordable yet versatile instrument.
Playability
The Fender CD-60SCE is super comfy for playing and great for both newbies and seasoned players. The neck profile and width make it easy on the hands, perfect for long jam sessions. 
The action, or string height, feels just right – not too high, not too low, striking a sweet spot that keeps your fingers happy. Fret size and condition are top-notch, ensuring smooth moves up and down the fretboard.

With a 1.69″ nut width, it's beginner-friendly, giving your fingers enough room. The plastic nut, though basic, keeps string spacing consistent. Stays in tune like a champ, thanks to chrome die-cast tuners. No annoying fret buzz to ruin your tunes.
The cutaway style body and rolled fingerboard edges add a touch of class while making it a breeze to reach those high notes.
Whether you're a beginner seeking a reliable starter guitar or an experienced player looking for a cheap acoustic with playability that stays in tune, the Fender CD-60SCE proves to be an instrument that effortlessly accommodates diverse playing styles.
Electronics
Beyond its organic acoustic tone, the CD-60SCE incorporates Fishman electronics for amplifying scenarios.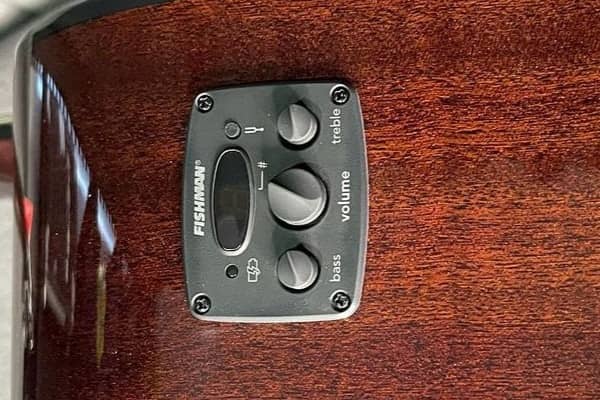 The under-saddle piezo pickup accurately captures string vibrations, converting movements into electric signals for the Fishman CD preamp. Mounted discreetly on the bout, it has essential tuning and shaping features.
The built-in tuner ensures accurate pitch, while volume, bass, and treble knobs dial in tones suited to different spaces and genres. Battery life status prevents onstage surprises.
For players ready to transition between practice sessions and public performances, the CD-60SCE adds stage-ready musical versatility absent in most beginner instruments. You can explore creative possibilities without upgrading.
Cost and Value
Getting quality acoustic guitars for beginners without breaking the bank can be challenging. The Fender CD-60SCE offers remarkable value in the $300 to $350 range, making it an affordable acoustic-electric choice.
Moreover, the bundle option on Amazon, priced slightly above $350, includes essential accessories like a hard case or gig bag, cable, tuner, strap, guitar strings, picks, and an instructional DVD. Consider them cherry-on-top perks that make this deal even sweeter.
This comprehensive package enhances the overall value, providing everything needed for playing guitar, making it an excellent deal for beginners seeking an affordable and quality acoustic guitar.
Other Variants
The Fender CD 60SCE is not the only variant of the Fender CD 60 series. There are other options for playing guitar that suit different tastes and preferences.
One of them is the CD-60S all-mahogany, which has a solid mahogany top and mahogany back and sides. This gives the guitar a warm and rich tone that is ideal for blues, folk, and fingerstyle.
Another variant is the CD-60sce-12, which has 12 strings instead of 6. This adds more depth and shimmer to the sound, making it perfect for strumming and filling out the sonic space.
What I Like and What Don't
Pros:
Excellent clarity when plugged into an amplifier
Comparatively Louder than other guitars at this price point
Designed for easy playability with a Venetian cutaway body
Affordable bundle with great value for money
Comfortable neck for easy fingering
Low string action for enhanced playability
Cons:
Some slight string buzz with power chords (adjustable)
Potential for saddle and nut to come loose
If you are not a beginner, then the pickup system will probably be not enough for you
Need to replace the provided set of strings
Who Should Consider the Fender CD-60SCE Guitar?
The Fender CD-60SCE acoustic-electric guitar is an ideal choice for beginners and intermediate players seeking a reliable and affordable instrument.
Whether you're a beginner looking for your first guitar or an intermediate player in need of a versatile electric-acoustic, the CD-60SCE caters to those seeking quality in a budget-friendly package.
Its combination of playability, balanced tone, and the convenience of an onboard preamp make it a top choice for anyone exploring the world of acoustic guitars.
Alternatives of Fender CD 60SCE Dreadnought
When considering alternatives to the Fender CD-60SCE, two standout options are the Yamaha FGX800C Solid Top Dreadnought and the Ibanez AW54CEOPN Artwood Guitar. 
Yamaha's FGX800C boasts exceptional build quality and a rich sound profile, making it a favorite among beginners and experienced players alike. Users praise the Yamaha FG series for superior construction, sound, and overall feel, making it a reliable choice. 
Sale
The Ibanez AW54CEOPN, with its open-pore natural finish, offers a unique aesthetic and a warm, resonant tone. The Ibanez Artwood, recognized for its affordability and excellent build, stands as a worthy alternative for those seeking an acoustic-electric guitar with a distinct appearance.
Considering the user feedback and personal experiences, both the Yamaha FGX800C and Ibanez AW54CEOPN emerge as strong contenders for players looking beyond the Fender acoustic guitar range.
Frequently Asked Questions
Are cheap Fender acoustic guitars good?
Cheap Fender acoustic guitars are good, but not great. They offer a good balance of sound, playability, durability, and features, and they are suitable for beginners and intermediate players, or for players who are looking for an affordable and versatile acoustic guitar. 
However, they come with limitations like less depth in sound, frequent tuning needs, and susceptibility to laminate wood issues. Regular maintenance is required, and occasional defects may be present.
Is the Fender CD 60SCE good for beginners?
Yes, the Fender CD-60SCE is excellent for beginners. It offers a comfortable playing experience, a well-balanced tone, and features like a cutaway body style and onboard preamp. The affordable price makes it an ideal choice for those starting their musical journey.
Thomas M., the founder of Guitar Top Review, boasts 15+ years of guitar experience and was a church band member in L.A. Transitioning from piano to acoustic guitar, his first love remains his Taylor GS Mini. Alongside like-minded hobbyist friends, he launched the site, driven by a deep love for music that transcends professional boundaries.