As an Amazon Associate, We earn from qualifying purchases.
Learn More
Guitars hold an enduring place in the world of music, embodying melody, rhythm, and powerful emotions. Yet, browsing online for the perfect guitar can be a daunting undertaking.
So we are here to assist you as your navigator, examining the vast realm of virtual guitar shopping. Prepare for an exciting journey through online music stores that offer outstanding convenience, top-notch quality, and an extensive range of choices.
In this article, we will unveil the best place to buy guitars online, allowing you to find a flawless match for your skilled hands and restless spirit. Welcome to the ultimate destination for guitar enthusiasts.
Best Online Guitar Stores (In The USA & Canada)
If you are thinking about where to buy guitars online, then consider these top sites when looking for the best places to buy guitars online, especially if you are from the US or Canada.
1. Sweetwater
In the quest to find the best online guitar retailers, Sweetwater stands as the ultimate destination. Renowned for its exceptional customer support and wide selection of musical instruments, Sweetwater is a go-to choice for musicians at any level.

Due to their spacious 40,000 square feet music store and 480,000 square feet enormous fulfillment center, they can offer a vast collection of nearly 1,000 top music brands and quality instruments, catering to the needs of experienced guitarists with discerning tastes.
What sets Sweetwater apart is their unwavering commitment to customer support. Not only do they have fantastic buying support, but they are there for the life of your guitar with their technical support. Their technical support team is knowledgeable and readily available online to assist with any inquiries or issues you may encounter.
Their dedication to providing quality instruments is another excellent characteristic of Sweetwater. Every guitar priced above $399 undergoes a thorough inspection by their team of skilled guitar technicians. You can buy with confidence, knowing that they are doing everything to ensure you get the best they have to offer.
Plus, they offer free shipping, special financing, and an interest-free easy payment plan for up to 48 months on some selected brand items. This flexibility allows you to manage your payments while investing in the instrument of your dreams.
Sweetwater's commitment to customer satisfaction extends to their hassle-free returns within 30 days, ensuring that you have ample time to evaluate your purchase. In the case of used gear, you may return it within 90 days of purchase for a refund or an in-house credit minus the cost of shipping.
It's easy to get lost browsing through all their options. So it's best to have an idea of what you're looking for. This website is mostly fitted for people who have been playing for a while or are buying for someone else with a specific instrument in mind. Assuredly, beginners will get help from Sales Engineers to find the best gear for their needs and budget.
2. Guitar Center
You get the best of both worlds with Guitar Center as they offer both in-person and online shopping options with better stock availability compared to other online stores. If a Guitar Center is nearby, you can enjoy the convenience of same-day or next-day availability by picking up items from your nearest GC store.
They are also one of the best online stores to buy used gear, a benefit largely attributed to the ability to acquire and resell used gear through their numerous locations. Pre owned guitars have a great online price on the Guitar Center website. Most used guitars also come with accessories so you get everything you need in one shipment.
While Guitar Center's sales representatives strive to provide quality assistance, there have been instances where some were uninformed or unable to answer basic questions. So not all of their support staff are necessarily experts on musical instruments like the staff at Sweetwater.
Guitar Center has a 45-day satisfaction guarantee for returns with a full refund. However, return shipping costs may apply and limitations may exist for specific products.
Compared to other sites like Sweetwater, we found that Guitar Center's website is slightly less user-friendly and can be somewhat confusing to navigate. Additionally, search results may take longer to load, which can impact the overall browsing experience.
This online retailer is the best place to buy inexpensive acoustic instruments. If you are a new player, looking to get started, Guitar Center will offer you everything you need.
Related Article: 
If you are interested in selling your used guitar or gear, make sure to check out our informative article titled "Does Guitar Center Buy Guitars and Gear?" to learn about their buying policies and get the best value for your instruments.
3. Sam Ash
With a rich history of 99 years, Sam Ash has established itself as a trusted retailer, both through their website and multiple physical stores across the country.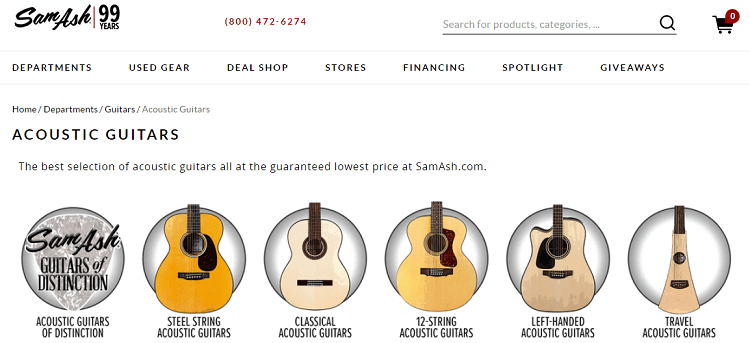 Sam Ash offers an extensive collection of guitars, catering to musicians of all genres and skill levels. Whether you're seeking vintage guitars or cutting-edge instruments, Sam Ash ensures there's something for everyone.
They generally follow the manufacturer's suggested retail prices (MSRP) but often offer promotions, discounts and bundle deals; making their products even more attractive to buyers seeking the best value for their money.
Additionally, allow customers to split payments monthly rather than needing all of the funds upfront through financing options for purchases over $299 and offer another convenient option of 90 days leasing with no credit.
Their dedicated customer service staff comprises music enthusiasts who understand the needs of today's musicians. Whether you have questions, need recommendations, or seek technical support, Sam Ash's support team is committed to providing prompt and knowledgeable assistance.
If you are not completely satisfied with your purchase, you can return it within 45 days of the shipping date for a complete refund, subject to some limitations. Also, you can save on shipping costs by returning your item to a physical Sam Ash store for credit or a refund.
For those interested in used guitars, amps & pedals; Sam Ash offers a remarkable variety and availability, second only to Musician's Friend and Guitar Center. Their meticulous inspection process ensures the quality and playability of each used instrument.
While Sam Ash's website may not be as polished as Sweetwater or Guitar Center's, it remains relatively easy to navigate. The ordering process is smooth and secure, providing a satisfactory shopping experience.
4. Amazon
Amazon is a great place to find a cheap guitar. Their wide selection of acoustic guitars is excellent for someone just starting. While they sell electric guitars, it's generally worth it to look for higher-quality materials.

The great thing about Amazon is that most of their guitars come with accessories. You can find multiple listings for a particular item with different packages and prices.
No need to look anywhere else. With easy and accessible options, you'll know you're getting a guitar you'll love.
If you're looking for an inexpensive but popular model, you'll be sure to find it here. Or, if you're looking to buy an acoustic guitar online, Amazon will have it.
Their buyer-friendly return policy is one of the best to mitigate customers' risk of buying damaged or mismatched products. Just return it and take a refund without any questions.
The only downside of their customer service is that they lack the technical support as a dedicated online music store like Sweetwater offers.
5. Musician's Friend
This online musical instrument store offers the most convenience. Musician's Friend offers the lowest asking price, free shipping, and a generous return policy.
If you're looking to buy an electric guitar online, this is one of the best places.
They have a vast selection with a variety of price ranges. Unlike some other online guitar shops, this store offers truly beginner instruments. You'll be able to find an inexpensive option to get you started.
Musicians Friend has a great one to a five-year warranty. It allows guitar players to be confident that any unexpected breakage is covered. You can upgrade your warranty to make sure it covers anything you're worried about, even just general wear.
This online store has a wide selection but focuses on accessible categories. This site is easy to navigate and offers some of the best deals you'll find online.
6. Reverb
This marketplace is known for both buying and selling rare musical instruments and used gear online besides the new ones. Reverb has a great selection of different guitar brands. They make it easy to sort through and find what you want.

Their "Deals and Steals" section is a great place to find excellent equipment for a fantastic advertised price.
Another plus for Reverb is their buying guides. It's a collection of blog posts about what you should be looking for when buying a new guitar.
This shop also has a great financing process to make buying the guitar of your dreams a little easier.
What Is The Best Online Guitar Store In The UK?
Where to buy a guitar if you are in the UK? Besides brick-and-mortar music shops in the UK, there have some good online stores to buy from.
7. Andertons Music Co.
Andertons Music Co. is definitely one of the best places to buy a guitar online in the UK. Their wide selection of guitars and instruments would cater to anyone from beginners to seasoned musicians.
They have a wide array of choices for acoustic and electric guitars that would surely help your find what you're looking for. They also have bass guitars, drums, keyboards, pianos, and tools for recording and live performances.
Besides new gear, they even have second-hand instruments for sale to give you more options to choose from. What's best about second-hand stuff is that you can get them for less and sometimes, what's in store for you will surprise you from vintage guitar models or barely used ones.
They have an easy-to-browse online store and ordering is smooth. They have limited edition guitars and all the latest models too.

8. Guitar Guitar
Another top online site to buy a guitar from in the UK is the aptly named Guitar Guitar. They have electric, acoustic, and bass guitars. They also sell various music gear like amplifiers, effects pedals, microphones, keys, synthesizers, drums, recording, and PA equipment.
Guitar Guitar also sells pre-owned instruments for the best available deals ever. They have different discounts and sales schemes that would surely help buyers invest in the right guitars and gears. Especially if you're targeting that signature model that has always been so expensive for your budget. They always restock so you bet whatever it is that you're looking for is available.
Pretty straightforward website too with a friendly interface and easy ordering system. The wide variety of choices for both acoustic and electric guitars is mind-blowing.
9. GAK
GAK is one of the most highly rated guitars and musical instrument shops. They've enjoyed pretty high scores from their reviews and that is simply because they don't fail to deliver on the expectations of their avid buyers.
Like most of the online guitar shops we've listed, GAK also offers a wide array of musical instruments and you can bet that whatever guitar model is it that you're looking for then they have it.
GAK's website may look more like a generic wholesale website from what's important is that the ordering and delivery process is smooth as silk. Their guitar categories are more filtered down from acoustic, bass, electric, classical, to electro-acoustic guitars.
They also sell folk instruments, effects pedals, and pickups.
Factors To Consider When Buying Guitars Online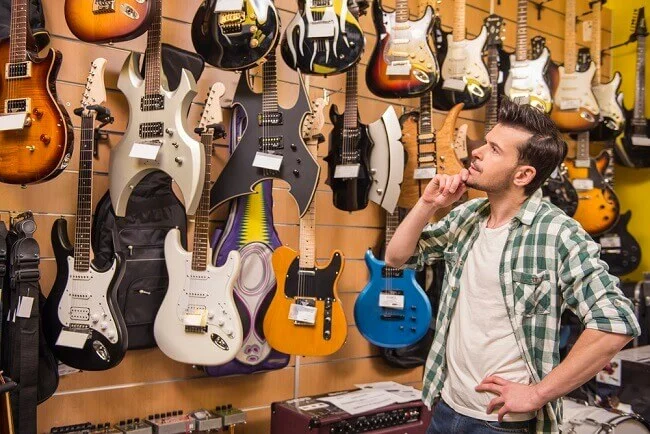 To ensure a successful and satisfying purchase, aspiring guitarists must weigh several essential factors against their preferences and needs. Below, we explore the key elements that should guide your decision-making process.
Quality and Reputation of the Online Store
The first and foremost factor to consider when buying guitars online is the quality and reputation of the online store itself. While it can be easy to get swept up in good prices or other extras, you'll want to make sure you're buying from a place you can trust.
Selection and Variety of Guitars Available
A broad range of options ensures that you have access to various brands, models, and styles. Look for stores that offer a diverse inventory catering to different skill levels and musical genres.
Whether you're a beginner, intermediate player, or professional musician, a wide selection allows you to find the guitar that aligns with your unique playing style and preferences.
Pricing and Affordability
While quality and selection are paramount, pricing and affordability are equally significant factors to consider. Compare prices across different online stores to ensure you're getting the best value for your budget.
Take note of any ongoing promotions, discounts, or bundle deals that can help you save money on your guitar purchase. Additionally, consider the overall cost, including shipping fees and any applicable taxes or import duties, to avoid any surprises during the checkout process.
Customer Reviews and Ratings
Before making a final decision, delve into customer reviews and ratings to gain insights into the online store's reputation and the specific guitar models you're interested in. Pay attention to both positive and negative feedback to get a balanced perspective.
Be cautious of recurring negative reviews that raise concerns about product quality, delays, or poor customer support.
Return Policies and Customer Support
When purchasing online, you want to make sure you have the freedom to send it back if it's not what you expected. With a fair return policy and customer support, you know your new guitar will arrive in excellent condition and that you'll have support if you need to return the product.
Additionally, assess the availability and responsiveness of customer support channels such as live chat, email, or phone, as prompt assistance can be crucial in addressing any queries or concerns that may arise during the buying process.
Advantages Of Buying A Guitar Online
When it comes to purchasing a guitar, the online marketplace offers several significant benefits that can enhance your overall buying experience. Let's check out some of the key advantages of online guitar shopping.
Convenience and Accessibility
Unlike traditional brick-and-mortar stores, online guitar shopping allows you to browse and make purchases from the comfort of your own home, at any time that suits you.
Whether you're a busy professional, a student, or reside in a location with limited access to physical stores, shopping online provides unparalleled convenience and accessibility.
Extensive Selection and Variety
Online guitar stores boast a vast selection and variety of instruments, surpassing what you may find in local stores. You can explore guitars from renowned brands, browse different models, and even discover unique and rare instruments that might be challenging to find locally.
This wide array of choices empowers you to find the perfect guitar that aligns with your specific preferences, skill level, and musical style.
Competitive Pricing and Deals
Buying from online stores is also an excellent way to make sure that you're getting an instrument in your price range. With the ability to compare prices across various online platforms, you can take advantage of discounts, promotions, and special offers to save money.
Furthermore, online stores may provide bundle deals that include accessories or even free shipping, further enhancing the value of your purchase.
Comprehensive Product Information
Reputable online stores provide detailed specifications, in-depth descriptions, and high-resolution images, allowing you to make informed decisions. You can learn about the guitar's features, construction, sound characteristics, and even watch demo videos to get a better sense of its performance.
This wealth of information enables you to select the guitar that best matches your desired sound and playing style.
Drawbacks of Buying Musical Equipment Online
If you decided to buy guitars online, be informed that besides offering convenience and a wide range of options it also comes with certain limitations.
No Physical Inspection
When purchasing a guitar online, one major drawback is the inability to physically inspect the instrument. In physical stores, buyers can examine the build quality, test sound and playability, and assess overall condition.
Online buyers must rely solely on descriptions, images, and reviews, which may not accurately represent the product.
Inaccurate Sound Representation
Online demonstrations can be misleading due to recording quality and post-production editing. Each guitar has unique tonal characteristics, and relying solely on online samples may not provide a comprehensive understanding of the instrument's true sound.
Shipping Risks, Returns
Buying a guitar online also entails shipping risks and return policies. Guitars can sustain damage during transit, and return processes may be cumbersome or incur additional fees.
This risk is amplified when purchasing from international sellers due to the longer shipping distances and potential customs procedures.
Spotting Fakes
Additionally, a significant drawback is the inability to spot fake products. Online marketplaces may have counterfeit guitars masquerading as authentic ones, posing a risk to buyers who lack the opportunity to examine the instrument in person and ensure its authenticity.
Before You Go . . .
If you've enjoyed exploring the world of online guitar buying, why not discover the renowned acoustic guitar brands that have captivated musicians worldwide and learn about the distinctive qualities that make each brand exceptional? Happy strumming!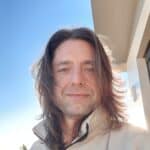 Fabian, a Brazilian guitarist now based in Dublin, Ireland, has passionately played the electric guitar since 2003. As a luthier and product specialist, he boasts nearly two decades of collaboration with top musical instrument brands. Fabian is a sought-after expert, sharing his extensive knowledge with fellow guitar enthusiasts.