Hey there! As an Amazon Associate, We earn from qualifying purchases. We greatly appreciate your support!
Learn More
Buying a guitar whether it's your first or your nth time doing so always requires a little bit of brainstorming. The mere fact that there are thousands of instrument models out there will weigh heavily into the said decision. When buying local (or in physical locations) our choices are limited and we're not quite sure that we're getting the best deals.
But buying online, now, that's a different story. You get the best deals on guitars and have a wider range of choices ensuring that you get the best bang for your buck. Here is the best place to buy guitars online.
Best Place To Buy Guitars Online
If you are thinking about where to buy guitars online, then consider these top sites when looking for the best place to buy guitar online, especially if you are from the US or Canada.
1. Sweetwater
Sweetwater is the best place to find musical instruments online. They have a wide selection and one of the best customer support teams.

Not only do they have fantastic buying support, but they are there for the life of your guitar with their technical support.
This music shop is one of the best online guitar stores overall. They offer hundreds of quality guitars. These instruments are meant for more experienced guitarists who know what they are looking for in their instruments.
The biggest perk about Sweetwater is that a guitar tech inspects every guitar for over $299. You can buy with confidence, knowing that they are doing everything to ensure you get the best they have to offer.
Plus, they offer free shipping, special financing, and an interest-free easy payments plan for up to 48 months on some selected brand items.
It's easy to get lost browsing through all their options. So it's best to have an idea of what you're looking for.
This website is for people who have been playing for a while or are buying for someone else with a specific instrument in mind.
2. Amazon
Amazon is a great place to find a cheap guitar. Their wide selection of acoustic guitars is excellent for someone just starting. While they sell electric guitars, it's generally worth it to look for higher-quality materials.

The great thing about Amazon is that most of their guitars come with accessories. You can find multiple listings for a particular item with different packages and prices.
No need to look anywhere else. With easy and accessible options, you'll know you're getting a guitar you'll love.
If you're looking for an inexpensive but popular model, you'll be sure to find it here. Or, if you're looking to buy an acoustic guitar online, Amazon will have it.
Their buyer-friendly return policy is one of the best to mitigate customers' risk of buying damaged or mismatched products. Just return it and take a refund without any questions.
The only downside of their customer service is that they lack the technical support as a dedicated online music store like Sweetwater offers.
3. Musician's Friend
This online musical instrument store offers the most convenience. Musician's Friend offers the lowest asking price, free shipping, and a generous return policy.
If you're looking to buy an electric guitar online, this is one of the best places.

They have a vast selection with a variety of price ranges. Unlike some other online guitar shops, this store offers truly beginner instruments. You'll be able to find an inexpensive option to get you started.
Musicians Friend has a great one to a five-year warranty. It allows guitar players to be confident that any unexpected breakage is covered. You can upgrade your warranty to make sure it covers anything you're worried about, even just general wear.
This online store has a wide selection but focuses on accessible categories. This site is easy to navigate and offers some of the best deals you'll find online.
4. Guitar Center
You get the best of both worlds with Guitar Center. They offer both in-person and online shopping options. Having both options makes it easy to pick up your guitar quickly after you buy it.
They are also one of the best online stores to buy used gear. Used guitars have a great online price. Most used guitars also come with accessories, so you get everything you need in one shipment.
This musical instrument retailer is the best place to buy inexpensive acoustic instruments online. If you are a new player, looking to get started, Guitar Center will offer you everything you need.
5. Reverb
This marketplace is known for both buying and selling rare musical instruments and used gear online besides the new ones. Reverb has a great selection of different guitar brands. They make it easy to sort through and find what you want.

Their "Deals and Steals" section is a great place to find excellent equipment for a fantastic advertised price.
Another plus for Reverb is their buying guides. It's a collection of blog posts about what you should be looking for when buying a new guitar.
This shop also has a great financing process to make buying the guitar of your dreams a little easier.
Other Online Guitar Shop In USA
While these didn't make the top five best online guitar stores, the following stores are great options if you can't find what you're looking for.
Sam Ash – another excellent place for financing options is Sam Ash Music. They also have a convenient leasing program.
Zzounds – this site is more challenging to navigate than some of the others but still has a great selection of all types of guitars.
Chicago Music Exchange – an online music shop that's perfect for finding some vintage guitars you've been looking for.
What Is The Best Online Guitar Store In The UK?
Where to buy a guitar if you are in the UK? Besides brick-and-mortar music shops in the UK, there have some good online stores to buy from.
1. Andertons Music Co.
Andertons Music Co. is definitely one of the best places to buy a guitar online in the UK. Their wide selection of guitars and instruments would cater to anyone from beginners to seasoned musicians.
They have a wide array of choices for acoustic and electric guitars that would surely help your find what you're looking for. They also have bass guitars, drums, keyboards, pianos, and tools for recording and live performances.
Besides new gear, they even have second-hand instruments for sale to give you more options to choose from. What's best about second-hand stuff is that you can get them for less and sometimes, what's in store for you will surprise you from vintage guitar models or barely used ones.
They have an easy-to-browse online store and ordering is smooth. They have limited edition guitars and all the latest models too.
2. Guitar Guitar
Another top online site to buy a guitar from in the UK is the aptly named Guitar Guitar. They have electric, acoustic, and bass guitars. They also sell various music gear like amplifiers, effects pedals, microphones, keys, synthesizers, drums, recording, and PA equipment.
Guitar Guitar also sells pre-owned instruments for the best available deals ever. They have different discounts and sales schemes that would surely help buyers invest in the right guitars and gears. Especially if you're targeting that signature model that has always been so expensive for your budget. They always restock so you bet whatever it is that you're looking for is available.
Pretty straightforward website too with a friendly interface and easy ordering system. The wide variety of choices for both acoustic and electric guitars is mind-blowing.
3. GAK
GAK is one of the most highly rated guitars and musical instrument shops. They've enjoyed pretty high scores from their reviews and that is simply because they don't fail to deliver on the expectations of their avid buyers.
Like most of the online guitar shops we've listed, GAK also offers a wide array of musical instruments and you can bet that whatever guitar model is it that you're looking for then they have it.
GAK's website may look more like a generic wholesale website from what's important is that the ordering and delivery process is smooth as silk. Their guitar categories are more filtered down from acoustic, bass, electric, classical, to electro-acoustic guitars.
They also sell folk instruments, effects pedals, and pickups.
Is It Better To Buy A Guitar In Person Or Online?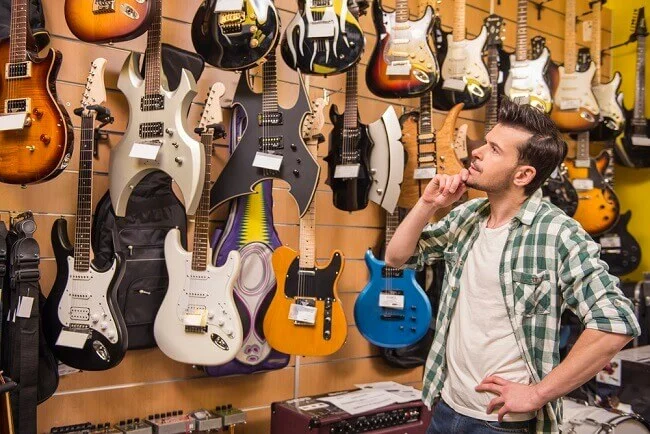 If you're thinking about buying a new guitar, you're probably wondering, should you buy a guitar online or from a store? And, what are the best places to buy guitars online?
The perk of buying a guitar in a store is that you can test it out and take it home right away. However, when buying a guitar online, you have access to unlimited options.
Most online music stores are committed to offering the best buying experience. Not only will you be able to select a model, you may have never been able to see in person, but one that has never been played before.
Sometimes, when you're purchasing from a brick-and-mortar store, guitars can have subtle usage signs. Buying online offers you high-quality guitars in their best condition.
It's also an excellent way to make sure that you're getting an instrument in your price range. With every option available to you, you'll be able to customize your experience.
Time To Buy A Guitar Online
Some of the most important things to keep in mind when buying a new guitar online are the return policy and the company's reputation.
When purchasing online, you want to make sure you have the freedom to send it back if it's not what you expected.
While it can be easy to get swept up in good prices or other extras, you'll want to make sure you're buying from a place you can trust.
With these options, you know your new guitar will arrive in excellent condition and that you'll have support when you need it.
Start with these top five sites when looking for the best place to buy guitars online. Whether you are a longtime guitar player or just getting started, one of them has the guitar you've been wanting.