I remember the first time I discovered a Guitar Center. It had just opened up inside of the local mall, back in the 1990s. I was mesmerized by the sheer size of the store and the impressive number of guitars and other items on display. That location has since moved, but Guitar Center has been one of my go-to places to buy or sell gear ever since.
If you're wondering, does guitar center buy guitars, they certainly do! It's a great place to buy, sell or trade gear. If you're new to selling musical gear, read on for some tips. If you're in a hurry to get some answers, you can also skip to the end for an FAQ section.
Guitar-A-Thon Deals starting on Thursday 9/21
How Much Does Guitar Center Pay For Used Guitars And Musical Equipment?
There comes a time in every musician's life when they want to upgrade their gear. Or maybe you've made an impulse buy, only to later realize that you don't really need that item after all. You could try to sell it online, or perhaps post ads around town. But what about your nearby Guitar Center location?
You may be wondering, what will Guitar Center pay for my used gear? The answer is, of course, depends on a number of things. The first thing to realize is that Guitar Center is a retailer that won't give you top dollar. They need to make a profit as well. Still, it can be quick and easy to sell at a big-box store, if you need to move that equipment quickly.
From my own personal experience, you're probably going to get around 50% to 70% of what you might get selling directly to a buyer. Guitar Center will pay up to $1000 in cash, but that doesn't make $1000 their limit. If your item is worth more, they'll make up the difference through a check, gift card or in-store credit.
Finding Out How Much Your Gear Is Worth
Before you grab your ax and head to the local Guitar Center store, you should figure out how much your old 6-string is worth. It's a good idea to check online to see what items like yours are selling for.
Some of the places I usually browse are eBay, Craig's List and Facebook Marketplace. I also see how much Guitar Center is selling used items like mine for online. This will help you to predict what you're likely to get for your gear.
When browsing on an auction site like eBay, be sure to check what the items are actually selling for. There's often a big difference between what sellers are asking for, and what buyers are actually paying. After all, everything is only worth what someone is willing to pay for it.
Another great resource is a website called Blue Book of Guitar Values. It's one of the largest databases of guitars and their estimated values. If you have a lot of older gear you want to move, it may be worth it to purchase a copy of Vintage Guitar Magazine's Price Guide.
Selling Vintage Gear At Guitar Center
The next question you may be asking is, will Guitar Center buy guitars that are really old and worth a lot of money? The answer is once again, yes, Guitar Center does purchase vintage instruments and amps. Selling vintage gear works a little bit differently than just walking in with a guitar you bought 3 years ago.
Guitar Center has an online form to fill out if you want to sell vintage or high-priced stuff. The retailer hires experts to assess the value of older, classic guitar models. Once you fill out the form, a representative will contact you in the next few days.
Once you're contacted, the representative will schedule a meeting at your local store. Once they assess the item and decide if they wish to purchase it, they'll make you an offer. When both parties agree on a price, they'll give you cash, a check, a gift card or store credit.
You can also just bring your item into the store without going online first. Filling out the form allows Guitar Center to schedule a good time for the evaluation. Walk-ins could potentially take longer. Guitar Center states that there should be at least one vintage expert on-duty during all normal hours.
From my own experience, however, it's impossible for them to guarantee this, and I've shown up when the expert was out to lunch on one occasion.
Is It Worth Selling To Guitar Center?
The answer to this question depends on a few things. If you need money right away, then yes, it's worth it to sell to Guitar Center. For immediate sales, your options are pretty limited. I've always received better offers from Guitar Center than any pawn shop I've ever frequented.
The downside to selling immediately to a store is that you're not going to get the current market price. You may be able to sell for a much higher price on an online site like eBay.
Of course, it could take a while to move the item, and once you do, there's the hassle and cost of shipping it. This can be somewhat alleviated by placing a pick-up-only sale, but that limits your potential buyer base.
Selling online means you'll need to pay for insurance in case your gear is damaged or lost during shipping. If you have a valuable vintage item, it may be worth selling at an in-person auction. Just be aware, the auction house will take their cut along with some other additional fees.
If you're looking to upgrade your gear, a trade-in may be well worth it. If you need to sell fast, then Guitar Center is an excellent option. If you can wait and want the maximum potential amount, then sell online.
Guitar Center Trade In: How Does It Work?
What if you don't just want money for your used gear? What if you're trading in something old with the hopes of upgrading to something better? That's where the Guitar Center trade-in comes in handy.
A trade in is similar to selling your gear, but you get paid with other gear instead of money. Of course, you'll usually be trading in something for an item of greater value, meaning you'll need to pay the difference.

Guitar Center has a team of experts to assist you with their trade-in program. When they assess the value of your item, it will be applied as a credit towards whatever you want to trade for. In addition to the amount your item is worth, Guitar Center will also take 10% off of the item you want. This will make trading a better value than just selling, in most cases.
This is a quick and hassle-free experience. In most cases, you get paid or get your item the very same day you bring in your used gear for trade. Over the years, I've found this an excellent way to upgrade my gear when the old stuff just wasn't getting it done anymore. If you graduate from playing in your garage to small gigs, trade in that amp for something more suitable!
How Does Guitar Center Determine Trade-In Value?
The Guitar Center trade-in is an easy process thanks to the retailer's professional staff. After decades in the business, the pros at Guitar Center know how to fairly assess the value of instruments. They'll check the quality and condition of the gear and consider current market prices and historical sales data.
The retailer's current stock of your item can also affect how much they're willing to offer you for it. The trade in process is similar for vintage or high-end instruments and equipment too.
Guitar Center has a special team dedicated to evaluating vintage instruments and amplifiers. In my personal dealings with Guitar Center, I've always found their offers to be fair and comparable to other big-box music stores.
Tips When Selling Or Trading In Your Gear To Guitar Center
There are a few things to keep in mind before you sell or trade used gear at Guitar Center. By following these simple tips, you can get the most out of your used items, and make the trade in process go a lot smoother.
Tips # 1: Thoroughly clean your instruments. If it's covered with dust, it looks like something that hasn't been cared for. This can automatically bias the buyer. If it looks well maintained, it looks like something that's immediately usable and worth more money.
Tips # 2: It doesn't hurt to throw on some new strings if you're bringing in an old guitar. Make sure your instruments are in tune too. This will save time for everyone when the Guitar Center employee tests the instrument to make sure it's in good working condition.

Tips # 3: Be sure to check the neck relief and intonation of your guitar or bass before bringing it in. This should be done for the same reasons as tip number 2. It will save time during the trade-in process. If you're bringing in an amplifier, test it out one last time to make sure all of the knobs, switches and functions are operating correctly.
Tips # 4: If you're bringing your instrument to Guitar Center in a case, be sure to remove any items that you don't want to sell. This includes small items like guitar picks, extra strings, tuners, cables and straps.
In my personal experience, none of these things is going to add to the value of the guitar. You're just going to lose them when you hand over the whole bundle. You might want some of that stuff for your next guitar!
Tips # 5: Do your own research to know what your gear is worth. Don't overestimate or underestimate the value of what you have. It's always wise to check prices through multiple different resources.
Also, check both new and used prices if your item is still in production. This can provide a better idea of what you should be getting paid.
What Types Of Gear Can't Be Traded Or Sold To Guitar Center?
Guitar Center accepts a wide variety of used gear. Used Guitars, amplifiers and other musical instruments, like electric basses, are a sure bet. If it's even related to a guitar, chances are they'll buy it, or consider it for a trade-in.
There are a few items, however, that they won't likely accept. There are items that Guitar Center deems to be "consumables," or items that are meant to be replaced regularly.
Some examples of consumables include guitar picks, strings and reeds for woodwind instruments. These will not be accepted, even if they're new in the package. When in doubt, contact your local Guitar Center and just ask!
Here's a brief list of some other items that can't be sold or traded in at your nearest Guitar Center store:
Drum sticks and drum heads
Individual guitar parts
Software or computers
Books, videos or DVDs
Lighting gear
Band and orchestra instruments
Acoustic pianos
Studio furniture
Low-end turntables
Stand-up acoustic basses
DAT and CD recorders
Analog tape recorders
Digital hard-disk recorders
Wireless units
Snakes and switching systems
Live sound mixers
Is It Wise To Buy Used Gear From Guitar Center?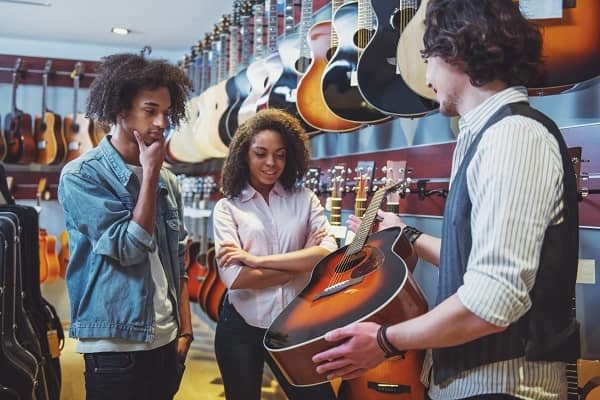 After decades of being a customer of Guitar Center, I'm going to say, absolutely yes. In many ways, buying used gear from Guitar Center is a better deal than selling or trading. Guitar Center offers a huge selection of used and vintage gear both in stores and online.
My local store has all of the used gear in specific areas, so it's always easy to find. This is my preferred way to shop for used items so I can inspect them thoroughly for myself. GC always allows you to touch everything.
I like to spend a good amount of time playing a used guitar or using a used amp before I make a final decision. The staff at Guitar Center actually encourages this.
Buying in the store is safer than buying from an online auction site since you can see the item for yourself. Purchasing from a place like Guitar Center means not ending up with a counterfeit. Sometimes, however, your local store just doesn't have that specific model that you're after.
Luckily, GC sells used gear online as well. They often have thousands of items for sale that you can easily view online. The website is user-friendly and easy to navigate. Best of all, you can even have used items from other locations shipped to your local store. This way, you can still spend some time with it before making a final decision.
I've purchased numerous instruments, guitar pedals and amps over the years, both online and in person. The one time I had a used guitar shipped directly to my house, I realized weeks later that one of the frets was loose. I took it to my local store, expecting to pay for a minor repair, but they took care of it for free.
You can't beat that kind of service! If you change your mind or have issues after buying used gear, Guitar Center does accept returns for up to 45 days.
Frequently Asked Questions
Does Guitar Center have a gear-value calculator?
When it comes to selling or trading in old guitar gear, Guitar Center is a good option, but unfortunately, they do not have a value calculator at this time.
Will Guitar Center give you cash for trade-ins?
Yes, Guitar Center does offer cash payments for trade-ins. They will pay up to $1,000 in cash for transactions that fall within that limit. However, for transactions totaling over $1,000, the payment will be made fully via check.
Alternatively, you can choose to use your trade-in credit towards an upgrade and receive a discount on something new. It's important to note that cash payment may not be available at specific GC stores due to legal restrictions.
The stores where cash payment is not available right now include Greensboro, NC; Rockville, MD; and Saginaw, MI.
Does Guitar Center take trade-ins online?
While Guitar Center has an extensive trade-in program, they cannot finalize deals online. This is because a Guitar Center representative must see your gear in person to assess its value.
Should I sell my guitar to a pawn shop or Guitar Center?
The decision to sell your guitar to a pawn shop or Guitar Center depends on your needs. Pawn shops offer quick cash but may provide lower offers. GC offers trade-in options and expert evaluations, making it suitable if you're open to upgrading or trading for store credit.
Consider convenience, value, expertise, and reputation when making your choice.
Recommended To Read: