Hey there! As an Amazon Associate, We earn from qualifying purchases. We greatly appreciate your support!
Learn More
Have you ever thought about moving to a whole new level and starting playing or creating music yourself? If you have, then electric acoustic bass guitar reviews will just talk for you!
Best Choice Products Acoustic-Electric Bass Guitar is a great way to begin your musical activity. It has all the necessary features to help you start practicing or performing for your audience.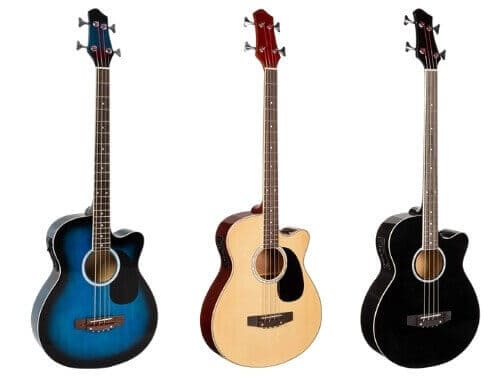 Check Latest Price And Reviews
Electric Acoustic Bass Guitar Reviews
In this review, we will highlight its most important features to maybe make your choice much easier. Who knows, maybe this is the guitar you have been looking for. And that's why we are starting our review right away!
Materials and Body
This bass features a beautiful mahogany body-colored available in rich black, blue, and Natural. A lovely inlay makes the appearance of the guitar even more attractive.
The cut-out design of the body completes the remarkable image of this electro-acoustic bass guitar. The glossy and smooth surface of its body makes it pleasant to touch and more eye-catching.
The guitar neck with a 22-fret rosewood fretboard with die-cast chrome tuners and an adjustable truss rod excellently completes its image.
But the fretboard and saddle may seem very dry out of the box. In that case, need to use some fretboard oil for maintenance purposes. Another thing to mention is that the body material of the bass is advertised as solid wood, but it's laminate wood.
Comfort
Although the guitar comes pre-adjusted, you will be able to regulate its strings and neck yourself through its tuners and adjustable truss rod. However, this bass musical instrument may need some prior setup works like string action adjustment, truss rod adjustment, string replacement, etc. to make it playable.
Despite its size and sturdy body, the guitar is nowhere near heavy and uncomfortable. The cut-out is a touch, particularly contributing to the comfort of play. It greatly facilitates access to the last frets of the fretboard.
The good weight-to-strength ratio of this acoustic-electric bass guitar will allow you to perform and train without fatigue for longer periods of time, helping you to play your favorite tunes more easily. The ergonomic body shape of the guitar makes the instrument easy to play both sitting and standing.
Sounding
Particularly worried about buzzing and incorrect setup of the guitar neck? That is no longer an issue with this guitar as you will be able to readjust its truss rod whenever you wish to.
The gorgeous mahogany body attaches brightness and more mid-range tones to the sound spectrum of the instrument. Add to that the maturing of the guitar body's wood, and you will get an even more refined sound over time.

We also recommend replacing the strings that come with the guitar and using some quality strings like D'addario phosphor bronze acoustic bass strings. You'll experience better acoustic sound after changing those strings. But if you're looking for an acoustic bass that is loud without an amp, then this would be the wrong choice for you.
---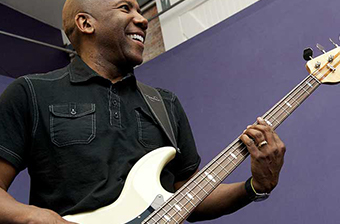 6 Month Renewing Subscription to Electric Bass with Nathan East
from:
ArtistWorks, Inc
---
Equipment
This acoustic-electric bass guitar comes with built-in volume controls and a 4-band equalizer that allow you to regulate bass, middle, treble, and presence even more precisely.
In most cases, the bass sounds pretty well in both plugged and unplugged situations. But some customers claim low output from the pickup, especially on the low E string that makes the equalizer useless. This issue can be solved by boosting the bass dial and cutting down the other 3 dials.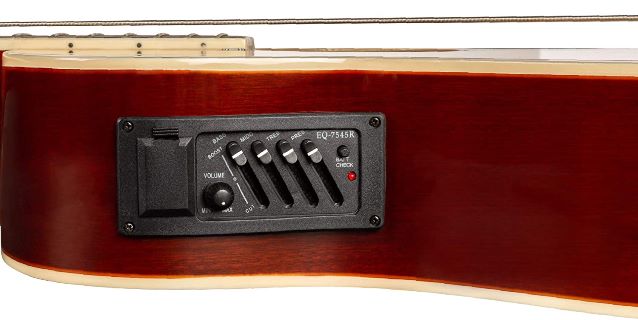 You will need to get an idea about the appropriate preamp setup for this electro-acoustic bass guitar to get the best out of it.
There has a battery check light that should light up if the battery is still alive. The easily accessible battery compartment is placed beside the volume control and it takes a single 9-volt battery.
Pros and Cons
Pros:
Unbeatable Price.
Quality is much better than the pricing.
Both plugged and unplugged sound is better considering the price.
Adjustable truss rod to eliminate issues with the guitar's neck
Beautiful mahogany body with glossy finish and inlay for a gorgeous appearance of the guitar.
Built-in volume control and 4-band equalizer.
Cons:
Too high action, need to sand down the saddle.
Need to replace the strings for better sounding.
No onboard tuner.
This isn't a full-sized bass but rather a 30″ short scale length.
Video Review of Best Choice Acoustic Bass
Frequently Asked Questions
1. Are Acoustic basses any good?
It depends on how and where you intend to play, what style of music you play, and what is your goal to accomplish from this instrument. The acoustic bass is nice when you are playing in a group with quiet intent or practicing alone at home or going on vacation where volume is not an issue. They can also be satisfactory in the recording.
In a louder situation, it's certainly nice to have the opportunity to plug that into an amp to get more volume. It is a hassle-free alternative to play in some situations without having to set up all stuff for electric bass.
The downside is it's difficult to hear and use in a live unplugged session. You do have to pluck harder than an electric bass or may need amplification to play along with other instruments.
If you want to use an acoustic bass the same way as an electric, it will disappoint you. But acoustic basses are great for some genres, and you can do more percussive things on the acoustic body than on electric bass. You can check Chris Dismuke Music on YouTube to appreciate the worthiness of acoustic bass.
2. Should I play bass with a pick or fingers?
You can use a pick or fingers depending on what type of music you are doing. Using a pick or fingers will generate different sounds, so you need to decide the type of sound you want to make. The guitar pick will be more powerful, faster, less painful, and can produce a louder sound than fingers.
But, if you are looking for a softer, subtle, and versatile sound from your acoustic bass, then need to use your fingers. So experiment with both and figure out which serves best for you.
3. I noticed that guitars are made of different materials. Is the material of the body important?
Actually, the material the body of a guitar is made of is quite significant. Besides the weight and the strength of the guitar, it greatly affects its sounding. The most expensive and high-quality guitars are entirely made of solid wood while cheaper models have synthetic or laminated wood bodies. Unlike the latter, regular wood matures and makes the sound of the guitar better.
Generally, cheap guitars are made of laminated wood, intermediate instruments feature laminated back and sides and solid wood top, and the most expensive guitars are built of solid wood. Look into the characteristics of different materials and guitars to understand what you actually need.
Alternatives of Best Choice Acoustic Bass
Sale
Sale
Cordoba Mini II Bass MH-E, Mahogany, Small Body, Acoustic-Electric Bass Guitar
The Mini II Bass is here to expand your horizons and your registers!
Features an extended 580mm (22 7/8") scale length so it tunes perfectly to Standard E
Keep it acoustic and the Mini II Bass's deeper body depth will provide a well-rounded tone
Use its Cordoba MB103 pickup to plug it in and you'll be surprised by this portable bass's rich, robust tone
Conclusion
As you have seen, this guitar has some great advantages and a couple of disadvantages which don't really make it a worse choice.
This electro-acoustic bass would not be great for absolute beginners as it requires some prior adjustment work, which can be a hassle without knowing anything about setting up basses. If you have a little bit of experience, then this bass would be the best acoustic bass for practicing at home or jamming with friends.
If this great bass for the couch satisfies you, don't hesitate and go get it! Or if you don't really like it, we hope that this best choice acoustic bass review will guide you to look at the alternatives. Good luck!