As an Amazon Associate, We earn from qualifying purchases.
Learn More
As a guitarist with over 15 years of playing experience and a seasoned writer for guitar magazines, I know how frustrating it can be to find a quality, affordable acoustic guitar. After thoroughly testing the Seagull S6 Original, I'm convinced it's one of the best options for guitarists on a budget.
In this comprehensive review, I'll share my hands-on impressions and evaluate if the S6 lives up to its reputation for outstanding craftsmanship and warm, melodic sound.
With my extensive background in researching instruments, I can offer reliable advice to help you determine if the S6 is the right acoustic for your needs and playing style.
From construction and hardware to tonal quality and aesthetics, I'll cover every detail you need to make an informed decision.
Read on because, with over 100 hours of playing time on the Seagull S6, I can provide unique insight to guitarists looking for great value and impressive acoustic performance on a reasonable budget.
Seagull S6 Guitar Review
After extensive testing and evaluation, I'm ready to dive into a comprehensive review of the Seagull S6 Original acoustic guitar. From construction and sound quality to playability and aesthetics, I'll analyze how this budget-friendly guitar stacks up.
Highlights Of Seagull S6 Specs
| | | | |
| --- | --- | --- | --- |
| Body Shape | Dreadnought | Scale Length | 25.5 inches |
| Top Wood | Solid Cedar | Body Length | 19.8 inches |
| Back & Side Wood | Laminated Wild Cherry | Nut Width | 1.8 inches |
| Neck Wood | Silver Leaf Maple | Nut Material | TUSQ Nut |
| Fretboard Wood | Rosewood | Saddle | Compensated Saddle |
| Number of Frets | 21 | Finish | Natural (Semi-Gloss) |
Construction And Hardware
Tonewoods
There are many types and subtypes of tonewoods, but spruce and cedar are two of the most popular guitar top woods.
Seagull used cedar instead of spruce as top wood though experts debate the degree to which tonewood is evident in a guitar's sound. Most agree different woods do produce noticeably distinct sounds.
Here we would like to take a look at both types of tonewoods to find out what you can expect and what not (tone-wise) from the Seagull S6 Original acoustic guitar.
Cedar: A type of mahogany, cedar is a softer wood than spruce and more brittle at the end grains. Cedar produces a darker, punchier sound than spruce, though cedar is not as naturally projective.
Also, notes played on a cedar top guitar will decay more quickly than those played on spruce, as this tonewood produces less natural sustain. Cedarwood ranges in color from cream to darker honey tones and has a linear grain pattern.
Despite its faster decay and comparative lack of projective "drive," cedar top guitars are rapidly gaining popularity. Many players swear by their distinctive sound, as is evidenced by the vast and growing popularity of the perennial favorite Seagull S6.
Spruce: Most professional guitarists and luthiers agree that spruce wood produces a clearer sound than cedar and produces more sustain. Spruce is a responsive, resonant tonewood that delivers bright, dynamic tones.
Spruce also has the advantage of being lighter and more flexible than cedar. Usually a light or blonde amber hue with a tight grain, spruce wood also projects sound well.
Another reason spruce is a favorite for guitar tops is that spruce ages very well, tonally speaking. Over time, an acoustic guitar with a spruce top will produce a richer, more dynamic sound.
Neck And Headstock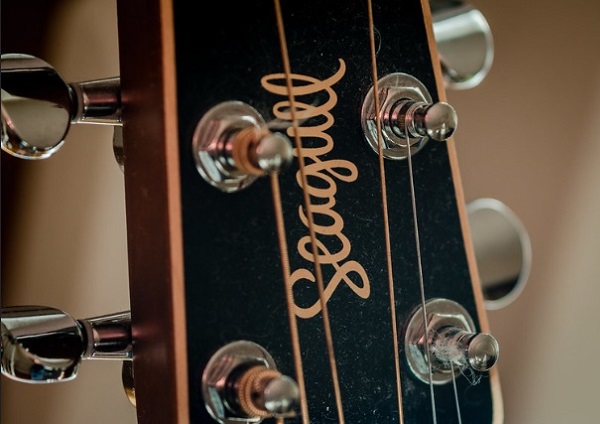 One look at Seagull's sleek S6 Original is all it takes to realize this isn't your average mid-priced acoustic guitar. Almost immediately, the eye is drawn to the guitar's wide neck and slim headstock which is slimmer than the typical steel string headstock.
Beautiful as these handcrafted guitars are, the wider neck and slimmer head are more than stylistic flairs. The thinner, tapered head brings the tuning pegs in line with the bridge, allowing for easier, more precise tuning or tuning stability and less unnecessary stress on the guitar's action.
A 406mm fingerboard radius and low action make the Seagull S6 a comfortable guitar that is great for beginners and intermediate guitarists.
Saddle and Nut
The bridge of the Seagull S6 is made of handsome natural rosewood and supports a synthetic bone handle. The wide, 45.7 mm nut keeps the strings a bit farther apart than is usual, both for ease of play and for bridge/nut/peg alignment.
Bracing
Rarely thought of, especially by beginner guitarists, an acoustic guitar's bracing is among the instrument's most vital components. A guitar's strings place considerable pressure on a guitar's top; over time, this stress would cause the top wood to flex and possibly even crack.
To prevent this, a configuration of thin wood supports the guitar's top wood; this underlying support system is referred to as the guitar's bracing.
Many acoustic guitar bracings are now scalloped, meaning they're shaved down between the contact points. Fewer contact points, positioned correctly, will provide the same level of support while allowing the top wood greater freedom to respond to the string's vibrations. The shaved-off wood also means less weight, keeping the guitar lighter.
The S6 employs scalloped bracing in an x-configuration and a top fashioned of pressure-tested solid cedar. The bracing is crafted of quarter-sawn Sitka spruce, carved to match perfectly the contours of the guitar's top.
Sitka spruce makes an ideal bracing wood, having strength enough to resist string tension while still allowing the guitar's body ample freedom to resonate.
Truss Rod
The Seagull S6 has a very comfortable action right off the rack, but worry should you need to adjust the action. Unlike most guitars in its price range, the Seagull S6 boasts a dual-action truss rod, capable of moving the neck in either direction should it become bowed or bent.
Electronics
The S6 Original (Model#046386) is a straight acoustic and not an acoustic-electric. If you're in the market for a mid-priced, high-quality acoustic-electric guitar, Seagull has you covered on that front too.

The Seagull S6 Original SLIM Q1T six-string acoustic-electric guitar is Seagull's subsequent version of the SLIM Q1. With an upgraded, side-mounted Godin electronics system, a preamp and pickup system, and an easy-to-use interface featuring a digital tuner with an LED display, the SLIM QIT is a lot of acoustic-electric for the price.
After the Q1T version, Seagull has included a few more acoustic-electric versions in the S6 lineup. For example, the S6 Classic Black A/E comes with a Fishman Sonitone preamp system.
On the other hand, they equipped other new models like the S6 Original, S6 Original Slim, S6 Original Brunt Umber, and S6 Original Left with Fishman Presys II electronics to produce great sound when plugged in.
Excellent Sound
Let's move on to the sound quality of the S6. It is an award winner by beginner's standards, even hailed to be perfect for more advanced plays by a few.
The Seagull S6 Original offers a clear rich and warm tone that is radiant in expression – perfect for those nights you want to spend strumming along with your mates or if you're looking for some quiet contemplation music as you hone your bard-like craft. The rings are clearer, louder, and more distinct than a beginner's guitar which may not suit all tastes.
The action is comparable to the higher-end and more extortionate Taylor acoustic guitars – a noble feat. Fretting is easy and relaxed, requiring no substantial effort, and perfect for guitarists of all levels. The overall tunes that come from the S6 are distinctive, as it is not usually found in beginner models.
However, the tone isn't bass-heavy so be prepared for it to fall short if you're playing more of a jazzy tune. The sound quality is on par with Seagull's regular lineup; I would go as far as to say it compares to the Taylor Grand Symphony series in richness, tone, and volume.
It offers an excellent robust noise projection for the materials, accompanied by the X bracing, making the total noise clean, bright, and melodic to the ear, even if slightly tangy.
Quality And Aesthetics
Seagull S6 acoustic guitars aren't beautiful looking and sounding by accident; they're constructed of the finest quality woods according to the company's exacting standards. Nor is it any accident that the award-winning Seagull S6 is the organization's flagship dreadnought guitar.
With its slim head, wide neck, and modified dreadnought body, the Seagull S6 is a distinctive, attractive instrument. Available in Tennessee Red, Black, Matte Black, and Natural Wood, the S6 Original boasts chrome hardware and a silver leaf maple neck with dot fret markers.
Every Seagull acoustic guitar is finished from top to end with a coat of semigloss lacquer thick enough to protect the finish but thin enough for the beauty inherent in the wood's natural grain to show through.
Cost And Value
Available on Amazon for under six hundred dollars, the Seagull S6 is easily one of the best value guitars in its price range. Boasting features usually reserved for more expensive instruments and delivering a warm, dynamic tone comparable to higher-end acoustics, the S6 Original offers incredible quality at a very reasonable price.
Few beginner acoustic guitars can claim to offer the sound, playability, and aesthetics of the S6, and certainly not any priced below one thousand dollars.
Other Variants Of Seagull's S6
The popular S6 Original is but one of seventeen models in Seagull's S6 line; some models employ cedarwood tops like the S6 Original, while others use spruce and mahogany. Some of them are purely acoustic, and some of them are acoustic-electric versions.
Since some of the older versions are not available in the market, check these current variants that are available right now:
S6 Cedar Original Slim – The SLIM acoustic version comes with a conventional 1.72″ nut width as opposed to the 1.8″ wide neck on a standard S6.
S6 Original Slim Q1 – Older SLIM acoustic-electric version equipped with Godin Quantum 1 electronics.
S6 Original Q1T – Upgraded from Godin Quantum 1 (Q1) electronics to Quantum 1T (Q1T) electronics.
S6 Original Slim Presys II – Newer SLIM version equipped with Fishman Presys II electronics.
S6 Original Burnt Umber Q1T – Its vintage look comes from a custom burnt umber high gloss polish. This older model also has a solid spruce top, maple back & sides and uses Quantum 1T electronics.
S6 Original Burnt Umber Presys II – Newer version comes with Fishman Presys II electronics instead of Godin Q1T.
S6 Classic Black A/E – Its classic look originates from a black semi-gloss top, black washed back & sides. Also furnished with Fishman electronics.
Seagull S6 Original Limited Edition – This Gear Hero HQ Exclusive Limited Edition Tennessee Red version is available on Amazon.
Also, The S6 Original Left-Handed and the S6 Original Left-Handed Presys II variants are available there.
Who Should Consider A Seagull S6 Original?
Anyone looking for a high-quality, moderately priced acoustic guitar should seriously consider the Seagull S6 Original.
With its comfortable action and wider neck and string spacing, the S6 makes an excellent choice for beginner guitarists; guitar features like warm tones, ease of string-height adjustment, and solid cedar top make it an instrument seasoned players will appreciate too.
Before making your purchase decision, check out the demo of S6 Original & S6 Classic Black A/E:
Alternatives To Seagull S6 Original
Few other acoustic guitars match the tone and affordability of the S6, but there are some contenders out there that hold their own.
Largely, choosing an acoustic guitar comes down to how it feels and sounds when you play it; many times, there's even the spark of what seems to be a personal connection between a musician and a particular instrument.
Yamaha and Fender are two high-end names that produce quality acoustic guitars at a moderate price. Yamaha makes a beautiful-looking and sounding FG series that's comparable in price to Seagull's S6. For a bit more money the Yamaha LS6M Concert acoustic is another beautiful guitar that costs under one thousand dollars.
Fender's CD-140SCE is another quality dreadnought acoustic that's comparably priced to the Seagull Guitars S6 model. While both the Yamaha and Fender are beautiful, rich-sounding acoustic guitars, neither have a cedar top or the S6's wider than usual neck and string spacing.
Frequently Asked Questions
Do Cedar Top Guitars Sound Better With Age?
Most guitarists and luthiers agree that cedar-top acoustic guitars do indeed sound better as they age. There's a caveat to this, though: cedar wood doesn't age anywhere near as well as spruce. Spruce is a harder tonewood than cedar. As it ages, it dries and stiffens, gradually producing more pleasing, mature-sounding tones.
Cedar, on the other hand, is a soft tonewood. Many claim the tonality of new cedar guitars is similar to that of older, more worn-in spruce guitars. Unfortunately, unlike spruce wood, cedar becomes more fragile as it ages.
Seagull Guitars uses a cedar top for its flagship acoustic, thereby offering the beginner guitarist an acoustic that looks and sounds fantastic right off the rack or out of the box.
Is The Seagull S6 Good For Fingerpicking?
The Seagull S6 is a versatile acoustic guitar that can be played comfortably in various musical styles. Guitarists who employ the fingerstyle find the cedar top of the S6 resonant and responsive, in other words, perfect for the form.
The slightly wider string spacing of the Seagull S6 also contributes to its facility as a fingerstyle guitar, as does its comfortable action. Many rated the Seagull S6 among the top five acoustic guitars for fingerstyle.
Thomas M., the founder of Guitar Top Review, boasts 15+ years of guitar experience and was a church band member in L.A. Transitioning from piano to acoustic guitar, his first love remains his Taylor GS Mini. Alongside like-minded hobbyist friends, he launched the site, driven by a deep love for music that transcends professional boundaries.