As an Amazon Associate, We earn from qualifying purchases.
Learn More
As a guitarist with over 20 years of experience, I know how daunting it can be to find a quality, affordable guitar. After thoroughly testing the full Takamine G Series lineup, I'm confident in recommending the top two models that will suit most players' needs.
For beginners, I highly recommend the Takamine GX18CE mini guitar. Its compact size, lightweight build, and sweet, crisp sound make it perfect for new players.
More advanced guitarists will appreciate the versatile sound and robust volume of the Takamine GJ72CE-NAT electro-acoustic guitar. Its built-in EQ system provides premium tone shaping options perfect for gigs and recordings.
Throughout this article, I share my hands-on experience with the key features, pros and cons of the Takamine G Series guitars to help you determine which model best fits your playing style and budget.
Read on because I provide direct recommendations tailored to your skill level with details on construction, sound quality, and price.
What is Takamine G Series?
The Takamine G series is the brand's answer to the desires of the many guitarists in the world. These are top-quality and high-performing guitars that can be yours at affordable prices.
Saying that this series covers a wide range of musical styles, tones, and designs is an understatement. Its strength is a combination of playability and a beautiful tone that's also quite versatile.
These are a set of guitars built with passion and crafted to perfection. On a budget? Fret not (pun intended), choose from a wide array of designs either by body shape or by category and you'll see a few significant differences in terms of sound and quality of construction.
Make a Takamine G series guitar your next weapon of choice!
Categories Of G Series Guitar
There are a few categories under the Takamine G series and they are numbered 90, 70, 50, 30, 20, 15, and 10 series. Also, there are some classical, mini, bass guitar and ukulele variants included in the G series.
Each series has its own set of qualities that you might want to check out if you're looking for a specific feel and tone.
If you're looking for premium quality guitars then the 90 series might suit you well. It's got a distinctive sound and quite a stunning look with a solid top and special 3-piece back construction.
The 70 series is characterized by solid-top construction, upgraded electronics, and elegant design. The 50 series, on the other hand, has a big and bold sound and has a black walnut back and sides design.
The 30 series is known as an all-around acoustic guitar that can be yours for an affordable price point plus it comes with a wide array of body shape designs.
The 20 series features a classic look with the signature Takamine look as well as a cedar top for warm and detailed acoustic guitar sound.
Lastly, the 15 and 10 series are the most affordable set of guitars in all the categories.
Build Quality
In terms of build and design, the Takamine G series comes in all shapes and sizes that might suit your playing style and preferred comfort.
You have the classical, dreadnought, FXC body, FCN body, Jumbo, New Yorker, NEX, and OM body. You may also choose between their bass guitars and ukuleles
Material
The Takamine G Series guitars are made from the finest wood materials you can think of. From spruce to cedar to mahogany, and walnut, take your pick. Whatever your preference may be, they have it. All are durable, long-lasting, and create beautiful sound.
Sound
Takamine is one of the world's top acoustic/electric guitar manufacturers. Sound is out of the question. Each category offers a unique tone.
Even the most affordable ones can be taken on stage or used in a recording session. From bold tones to detailed, or warm sounds, take your pick.
Price Range
The Takamine G series may cost you $250 to $850 depending on the type you'd purchase.
Takamine G Series Review: Our Choice
Since the G Series offers a wide range of guitars, it is hard to review all Takamine G Series guitars in a single article.
So, here we reviewed the 9 most versatile guitars from different categories which provide a high-quality experience at an affordable price.
1. 90 Series: GY93-NAT New Yorker Acoustic Guitar
If you're looking for a lightweight, with smooth playability, and premium quality guitar then the Takamine G Series Acoustic Guitar named GY93-NAT New Yorker is what you've been looking for.
As we all know, the New Yorker body is one of the smallest full-scale guitars of the G series across all categories. This instrument is quite comfortable to play whether you prefer standing up or sitting down.
It's lightweight and compact that even kids can give it a try as they practice. But don't underestimate its quality, durability, and tone. It's got a solid spruce top and rosewood sides then the coveted 3-piece construction of quilt/rosewood and maple back.
It's got a slim mahogany neck with a 12-inch radius bound fingerboard made of rosewood. It's got a split-saddle and a maple body, neck as well as headstock binding.
Top that all off with a natural and elegant gloss finish.

Pros
Compact and lightweight
Easy to carry around and handle
Smooth playability
Great tone and sound
Elegant petite look
Cons
Not as durable as advertised plus the neck feels hollow
---
2. 70 Series: GJ72CE-NAT Acoustic-Electric Guitar
Takamine GJ72CE-NAT Acoustic-Electric Guitar
Solid spruce top and flame maple back and sides
Slim mahogany neck and rosewood fingerboard
Produces all the volume and robust sound of a Jumbo Guitar
Includes Takamine TK-40D preamp system
Let's step into the Takamine G series electro-acoustic guitar review with the 70 series GJ72CE-NAT 6-string guitar. This guitar has a solid spruce top then maple back as well as sides. And this jumbo-type guitar as you might expect will produce the volume that you need anytime, anywhere.
It's also quite a robust sound that is suitable for performances in any venue or setup. It's got a slim mahogany neck and 12-inch radius bound fingerboard made out of rosewood for a signature Takamine feel as well as playability.
A TK-40D preamp would then be responsible for giving you that versatile and premium sound quality that you will need. It also has a built-in tuner, 3-band EQ plus gain controls with a mid-contour switch, a notch filter, and an EQ bypass.
This guitar is for the ultimate performer.
Pros
A versatile guitar you may play anywhere
Robust and powerful sound
Great preamp system in place
Premium and all-around tone made possible by the built-in EQ system
Great value for money
Cons
Could use a little bit more on the aesthetics department
---
3. 50 Series: GD51-NAT Dreadnought Acoustic Guitar
Sale
Takamine GD51-NAT Dreadnought Acoustic Guitar
Combining a solid spruce top with rosewood back and sides
Slim mahogany neck and rosewood fingerboard
Split-saddle design of the rosewood bridge
Synthetic bone nut and bridge saddle
The Takamine GD51-NAT Dreadnought Acoustic Guitar is one of the most popular of the G series guitars. And that's because of its crisp low tone and all the volume that you'd need.
It's got a solid spruce top as well as rosewood for its sides and back. And once again, it's got a rosewood fingerboard and a slim mahogany neck for a very playable instrument.
The rosewood bridge is also characterized by a split saddle that is a sign of the G series. This produces superb intonation whether you're strumming along with some chords or plucking crisp-sounding notes.
Pros
Rave reviews online and popular guitar
Nice shape and size
Solid and durable construction all around
Superb tone
Powerful volume
Cons
It may look like a cheap plastic guitar at times
---
4. 30 Series: Takamine 12-String Guitar (GD30CE-12NAT Dreadnought)
The Takamine GD30CE-12NAT Dreadnought Guitar is for the ultimate acoustic guitar player. And seasoned guitarists know how versatile 12-string guitar can be so how much more if it's a Takamine G Series.
The combination of spruce and mahogany is sure to produce rich as well as resonant sounds. It's got a slim neck and the rosewood fingerboard should give it the desired feel and playability for anyone to handle as well as know how challenging 12-string Takamine guitars can be.
It's got the TP-4TD preamp system with a built-in tuner and a 3-band EQ plus gain controls for amplified versatility as well as performance. The bridge is rosewood and the nut's width is 1.875 inches.
Also Read: 
If you just picked up a 12-string guitar and want to use a capo but don't know which capo to buy, check this article on 12-string guitar capo to figure out which one is right for you.
Pros
Easy to handle and play for a 12-string
Relatively lightweight
Great amplified sound
Great value for money
Durable build
Cons
Subtle buzzing from the electronics
---
5. 20 Series: GD20-NS 6 String Acoustic Guitar
Takamine GD20-NS Acoustic Guitar
Solid cedar top with mahogany back and sides
Slim satin-finish mahogany neck
Split-saddle design and pin-less rosewood bridge
Bone nut and bridge saddle
The Takamine GD20-NS 6 String Acoustic Guitar is characterized by a cedar top and mahogany sides and back. The neck has a slim satin finish that's also made out of mahogany and the fingerboard is made out of rosewood too.
It's got a split saddle and a pinless bridge for the coveted Takamine intonation. Plus the nut and bridge saddles are made out of bone and are not synthetic. This guitar also has an elegant satin finish to top that all off.
Pros
Great value for money
Very rich and impressive sound
Very easy to play for people with small hands
Durable construction
Comfortable feel for the fretboard
Cons
The no-cutaway design can prove to be a deterrent for a few people to buy it
---
6. 10 Series: Takamine GD10-KIT-1 Acoustic Guitar
Next on our list is the Takamine GD10-KIT-1 Acoustic Guitar. The spruce top and the mahogany side and back are responsible for their balanced sound which a lot of guitar players surely appreciate.
It's got die-cast chrome tuners then a slim satin finish for its mahogany neck and a rosewood fingerboard for that coveted Takamine feel and playability.
The pinless rosewood bridge would then give way to easy restrings. Looking for an affordable but premium sounding and looking guitar? Then the Takamine GD10-KIT-1 is the way to go.
Pros
Great value for money
Premium sound and intonation as if you're playing guitar 3-4 times its price
Easy restrings
Nice elegant look
Relatively lightweight
Cons
Not as durable as advertised though
---
7. Classical Series: Takamine GC3-NAT
Takamine GC3-NAT Classical Guitar
Features solid-top construction, a beautiful gloss finish
A great all-around classical guitar
Comfortable mahogany neck and rosewood fingerboard
Include a dovetail neck joint, synthetic bone nut and bridge saddle
The GC3-NAT Classical Guitar from Takamine's G series is the ultimate guitar if you are looking for a beautiful classical guitar. The GC3-NAT comes in natural and showcases a solid-top construction with a mahogany neck and rosewood fingerboard.
This guitar is really a feast to look at. The glossy finish on the natural wood body is something out of a magazine. You also have a dovetail neck joint, a synthetic bone nut and bridge saddle, a rosewood head cap, and our favorite, chrome tuners with white pearl buttons!
But let's talk about music now. This nylon string classical guitar in conjunction with the fan-braced solid spruce top with mahogany back and sides produces a rich, resonant sound that is the most beautiful and comfortable sound experience.
The Takamine G Series GC3-NAT Classical Guitar is the perfect place to start if you are a beginner and yet, high-quality enough to challenge even the most expert of experts.
Pros:
High-quality construction
Easy and comfortable to use
Great sound profile
Cons:
---
8. Mini Series: Takamine GX18CE 3/4 Size Taka-mini
If you're looking for a good compact, lightweight, and sweet-sounding guitar then the Takamine GX18CE Solid Spruce 3/4 Size Taka-mini Acoustic-Electric Guitar is yours for the taking.
This is a great backup or practice guitar and even better for kids or beginners too.
It's got a spruce and mahogany body with a rosewood fingerboard and a natural satin finish to give it that elegant look. It's got built-in TP-4T electronics that are responsible for that versatile and sweet tone.
Pros
Perfect for beginners
Great for kids
Compact and lightweight
Sweet sounding guitar
Crispy detailed notes
Cons
---
9. Bass Series: GB30CE-Nat Acoustic-Electric Bass Guitar
The final name that makes up the prestigious list of this review of the Takamine G series is the ever-popular Takamine GB30CE-NAT Acoustic-Electric Bass Guitar!
The GB30CE-NAT Electro Acoustic Bass is a dream in reality for many guitarists. It has a bass body shape, a Venetian-style cutaway with a Quartersawn "X" bracing. You get a solid spruce top with a mahogany back, sides, and neck.
As for the fretboard, it is made out of laurel. You also have a dovetail neck joint, synthetic bone nut and bridge saddle, laurel headcap, pearl dot fingerboard inlays, abalone rosette, and chrome die-cast tuners.
As for the preamp, you get the TK-40B with an onboard chromatic tuner which offers you three-band EQ and gain controls, mid-shift control, bass-boost switch, and EQ bypass switch.
The Takamine GB30CE Bass Guitar is also one of our most good-looking guitars on the list! It has a beautiful natural body with a glossy finish and just the right texture which gives this guitar a very high-class and mysterious aura. Just what we like! Also available in black.
Pros:
The slim mahogany neck provides the best feel
High-quality construction
Cons:
---
Check the sound from a Southerner! (Video)
Frequently Asked Questions
Are Takamine G Series any good?
Good is even an extreme understatement. The Takamine G Series guitars are built to be affordable but don't underestimate how great they are. These are premium quality guitars that are meant to be used in any type of performance situation. They are also quite durable too. You'll get a variety of feels, shapes, weights, and tones. It all depends on the piece that you choose.
Where are Takamine G Series guitars made?
The Takamine G Series guitars are either made in China or Korea. Some of Takamine's pro series guitars are made in Japan.
Who Used Takamine Guitars?
Takamine guitars have produced a wide array of guitars both for the amateurs and the pros. And comes with that is a long list of artists that have utilized their masterpieces. Artists like Jon Bon Jovi, Blake Shelton, Steve Wilson, Garth Brooks, Simon Neil, Glen Hansard, Bruce Springsteen, and Nancy Wilson have all used Takamine guitars at some point in their careers.
Are Takamine Guitars Handmade?
Yes, Takamine guitars are all a product of a combination of woodworking and hand craftsmanship. So, you can say that it's a combination of the traditional way to make guitars but at the same time, the brand takes advantage of what modern techniques of guitar manufacturing bring to the table.
Final words
So, there you have it folk! The Takamine G Series! We have created this list to introduce you to some of the most versatile guitars on the market.
The Takamine G series is made to provide a high-quality experience at an affordable price for the masses. A wide range and selection of guitars are also going to satisfy your on-stage demands.
Take a look through and choose what your fingers strum to. Cheers!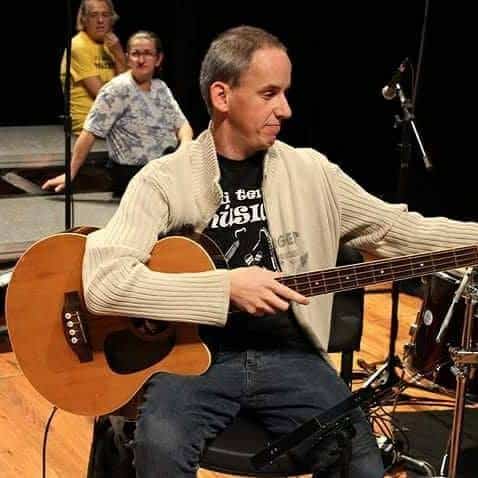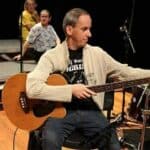 Gustavo is a music teacher and classical guitar player from Brazil, currently residing in Dublin, Ireland. He holds a graduate degree in Classical Guitar Performance from the Federal University of Pelotas. In 2020, Gustavo successfully completed a Master's degree in Sound Engineering from the Academy of Sound in Ireland.