Hey there! As an Amazon Associate, We earn from qualifying purchases. We greatly appreciate your support!
Learn More
We can all agree that capos help improve how we play music on our guitars. Thanks to this useful tool, guitarists can play a myriad of songs in different keys without retuning every time. That makes it especially helpful for beginners and professionals alike.
But a good capo can be hard to find. You may have to go through several bad ones before you find the perfect capo for your guitar. To help you with your search, we decided to write this Thalia Capo review.
Here, we'll share our honest thoughts about the brand, what we think about their products, and what we don't like about them. So if you're in search of a new capo, read this first before you buy.
Thalia Capo Review
The famous Thalia capos started as a vision from an 8-year-old child. Initially funded through a successful Kickstarter campaign, the brand officially launched its unique guitar capo in 2014. Because of its widespread reception and positive Thalia reviews from musicians, it instantly became a household name. And the rest is history.
Now that you know a little more about this brand, let's head on and discuss.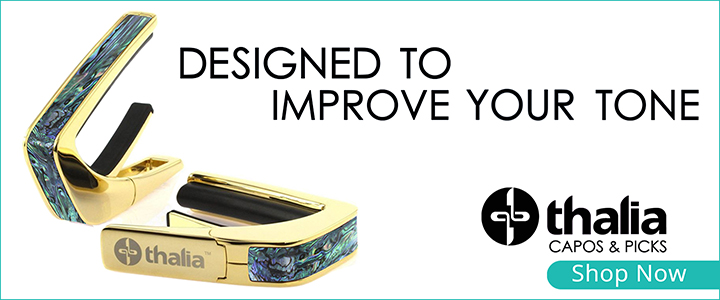 Thalia Guitar Capo Variation
If there's anything Thalia capos are known for, it's their premium aesthetics. Unlike the boring capos we often see in the market, these items come with beautiful inlays that can easily turn heads.
We weren't even exaggerating when we said that they were beautiful. The brand offers different inlay patterns made of materials such as wood and shells, and the results are just breathtaking.
If you want a capo with natural wooden inlay to blend well with your guitar's aesthetics, Thalia has it. And if you want one with colorful patterns and designs, Thalia has it, too. The combination of inlays seems to be endless – and we're not complaining.
Speaking of variations, Thalia offers two capo versions: the 100 and the 200 series.
The older 100 series capos are already quite impressive, but the list of improvements on the 200 series undoubtedly makes it the better choice. Most of the changes embraced by the Thalia 200 series involve changes in its dimensions to accommodate more guitar sizes and to improve its overall fitting. That makes it easy to see why we can't find any negative Thalia capo 200 review.
Custom Capo Option
On its own, each capo boasts an eye-catching design. With all the inlay options to choose from, we never thought that it could still be improved. We were wrong.
Thalia offers a custom capo option which took us by surprise. We're not just talking about a simple name engraving – we're talking about getting a capo that seems to reflect your personality. With this option, losing a capo is a thing of the past.
Not only do you have the option to have your name added to your customized capo, but you can also choose the font, inlay material, and style to truly make it your own. You can choose between a custom inlaid name, simple carbon fiber etching, Celtic knot etching, and monogrammed initials.
And the results? Stunning. While this service is available for an added fee, we find the prices reasonable. This is especially considering the effort they have to put in to produce the result you have in mind.
Capo for Other Instruments
Another winning feature that a Thalia capo has over its competitors is its versatility.
Each purchase comes with a total of 14 fret pads – you get a set of 7 standard tension rubber fret pads and another set of 7 high-tension rubber fret pads. For each set, you get seven different sizes from 0″ o 16″. This range allows you to use it on a variety of instruments – from the ukulele to a 12-string guitar.
We also love how you can mount it on the instrument in different ways. You can opt to mount it on top or at the bottom of the neck – whichever is most ideal for when you're playing the instrument.
Without a doubt, the brand went through a lot of thinking and brainstorming when it came up with its design.
Fretpads and Tuning Kits
When we found out that these capos come with replaceable fret pads, our first thought was this: what happens when these parts wear out?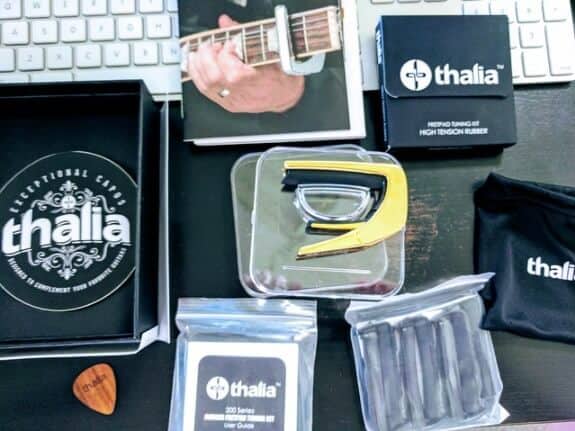 Fortunately, the brand sells a variety of fretpads and tuning kits like rubber pads, Teflon pads and silicone blended Octavetouch pads to replace worn-out ones – so you can continue using your capo on a specific guitar neck. You'll get a soft type rubber pad tuning kit with the purchase of every capo but if you need a plastic-type hard Teflon pad then you have to buy it separately.
You can buy them individually or buy them in sets of 5, 6, or 7 pieces to match your guitar's fretboard radius. You can even choose the tension (standard or high) you need for the specific instrument to ensure a perfect fit.
If you are confused to choose the right fretpad to match your guitar's fretboard radius then Thalia provides a useful guide for different guitar brands and models.
Trusted Build Quality
Once you get your hands on a Thalia capo, you can already feel that it is superior to others in the market. That's why it came as no surprise when we found out how the brand conducts its quality control.
These capos are initially assembled in China and are then shipped to the USA for the final assembly and product testing. The team behind Thalia is quite hands-on during the quality control stage, so no capo is left unchecked.
The fact that they have to monitor each one carefully is truly impressive. But, it can cause quite a delay in the production process, so buyers may have to wait a while before they receive their ideal capo.
Warranty
We have to be honest with you: Thalia capos are expensive. That alone makes a lot of interested buyers back away – even despite its promising features.
To make sure that you're getting your money's worth, the brand offers a lifetime warranty that includes mechanical malfunction and housing. Of course, this does not include damage due to misuse and poor handling. Nevertheless, we find this to be quite a great deal.
Thalia also offers a 90-day full return policy if you make the order through their official website. This is quite a bold move, and that reflects how confident they are about their products.
Things we like
From what we've discussed, it's easy to see why guitar capo reviews are always in favor of Thalia. To summarize, here are the features we loved most about their capos.
1. Versatility: There's no denying that Thalia capos are designed with superior versatility. These capos come with multiple fret pads of different sizes, so you can use them for different instruments. If you own multiple stringed instruments, then Thalia is a lifesaver.
Aside from its different fretpad sizes, Thalia capos can be attached to the fretboard in different ways. Whether you prefer to attach it from the top or the bottom doesn't matter – it works either way. That guarantees guitar-splaying comfort on your part.
2. Striking Aesthetics: There's no denying that these capos are incredibly beautiful. When we think of capos, we instantly think of an awkward narrow tool that sticks out of our guitar. The Thalia is not like that at all.
It comes with a slick and clean design that allows it to blend harmoniously with the instrument. And the fact that you have a variety of skins to choose from makes it even more eye-catching. You can even pick one with a wooden design to make it look like it's part of your guitar.
3. Superior Engineering: We also love how these capos are specially engineered to help maintain the instrument's sound quality. Cheap capos tend to cause the guitar to go a little bit out of tune – but not Thalia capos. This makes it better to play instruments, especially for music enthusiasts with sensitive ears.
4. Compact: we love how compact it is. These capos are not long and gangly, so they look great on any guitar. Though the weight may feel a bit heavy than other capos but should not be an issue. Because of its smaller dimensions, a Thalia can easily fit inside your guitar bag pocket or any other pouch. This allows you to take it with you anywhere – so you can play the guitar with any preferred keys.
5. Free Shipping: Finally, the company also offers free worldwide shipping for orders over $70 which would save you a few bucks if you are comfortable with slow delivery.
Things we don't like
As impressive as they are, Thalia capos are not perfect. Here are some of the flaws we picked up while writing this review.
1. High Cost: The high standard of each item comes with a very high retail price. While we expected it to be more expensive than most capos, we must admit that we were quite surprised when we saw how much it retails for.
While these capos do have a lot of premium features, not everyone is willing to pay that much on a guitar add-on.
2. Bit of a Hassle: The next flaw we found is more of a minor inconvenience. We find that changing between pads is not as easy as it claims. The process is also a bit time-consuming, so it's not something that you should do if you're planning to use different instruments successively.
Then again, not everyone needs to switch between guitars in minutes, anyway. That's why we said that this is just a minor flaw. But if the process were a lot easier, then these capos would have been perfect.
3. Long Shipping Times: Thalia only produces a limited number of capos at a time, and most of them are also built to order. That means that you have to wait a while before you can get your hands on these capos. If you're in a hurry to get one, then this may not be the best option for you.
Our Rating
Final Thoughts
There's no doubt that these capos are an investment. While we were initially drawn to its unmatched aesthetics, what made us love it, even more, is the overall quality of the capo.
We also love how it comes with multiple fret pad sizes, so it can fit in most stringed instruments. You don't have to buy separate capos for each instrument – and that's how we know we're getting good value for the money. Also, this would be a great gift for your guitarist friend.
To conclude this Thalia capo review, we must say that we're quite impressed. Although it is quite pricey, the benefits and the undeniable quality far outweigh the cost.

Frequently Asked Questions
Are Thalia capos worth it?
While Thalia capos are not the most affordable capos in the market, we do believe that they are worth the cost. The brand only uses premium materials, and the careful production process guarantees the longevity and durability of each capo.
These also offer different fretpads to fit a variety of fretboard radius. You'll end up saving more money from buying one Thalia capo than from buying different capos for each instrument. They also have premium aesthetics – and you can't put a price on that.
What is the recommended orientation? From the top or bottom of the neck?
How you want to attach the capo to your guitar greatly depends on your preference. You can use it either from the top or bottom of the neck without affecting the resulting tonal quality. Nevertheless, we believe that attaching it from the bottom is more comfortable.
Why do Thalia capos cost more than others?
There's no denying that Thalia capos are more expensive than others in the market. This is due to the different prices of inlays. The brand is known for its premium inlay designs, so they make it a point to use only the best materials for their inlays.
Some of these inlays are more expensive than others, while others require careful handling to ensure the best quality upon installation. These factors add up, and that's why Thalia capos are sold with a higher price tag.
Recommended To Read: