Hey there! As an Amazon Associate, We earn from qualifying purchases. We greatly appreciate your support!
Learn More
As a guitar player, one of the resources that I've found to be invaluable is a good looper pedal. A looper pedal allows you to create and repeat phrases.
You can easily set up your own rhythm tracks to play solos and melodies over. It's an excellent practice tool that allows you to work on improvisation and playing in time with other instruments.
A cheap looper pedal is a working musician's best friend. It can enhance your live performances when you don't have a band to play with. Advanced looper stations will include multiple effects and options for crafting your sound.
In this Lekato Looper Pedal review, I'll share some of my insights into a pedal that I've recently discovered.
Lekato Looper Review: Best Cheap Loop Pedals?
Is the Lekato Looper the best affordable looper pedal on the market? Let's dive into our Lekato loop pedal review to find out.
Features and Specifications
The Lekato Loop Station has a number of great features. Some of them are seldom found on much more expensive pedals.
One of my favorite features is the ring of blue LED lights that indicate the start and finish of your looped phrase. This is a great help when you're trying to layer multiple phrases on top of one another. I've only seen this feature in one other looper pedal, but the display was small and not as easy to see.
The Lekato runs on a standard 9-volt power supply, but unfortunately, the cord is not included. This is a small pedal, so there is no 9-volt battery compartment.
Here are some of the other main features and specifications of this pedal:
Long recording time
Unlimited overdubs
9 memory banks
Uncompressed audio
Built-in tuning function
Support external pedal
Dimensions: 3.54×1.57×1.95 inches
Weight: 0.66 lbs
Built-in Effects and Extras
Another feature that I love about this pedal is its built-in tuner. This is a slim pedal that could replace a large looper station and tuner pedal to make more space on your pedal board.
I personally tested the tuner alongside my Korg Pitch Black pedal and found it to be just as accurate. I use this particular guitar tuner as it's easy to see the display in the dark when I play in bars and small clubs.
The Lekato tuner has a similar, bright-red display that's equally easy to see. If you like a small pedal board, the Lekato is a real space saver.
User Interface and Controls
In many ways, the Lekato is a simple looper pedal that doesn't have a ton of different foot commands. There's one main stomp button to engage and end recording sessions.
I appreciate how easy it is to remove your last recorded phrase by simply holding down the button. If you already have two layers recorded and make a mistake on your third, it's simple to just erase it and start over.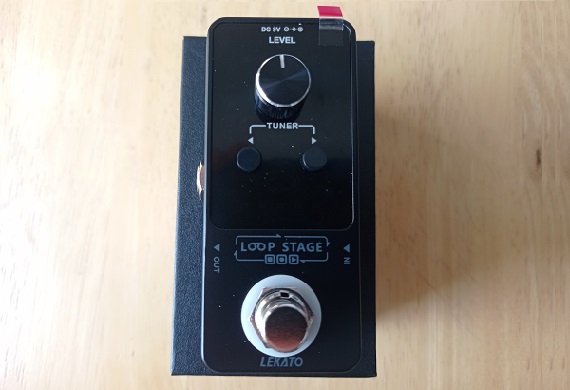 Other than the stomp button, there's a large knob for volume control and two smaller buttons. The small buttons are for cycling through your saved recordings and accessing other features. Overall, this is an intuitive and easy-to-use pedal.
Looping Capabilities
The Lekato pedal offers unlimited overdubbing, a feature that is astounding to see on a pedal in this price range. You can create an endless number of loops here.
The only limitation is the total recording time of 40 minutes that the unit can handle. This is 40 minutes overall, with each recorded phrase having a limit of 10 minutes.
Additionally, there are nine memory banks to store your created rhythms in. I find this to be a good amount for either home practice or live shows.
Performance and Audio Quality
A lot of loopers and recording equipment compress the audio, but not so with this pedal by Lekato. According to the manufacturer, this pedal has a 48K/24bit sampling rate which provides professional quality sound. To my untrained ears, the sound quality was fantastic.
I did find that the pedal added a tiny amount of hum when placed in certain positions with a high number of other pedals on my board. This was easy enough to solve with a noise gate. If you're using this as a standalone pedal, you shouldn't have any issues at all.
Connectivity and Integration
The Lekato Looper has a few potential issues in these categories. You can upload your saved creations from nine different memory banks via a USB port on the pedal.
Lekato even includes a USB cable in the box. By saving your rhythms on a laptop or PC, you can keep more than just the nine tracks that can be stored on the unit.
It should be easy enough to download and swap around your stored creations. You should also be able to download rhythms created by other musicians or create tracks from your favorite songs to play along with.
Though I haven't experienced any USB connectivity issues with my unit, unfortunately, some users including a friend of mine, have run into problems here, specifically with files refusing to download to the pedal at all.
To facilitate export and import functions, Lekato offers a software called CubeSuite, which is accessible on their website for both Mac and Windows PC. However, the manual specifies that no software or driver is necessary for Windows users.
Additionally, alongside the software download option, there is an 'Update' feature available on the website. I attempted to use the option; however, it consistently displayed a 404 error.
This pedal has been out for a while, and Lekato has yet to address the issue. Considering these challenges, it's crucial to recognize that users have the option to seek answers and troubleshooting assistance from Lekato's customer support via their website.
Build Quality and Durability
This is a budget-friendly pedal that's over-built when compared to most cheap looper pedals. It has a steel case and a solid amount of weight to it. I spent a lot of time using the pedal on its own before transferring it to my main pedal board. It stayed put on the floor and was nice and stable.
The display is clear and easy to see. The input jacks all seem robust and well made. The stomp button on my unit felt a little wobbly, but it wasn't outside of the norm for a pedal in this price range.
Overall, I expect this little pedal to hold up well at home or even on the road.
Pros and Cons:
Pros:
It's affordable
Well built
It's compact
Built-in tuner
Visual loop indicator
Cons:
Loose foot switch
9-volt Power cord is not included
Some user face issues with downloading files
Alternatives to the Lekato Looper Pedal
When it comes to looper pedals, I've been using the Boss RC-1 Loop Station for many years now. I can easily recommend it, though it's more than double the price of the Lekato.
Boss makes a newer version of this pedal called the Boss RC-5, and it's more than three times as expensive as the Lekato. Still, I believe the increased price is worth it for the quality and consistent performance.
If you're looking for cheap looper pedals, the Donner Triple Looper is a good choice. It's one of the best cheap looper pedals on the market. It does, however, lack the sound quality and features of the Boss Loop Station. The Boss pedal also allows you to upload your loops as WAV files, and it works flawlessly.
Final Verdict
After completing my Lekato Looper review, I have mixed feelings about the Lekato loop station. It does a lot of things well, and I appreciate its small footprint on my pedal board. It's also an extremely affordable pedal.
The Lekato Loop Stage impresses as a solid choice for beginners seeking a basic model. Its user-friendly interface makes it an ideal first pedal, while the intuitive play mode enhances the creative experience.
Despite some connectivity hiccups, the pedal offers a cost-effective solution for those who want to be a looping enthusiast.
For serious musicians, I would hold off recommending this pedal until Lekato addresses the download/upload issues. Perhaps they can solve the problem with a downloadable patch in the future. It may also be a matter of quality control where only some pedals experience the issues.