The guitar simply said is one of the most important musical instruments of all time. Nearly all songs today have some tunes from a guitar. Whether it be the lively and dance-full tunes in Spanish music or a more sophisticated and deeper tune, a guitar is extremely versatile and incredibly important to any musician's life.
And because of this varied and significant use, over time many interesting facts about guitar have been formed. Let's take a look at some of the most bizarre, interesting, and unique realities about the guitar.
Quick-fire round
To begin with here is some quick and easy guitar fun information good to know:
1. The guitar was first made in 16th century Spain
2. The guitar pick was invented in 1922 by D'Andrea USA
3. Ancestral instruments of guitar are as old as 4000 years
4. The English word Guitar, the German word Gitarre, and the French word Guitare were all derived from the Spanish word Guitarra [Wikipedia]
5. Antonio Torres Jurado, a Spanish guitarist, and luthier is acknowledged as the most important Spanish guitar maker of the 19th century and credited for present-day classical guitar look and design [Guitar History Facts]
6. 1936 was the year in which the first electric guitar was made
7. Paul Tutmarc invented the bass guitar in the 1930s, but it never became successful until the 1950s
8. Black is the most popular acoustic guitar color
Facts about electric guitar
Electric guitars are famous for their 'customizable' sounds. Songs however are not the only things these guitars were used for. Here are the topmost obscure fascinating facts about the electric guitar.
9. In 1931, American inventor of musical instruments George Beauchamp and Swiss-American electrical engineer Adolph Rickenbacker invented the first electrically amplified stringed instrument. An electric guitar uses electromagnetic radiation to transform string vibrations into electric signals. [Open Culture]
10. The largest electric guitar, also the world's largest functioning guitar, is whopping 13.29m tall and 5.01m wide. This guitar weighs around 907kg and was built on a 1:12 scale of its original design. This was made by students of Conroe Independent School District Academy of Science and Technology, Conroe, Texas, USA in 2001 at a rather impressively low cost of $3000 (€1975). [Guinness World Records]
11. The largest amplifier for an electric guitar was made in 2017 in Orlando, USA. It measures 3.06m in length, has a height of 2.47m, and is 1.30m wide. The brains behind this behemoth was a team called the 'Full Sail team' of the Full Sail University and consisted of Ben Clifton, John Sherman, Joseph Rivers, Max Rivers, Drew Walkup, Kayla Mraz, Fahad Vania, Zac Barnett, James Adam Shelley, Dave Rublin, and Matt Sanchez. They carried on with this project to showcase a specialty at Full Sail University. [Guinness World Records]
12. In July of 2019, Rob Scallon and Sweetwater Sound broke the record for the largest pedalboard. The pedalboard that broke the record had a mammoth 319 different pedals for guitar effects. [Guinness World Records]
13. Record for the largest electric guitar ensemble was set in India on 12th January 2013 by the Sky Group. The ensemble had 368 participants of ages 11 to 70. This was an initiative to promote peace and unity in Nagaland. [Guinness World Records]
Facts about acoustic guitars
Acoustic guitars are arguably the most common type of guitar with many professional guitarists starting out with an acoustic guitar at the grassroots level. Some of the facts that surround the acoustic guitar are truly amazing. Here are a few of the rather unknown information about acoustic guitar.
14. The largest acoustic guitar was made in Porto, Portugal, and was showcased on the 7th of January 2001. That was made in a warehouse in Pacos De Ferreira by Paulo Pimental and was exhibited in Porto as a part of the European capital of cultures celebration. The guitar is 16.75m long, 7.57m wide, and 2.67. deep. Most impressive however is the weight of this instrument. Coming in at an unbelievable 4 tons, this guitar weighs more than your average family wagon. [Guinness World Records]
15. The oldest acoustic guitar is about 3,500 years old. Although the modern guitar was formed in the 16th century, the oldest evidence of this stringed instrument goes back to 2000-1500 BC Asia- mainly India and Persia. The most complete guitar (ancient first guitar) originates from ancient Egypt well and- as documented- was played by Egyptian singer Har Mose in the court of queen Hatshepsut. This three strings instrument of Har Mose was made from polished cedar with a rawhide soundboard. Now, this oldest preserved guitar-like instrument is kept at the Archeological Museum in Cairo. [Guy Guitars]
16. The acoustic guitar is in today's world a primary instrument that is used in many genres of music. In the early 20th century, the acoustic guitar became the single most popular instrument on the planet. Now it shares its throne with the piano.
17. Most people are only aware of the 6-stringed guitar. Some know 4-stringed variants at best. However, 12, 7, 8, and 10 stringed guitars are all popular in the musical world. Nowadays the guitar strings are made from nylon and steel but in older times, animal intestines were used to make guitar strings.
18. The now classical broad and shallow body of the guitar was not actually the most common body style. Guitars used to come in many shapes and sizes. The form we are used to now was created in the 19th century. These changes increased the sonority of the instrument.
Facts about bass guitar
The bass guitar produces the lowest-pitched sounds in the guitar family. Hence the name bass guitar. Here are a few facts about the bass guitar.
19. The bass guitar can come in both an acoustic form and an electric form. The acoustic bass guitar is hollow. And the electric bass guitar has the usual solid body with outer amplification methods.

20. Uniquely, the acoustic bass guitar unlike most other acoustic guitars can actually be amplified with electronic methods. The sole reason the acoustic bass guitar is 'acoustic' because the main way of amplification is still resonant.
21. The bass guitar for long was considered the poor man's double bass. In fact, after its creation in the 1930s, the bass guitar had little to no popularity for the better part of 20 whole years. It wasn't until the 1950s when players-been frustrated having to slog around unwieldy doubles basses- wanted something lighter and that was actually a better instrument.
22. The bass guitar can be played in various manners. Obviously, the common plucking and picking styles remain. But players since the 1970s have also started slapping and popping the strings. In a normal acoustic guitar, these techniques would not work. But in a bass guitar that produces low-pitched sounds, the slapping and popping tricks do work especially as they are aided by electronic amplification.
Interesting facts about famous guitar players
23. The famous guitarist, Jimi Hendrix- top 3 most influential guitarists of all time- has a Stratocaster carved on his tombstone in commemoration of his importance to the guitar world. [Cemetery Travel]
24. Jimi Hendrix was quite a unique player. His style was totally unorthodox as he used to hold a right-handed guitar upside down and strung backward because he was left-handed. He sometimes went completely crazy and played the guitar with his teeth or behind his back. [YouTube]
25. In the history of rock music, Jimmy Page became a god figure during his time with the band Led Zepellin. His rock riffs made him one of the most influential ever.
26. Eric Clapton, a player who brought his blues style into rock and roll has been named to the Hall of Fame a staggering 3 times. He was named to the Hall of Fame for his solo career and his time with the bands Cream and Yardbirds. [Rockhall]
27. In 2019, a black Stratocaster owned by David Gilmour became the world's most expensive guitar ever sold since it had been sold at a New York auction for 3.9 million US dollars. Almost perfectly a year later in June 2020, Kurt Cobain's 1959 MARTIN D-18E, the Kurt Cobain MTV unplugged guitar, was bought by the Australian Peter Freedman at Julien's auction in Los Angeles for just over 6 million US dollars making it the most expensive guitar ever sold as it took the throne from David Gilmour. [Guinness World Records]
28. Bryan Adams is also a photographer who took a candid snap of Queen Elizabeth in 2003. Next year, that photograph was used for a Canadian stamp. [Saskia Design]
Other Interesting facts
29. In 2001, a man named Chris Black- a British musician- actually married a Fender Stratocaster. This weird adventure of his began when he fell in deep love with his guitar which is known by the name "Brenda the Fenda". He apparently dated the guitar for 35 long years before marrying it. The marriage took place in a church in London. The guitar then became his second wife- he was actually married to a human being- and he told people post-marriage that it was only a bit of fun and nothing else. [Guitar Fella]
30. David Browne Aka Dave Browne, an Irish guitarist accomplished the record of the longest marathon playing guitar on 18th June 2011 by playing the instrument continuously for 114 hours, 6 minutes, and 30 seconds at the Temple Bar Pub in Dublin, Ireland. Dave played a massive number of songs (a total of 1372) and his final song was 'with or without you'- a classic hit song by Irish rock band U2. [Guinness World Records]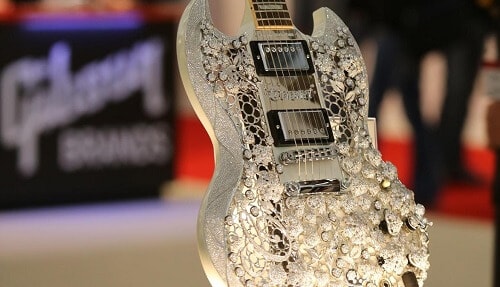 31. The most valuable guitar in the world was created by Hong Kong based Aaron Shum Jewellery collaborated with Gibson in 2015 and was said to be worth 2 million US dollars at the time. Composer/Producer Mark Lui was the designer of Gibson's White SG named "Eden of Coronet" which was decorated with a huge 11,441 pieces of diamond (401.15 carats) set in 1.6kg (57.67 oz) of 18k white gold. [Guinness World Records]
Fun guitar records
Guitars, as with most objects have had many people trying to break or create records with them. Here are some interesting guitar facts and information about the crazy records people have set.
32. On 1st May 2009, the Thanks Jimi Festival in Wroclaw, Poland set the record for the largest guitar ensemble. The ensemble had 6346 participants and Steve Morse of the Deep Purple band also took part in the ensemble. [Guinness World Record]
33. Harold Craighead and Dustin Carr of the Cornell University in New York made the smallest guitar replica in 1997. The minuscule guitar was 10 micrometers long and had 0.5 micrometers thick strings which actually produced sounds. However, these sounds were at frequencies outside the human ear or hearing range and no man could hear these. [Guinness World Records]
34. James Rawlings of the United Kingdom managed to balance a guitar on his chin for 1 hour and 7.74 seconds on 15th September 2020, making him the record holder for such a task. [Guinness World Records]
35. James Rawlings' father, Steve Rawlings managed to break a record himself on the same day. Steve balanced a guitar on his forehead for 75 minutes and 4.23 seconds, taking home the record for "longest time guitar balanced on the forehead". [Guinness World Records]
More Interesting Guitar History Facts
Final Words
The guitar is an essential musical instrument and has many fun facts and information surrounding it. For now, this is where we must end, because if we keep on going, it may well never stop.