British singer-songwriter James Blunt is set to release a new song titled "Dark Thought" that pays tribute to his close friendship with the late actress Carrie Fisher. The emotional track will appear on Blunt's upcoming seventh studio album, Who We Used to Be, due out later this week on 27 October, 2023.
In a recent interview with The Guardian, Blunt opened up about his unlikely but meaningful friendship with the Star Wars icon. The two first met in 2003 at a restaurant in Notting Hill through mutual friends.
Blunt had just secured a record deal and mentioned he was moving to Los Angeles. Fisher immediately invited him to live with her, an offer Blunt accepted.
Living Together in LA
Though he didn't see much of Fisher during the first month of living in her LA home, Blunt said they eventually bonded through late-night conversations. "I came home one night and sat on the end of her bed and we talked until morning," Blunt told The Guardian.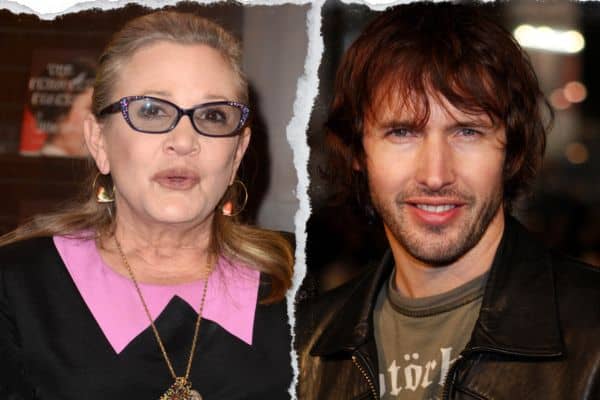 "After that, whenever I got back from the studio I'd go into her room to talk, no matter if it was 11 pm or 3 am. She became my best, best friend."
Fisher's mother and actress Debbie Reynolds was also living in the home at the time. Blunt amusingly recalled how Reynolds would offer him drinks and call him by the wrong name.
As per Fisher's 2014 interview with Vanity Fair, Blunt ended up using her bathroom a lot to record because it had a piano with good acoustics, including recording his hit song "Goodbye My Lover" on the piano in there.
In a separate interview last year, Blunt described Fisher as an "incredibly inspirational, creative human being who saw the funny side of everything." Though she had personal struggles, Blunt said he felt "lucky to know her."
Fisher had previously spoken about their close friendship as well, once jokingly calling herself Blunt's therapist.

Saying Goodbye After Her Death
On December 27, 2016, Fisher died at age 60 after suffering a heart attack on a flight from London to Los Angeles. Her mother Reynolds passed away a day later from a stroke at age 84.
In his Guardian interview, Blunt recalled driving to Fisher's home after her death and weeping at the gate. Moments later, a tour van pulled up to point out the home and discuss Fisher's recent passing.
Blunt said he "wanted to tell them to f*** off," but eventually found the timing humorous and perhaps fitting given Fisher's personality. The emotional moment inspired Blunt to write "Dark Thought" as a tribute to his cherished friend.
Upcoming Album and Song Release
"Dark Thought" appears on Blunt's album Who We Used to Be, scheduled for release on October 27. The song narrates Blunt's return to Fisher's home after her death and the pain of losing his close friend.
This is not the first musical tribute Blunt has made to Fisher, his musical tribute at Fisher's 2017 memorial was a song titled "Courtney's Song" that he wrote honoring both Fisher and her mother Debbie Reynolds after their deaths a day apart in 2016.
In addition to his new album, Blunt is publishing the humorous memoir Loosely Based On A Made-Up Story on October 26, which contains exaggerated tales about his roots, schooling, military service, music career, and wild adventures over the years.
Though inspired by true events, Blunt admits the stories are not always factual but rather intended for amusement, with his trademark wit on full display.
Later this year, a documentary titled "One Brit Wonder" is set to be released. This documentary explores James Blunt's career journey, from massive success to facing backlash and regaining relevance. Filmed during his 2022 tour, it provides an intimate portrait of the self-aware musician, highlighting his persistence and humor.
The singer rose to fame in 2004 with his smash hit "You're Beautiful" and cemented his status as a multi-platinum global recording artist.
But throughout his success, it was Fisher's friendship that Blunt cherished. With the release of "Dark Thought," Blunt finds poignant closure and a way to eternally honor Fisher's memory.

Team Guitar Top Review Talk about Guitars! We are a group of friends that bonded over their shared love of playing guitar. We all have different backgrounds and experiences with music, but we share a passion for writing about the things that we love.