As an Amazon Associate, We earn from qualifying purchases.
Learn More
Chances are you've heard at least one Eminem song in your life. With hits like "Lose Yourself," "Not Afraid," and "Love the Way You Lie," the rapper has solidified his status as a hip-hop icon.
But Eminem, whose real name is Marshall Mathers, didn't have an easy path to stardom. Behind the fame and fortune lies a troubled childhood rife with poverty and family dysfunction. And at the center of it all was Eminem's complicated relationship with his mother, Debbie Mathers.
Over the course of his career, Eminem has never shied away from referencing his mom in his music. But those lyrical depictions often painted Debbie in a very negative light, leading to legal battles, public feuds, and years of family estrangement.
However, time eventually healed old wounds. In recent years, Eminem has reconciled with his mother after decades of bitterness. Their story serves as an example of the complexities of fame, family, and forgiveness.
Eminem's Early Life and Struggles with His Mom
Eminem's mother Debbie gave birth to him when she was just 18 years old. His father Marshall Mathers Jr. abandoned them shortly after, leaving Debbie to raise Eminem on her own.
With no support and few resources, Debbie struggled financially as she shuttled Eminem between Missouri and Michigan throughout his childhood.
By most accounts, living conditions were dismal. The pair frequently bounced around homes, got evicted, had the electricity shut off, and lived in public housing projects in Detroit's impoverished neighborhoods.
Eminem has said he witnessed domestic violence, while Debbie grappled with drug and alcohol problems.
Eminem has cited his turbulent youth as the reason for his angry, rebellious persona portrayed in songs like "Cleanin' Out My Closet" and "My Mom."
He accused Debbie of being verbally and physically abusive, having Münchausen syndrome, and mistreating him by putting prescription pills in his food as a child. Right or wrong, it's clear Eminem resented his mom for their dire circumstances growing up.
Eminem Blasts His Mom in Song Lyrics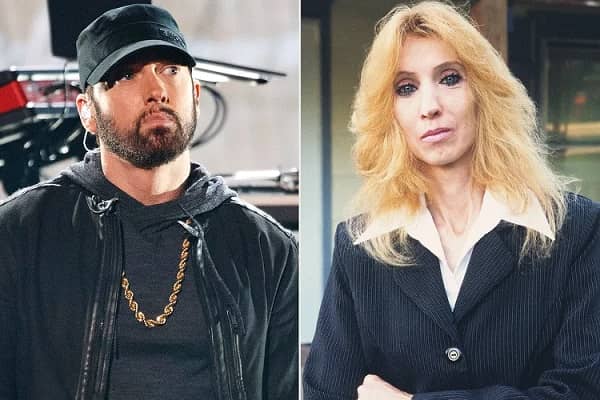 When Eminem exploded onto the rap scene in the late 1990s, his shocking and controversial lyrics instantly set him apart. He became known for his unfiltered, aggressive style and penchant for attacking celebrities and public figures. His mom Debbie was often caught in the crosshairs.
Songs like "My Name Is" and "Cleanin' Out My Closet" viciously mocked and denigrated Debbie. Eminem claimed his mom did "more dope than I do," had Münchausen syndrome, was addicted to Valium and Vicodin, and constantly lied to get welfare checks. He rapped about her neglect, called her selfish and dirty, and vowed she would never see his daughter Hailie.
For Debbie, hearing these accusations broadcast to the world was devastating. While she admitted to making mistakes as a young, single mother, she insisted Eminem's lyrics portrayed her as an evil, deranged felon–far from the truth in her eyes. His words spread falsehoods about her life and character, she felt.
The Legal Battle Between Eminem and His Mother
After one jab too many, Debbie decided to take legal action against her son in 1999. Furious over his insults and jabs in songs like "My Name Is," she sued Eminem for defamation and sought over $10 million in damages.
Debbie claimed Eminem was lying about her substance abuse, negligence as a parent, and reliance on welfare. She said he unfairly used her as material to craft his recording persona "Slim Shady" and get rich in the process. Her lawyer argued Eminem's depictions caused Debbie stress and painted her as "a self-centered, drug-addicted lunatic" to the public.
Ultimately, a Michigan judge ruled in Debbie's favor. However, she only received $1,600 of the $25,000 settlement after legal fees.

Eminem's lawyer said the case proved the rapper had a "lifelong strained relationship" with his mother. Clearly, airing their family's dirty laundry through music only drove the pair further apart.
Debbie Mathers Tells Her Side of the Story
In the early 2000s, Debbie decided to tell her side of the story after staying silent for years. She wrote a memoir titled "My Son Marshall, My Son Eminem" (paid link) explaining her version of events. Debbie also did several interviews revealing details about life as Eminem's mom.
In the book, Debbie admits to making poor choices at times as a young, overwhelmed mother. However, she claims Eminem greatly exaggerated her problems with addiction and mental health. She says the biggest lie was that she didn't love her son and deliberately tried to harm him.
Debbie asserts motherhood was the most important thing in her life, but poverty and lack of support made it difficult. She feels Eminem callously used her struggles for fame and never considered the pain his lyrics caused her.
While not perfect, Debbie maintains she was a caring mom who couldn't be defined solely by her mistakes.
The Road to Reconciliation
Eminem and his mother's volatile relationship remained strained for over a decade. But slowly, the animosity dissipated, and the pair began making tentative steps toward reconciliation.
A major breakthrough came with Eminem's 2013 song "Headlights." The track is an emotional apology to Debbie in which Eminem takes accountability for taking his insults too far.
He acknowledges causing his mom pain unnecessarily even if he felt wronged by her parenting at times. Eminem says he understands Debbie better as an adult and father himself.
Debbie has said she was profoundly moved by "Headlights" and viewed it as the start of real forgiveness between them.
In recent years, she has become a regular at Eminem's concerts and celebrity events. She is also close with his daughter Hailie, attending her high school graduation and college volleyball games.
Eminem and his mother still have a complicated dynamic with lingering strains from the past. But they seem to have moved beyond open hatred into a place of mutual love and respect. For Eminem, letting go of long-held bitterness toward his mom was a major personal breakthrough on his road to maturity.
Where Their Relationship Stands Today
So where do Eminem and his mother Debbie stand today after decades of feuding, lawsuits, and family drama?
Imperfect as it may be, their relationship has come a long way. Eminem appears to have welcomed Debbie back into his inner circle to some degree. She proudly supports his career accomplishments like his recent induction into the Rock & Roll Hall of Fame.
According to Debbie, they are in regular communication these days, staying on top of each other's lives. There's a sense they've agreed to forgive one another for past hurts. They seem to understand that both parties made mistakes stemming from the difficulties of their situation.
Of course, with so much baggage, some lingering awkwardness and estrangement persists. They'll likely never have an idyllic, Norman Rockwell-esque mother-son bond.
But considering where they started, just moving past hatred into civility is major progress. Their story proves that famous families can work through even the messiest conflicts if there's the willingness to heal.
Key Takeaways
Eminem and his mother Debbie endured a volatile relationship marred by poverty, substance abuse, lawsuits, and vicious lyrical beef.
Their painful history exposes the toll family dysfunction and fame can take. Yet despite extreme acrimony, the pair navigated toward reconciliation through maturity and the desire for peace.
While far from perfect, Eminem and Debbie demonstrate that time and forgiveness can mend even the most battered bonds between mothers and their famous children.
Their journey reveals the humanity behind celebrity feuds and reminds us that progress comes gradually through understanding. Above all, it's a story of hope that even in the darkest tunnel, a light can eventually be found.

Team Guitar Top Review Talk about Guitars! We are a group of friends that bonded over their shared love of playing guitar. We all have different backgrounds and experiences with music, but we share a passion for writing about the things that we love.