As an Amazon Associate, We earn from qualifying purchases.
Learn More
Most guitarists, myself included, daydream of a rig comprised of high-end instruments, including, of course, some vintage war-horses. We walk into a guitar store with the reverence of an art student entering the Louvre in Paris; each instrument represents an expression of form and potential that resonates deeply within.
Unfortunately, most of us can't afford to indulge our guitar fantasies to the extent we'd like. Laying out thousands of dollars for a top-quality guitar is, for most players, a once or twice in a lifetime experience, if that.
Luckily, there are affordable musical instruments on the market today that deliver great tone, looks, and playability for a price that won't have you playing the blues. One of these is the Donner DST 400 Electric Guitar.
Review of Donner DST 400
In this article, I'll review the Donner Electric Guitar Solid Body DST 400 and share my experience with the guitar to help you determine if the instrument is any good.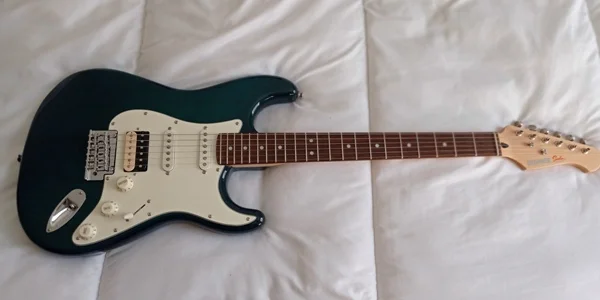 Overview
As someone who's played (and owned) his share of inexpensive guitars, I'm always skeptical of any ax under two hundred dollars that isn't stamped either "Squire" or "Epiphone." Fender and Gibson's baseline economy models, respectively, Squire and Epiphone, pack a lot of punch for their price, and they can take a beating.
After playing the Donner DST 400, I need to reconsider this position. While I wouldn't say the DST 400 is necessarily better than a Squire Affinity or Epiphone Les Paul, it is different enough (in a good way) to warrant adding one to your collection.
The Donner electric guitar solid body DST 400 comes with high-quality accessories including a waterproof gig-bag, ten feet of copper conductor guitar cable, and a guitar strap.
Materials And Vintage Style Hardware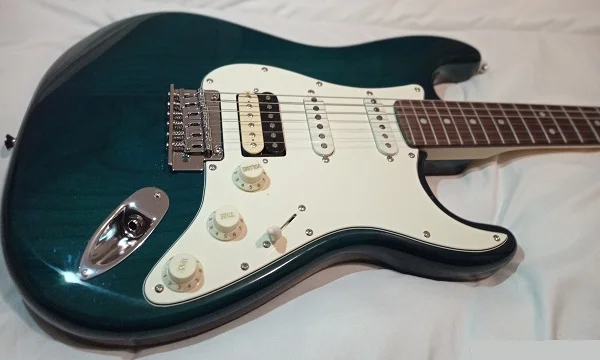 Like Squire and Epiphone, the Donner DST 400 boasts a satin-finished maple neck for smooth, easy playing. The rosewood fretboard is marked for 22 frets, both on the fretboard and the top of the neck.
Unlike most guitars in its price range, the DST 400 has an H-S-S (humbucker-single-single) pickup arrangement, allowing for a wide variety of tones. The humbucker bridge pickup adds a bit of a "beefier" sound, ideal for hard rock and heavy metal tones.
What's more, the Donner DST 400 electric guitar allows you to split the humbucker into single-coil pickups with a push or pull on the tone knob. This Donner coil-split system, hardly ever found on guitars under two hundred dollars, allows for even more potential pickup combinations and, therefore, a greater variety of tones.

Like the Squire Stratocaster upon which the DST 400's body is based, this guitar comes equipped with a vintage-style tuning machine and a tremolo bridge system.
Some reviews claim the Trem system is a bit tight out of the box and may need some wearing in or even adjustment. Personally, I didn't find this to be the case.
The Donner electric guitar solid alder body helps produce warm, bright tones, and its c-shaped neck profile makes for comfortable playing.
Style And Looks
A sleek-looking instrument with a body based on the Fender Stratocaster, the Donner DST 400 electric guitar is no knock-off. Several quirks and small flourishes make the DST 400 unique among starter guitars.
Perhaps the most obvious, and in my humble opinion coolest, style choice on the DST 400 is the "zebra-stripe" humbucker pickup. The black and white hardware stands out from the guitar's overall aesthetic, yet somehow it works, lending the guitar a unique visual signature.
The neckplate of the guitar is engraved with the Donner logo, another touch that makes the DST the sharp-looking ax it is.
The Donner DST 400 is available in either green or black. The paint allows the wood grain to show through, giving the DST a very cool vintage look.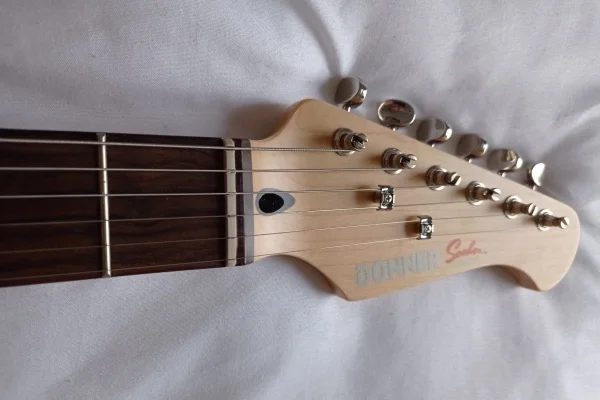 The Sound
For an economy guitar, the Donner DST 400 sounds great. The electric guitar smooth alder body and H-S-S pickup configuration contribute to the instrument's warm, bright tone, making the DST 400 an ax that can hang with the best economy/beginner guitars on the market.
Pros:
Great-looking guitar with a classic vibe
Affordable
Good tone and easy to play
H S S pickups configuration
Cons:
The only real con is the quality of the accessories included with the DST 400, which is no better or worse than those included with most beginner guitar sets. That said, they do what they're supposed to and will serve the purpose, at least in the short term.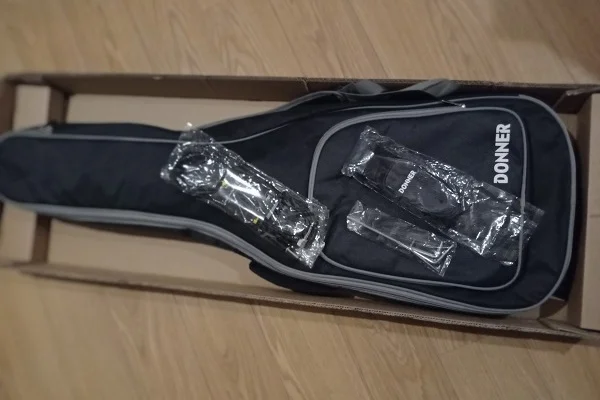 Donner DST 400 Vs. The Fender Squire Affinity Stratocaster
The Donner electric guitar solid body DST 400 has a lot in common with the Squire Affinity Stratocaster: they have nearly identical body styles and a C-shaped neck profile. They both have tremolo systems, too, representing a lot of value for your dollar.
When it comes to color variety, the Strat wins, hands down. The DST 400 comes in only two colors, whereas the Strat comes in a wide array of hues, from surf-green to sunburst. Fender also delivers "street cred," as many of the world's best guitarists have cut their teeth on Strats and Telecasters.
As far as affordability, the DST 400 is less expensive than the Affinity Strat, without sacrificing any quality. The Donner also features an H-S-S pickup configuration, giving it a more extensive range of potential tones than the Strat.
Related Article: 
Whether you're a beginner looking for your first acoustic guitar or an acoustic lover, Donner has everything to meet your requirement. For more details, check out our Donner acoustic guitar review.
Conclusion
The Donner electric guitar solid body DST 400 is a great inexpensive guitar ideal for beginners and more experienced or professional musicians on a budget or looking for a modification project.
With its electric guitar solid alder body, c shaped neck profile, and H-H-S pickup configuration, this guitar delivers tone and playability you'd expect from a significantly more expensive ax.