Hey there! As an Amazon Associate, We earn from qualifying purchases. We greatly appreciate your support!
Learn More
Looking for an affordable acoustic-electric guitar? We must say Dean Acoustic Electric Guitar Review is the best thing you need right now. Today, we are going to present to you what we think one of the best instruments you can get.
While being relatively inexpensive but exotically beautiful, the Dean AXS Exotic Cutaway Guitar offers some great features for its price. The low price makes it a particularly good choice for beginning guitar players who have yet to discover their own musical taste.
Check Price And Reviews on Amazon
Dean Acoustic Electric Guitar Review
Did we make you excited about this acoustic-electric guitar? To find out whether this instrument suits you or not, let's get started with our Dean Acoustic Guitar Review!
Materials and body
Do you want to have a gorgeous guitar? If so, Dean AXS Exotic will surely make you want to buy it! Built of such materials as spalted maple and mahogany, this guitar features unique eye-catching looks that can quite impress even the most demanding buyers. Besides, the cutout design of the guitar adds a nice touch to the guitar's great appearance.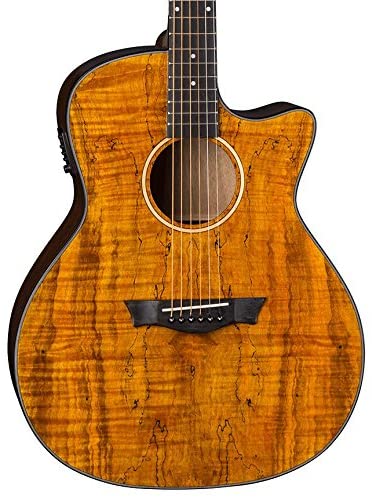 Worried about the durability of the guitar? The spalt top has an excellent weight-to-strength ratio, making it lightweight yet fairly durable. So do the mahogany back and sides! Being built of mahogany as well, the C-shaped neck is another aspect of this guitar's reliability.
The 20-fret fingerboard built of premium-quality Pau Ferro wood (also used Balsamo/Rosewood) will make your experience with AXS Exotic much more memorable and unique.
Comfort
Wonder what the cutout does actually do besides making the guitar look great? It makes accessing those high notes at the last frets of the fingerboard much easier. You should seriously think about getting this guitar if you spend quite some time on them.
Remember we were talking about the excellent weight-to-strength ratio of the guitar's materials? Thanks to them, you won't have to worry too much about not getting fatigued during your practice or performance. You will surely be able to deliver your masterpieces to your audience non-stop!
This guitar comes with the most popular D'Addario EXP16 light-gauge coated phosphor bronze strings that are a little bit easier on the fingers and deliver comfortable playability for a new player. Also, these strings are particularly easy to adjust as the instrument features die-cast tuners. You will be able to regulate the sound of the guitar whenever or wherever you like or need it. No more buzzing from your guitar!
The ergonomic body shape of the guitar and the C-shaped neck will fit anyone to allow comfortable play both standing and sitting. A quite important feature for any guitar and this Dean acoustic guitar surely doesn't lack it!
Sounding
Did you know that body materials and the shape of a guitar greatly affect its sound? The spalted maple top makes it more resonant and won't become overloaded no matter how intensively you play. In its turn, mahogany attaches more mid-range tones and brightness to the sound of the guitar. You could say that the combination of the wood makes the guitar sound more harmonic. Don't forget that wood matures, making the sounding even more refined!
The cutout also makes its own contribution to the sound by somewhat reducing the bass. With all this, you end up having a pretty balanced guitar!
At last, as the guitar features an onboard preamp with tuner and volume controls, you could pretty much make the guitar sound the way you like!
Equipment
As we have just mentioned, AXS Exotic comes with a built-in preamp with tuner and volume controls. Here Dean used their very own DMT SL3 preamp to produce a reliable tone using its under-bridge piezo pickup and has enough onboard EQ support for adjusting sound frequency like bass, middle, and treble.
Besides, as a beginner, you probably won't be able to differentiate between hardware. The onboard preamp will allow you to get acquainted with it and make your future search for an amplifier much easier.
Now, let's summarize SADC GN's through some pros and cons of our Dean Acoustic Electric Guitar Review!

Pros & Cons of Dean Acoustic-Electric Guitar
Pros:
Gorgeous looking body, eye-catching design.
Exceptional body material like splated top, pau ferro fretboard, and bridge, etc.
Comfortable mahogany C-shaped neck.
Cutout for more comfort, less bass, and more attractiveness.
Die-cast tuners for easy adjustment of every string.
Mahogany and spalt each attach their own sounding features to the guitar.
Excellent pricing.
Cons:
The onboard preamp will probably become insufficient for your needs as you become more skilled.
As sound is subjective, you might dislike the way the cutout affects the bass.
Alternative Products
Frequently Asked Questions
What is spalted maple?
When a regular maple wood began to decay due to a fungus attack, then eye-catching coloration with unique black patterns forms in the wood. At that initial phase of decay, maple wood with unusual coloration and decorative marks is called spalted maple. Though this kind of wood is hard to find, few wood producers are producing spalted wood commercially.
Is spalted maple good for guitars?
Spalting is the procedure of wood coloration and can damage the strength of the light woods like basswood, birch, poplar, etc. But in the case of maple, it can still hold its original hardness and basic structure even after spalting. So there has no issue using spalted maple for guitars.
What's the difference between regular acoustic and acoustic-electric guitars?
An acoustic-electric guitar is an acoustic guitar with pickups that convert vibrations of the instrument to an electrical signal to be amplified with an instrument amplifier. In other words, you can connect acoustic-electric guitars to amplifiers, unlike regular acoustic guitars. Usually, acoustic-electric guitars come with onboard amplifiers. Don't know which one to pick? Determine your needs!
We also got your back with our extensive reviews on some of the best Acoustic-Electric Guitars in 2020!
Conclusion
That's it for our Dean Acoustic Electric Guitar Review! A stunning wooden body, easy playability, and great sound certainly make this guitar a great choice for beginners and even more advanced guitar players.
Need to set a starting point for your musical activity? Dean AXS series exotic cutaway guitar is one of the best choices you can make! Having all the most necessary features will certainly help you begin your journey in the art of music. Let's start your musical trip!