As an Amazon Associate, We earn from qualifying purchases.
Learn More
There are so many affordable acoustic-electric guitars for beginners that you may get quite confused looking for one! But the hero of our today's review is quite an uncommon guitar.
But what's so special about this guitar making it great for beginners? What catches the eye the most? Today, we are going to have Ibanez Talman TCY10 Review!
Ibanez Talman TCY10 Review
Though this would not be considered the best electric-acoustic guitar, it still has some quality features. After reading this review, you will understand what we mean by saying that this guitar is quite unique. Let's get started!
Materials And Body
Sick of the traditional design of electric-acoustic guitars? Maybe this double-cutaway black acoustic guitar will be to your taste!
The beautiful body of this guitar is built of mahogany back & sides and a spruce top. Their great weight-to-strength ratio makes the guitar highly durable. The X bracing of the top further ensure the reliability of the guitar.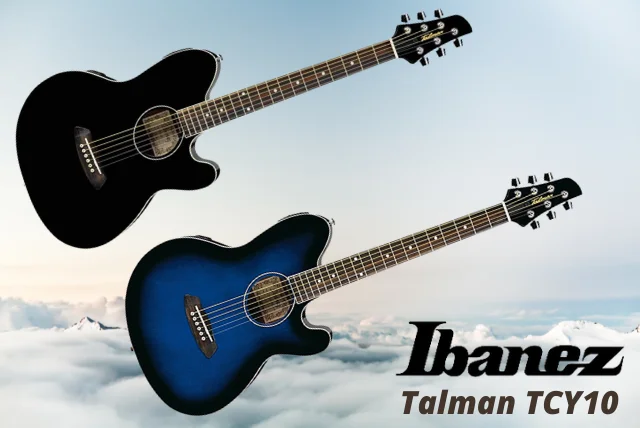 The mahogany neck is supporting the gorgeous rosewood 20-fret fingerboard. The neck's chrome die-cast tuners are both good-looking and functional. All this makes this musical instrument a great choice for those looking for something unusual.
The only bad thing about the body is that some people might find the double-cut design ugly.
Ibanez Talman TCY10E Version: 
If you now go to buy the TCY10 model, you may find the newer or updated version named TCY10E. In the updated version, Ibanez kept Spruce for top wood from the older version but changed Mahogany back & sides to Sapele, Mahogany neck to Okoume, and Rosewood fretboard & bridge to Purpleheart. Also, two more color variants, Ivory and Sea Foam Green, have been added to the TCY10E lineup with the previous Black and Blue color version of TCY10.
Comfort
Let's start with the cutaway. It offers the same level of comfort as single-cutaway guitars and even more! With this guitar's double-cutoff design, you can comfortably hold on to the guitar neck's foundation with all your fingers.
Not only that but both side cut also makes accessing the last frets of the fingerboard extremely easy. Spend much of the time on those frets? Then you should definitely look into this guitar!
Talman TCY10 offers you convenient adjustability. With the chrome tuners, you can regulate each string whenever and wherever you wish to.
Another feature contributing to the guitar's comfort is the Ibanez Advantage™ bridge pins. Compared to standard pins, they are much easier to take out. The bulb-shaped end allows you to easily grip the pin and, besides, prevents the pin from being pushed too far in.
Finally, light materials and an ergonomic body make this guitar great for lasting performance both sitting and standing!
Sound
Thought that we were done with the double-cut design. It actually greatly contributes to the sound of the Talman! It reduces the bass and makes the guitar tone more resonant and clear.
But it's not all this guitar is capable of as its body shape and materials add more resonance and warm/bright tones respectively. Like more harmonic-sounding guitars? Try out Talman TCY10!
The adjustable strings will make sure you won't hear buzzing when you don't need it. That's quite obvious due to the comfort you can regulate your guitar with.

Speaking of adjustability, the guitar comes with the Piezoelectric onboard preamp with a tuner. Don't quite like the sound of the guitar? Make some adjustments with the built-in preamp!
At last, don't forget that as the wood of the guitar matures, it makes the sound of the instrument even better over time!
The downside of the sound is that some might consider it too resonant. Musical taste is different for each of us, so you will have to try the guitar to see if you like it or not.
Equipment
At last but not least, the TCY10 features AEQ-2T built-in preamp, a great choice for beginning and intermediate-level guitar players who don't need advanced equipment!
Why is it great for beginners? You don't have to spend more to get acquainted with preamps, allowing you to set the base of your skills without expanding your budget.
Besides, the built-in preamp doesn't require any additional space. All this makes the TCY10 a perfect choice for starting your guitar-playing activity! The bad thing about the onboard preamp is that it might soon become insufficient for your needs.
Also Read: Ovation Applause Balladeer Review
In the review, we will list the pros and cons of this product so that you can compare both.
Pros:
Double-cut design for a unique appearance.
High-quality and durable material for a stronger build.
Easily adjustable chrome tuners and bridge pins.
Double-cutoff makes gripping the bottom of the neck and accessing the last frets extremely comfortable.
Onboard preamp with tuner.
Cons:
Complaints on the low durability of the finish.
The double-cutout design might be unsuitable for some in terms of both sound and looks.
The onboard preamp will not fully satisfy advanced guitar players.
Let's watch a video review
Ibanez Talman Review: FAQ
What is double cutaway guitar?
A double-cutaway guitar means a guitar constructed with a cut on both sides of the body nearby to the neck. Guitars with both sides cut in the upper bout area are also known as double-cut or DC in short form.
Both side cutoffs will be highly comfortable for players using the higher frets of the fingerboard most frequently. Besides, it allows easy movement of your thumb and fingers where the neck and body join. Due to the dual cut, it is also possible to grip the base of the neck with your whole hand if you need it.
Where are Ibanez acoustic guitars made?
Ibanez acoustic guitars, especially low-end cheap acoustic electric guitars are made in China and Indonesia. They also produce a few flagship and signature acoustic models in Japan and Korea.
Is the Ibanez Talman a good guitar?
Ibanez Talman acoustic guitar is a good, basic guitar for the price. this small-size thin body guitar offers easy playability, holds its tune fine and produces good sound even when plugged in.
It's a reasonably priced nice guitar for learners and those with smaller hands. Also, an advanced player can keep this guitar as an extra ax.
Alternative Of Ibanez Talman TCY10
If you're looking for an acoustic-electric guitar in the affordable budget range as the Ibanez Talman TCY10, there are a few other options worth considering.
The Yamaha APX600 guitar is a great choice for beginners and intermediate players alike. This sunburst guitar has a slim body cutaway design that makes it easy to play, and it comes equipped with a built-in piezo pickup system for easy amplification.
The Fender CD-60SCE is another popular option in this price range. This guitar has a classic dreadnought body shape and a Fishman electronics system that gives you great sound whether you're playing unplugged or plugged in.
Lastly, the Ibanez Artwood AW54CEOPN is a great option for players looking for an acoustic-electric guitar with a vintage look and feel. This guitar has a solid mahogany top and mahogany back and sides, and it comes equipped with Ibanez's renowned AEQ210TF preamp system with an onboard tuner.
Conclusion
That's it for our Talman TCY10 Review! As you could have seen from the review, this beginner guitar is quite different. While one may argue that it generally has the same features as other electro-acoustic guitars, the one thing that is truly outstanding is its design.
It makes this black guitar greatly suitable for those guitar players who don't like or want a traditional musical instrument. But looks aren't the only thing the dual cutout design of Talman is notable for. It brings comfort and tonal balance to the guitar as well!
If this guitar quite satisfies you, don't hesitate and go try it out yourself! Maybe it is the rightest instrument for you after all! Have a nice buy!