As an Amazon Associate, We earn from qualifying purchases.
Learn More
It does not matter if it's your first guitar or last, you will end up having to change the strings on it. Those fragile little things need both care and change. And, it does not end there.
Your performance depends a lot on the type of strings you use. Why wouldn't it? It is basically the only thing you need to work on when on a guitar. So, the type of string you use based on your playing style also matters.
Unfortunately, there is a lot that matters and you will have to put in some effort to find the best acoustic guitar strings for beginners. Our buying guide and the reviews of the best guitar strings will definitely help you through the process. Let's begin enlightening you then.
In A Hurry? Our Recommended Guitar Strings For Beginners
Review Of Beginner Acoustic Guitar Strings (Top #5 Pick)
1. D'Addario EJ16 Phosphor Bronze Strings (Light)
D'Addario is a name that anyone can trust. In fact, you can consider it the most trusted brand in the guitar string industry. Apparently, despite the brand reputation, these strings are quite affordable.
Now, D'Addario Phosphor Bronze guitar strings are quite durable. Apparently, people who have always used these lighter gauge strings keep coming back to it after trying other strings. The strings have a steel core with a phosphor bronze surface.
The surface does an important job of protecting the string from environmental issues like rust and corrosion. Therefore, you can expect the string to last quite a while if you use it right. Apart from that, the material aids a warm and bright tone.
The problem, however, is that there is no coating to make the strings feel smoother on your hands. Other than that, these strings fall under the light string gauge (.012-.053). So, you will judge it easier to learn. Also, many may not prefer the tone of this acoustic string.
Pros:
A brand with a good reputation.
Lasts long when used right.
Warm and bright tone.
The light gauge goes easy on fingers.
Very reasonably priced.
Does not take long to settle.
Cons:
The tone may not be good enough.
Not very soothing on the fingers without the coating.
---
2. Martin Guitar Original Acoustic M170 Guitar Strings
The Martin M170 acoustic guitar strings are excellent for beginners thanks to their thin gauge – extra light 0.010-0.047 inches.
Requiring little effort for pressing, these extra-light gauge strings are significant for building finger strength in beginners. Skilled guitarists who do a lot of fingerpicking will be delighted with the feel and performance of the Martin strings as well.
Thanks to its 80/20 composition, the M170 strings produce bright trebles and rich bass tones. The sound profile of the Martin strings suits well almost all playing styles, and they can be used for folk, blues, rock, country, and pretty much any other music genre.
The build quality of the Martin M170 strings is great as well. Manufactured with high-quality bronze, the Martin guitar strings are engineered to withstand rigorous playing.
When searching for the best sounding acoustic guitar strings, it's important to consider that quality often comes with a price. The M170 strings, while on the expensive side, truly justify their cost. Their exceptional sound and performance make them a worthwhile investment, especially if you possess the skill to unlock their full potential.
This particular string pack also includes 3 sets of guitar strings. We'd like each acoustic string set to come in its own sealed package – currently, Martin sells the 3-pack in a single bag. This isn't very organized, in our opinion.
Pros:
Produces bright trebles and rich bass tones.
Excellent for beginners thanks to its thin gauge.
Extremely durable.
Cons:
---
3. Elixir Bronze Guitar Strings with NANOWEB Coating (80/20)
Cannot really give your best when playing the guitar because the strings hurt your fingers? Then, these Elixir 80/20 bronze strings are for you. In fact, its nanoweb coated strings are super smooth and gentle on your fingers.
Apparently, these lighter gauge strings are made of 80% copper and 20% zinc bronze wrap material. As you already know that this combination of metals creates a very nice warm sound. However, many users complained about the tone being too metallic.
Other than that, although the coating provides a great feel, it may not last long. Rust and corrosion may get to the strings eventually. Also, a few customers complained about the string breaking too soon.
But this is one of those types of string that will completely be worth it if it suits your guitar. Worth it in the sense that it is pricier than other strings for beginners but the quality and tone these elixir strings provide to the perfect guitar is unmatchable.
Pros:
Very easy and soothing for sore fingers.
Magnificent tone on guitars that it perfectly is suitable for.
Good metal composition.
Great build quality.
Coated well.
Cons:
A bit expensive.
Might break.
The sound may seem metallic.
---
4. Stringjoy NB1254 Natural Phosphor Bronze Strings
Cannot track down the natural non-plastic balanced tone you are looking for? The one that reminds you of the green trees on a way back from a day-long trip? Then, you need to experience the Stringjoy NB1254 guitar strings.
In fact, these 12-54 gauge strings completely cut out the plastic sound that other sets of strings provide and reward you with a gentle, warm, natural sound that resonates really well.
Furthermore, it is made of high-quality materials as well. Apart from that, the company has an interesting way of assuring its quality.
Apparently, it tests its strings by three people to ensure that the strings last. You do not have to keep tuning the strings before you play, the strings hold the tune quite well. Other than that, you may feel that these strings are a bit expensive for what they provide as you may find similar options at a lower price.
However, the brand name and the well-balanced tone matter so it is best to get the best even if you have to spend a bit more. That is, only if it is a good choice for your guitar.
Pros:
Well-tested for quality performance.
Minimum errors.
Lasts quite a long.
Natural, warm sound.
Cons:
A bit expensive for the quality.
It may not suit all guitars.
---
5. Ernie Ball 2146 Earthwood Acoustic Phosphor Bronze String
Do you take details seriously? If you do not then you should. Because the minor details together make a great big thing and an example of such a massive thing is these Ernie Ball 2146 Earthwood strings.
Apparently, it consists of tin, copper, and phosphorus around its steel core. The sound it provides is amazingly rich, deep, and earthy. As there is Earthwood in its name, something earthy was expected, wasn't it?
What people face a problem with, however, is the quality of the strings. Some consider it too light and some too heavy. However, this mainly depends on the type of guitar you are using.
This is an absolute choice for beginners as the strings are quite forgiving on your fingers because of the coating. Apart from that, the different strings show varying durability. One of the strings may break too early.
Many guitarists may not like the tone of Ernie Ball strings but it is an outstanding deal for the price it comes at. You may consider it the best acoustic guitar string for a warm sound.
Pros:
Attention to detail.
Well-constructed with great materials.
Easy to tune and attach.
Warm and deep sound.
Quality build.
Very reasonable price.
Cons:
Many may not like the tone.
A few strings may break too easily.
Check Latest Price And Reviews
---
How To Choose Guitar Strings For Beginners
Here are a few factors you should take care of before choosing acoustic guitars strings for your guitar.
1. What You Need
As you already know that the guitar strings have a great influence on the sound you make. Now, you may have a particular guitar playing style you follow or a specific guitar you play on. Both need strings that perfectly match them.
For example, if you make soft tones then lighter strings are better for you. Apart from that, the various guitar types work best with strings specifically suited for them. For example, you can never use acoustic strings on an electric or classical guitar.
This will ruin not just the guitar string but also the guitar itself. So, it is best to figure out what guitar supplies you actually need before you set out to buy the strings.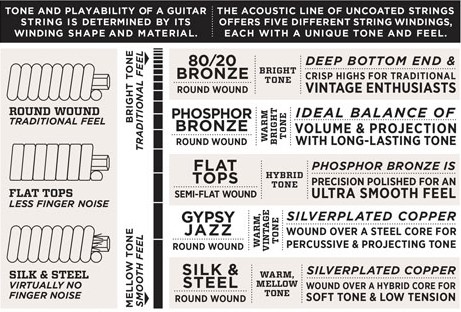 2. The Material Building The String
Believe it or not, the material building the string contributes a lot to the sound it will be making. And, strings are made of various materials now. Let's check out string material options.
Bronze: It is quite a popular choice because of the bright, sunshiny tone it provides. However, you won't get pure bronze but usually alloys of zinc, copper, tin, etc. Bronze usually follows the 80-20 ratio where 80% of it is copper with a coating of zinc on top at 20%.
The problem with bronze is that it corrodes and oxidizes too quickly and easily so these strings do not hold their charms for long. You will find Phosphor-Bronze combinations as well which last a bit longer. There is the option of choosing Aluminum-bronze as well.
Nylon: Remember that I mentioned that some guitars are better off with certain kinds of strings than others? I meant classical guitar with nylon strings. Usually, you have to use nylon strings with classical guitars and they have their own soft and low tension tones. Apart from that, you can use it with nylon-strung guitars as well.
Stainless Steel: What is the first thing that comes to your mind the moment you read stainless steel?- rust? Anti-corrosion? Yes, that is exactly what these steel strings are best at- lasting with a glow. Furthermore, they produce soft tones as well with a bit of rusty touch.
Brass: Brass reminds you of metal right? So will the tone produced by brass strings.
Polymer Coated: If you do not care about the sound much but the practice and durability then you can try out polymer-coated strings as they resist corrosion quite well. The tone is warm and the strings do look attractive.
Silk and Steel: Contrary to stainless steel string, steel scored strings can come coated with silk as well. As you can imagine, it will be super gentle on your fingers.
Select the material carefully to suit your own needs.
3. The String Gauge/Diameter
Finding it difficult to learn the guitar? The guitar string gauges can somewhat make things easier for you. You will get strings with various diameters and the six strings themselves differ from each other.
Light Gauge: Want to find it easier to play the guitar because you are a beginner? Then, the light strings that need less pressure on them can help you. Furthermore, if you like to make softer and thinner tones then the lighter gauge strings are the best for fingerpicking.
However, they do break easily as well. Light nature has its cons. The diameter usually starts at 0.010 and ends at 0.054
Medium Gauge Strings: If you love trying out various musical styles then the medium gauges are right for you. You can somewhat control the tone with your skills. In fact, you can reach medium lows and medium highs as well.
They have a warm sound and will last long as well. This usually has the thinnest string at 0.013 and the thickest at 0.056.
Heavy String: Heavier strings are the most difficult type to master. You have to put quite some pressure on the strings to be good. Also, the tone will be very warm, deep, and soothing.
The diameter usually ranges from 0.014 to 0.059. Apart from that, the size and build of your guitar matter too. If you have a smaller guitar, you will need lighter gauges most likely.
Different manufacturers use different names to describe gauge variations such as Extra Light, Medium Light, etc. which creates confusion among new users. Check our guide on acoustic guitar strings for clarification as we explained everything that you need to know.
4. The String Coating
You know how metals can be corrosive, rusty over time, etc. But, you do not always like the idea of replacing strings very often. That is why the string manufacturers take care of it by coating the strings.
However, when you get something better, you need to give something in return. In this case, you get greater life of the string but reduced tonal properties. The tone may not be as soothing or full as it was with standard uncoated guitar strings.
Things sure are getting better with advanced technology. And, uncoated strings do respond to weather and time in a negative way. Apart from that, a coated guitar string will make things easier on your hand. A smoother surface may help you play faster.
Now you know that in order to know how to choose acoustic guitar strings for beginners, you need to know what you want and need first.
5. Price And Durability
As you already know, you need to change acoustic guitar strings quite often. Guitar strings do not usually last longer if you play on them frequently or the weather is humid. If you are a beginner then you will experience torn strings once in a while.
Now, the question is how often are you willing to take the burden of changing strings? If you are alright with changing often, you can totally opt for a cheaper string that you can replace frequently.
On the other hand, if you want both long string life and better tone then you can look at the higher-end strings that are a bit more expensive.
The Benefits Of Buying Best Acoustic Strings
You would not consider buying strings if it wasn't beneficial. The benefits of buying your own acoustic strings are many.
A sound of your style: As you already know, the strings affect the sound. Apparently, it is mainly the strings that affect the sound. Therefore, test a few strings and you may end up finding a tone that speaks volumes about your soul music.
A backup: You never know when a string will break and what situation you will be left in. So, adding an extra pair to your guitar accessories list never hurts.
More quality and less trouble: The right strings will not break easily if you play them right. Thus, you can save money while also practicing without interruption.
Frequently Asked Questions
What Are The Best Acoustic Guitar Strings For Beginners?
Considering all these options we've enumerated, you may still be overwhelmed by all the options. So to make it much easier for you, we'll name the Martin M170 and the D'Addario EJ16 the best acoustic guitar strings for beginners.
The Martin M170 has an extra light gauge that makes it easy to press down and strum, and that makes it a great choice for beginners. But aside from its playability, these strings from Martin are also built to last for a long time, so you don't have to worry about broken strings considering your lengthy practice times.
On the other hand, D'Addario Strings (EJ16) has a steel core and a bronze surface to ensure their durability. It also comes in a light gauge, and that makes it a great alternative to the M170.
What Gauge Acoustic Guitar Strings Should A Beginner Use?
Beginners should probably stick to .010-.047 to .011-.052 gauges. These gauges are thinner, and although it's generally considered that thinner strings have worse tones than thicker strings, thin string gauges are ideal for newbies.
The primary reason for this is that thinner strings are easier to press. As a beginner guitar player, you'll get sore fingertips along with calluses at the beginning. Thin strings will somewhat ease out the pain by not requiring much effort for pressing.
Until you build strength in your fingers and get used to playing the guitar, a thinner set of strings would be ideal for you.
How Often Should I Restring My Guitar?
The most common instance when guitarists change guitar strings is when the string breaks. It mostly happens in the case of beginners.
However, if you feel that humidity has ruined the sound of your strings and no matter how well you tune your guitar, it produces a slightly different sound or just the sound is not right then, it is time to restring your guitar.
How To Take Care Of Guitar Strings?
Taking care of guitar strings is really no big deal. You can wipe off the oil that gets on it from your fingers. Apart from that, all you have to do is keep it in a moisture-free zone to keep it safe. You can put your guitar in a case with something that soaks moisture in or keeps the moisture level normal.
What Are 80/20 Guitar Strings?
80/20 guitar strings have a metal wrap wire composition of 80% copper and 20% zinc. These strings offer a brighter and more ringy tone compared to, say, 92/8 nickel-plated steel core strings.
Final Words
Music is always close to a musician's heart and materialistic obstacles should be overcome at all costs. Guitar strings can cause a lot of trouble if it is not the right one. Therefore, you have to look hard for the right one.
We have reviewed some of the best guitar strings brands and the buying guide should also help you in case you want to judge yourself.
Take your time, use your brain and hands to discover the best guitar strings for beginner guitar players that will help you have the best moment as well.