Hey there! As an Amazon Associate, We earn from qualifying purchases. We greatly appreciate your support!
Learn More
Nothing will enhance your growth as a musician more than constant practice. As a guitar player, I've learned that it's important to practice while both standing and sitting.
While sitting, it's important to be comfortable for those long playing sessions. It's also vital that you have the correct posture. This is where a good stool or chair comes in, but what is the best chair for guitar practice?
We're going to take a close look at seven of the best guitar chairs on the market today. I'll let you know what I liked and disliked about each one, along with my top choice of the bunch. This will hopefully help you to pick the best model for your specific needs.
Recommended Guitar Chairs and Stools
Best Budget
Capacity: 300 lbs.
Height Adjustment: N/A
Backrest Adjustment: Yes
Footrest: Yes
Weight: 13.2 lbs.
Best Overall
Capacity: 300 lbs.
Height Adjustment: 20.75" to 32.5"
Backrest Adjustment: Yes
Footrest: Yes
Weight: 25 lbs.
Best Stool
Capacity: 330 lbs.
Height Adjustment: 25.6" to 36.6"
Backrest Adjustment: No
Footrest: Yes
Weight: 13.93 lbs.
7 Best Guitar Stool and Chair Review
Dedicated guitar stools for guitar players are specifically designed to practice and perform. To find the ideal one from various types of guitar chairs, stools, and thrones, you need to know how to select one and consider the available options. Let's begin!
1. Gator Frameworks Deluxe Guitar Performance Seat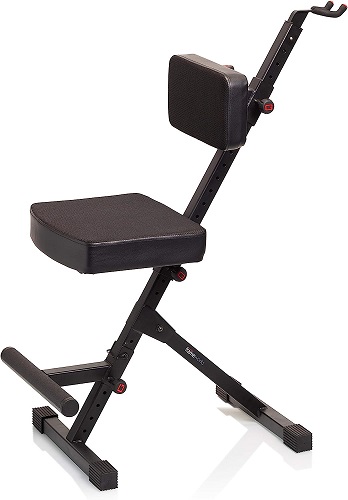 This Gator Frameworks Deluxe Seat is my top pick for the best guitar chair. Gator is a brand that I've had a lot of experience with over the years. From guitar cases to cables, they make good stuff at an affordable price.
I can't say that I was surprised by how well crafted this seat is. I had to do some minor assembly out of the box, but had the chair together in no time.
This is a guitar chair with back support, which is great for long practice sessions. It also has a built in guitar stand. Technically, it's a guitar hanger that's placed conveniently on the back of the seat.
I like how adjustable this seat is. The height from floor to seat, the backrest, and the foot rest can all be adjusted separately. I can imagine this seat working well for musicians of any height.
This chair makes a good choice for both practice and stage performance. I found the seat cushion to be a bit stiff, but this will likely break in with more use. This chair can easily be folded for storage or transport to your next show.
This model is comfortable, sturdy and attractive. I can't recommend it enough. For a more budget-friendly alternative, check out the next chair on our list.
Pros:
High quality materials
3-point adjustment system
Folds for storage or transport
Convenient rear guitar hanger
Cons:
Seat padding is a bit stiff
---
2. Gator Frameworks Guitar Seat (GFW-GTR-SEAT)
This is the second model (GFW-GTR-SEAT) by Gator and it comes at a much more affordable price. It's not quite overbuilt in the way that the deluxe model is, but it's still sturdy. Like its predecessor, it has an integrated guitar stand.
This time, the built in guitar stand is located in the front. This might make it easier to grab your instrument, but I found that the stand sometimes got in the way of my feet. I appreciate that the stand works equally well for acoustic or electric guitars.
There are less adjustment options here, so this might not be your best choice if you're of a smaller stature. Still, the seat was quite nice and the backrest was comfortable.
Gator states that the chair can handle up to 300 pounds. Unlike the deluxe model, there isn't a dedicated footrest. Gator sells a separate, single foot rest so you can properly position the guitar on your leg.
The great price makes this a suitable buy for beginners, but it will work well for advanced players too. If you're taller or shorter than average, however, I would recommend going with the Deluxe model from Gator, or the ADJUSTRITE Musician's Chair.
Pros:
Comfortable seat
High weight capacity
Very budget friendly
Cons:
It's not very adjustable
No built-in footrest
---
3. K&M Performance Pneumatic Stool
This K&M Performance Stool is easily one of the best chairs to play guitar on. After testing all seven models, this one may have my favorite seat cushioning. It's soft yet supportive. This model is also easy to adjust thanks to a unique pneumatic spring system.
I can imagine this ergonomic guitar chair working out perfectly for guitar teachers who need a chair that can instantly be adjusted for different students. It would also work well if you regularly have other musicians come over to jam.
One of the downsides to this model is that it doesn't have an adjustable backrest. It's better for short to medium-length playing sessions. A backrest can be purchased separately, but this is already the most expensive model on our list. It's one of the best guitar stools, but the cost moved it down a bit on my list of favorites.
I can't express enough how solidly built this musician stool is, and the German manufacturer backs it up with an excellent warranty. If you're looking for something less expensive, I would still recommend the Gator Frameworks Deluxe Guitar Performance Seat.
Pros:
Well built and durable
Extremely comfortable seat
Ergonomic design
Cons:
No backrest
The high cost
---
4. ADJUSTRITE Musician's Chair by Vivo USA
ADJUSTRITE Musician's Chair is a guitar player chair that looks like any normal chair. It really could double as a desk chair or extra seat at the card table.
I found that it worked perfectly for maintaining my guitar-playing posture. It's versatile and would work well for just about any musician. If you play multiple instruments, then this would be a good option.
While this is one of the best chairs for playing guitar, it doesn't have a dedicated foot rest. Many players, myself included, like to rest one foot higher than the other. This makes it easy to hold the guitar across one leg. What I do love about this chair is how each leg can be adjusted for height.
Each leg has a rubber end cap, and I found this to be one of the most stable seats in the bunch. The guitar seat with backrest was comfortable, but unfortunately, it can't be adjusted.
This chair will work well for most musicians, but may not be the perfect fit for everyone. The ADJUSTRITE can easily be folded up for storage.
Pros:
It's versatile
Comfortable seat padding
Adjustable legs
Easy to fold up
Cons:
No foot rest
Only one position for the backrest
---
5. On-Stage Guitar Stool (DT8000)
This On-Stage DT8000 guitar practice stool is perfect for playing shows on-stage or for hours-long practice sessions. It's a comfortable seat for any in-home studio, too. This model offers non slip rubber feet and a guitar hangar in the back.
This stool has a lot in common with Gator's GFW-GTR-SEAT model. If you prefer the guitar stand up front, then stick with that model.
Like the standard Gator model, this seat also offers great value. The seat is thickly padded. The backrest has comfortable padding as well. This model has a weight capacity of 200 pounds. If you need more than that, I'd go with one of the two Gator models on this list.
This chair felt stable when I used it for several hours during my testing. It's not quite as sturdy as most of the other models on this list, however. I don't know if it would hold up to a lot of road use. If you just practice at home, this is a good, economical choice.
Pros:
Budget friendly
Great padding for the seat and backrest
Folds up for storage and portability
Cons:
It's not as adjustable as other models
Lower weight capacity than other models
---
6. Roc-N-Soc Tower Seat with Original Saddle
Sometimes, the perfect guitar stool is just a basic stool. We've all played guitar on something like the Roc-N-Soc Tower Seat. They're sturdy guitar stools that you'll commonly find in music stores all around the world. There's no backrest here, but the thick saddle-style seat is extremely comfortable.
This stool has two height settings, 26-inches and 29-inches. If you need something higher or shorter, then go with one of the other models on our list. I like that the seat can swivel, and the two rings work well for resting a single foot on. This allows for the right playing posture.
I think this is an excellent stool for guitar playing at the home studio, but not a good choice for playing on stage. It's not exactly portable, and not particularly comfortable for really long sessions. As a secondary seat at home, however, this model excels. It's built like a small tank and should last for a lifetime.
Pros:
Sturdy build quality
Comfortable saddle-style seat
Durability and long-life expectancy
Cons:
It's not as adjustable as other models
No backrest
---
7. Fender Barstool with Backrest 30″ BLK
If the best guitar chair or seat in the world were brought to you, you still might not like it. It's like a popular dish that everyone raves about, but you try it once and never return.
Recently, I came across this Fender 30″ Barstool that could be a great option for your guitar sessions. I know finding the right chair or stool for playing guitar can be a personal preference, but this one might catch your interest.
What sets this barstool apart is its unique design. It has a round shape with a tubular frame, which gives it a distinctive look. Don't worry, though—the seat is still stable and comfortable. It even comes with a backrest and footrest, making those long practice sessions easier on your back and feet.
While the height of the stool is fixed and not adjustable, it makes up for it in other ways. For example, it offers a 360-degree swivel feature, allowing you to move around freely. So if you like a bit of flexibility while playing, this stool has got you covered.
If you need a tall and supportive guitar stool with backrest, the Fender 30″ Barstool is a top contender. Finding a stool that matches your physique, and provides comfort and support is crucial. Give it a try to see if it suits your playing style. It's all about finding what works best for you.
Pros:
A very elegant guitarist stool with a backrest
Provides ample support in every way possible
Well built with top-grade materials
Customer service is quite responsive
Cons:
Non-adjustable height
Potential for defects due to poor packaging/shipping
---
How to Choose the Right Chair for playing Guitar
You will end up with just another stool for use when in need if you do not carefully consider the following factors. You need to know what makes a great guitar chair and how to choose a guitar practice chair.
1. The Height
When playing an acoustic guitar, it's crucial to sit in a position that supports your legs. If your legs are uncomfortable, it will impact your ability to hold the guitar properly, ultimately affecting your performance.
If the guitar chair is too high, balance becomes an issue. Conversely, if it's too short, your knees point upwards, forcing your body into an awkward angle. Consequently, the guitar won't assume the correct position or enjoy the necessary freedom.
Therefore, when purchasing a guitarist chair, ensure it's the ideal height for your comfort, disregarding the myth of considering guitar size. Your chair should be proportional to your height, not your guitar size.
2. The Arms and Rests
What sets the most comfortable guitar chair apart from others? Primarily, it lacks armrests. Picture yourself unable to hold your guitar properly while seated in an office chair with obstructive armrests. To achieve a correct posture for playing, opt for armrest-free chairs.
Other than that, the best chairs for guitar playing include a supportive backrest for ultimate comfort. If you desire back support without hindering guitar playing, consider a backrest. However, do check that the design is effective enough.
3. The Comfort of the Seat
If you are passionate about playing the guitar then you probably spend hours practicing. Your hand will end up aching, and so will your neck and mind. However, the struggle will be double if your legs start aching too.
Why may they ache? Because of an uncomfortable seat. You need a well-padded chair or stool to be very comfortable. Or else, it will be the greatest obstacle in your way to success. Leather seats with a good amount of foam padding inside work well and look great.
4. The Design
Choose a chair that suits your body type for optimal comfort. Specifically designed chairs for guitar players conform to their body shape, benefiting both physical well-being and performance.
Some stools include a footrest, but it's optional based on your preference. Also, the legs vary in shape and design, with some offering better stability.
Since you will be placing it in a studio, home, or stage, you want it to look good. An elegant design will keep you and the viewers happy as well.
5. The Adjustability
You may not be the only musician in your house and studio. There may be other guitarists who will use the same comfortable chair or stool. But, as we all know, they will not be of the same height or weight.
So, the availability of height adjustment features should consider before buying any guitar stool or chair. You need to check the range of adjustability as well. Also, consider the ease of adjustability.
6. Build Quality
As a musician, you understand the sentimental value of your instruments. You invest in high-quality, sought-after guitars, hoping they'll endure for generations. The same is true with guitar accessories and stuff like stools- you want them to last through generations.
The key lies in the build's quality, requiring sturdy, corrosion-resistant steel or other durable materials.
However, the padded seat poses a challenge. Leather or padding may not have a long lifespan. In such instances, ensure the parts are replaceable. So, you get to keep the chair that you have made memories with just by modifying it a bit.
7. Features You may Want
A chair for guitarists becomes more than just a chair when tailored to guitar players' specific requirements. Interestingly, these chairs offer intriguing features.
For instance, some guitar stools incorporate an attached guitar stand—a perfect combination of products, right? Numerous astonishing features await you once you clarify your needs.
For frequent performers, a portable guitar stool or chair might be essential. Yes, you can find lightweight, foldable chairs as well. The quality may not prove to be the best but these are quite convenient for usage.
8. The Price and Warranty
You will find both insanely expensive guitar stools and also really cheap ones. But, both these extremes are a no-go zone. Guitar stools are important but not important enough to commit your whole bank balance to them. In fact, it is best if you carefully look for the features and quality and settle at a mid-range price.
Guitar Chair Vs Regular Chair or Stool – What's the Difference?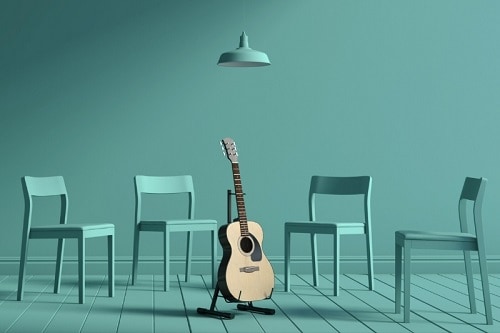 While both a guitar chair and a regular chair serve the primary purpose of providing a place to sit, several distinctions can be observed in terms of design, features, and usage:
Design: The key disparity lies in the design. Guitar chairs and stools are specifically crafted to prioritize the comfort of guitar players, surpassing that of regular or office chairs.
Features: Guitar chairs offer additional features such as proper backrests, built-in guitar stands, footrests, and height adjustment options, catering to the specific needs of guitarists. These features are typically absent in common chairs.
Comfort and Convenience: Typically, guitar stools and chairs are more convenient and portable than regular chairs. They feature well-padded seats, durable and lightweight frames, and foldability, making them easily transportable. In contrast, obtaining the same qualities in desk chairs or gaming chairs can be challenging.
The Benefits of Guitar Practice Chair
Why invest in a guitar practice chair among all the other guitar-related accessories? Here are a few reasons why:
Health Benefits: Playing the guitar puts significant pressure on your fingers and strains various parts of your body. A dedicated guitar player's chair provides an optimal sitting and playing position, minimizing strain and preventing discomfort. Bid farewell to body aches caused by poor posture.
Comfort: Check for well-padded seats when choosing a chair. This ensures maximum comfort, catering to the contours of your body. Playing the guitar becomes effortless, as you don't have to exert extra effort to feel at ease.
Style and Confidence: The right guitar stool or chair has a psychological impact too. On stage, nervousness can be eased by the familiar feeling of your studio and sitting on the same chair. Furthermore, selecting a guitar seat that reflects your personal taste becomes a symbol of your unique style, boosting confidence.
Frequently Asked Questions
What is the best chair for playing guitar?
When it comes to the best guitar playing chair, if I had to choose only one, I would recommend the Gator Frameworks GFW-GTR-SEAT.
It offers a padded cushion and backrest for ultimate comfort and support. With its built-in guitar stand, it securely holds acoustic, electric, or bass guitars.
The chair's foldable design allows for easy transportation and storage. Plus, it comes at a reasonable price, making it a perfect choice for guitar players without breaking the bank.
What is the best chair for practicing guitar?
The best chair for practicing guitar is the K&M Performance Stool. With its thickly padded fabric seat, it offers optimal comfort and support.
The stool's footrest assists beginners in supporting the guitar with their legs. It is highly adjustable, accommodating users of various heights. Moreover, its lightweight and portable design makes it perfect for practicing in different locations.
What is the best chair height for playing guitar?
The best chair height for playing guitar varies based on individual stature. A taller person typically requires a taller chair, while a shorter person benefits from a short chair height.
Most individuals prefer a guitar stool that is around 24 inches tall. However, if you are significantly taller, a 30-inch guitar stool would likely suit you better. Conversely, shorter individuals may find 17-inch chairs more suitable.
To identify the best chair height (for you), measure the height of a chair you find comfortable regarding your height and comfort preferences.