As an Amazon Associate, We earn from qualifying purchases.
Learn More
Guitarists can be a very particular bunch; we experiment until we find the best strings, the gauge pick that best suits us, the effects that color our sound, and the action position most suitable to our playing styles.
Unfortunately, that pickiness seems to wear off when the time comes to choose a guitar stand. The truth is, as long as our guitars are safe and accessible, we give little thought to the guitar stands we choose.
Experienced guitarists know that all guitar stands are not created equal, though, and give considerable thought to the guitar stands they choose. Stability, durability, and accessibility vary by stand type and style.
In this article, I've reviewed the top 10 best guitar stands available in different types and price ranges. I've tested all these guitar stands to uncover which one fulfills a guitarist's particular need. Also, check out the buying guide at the end of this review to make your investment in the right direction.
Best Guitar Stand: Recommendations
Best A-Frame
Type: A-frame
Material: Metal
Weight: 3.53 lbs.
Adjustable: Yes
Best Double Stand
Type: Double
Material: Steel
Weight: 5.40 lbs.
Adjustable: No
Best Guitar Rack
Type: Guitar Rack
Material: Steel
Weight: 9.68 lbs.
Adjustable: Yes
All the entries on our list of the top guitar stands could represent the best choice for you, depending on your situation. That said, two or three stand out, generally speaking, as the best overall choices of guitar stand.
Our first recommendation has to be the Amazon Basics Guitar Folding Stand. What sets this sturdy A-Frame stand apart, besides its low price and its excellent user rating, is its durability. All you could ask for in a no-nonsense guitar stand, the Amazon Basics Guitar Folding Stand is a great way to display your favorite ax while keeping it in reach.
Gator's Rok-It Double A-Frame Stand is our next recommendation. Very reasonably priced for a double stand, the Rok-It is also quite stable and secure, featuring padded instrument arms that lock into place.
Finally, we can't wrap up our recommendations without giving the nod to the Hercules GS525B Multiple guitar rack. Highly rated on different online and offline stores, the GS525B may be the best value in guitar racks on the market today. Factor in its simple design and ease of assembly, and you've got a guitar rack well worth the investment.
10 Of The Best Guitar Stands
Knowing which guitar stand is best for you is a matter of research and experience. The following is all you need to know in order to choose the guitar stand that best suits your needs.
1. Amazon Basics GFS70 (Best A-Frame Guitar Stand)
The first entry on our list is a surprisingly affordable guitar stand sold by Amazon Basics. A sturdy A-Frame stand constructed of durable, lightweight metal, the Amazon Basics Folding Guitar Stand enjoys an average rating of five stars.
The width of this stand is adjustable, meaning it will accommodate nearly any standard-sized guitar, electric or acoustic.
The Amazon Basics Guitar Folding A-Frame Stand requires no assembly, weighs only 3.5 lbs, and folds flat, making for easy storage and portability. It also features non-slip rubber feet, a foam backrest, and arms to keep your guitar stable and free of dings and scratches.
Key Features:
Universal A-Frame Design
3 width settings for easy adjustment
Soft foam padding and non-slip rubber feet
Folds flat for storage and transport
Our Rating: 9.5/10
2. Hercules GS414B Plus (Best Acoustic Guitar Stand)
No list of the best guitar stands would be complete without an entry or two courtesy of Hercules brand. One of the premier manufacturers of high-quality guitar stands, Hercules makes some of the sturdiest and longest-lasting stands on the market today.
The Hercules GS414B Plus is no exception, featuring the Hercules "Auto Grip System," which keeps your guitar stable while in the stand. The height of this stand's narrow instrument neck is easily adjustable to accommodate a wide range of guitar and bass body styles.
The GS414B Plus has rubber padding at every contact point, ensuring your beloved instrument will stay ding and scratch-free.
Key Features:
Easy height adjustment
Fits guitar neck sizes from 1.57 to 2.05 inches
The narrow instrument neck adjustment feature accommodates ukeleles, banjos, and mandolins
Our Rating: 9.6/10
3. Rok-It Double A-Frame (Best Double Guitar Stand)
Manufactured by Gator, the Rok-It Double A-frame guitar stand (RI-GTRAU2X) holds electric and acoustic guitars as well as bass guitars. The stand's padded arms lock into place for added security, keeping your favorite guitars stable and stationary.
Though inexpensive, this stand is constructed of steel and folds flat for easy storage or travel, making it an excellent road warrior. The feet are tipped with rubber to protect your floors and the floors of your favorite rehearsal studio.
Key Features:
A great inexpensive two guitar stand
Made from heavy-duty steel
Compact and collapsible design for Easy Storage
Our Rating: 9.3/10
4. Hercules GS525B (Best Multi Guitar Stand)
If you are looking for a well-made but moderately priced stand for multiple guitars, there are very few better options than the Hercules GS525B Guitar Rack Stand. It is one of the most popular multi guitar stand on the market, with tons of glowing reviews from the actual buyers.
Able to hold up to five acoustic, electric, or bass guitars, the GS525B is coated with a specially formulated foam at all contact points. This premium guitar stand is surprisingly light, tipping the scales at only around ten pounds, and folds flat, making it a great rack to take with you on the road.
The yoke positions on this stand are easily adjustable, and each yoke has five pick-slots, which I personally find very convenient. There are few reports from long-time users about problems with the foam padding reacting negatively with nitro finishes which I didn't observe from a couple of days' usage.
Key Features:
Perfect choice for studio or stage use
Fits any size or thickness of guitar due to adjustable yokes and foam
Capable to take loads up to 176 lbs
A true space saver
Our Rating: 9.6/10
5. Fender Deluxe Hanging Tripod (Best Budget Guitar Stand)
Though its name might imply we're talking about a wall-hanging stand here, the Fender Deluxe Hanging Guitar Stand is actually a tubular tripod stand. The Fender Deluxe can accommodate acoustic, electric, and basses of most styles, making it a versatile choice in guitar stands.
This durable stand, made by one of the seminal names in guitar manufacturers, is great for the home studio or for taking with you on the road. The Fender Deluxe features a padded yoke to protect your beloved guitar's finish such as nitrocellulose.
Key Features:
Perfect for both angular and rounded guitar shapes
The height of the neck yoke is adjustable
Foldable and sturdy enough for travel purposes
Metal construction
Our Rating: 9.5/10
6. Hercules GS422B PLUS
The next entry on our list of the best guitar stands is Hercule's premium take on the double guitar stand. Featuring a space-saving base radius of 16.9", the GS422B PLUS is an excellent stand for stage, studio, and your home.
The Hercules GS422B PLUS holds more than one guitar weighing up to 44lbs and features an upgraded universal auto-grip system with foldable yokes. Add to this Hercules' easy, instant height-adjustable clutch, and you've got a tough, versatile double-guitar stand that's well worth the modest price.
Key Features:
Premium two-guitar stand
Quick and easy stand height adjustment
Rubber foam padding on all contact point
Supports narrow neck instruments
Our Rating: 9.3/10
7. String Swing CC34 Multiple Guitars Stand
Every guitar is a work of art, so why not display your prized axes on a guitar rack that borders on a display case? The String Swing CC34 is a beautiful guitar rack crafted of real American hardwood and able to accommodate up to six electric or bass guitars or three acoustic guitars.
The String Swing Multiple guitars stand incorporates high-density, non-degrading rubber padding at the contact points to keep your prized guitars in pristine condition.
This stand is sturdy and comes with a lifetime structural warranty, making it a perfect choice for showing off your most prized guitars in style.
Key Features:
Side-loading guitar rack with attractive looks
Easy to assemble and easy to use
A bit pricey since it's made in the USA from valuable hardwood
Good customer support
Our Rating: 9.3/10
8. Zither Wooden Guitar Stand
If you're looking for a beautiful single guitar stand that offers the elegance and durability of the String Swing Multiple, look no further than the Zither Wooden Guitar Stand. This beautiful guitar stand is furniture quality and guaranteed to turn heads.
Handcrafted of beautiful solid mahogany, each Zither wooden stand is unique in grain and color. It also comes with 6 more premium wood variants such as cherry, walnut, maple, padauk, purpleheart, and red oak. As the wood ages, it only becomes more distinct and singularly beautiful.
The beautiful guitar stand features a String Swing cradle, which is mounted thirty-eight inches from the stand's base and can easily accommodate any full-sized guitar. In the case of classical guitars, if the guitar hanger seems tight you can adjust the width of the yoke by bending it. Assembly is simple, too; all you'll need is a Phillips head screwdriver.
Key Features:
Exceptional grain pattern and color
Handmade using fine quality solid wood
Nitro finished guitars are safe to use
4oz bottle of Kyser Lemon Oil included
Our Rating: 9.7/10
9. CAHAYA X-Frame CYO180 (Best Folding Guitar Stand)
Inexpensive and portable, the CAHAYA X-Frame wooden guitar stand is a great, lightweight option for the acoustic guitarist on the move or who has no pets or children. An elegant, minimalist take on an A-Frame stand, the CAHAYA X-Frame is simple to assemble and disassemble.
Crafted of two interlocking plywood pieces, the CAHAYA guitar stand has softened edges to protect your acoustic or classical guitar.
Due to its simple design, the CAHAYA (or any X-Frame guitar stand) will be less stable than tripod or A-Frame stands and is likely to tip if jostled. If you travel with your acoustic guitar often and live alone or with adult roommates, this may be a great stand for your acoustic.
Key Features:
Thicker Plywood Guitar Stand
Simple yet elegant design
Easy to assemble and disassemble
Holds a guitar with a thickness fewer than 5.9 inches
Our Rating: 9.0/10
10. Konig & Meyer Electric Guitar Performing Stand
The last entry on our list of the best guitar stands isn't a display stand but a performing stand. The Konig & Meyer electric guitar performing stand is constructed of a sturdy, lightweight steel frame. Its three-piece design is easy to assemble and disassemble, which is critical for performing stands.
In addition to being easy to break down and set up, the Konig & Meyer electric guitar performing stand weighs in at a mere seven pounds, making it eminently portable.
The Konig & Meyer performing stand features felt-lined instrument support arms and can easily support the full weight of any standard electric guitar. This stand is for electric guitars only, but don't worry if you play acoustic; Konig & Meyer also makes an acoustic guitar performing stand.
Key Features:
Performing stand for professionals
Angle and length are adjustable as per playing position
Folding design makes hassle-free transport and storage
Made in Germany from high-grade materials
Our Rating: 8.7/10
Types Of Guitar Stands
Before buying a stand for your beloved stringed instruments, you need to determine which type of stand will accomplish your needs. Find out your best match from the following types of guitar stands.
Tubular Stands
If you've ever been in a guitar store, or a recording or rehearsal studio, you've definitely seen tubular or tripod guitar stands. Inexpensive and able to hold acoustic, electric, and bass guitars, tubular stands are often included in guitar starter packs.
My first few guitar stands were tripod stands, and I still like them. They're no-nonsense, and the tripod is collapsible for easy storage; I keep mine in the corner of my closet, where they take up very little room.
There are a few drawbacks to the tripod or tubular stands, though, and you should keep them in mind as you choose the guitar stand for your needs. While a padded neck cradle helps stabilize your beloved guitar, tripod stands are prone to tipping over if bumped into.
Wall Hanging Stands
While tubular tripod stands are more than adequate for certain spaces, like rehearsal studios, some circumstances can make them impractical. As mentioned above, tubular stands may tip if knocked into, so they may not be an ideal choice for you if you have pets or small children.
Another reason a guitarist may want to avoid a tripod stand is a lack of space. If the space in your home studio or office is at a premium, a wall-hanging stand or guitar wall hanger may be the best choice for you.
I use wall-hanging guitar stands for a few of my guitars. They're a great way to display your favorite axes without taking up an inch of floor space, and they keep your musical instruments out of the reach of little fingers and paws.
However, there's one important thing to keep in mind when using a wall-hanging guitar stand. Because of your guitar's proximity to the wall, it's likely to experience slightly more significant variations in both humidity and temperature.
If possible, mount your stand on a wall adjacent to another room and not the outside. This will minimize the danger of temperature or humidity fluctuations damaging your guitar.
The major disadvantage of a wall-hanging guitar stand, though, is that it's stationary. Guitarists looking for portability in a stand will want to avoid hanging stands.
Related Article: 
If you are planning to use a guitar wall hanger, check our detailed article on hanging a guitar on the wall to learn every aspect of proper guitar storage.
A-Frame Stands
Inexpensive and eminently portable, A-Frame guitar stands are simple and collapsable in design. Though they're far more stable than you might think, these minimalist stands will easily tip if jostled.
A-Frame guitar stands are an excellent alternative for guitarists on the move, as they fit easily into a carry bag and weigh almost nothing. Unless you live alone, A-frame stands are probably not ideal for everyday home use, especially if you own expensive showpiece guitars.
X Frame Stands
Trading a measure of stability for portability and ease of assembly/disassembly, X-frame guitar stands are inexpensive and among the best guitar stands for guitarists on the move.
The X-frame guitar stand is basically a minimalist interpretation of an A-frame stand but made for acoustic guitars.
While X-frame guitar stands are convenient and portable, they are among the least stable stands. A slight knock or bump and your beautiful Juggernaught or well-worn classical guitar hits the floor. Guitarists with pets or small children will want to think seriously about using an X-frame stand as their homestand.
Multi Guitar Stand
If you own two or three guitars but don't have the space for two or three individual stands or a full guitar rack, a multi-guitar stand may be the best guitar stand for you.
Multi-guitar stands are tubular tripod stands that hold either two or three guitars. While there are certainly advantages to storing two or three guitars on one stand, there are some disadvantages as well.
Though they require less surface area than guitar racks (or two or three separate stands), multi-guitar stands take up more space than single stands. They can be ungainly and aren't necessarily a great option for a portable guitar stand. What's more, placing a three-guitar stand in the corner of a room (and really, where else would you put it?) denies you easy access to one of your axes.
Most of my experience with double and triple guitar stands was either in a recording studio, a rehearsal studio, or on stage (when another musician brought one along.) That said, they come in extremely handy in the right circumstances.
Guitar Racks
If you have the available space on the floor, a multi-guitar rack is a great way to show off your guitars while keeping them readily at hand. While multiple-guitar racks require ample surface area, they are surprisingly portable and easy to assemble and disassemble.
The most common multiple-guitar racks hold six electric guitars, basses, or acoustic guitars, but some hold as few as three or as many as ten axes. A popular choice for professional guitarists on the road, these stands are also excellent for the longer-term storage of your guitars.
The only real downside to a multiple guitar rack is that care must be taken not to accidentally ding your guitars against one another as you remove and replace them. Once in place, there's no danger of that happening; just pay attention when moving guitars on or off the rack.
Performing Stands
Even if you're a beginner guitarist, you've probably seen performing guitar stands. Countless professional players (Mick Mars of Motley Crue and Frankie Hannon of Tesla come to mind as two examples) utilize them during their live shows.
Instead of relying on a clean electric guitar to play acoustic parts, for example, guitarists will keep their favorite acoustic guitar on a performing stand or walk-up stand while wearing their electric. That way, they can switch back and forth with minimal effort.
Performing stands are engineered differently from other stands, as they need to support the full weight of the instrument in a position that facilitates instant playability. Because of this, performing stands are considerably more expensive than tubular, frame, or even rack stands.
The downside to performing stands is that most of them are engineered for either an acoustic or an electric guitar, not both. If you perform on both electric and acoustic guitars, you'll need to buy a stand for each.
Wooden Stands
You wouldn't hang the Mona Lisa or an original Van Gogh on just any wall in just any room (I hope.) Many guitarists of discriminating tastes feel the same way regarding their prized guitars.
When more than a utilitarian stand is called for, when form becomes just as important as function, guitarists turn to wooden stands. Handcrafted of the finest hardwoods, wooden stands aren't only beautiful, but each one is unique due to the grain of its wood and its oil content.
The downside to wooden stands is that they aren't as easily portable as most entries on our list of favorite guitar stands.
Wooden stands require more of an investment than most metal stands, but the aesthetic value alone is well worth the cost.
How To Choose A Guitar Stand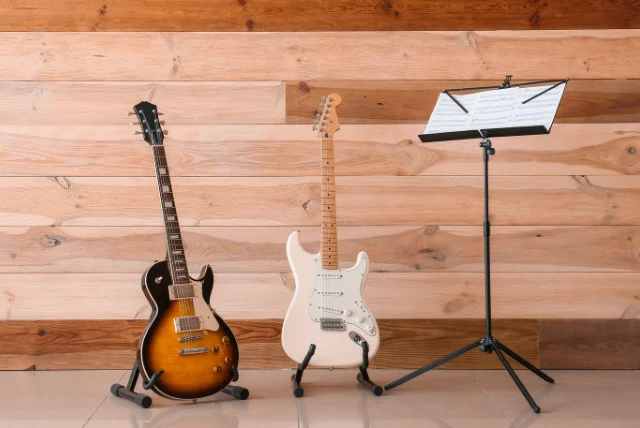 Choosing the best guitar stand isn't something most guitarists spend a lot of time thinking about. It isn't that we don't care; there are just so many other cool "guitar things" to think about. Often, we make the mistake of assuming all guitar stands are more or less created equal, and we wind up grabbing the first one we see.
Many times, that impulse buy becomes the stand we use for years. After gaining some valuable experience with different types of stands, we learn how different the many styles and brands of stands can be.
When choosing a guitar stand for your particular circumstances, keep the following questions in mind:
How Much Space Do I Have Available?
Before choosing a guitar stand, consider the amount of floor area you have available to store your guitars. A Hercules Multiple Guitar Rack is a great way to store up to six of your guitars, but racks take up a significant amount of surface area. If like me, your available floor space is at a premium, wall-hanging stands might be a better choice.
What Kind Of Guitars Am I Displaying?
Are you buying a stand for a beginner guitar that came with an amp and gig bag or for six custom-painted Gibson Les Pauls? Is the stand you require for an acoustic or electric guitar?
The type of guitar you want to display goes a long way toward helping you choose the right stand for you. While the vast majority of stands accommodate both acoustic and electric guitars, some are designed to hold one or the other exclusively.
If you're buying a stand for an inexpensive starter guitar, chances are you won't worry too much about stability. Your average frame or tripod guitar stand will do the job just fine. Stability becomes a more significant concern when you're purchasing a stand for an expensive hot-rod or showpiece guitar. In such cases, a stand that offers superior stability is undoubtedly your best bet.
How Often Do I Travel With My Guitar And Stand?
When buying a guitar stand, keep in mind how often you plan to travel with it. Guitar stands vary greatly in terms of portability; wall-hanging stands, for example, are not portable, whereas X-frame stands are built with travel in mind.
If you're a guitarist on the go, be sure to choose a stand that offers a good blend of portability, durability, and stability.
How Many Guitars Do I Need Stands For?
The last factor to keep in mind as you purchase your guitar stand(s) is how many guitars you need at hand. Maybe you own six guitars but rarely use three of them. In this case, your best bet would likely be a triple-guitar stand.
What if you record at home, though, and often use all six of your guitars? Your best bet then would probably be a guitar rack, unless you have limited floor space, in which case wall-hanging stands might better suit you.
A Few Words On Padding
The vast majority of stands are padded with foam at all contact points, meaning your guitar should only ever touch padding and not metal. While this is a great way to prevent dings and scratches on your guitar, some guitarists complain certain types of padding can discolor the neck of the guitar.
Like all guitar stands, all protective padding is not created equal, though, and some premium stands boast padding explicitly designed not to leave marks on your cherished ax.
If you're concerned about discoloration to the back of your guitar's neck (and this is a legitimate concern, given the price and beauty of some guitars), either test your stand with a less expensive guitar for a while or place a cloth or towel between your guitar and the rubber contact point.
Frequently Asked Questions
Is It Better To Hang A Guitar Or Place It On A Stand?
Whether or not to use a wall-mounted stand instead of a standard guitar stand depends, to a large degree, on the environment. The major advantage of a wall-hanging stand is that it takes up no floor space.
You may be wondering, though, if hanging a guitar may damage it over time. This is a fair question; after all, leaving your precious guitar to the whims of cruel gravity may seem foolish. Rest easy, though, as I've never heard of a case where a guitar has been damaged from hanging.
Should I Keep My Guitar In Its Case Or On A Stand?
The answer to this question depends mainly on where you play your guitar the most. If you're constantly on the move with your instrument and rarely play at home, keeping your ax in its case is a perfectly safe way to store your instrument.
Of course, you didn't buy that beautiful guitar not to admire it. If your guitar spends days at a time without leaving the house, why not display it on a stand where it can brighten your living space and always be available to pick up and play?
Are Hanging Guitar Stands Better?
There's a simple answer to this question, namely: it depends. Hanging stands or guitar hangers are great for those of us with limited floor space in our home studios or rehearsal areas. They also keep our cherished instruments up and out of the reach of pets and small children.
However, traditional stands have the edge over wall-hanging stands in many ways. For one thing, wall-hanging stands are not even close to being portable–not unless you travel with molly screws and an electric drill.
How Much Is A Guitar Stand Worth?
Guitar stands range pretty widely in price. A bare-bones A-Frame single guitar stand can cost less than twenty dollars, while a premium performing stand may cost hundreds or even close to one thousand dollars.
There's a difference between price and worth, though, as is evidenced by some of the great values listed above. A good stand for your beloved six-string or bass may be one of the best investments you can make for your guitar.
Also Read: