As an Amazon Associate, We earn from qualifying purchases.
Learn More
One of the joys of playing guitar is being able to grab your instrument when the urge hits, no matter the hour; if you live in an apartment complex, or share a living space with family, friends, or roommates, though, such creative freedom is often severely limited.
For those of us forced to practice and play quietly to avoid disturbing our neighbors, a silent guitar can be a great option.
The Yamaha SLG 200 series of silent guitars offers practicing musicians the opportunity to play a guitar that produces significantly less natural sound than a standard acoustic guitar.
Like an acoustic-electric instrument, the Yamaha SLG is electronic and can therefore be used with headphones; unlike an acoustic-electric, though, your neighbors likely won't hear you playing a silent guitar.
Continue onto the full article because it covers the sound quality, playability, construction, and features you need to know about this innovative practice guitar.
Specs and Feature Details of Yamaha Silent Guitar
First up on our Yamaha SLG200S/N/NW review, let's have a look at the features and benefits of this travel guitar, and we'll also touch upon its disadvantages.
Key Specs At A Glance
| | |
| --- | --- |
| Body Shape | Collapsible Travel Acoustic (Slim Body) |
| Scale Length | 25 inches (SLG200S) / 25.59 inches (SLG200N, SLG200NW) |
| Neck & Body Material | Mahogany |
| Frame Material | Rosewood/Maple |
| Fretboard Wood | Rosewood (SLG200S, SLG200N)/ Ebony (SLG200NW) |
| Nut & Saddle Material | Urea |
| Nut Width | 43mm (1.69 inches) |
| Number of Frets | 22 frets (SLG200S) / 19 frets (SLG200N, SLG200NW) |
| Weight | 2.1 kg (Approx.) |
Sound Quality
The bodiless design of this Yamaha Guitar translates to far less natural sound and resonance; compared to a standard acoustic or acoustic-electric, the Yamaha SLG is, indeed, silent.
Due to the absence of a traditional guitar top and back, the sounds produced by the strings don't get amplified much, which reduces the volume of the guitar significantly.
SLG200 still produces some acoustic guitar sound, but it's really quiet and unlikely to be heard by your neighbor's next door.
While the SLG200S is remarkably quiet unplugged, I did notice some hiss when amplified at higher volumes required for performing. This seems to be an unavoidable side effect of the active electronics. However, with proper gain staging the noise is manageable.
The SRT powered preamp allows dialing in very natural acoustic tones, though it does require more tweaking than the passive pickups on my other acoustics. Changing strings can also affect the amplified tone profile requiring re-balancing of the EQ.
Essentially, it's a digital instrument, but make no mistake- the SLG utilizes authentic samples taken from studio recordings of real acoustic guitars to create fully adjustable, natural-sounding tones when amplified.
Electronics/SRT Powered Sound Engine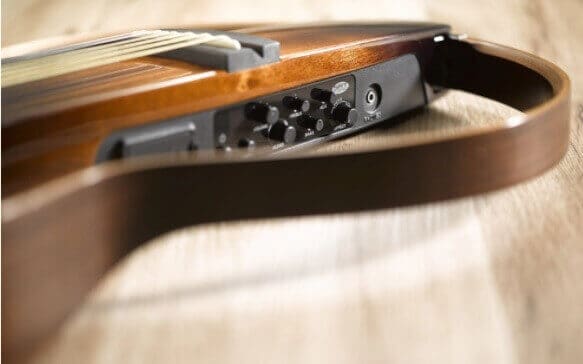 A silent, or acoustic-electric guitar, is only ever as good as its onboard electronics. Yamaha didn't skimp in this regard, choosing to power their SLG series guitars with a Studio Response Technology sound engine.
Studio Response Technology (SRT) is backed up by high-quality sound samples of a real acoustic guitar recorded in a professional studio environment to deliver music to your headphones, speakers, or another output device.
Producing sounds virtually, the SRT preamp system and piezo under saddle pickup allow the bodiless SLG to produce digital sound that captures the tonal quality and even body resonance of a natural acoustic guitar.
But although the sound isn't "real", the built-in preamp also enhances the sound in your headphones or line output. All in all, SLG200 does a great job of replacing a real acoustic guitar. For the price, you wouldn't expect anything else.
The Yamaha SLG200S I reviewed features a collapsible travel design, with the treble side permanently fixed to the neck while the bass side detaches. This allows the guitar to be broken down for storage and transport in the included gig bag.
The slim, lightweight build combined with the collapsible bass bout makes the SLG200 an exceptionally portable silent guitar solution.
Plenty Of Controls And Connection Options
Yamaha SLG200 has plenty of controls onboard, allowing you to finetune sound output. Among its controls are:

Power.
Volume/AUX volume.
Bass.
Treble.
Smooth control effects (2 reverbs and 1 chorus)
Chromatic tuner.
SRT blend.
The knobs and buttons for these features are situated on top of the bridge system. To the left of the control panel, there also is a small compartment for batteries to power the guitar.
SLG200 seems not to chew through batteries too quickly, and you should be able to get a few weeks out of a single set of batteries with heavy use.
When it comes to connection interfaces, SLG200 has:
Line out.
AUX-in.
Phone input.
DC-IN.
This is traditional for electro-acoustics and electric guitars which allows you to hook the guitar to headphones, external speakers or an amp.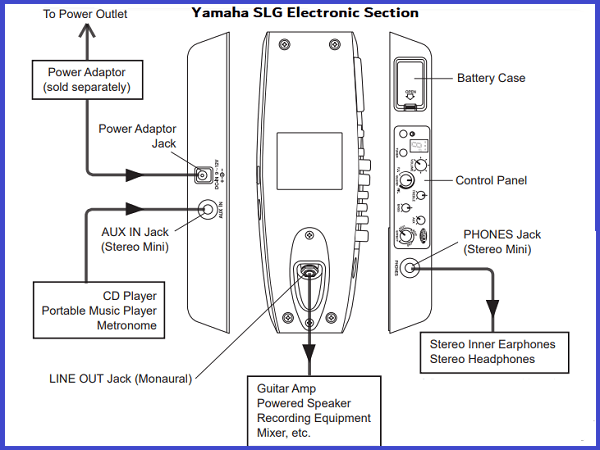 Construction & Playability
The Yamaha SLG series of silent guitars are well-constructed and feature excellent playability. Material-wise, with a rosewood and maple frame, a rosewood fingerboard, and mahogany neck, the SLG plays very much like a natural acoustic guitar.
The nut width, string spacing, and flat fretboard radius took some getting used to coming from my other acoustic guitars, but overall the playability is excellent. The build quality lives up to Yamaha's reputation, with quality tonewoods and robust construction that feels like it will hold up well over time.
What's also nice about the design of the SLG200 is that it's really lightweight. This probably isn't why you are shopping for a silent guitar, but the bodiless design still delivers the quite pleasant bonus of lightness.
Overall, I can say that the build quality of SLG200 is nothing short of amazing as well and delivers an authentic guitar feel.
Yamaha Silent Guitar Problems
Yamaha SLG200 has a few issues – they are not dealbreakers but are worth mentioning:
The guitar isn't completely silent – it's still resonant and produces a good bit of sound.
The strap screws tend to come loose.
When plugged in, the sound produced by SRT Powered is quieter than with traditional acoustic-electrics guitars.
I did have to update the firmware on my SLG200S to resolve an issue with the D string, a minor bug Yamaha has since fixed. Owners of early models should check for firmware updates to ensure optimal performance.
With that, SLG200 isn't quite an acoustic guitar replacement. It has its own special purpose that it performs perfectly.
Variants Of SLG200 Guitars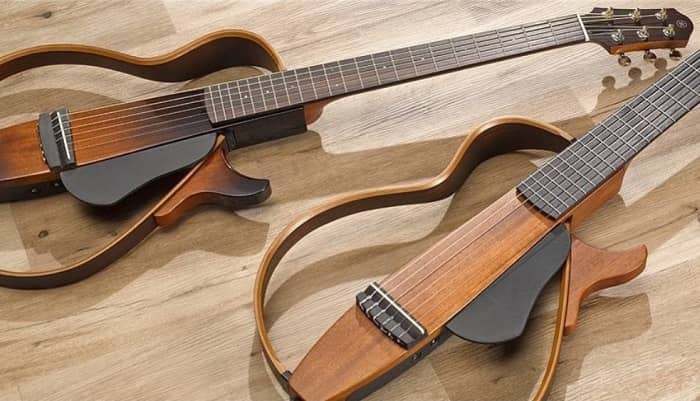 There are 3 Yamaha silent guitar models out there:
SLG200NW. This Yamaha SLG200NW review variant features nylon strings along with a conventional (standard size) guitar neck. The other two variants have slimmer necks. The strings here are the Yamaha S10.
SLG200N. This Yamaha silent SLG200N variant again features the S10 nylon strings, but its neck is slimmer.
SLG200S. SLG200S features steel strings. The stock strings are Yamaha FS50BT or D'Addario EXP11.
The tonal differences between nylon and steel strings are like in any other guitar – steel strings are crisper and produce brighter notes, while nylon strings deliver a softer sound. The steel-string version seems louder as well.
Choose the right variant based on your preference and the musical compositions you will be playing.
Also Read: Super Inexpensive Travel Guitar
Frequently Asked Questions
What is a silent guitar used for?
Silent guitars are used in situations when you want to practice discretely – perhaps during a train ride or when your roommates aren't quite up to you playing music.
How does a silent guitar work?
Silent guitars work by converting the vibrations produced by the strings into electric current via a piezoelectric pickup. Since silent guitars have no traditional guitar body, the vibrations of the strings are not amplified, which keeps the guitar volume low.
To hear a quality, full-bodied sound, you need to hook an exterior sound device to a silent guitar. Most commonly, guitarists hook their silent guitars to headphones. You could also hook speakers to your silent guitar, but only when you aren't worried about being discrete.
So essentially, a silent guitar is an acoustic-electric guitar, but with a lower volume.
How Quiet Is Yamaha Silent Guitar?
Silent guitars, while certainly quieter than traditional or acoustic-electric models, are by no means actually silent. A more accurate way to refer to silent guitars like the Yamaha SLG might be to call them "quiet guitars."
Without a body to resonate and amplify string sound, silent guitars are about as close to silent as one can get while still actually playing. Whether a silent guitar is strung with steel or nylon will affect the volume and tonality of natural play.
Steel or nickel strings produce a brighter, crisper sound, whereas nylon produces warmer, more subtle tones. Guitarists in densely populated areas, or who have no choice but to practice at night, may choose nylon as a way of further quieting their play.
Fortunately for those of us with strange schedules, light-sleeping loved ones, or prickly neighbors, the Yamaha SLG Silent Guitar is available as a silent steel string guitar, or if you prefer, there's a nylon string version too.
Do You Need An Amp With The Yamaha Silent Guitar?
No, you don't need an amp to play the Yamaha SLG. Thanks to its on-board headphone jack, an amplifier isn't necessary to play the guitar.
If you choose to play through an amplifier, Yamaha recommends using an acoustic-electric amplifier or PA system instead of an electric guitar amp.
Unlike electric guitars, which use magnetic pickups, the Yamaha Silent Guitar features piezo pickups, a type that produces tones better complimented by an acoustic-electric amp or PA system.
Final Words
All in all, SLG200 is a great choice if you are looking for a guitar that is going to minimally disturb your neighbors. SLG200 isn't 100% quiet, but it's much quieter than a standard acoustic guitar.
The SRT-powered sound engine produces sound of excellent quality, while the onboard adjustments allow you to finetune your musical compositions to your taste.
Recommended To Read:
Thomas M., the founder of Guitar Top Review, boasts 15+ years of guitar experience and was a church band member in L.A. Transitioning from piano to acoustic guitar, his first love remains his Taylor GS Mini. Alongside like-minded hobbyist friends, he launched the site, driven by a deep love for music that transcends professional boundaries.