Hey there! As an Amazon Associate, We earn from qualifying purchases. We greatly appreciate your support!
Learn More
Interested in a light and quiet travel guitar? Our Yamaha silent guitar review might interest you.
Today, we are having a look at Yamaha SLG200 – a bodiless guitar designed to cause minimal disturbance to your roommates and neighbors. Below, we'll have a look at the features and benefits of the Yamaha guitar, and we'll also touch upon its disadvantages.
Yamaha Silent Guitar Features
First up on our Yamaha SLG200S/N/NW review, let's have a look at its features and pros.
Low-Noise Frame
The key feature of the Yamaha SLG200 guitar is the bodiless design. Due to the absence of a traditional guitar top and back, the sounds produced by the strings don't get amplified much, which reduces the volume of the guitar significantly.
SLG200 still produces some acoustic guitar sound, but it's really quiet and unlikely to be heard by your neighbor's next door.
What's also nice about the design of SLG200 is that it's really lightweight. This probably isn't why you are shopping for a silent guitar, but the bodiless design still delivers the quite pleasant bonus of lightness.
Material-wise, the neck is mahogany, the frame rosewood & maple, while the fingerboard is rosewood. These are traditional materials for acoustic guitars, so SLG200 is going to deliver an authentic guitar feel. The build quality of SLG200 is nothing short of amazing as well.
For transportation, the top bout of the guitar comes off too. Yamaha also includes a hard gig bag with this guitar for secure carrying.
SRT Powered Sound Engine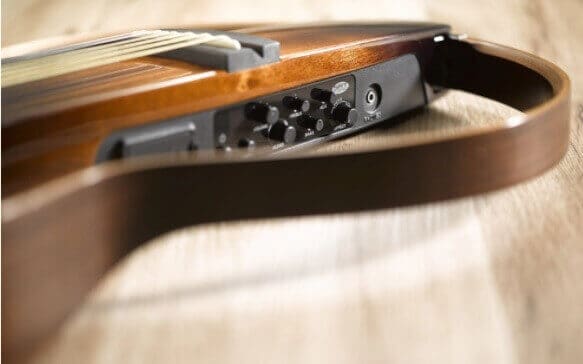 To deliver music to your headphones, speakers, or another output device, SLG200 employs a sound engine called SRT Powered. Studio Response Technology (SRT) is backed up by high-quality sound samples of a real acoustic guitar recorded in a professional studio environment.
Producing sounds virtually, SRT Powered essentially turns SLG200 into a digital guitar of sorts. But although the sound isn't "real", SRT Powered delivers authentic-like sound, and it even produces genuine body resonance. The built-in preamp also enhances the sound in your headphones or line output.
All in all, SLG200 does a great job of replacing a real acoustic guitar. For the price, you wouldn't expect anything else.
Plenty Of Controls And Connection Options

Yamaha SLG200 has plenty of controls onboard, allowing you to finetune sound output. Among its controls are:
Power.
Volume/AUX volume.
Bass.
Treble.
Smooth control effects (2 reverbs and 1 chorus)
Chromatic tuner.
SRT blend.
The knobs and buttons for these features are situated on top of the bridge system. To the left of the control panel, there also is a small compartment for batteries to power the guitar. SLG200 seems not to chew through batteries too quickly, and you should be able to get a few weeks out of a single set of batteries with heavy use.
And when it comes to connection interfaces, SLG200 has:
Line out.
AUX-in.
Phone input.
DC-IN.
This is traditional for acoustic-electrics and electrics and allows you to hook the guitar to headphones, external speakers, or an amp.
Yamaha Silent Guitar Problems
Yamaha SLG200 has a few issues – they are not dealbreakers but are worth mentioning:
The guitar isn't completely silent – it's still resonant and produces a good bit of sound.
The strap screws tend to come loose.
When plugged in, the sound produced by SRT Powered is quieter than with traditional acoustic-electrics guitars.
With that, SLG200 isn't quite an acoustic guitar replacement. It has its own special purpose that it performs perfectly.
Variants Of SLG200 Guitars
There are 3 Yamaha silent guitar models out there:

SLG200NW. This Yamaha slg200nw review variant features nylon strings along with a conventional guitar neck. The other two variants have slimmer necks. The strings here are Yamaha S10.
SLG200N. This Yamaha silent slg200n variant again features the S10 nylon strings, but its neck is slimmer.
SLG200S. SLG200S features steel strings. The stock strings are Yamaha FS50BT or D'Addario EXP11.
The tonal differences between nylon and steel strings are like in any other guitar – steel strings are crisper and produce brighter notes, while nylon strings deliver a softer sound. The steel-string version seems louder as well.
Choose the right variant based on your preference and the musical compositions you will be playing.
Also Check: Super Inexpensive Travel Guitar
Yamaha Silent Guitar Review: Video
Frequently Asked Questions
What is a silent guitar used for?
Silent guitars are used in situations when you want to practice discretely – perhaps during a train ride or when your roommates aren't quite up to you playing music.
How does a silent guitar work?
Silent guitars work by converting the vibrations produced by the strings into electric current via a piezoelectric pickup. Since silent guitars have no traditional guitar body, the vibrations of the strings are not amplified, which keeps the guitar volume low.
To hear a quality, full-bodied sound, you need to hook an exterior sound device to a silent guitar. Most commonly, guitarists hook their silent guitars to headphones. You could also hook speakers to your silent guitar, but only when you aren't worried about being discrete.
So essentially, a silent guitar is an acoustic-electric guitar, but with a lower volume.
Conclusion
And that's it for our Yamaha silent guitar review!
All in all, SLG200 is a great pick if you are looking for a guitar that is going to minimally disturb your neighbors. SLG200 isn't 100% quiet, but it's much quieter than a standard acoustic guitar. The SRT Powered sound engine produces sound of excellent quality, while the onboard adjustments allow you to finetune your musical compositions to your taste.