Hey there! As an Amazon Associate, We earn from qualifying purchases. We greatly appreciate your support!
Learn More
Proper musical instrument care is essential to ensuring its longevity. If you own a wooden instrument like a guitar, you must closely monitor the humidity levels in the room or guitar case you're storing it in.
When the relative humidity (RH) levels drop to less than 40%, the wood used for the instrument would become brittle. As a result, it not only affects the quality of the sound, but it's at risk of falling apart anytime soon.
Fortunately, a guitar hygrometer makes both temperature and humidity monitoring hassle-free.
If you're looking for the best hygrometer for guitar in the market, you came to the right place. Here, we'll introduce you to the best hygrometers and hygrometer-humidifier combos to help you pick the perfect one for you.
Our Top 3 Recommendations
Value for Money
Humidity Range: 20-90% RH
Temperature: 0º to 50ºC or 32° to 122ºF
Reading Interval: 10 Seconds
Battery Life: 1 Year
Remote Monitoring
Humidity Range: 0-100% RH
Temp.: -40º to 60ºC or -40° to 140ºF
Reading Interval: 1 Minute
Battery Life: Over 1 Year
Best Combo Offer
Humidity Range: 20-99% RH
Temperature: 0º to 50ºC or 32° to 122ºF
Reading Interval: 20 Seconds
Battery Life: Over 1 Year
Review Of 7 Best Hygrometer for Guitar
1. Oasis OH-2: Best Hygrometer for the Money
When it comes to the best Oasis hygrometer, the Oasis OH-2 Digital Hygrometer always comes into mind. With the brand's state-of-the-art humidity sensors and unmatched usability, you can easily see why it's one of our top choices.
This oasis hygrometer has a slim profile that allows it to fit almost everywhere – even inside your guitar case. For secure mounting, the reliable Velcro straps will keep it in place.
Aside from the relative humidity, this device also records temperatures in Celsius and Fahrenheit for your convenience. This way, you can also monitor the room temperature to make sure it's not too hot or too cold.
Surprisingly, the Oasis OH-2 Digital Hygrometer is one of the more affordable units on this list. And with its 5-year guarantee, you know you're getting your money's worth.
There are two more similar types of models available at the same price, size, and looks besides this original one. The Oasis OH-2C is the second model that includes the calibration feature.
On the other hand, Oasis OH-2+ is the improved version of OH-2C. Here Oasis OH-2+ model comes with an advanced humidity sensor for exceptional accuracy and extended measurement range down to 10% RH relevant for dry climates in addition to the calibration functionality.
Both these later versions have some improved features which are not equally beneficial to every user. So if you choose the original version, you wouldn't feel any difference in most cases.
Pros:
The display is clear and easy to read.
Readings are accurate.
It offers good value for the money.
It is easy to use.
Cons:
Some users have issues with the secure velcro mount.
OH-2 is not adjustable. There's no calibration functionality available.
Verdict:
The Oasis OH-2 Digital Hygrometer is a good value-for-money unit for players who want a hygrometer that's reliable and accurate. If you don't have to mount it onto the guitar for a long time, then you won't have a problem with this unit.
---
2. SensorPush Wireless Thermometer/Hygrometer for iPhone/Android: Best Smart Hygrometer
If you're willing to splurge a little on a premium hygrometer, the SensorPush Wireless Hygrometer and Thermometer is the best choice.
This digital hygrometer is perhaps one of the most technologically advanced units we've ever tried. This device is Bluetooth compatible, which allows you to access readings straight to your smartphone. It has an impressive 325-feet or almost 100 meters wireless range, so you can check on it from anywhere within your home.
Despite its compact and stylish aesthetics, the SensorPush Wireless Hygrometer is also quite sensitive. It uses a Swiss-made advanced humidity sensor that delivers the most accurate readings straight to your phone. With it, you can be confident about the quality and craftsmanship of this unit.
Pros:
It is compatible with most mobile devices for easier reading wherever you are in the house.
It has impressive battery life.
It is easy to control.
The petite size easily fits inside guitar cases.
You can monitor data and get alerts via the Internet by using a compatible WiFi device sold separately.
It is durable and compatible in a guitar room, music room, gig bag or instrument case due to its water-resistant sensor.
Cons:
It does not have its own display screen. It is heavily reliant on the mobile app.
Verdict:
For the tech-savvy guitar player or owner of high-end expensive guitars out there, you can't go wrong with the SensorPush Wireless Thermometer and Hygrometer. Its mobile connectivity, quality sensor, and improved usability can deliver reliable and accurate readings without all the complicated setup. This is the best guitar room hygrometer in the market.
---
3. MusicNomad Premium Humidity Care System: Best Combo Hygrometer
If you want to make the job easier, a hygrometer and humidifier combo will surely take a lot of time off of your hands. And when it comes to these combos, the MusicNomad Premium Humidity Control System comes highly recommended.
Unlike the Oasis OH-30, this combo is not a single-unit device. It features two separate units containing a hygrometer and a humidifier to make things more convenient for us.
The hygrometer features a patented 3-in-1 design that displays everything you need to monitor. Readings are also quite accurate, and that makes monitoring a lot easier for us.
As for the humidifier, it uses an anti-drip material to mess and high moisture buildup away from the guitar. It also helps to know that water is stored in a reusable and highly absorbent sponge. This way, you don't have to buy a new sponge every time it starts to run dry.
Both of these units mount easily on the guitar strings and on the case holster, which makes it quite versatile and perfect for both acoustic guitars and electric guitars. So, whichever is your preferred humidity monitoring position, you can't go wrong with this device.
Pros:
The hygrometer offers accurate readings.
It has a durable and secure attachment mechanism.
It is low maintenance.
It boasts a no-drip design.
Cons:
Some of its components are not very durable.
Verdict:
If you prefer having two separate units for the hygrometer and the humidifier, the Music Nomad Premium Humidity Control System is the perfect solution for you. This gives you the liberty to mount both units wherever you want to maximize the performance of each. We also love that both have a secure mounting system so it stays in place for a long time.
---
4. MusicNomad HumiReader (MN 305): Best Guitar Case Hygrometer
The MusicNomad HumiReader Hygrometer is another top contender for the best guitar hygrometer.
It has one of the fastest sensors we've ever tried, which is quite impressive for the price. It measures humidity levels every 20 seconds, so you always get an update as to how dry or humid the air is. That results in fast action every time you notice a drop or spike in the reading.
We also love that it features a 3-in-1 mounting design. This versatile unit can be attached to the guitar's sound hole, the case, or as a standalone unit to be left in your room. Its attachment mechanism is also quite durable, so you don't have to worry about it falling apart anytime soon.
For your added convenience, the MusicNomad HumiReader Hygrometer also measures temperature in both Fahrenheit and Celsius. It also displays the maximum and minimum readings, so you can make the adjustments accordingly.
Pros:
It has a versatile design.
It is easy to read.
It is easy to use and set up.
Cons:
There are instances of inaccuracies.
Verdict:
All things considered, we believe the MusicNomad Humireader is the best guitar case hygrometer. This is owing to the superior mounting mechanism that keeps it securely in place. It also helps that this device has a versatile design for multiple mounting options.
---
5. Inkbird ITH-10 Humidity Monitor: Best Cheap Hygrometer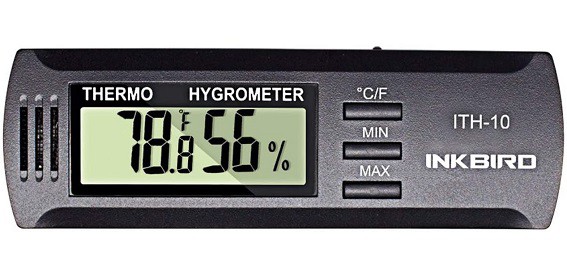 If you're looking for an affordable hygrometer, the Inkbird ITH-10 Digital Hygrometer and Thermometer take the cake.
It features a decent relative humidity range between 30 to 90%, which is enough to help you monitor the air's moisture levels. But perhaps what's most surprising is that it displays accurate readings – we honestly did not expect that for the price.
We also love the minimalist interface on this hygrometer. Not only are readings easy to read, but it's also one of the easiest to use. Even a beginner won't have a problem operating this unit.
Like most digital hygrometers, the Inkbird ITH-10 Digital Hygrometer and Thermometer can also read the temperature and display it in Fahrenheit and Celsius.
Pros:
It has a slim design to fit almost anywhere.
It is lightweight.
It is easy to read.
It has decent battery life.
It is very affordable.
Cons:
The response to humidity level is quite slow.
Verdict:
All things considered, we are quite impressed by the Inkbird ITH-10 Digital Thermometer and Hygrometer. For its price, you get a decent unit that delivers accurate readings. It may not be the most flashy, but it works – and that's all that matters.
---
6. Taylor Precision Products 1732: Best Indoor Hygrometer
No guitar hygrometer reviews will be complete without the Taylor Digital Indoor Comfort Level Thermometer and Hygrometer.
This Taylor hygrometer has one of the most colorful designs we've ever seen. It not only displays the room humidity, but it also has a 5-level humidity comfort level chart. This way, you're not only monitoring it for your acoustic guitar but also the music room as a whole.
For improved visibility, the brand displays all readings in large digits so we can read them even from a few feet away.
It's also quite the head-turner. The Taylor Digital Indoor Comfort Level Thermometer and Hygrometer come with a futuristic design but without sacrificing performance and quality. And for all it offers, you'd be surprised by how affordable it truly is.
Pros:
It displays multiple items on the screen.
It looks great in every room.
It has decent battery life.
The readings are accurate.
Cons:
If the room is too bright, the display can be hard to read.
Verdict:
The Taylor Digital Indoor Comfort Level Thermometer and Hygrometer is the most affordable item on this list – but its features are in no way cheap. Taylor made sure its hygrometer is at par with its competitors, and it shows in its accurate readings, superior usability, and long-lasting battery. We highly recommend it for beginners and professionals alike.
---
7. Oasis HH Combo OH-30 Humidifier-Hygrometer
Another reliable hygrometer and humidifier combo for guitar is the Oasis HH Combo OH-30 Humidifier-Hygrometer.
This single-unit combo features a calibratable hygrometer and an adjustable humidifier. Since the hygrometer can be calibrated, you can always rely on its accuracy for the best results.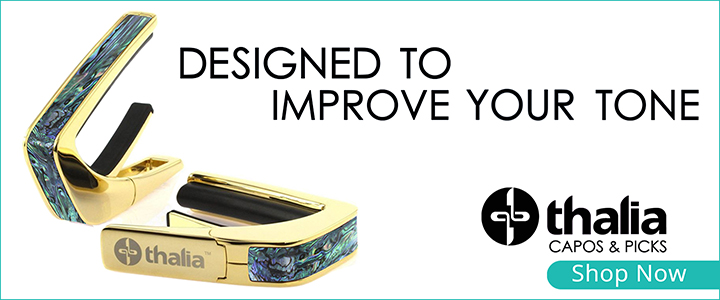 Similarly, the adjustable feature on the humidifier allows you to control how much moisture is released – so the air is neither too dry nor too humid.
If you're worried about the water leaking from the humidifier, Oasis has got you covered. The Oasis HH Combo OH-30 Humidifier-Hygrometer has a drip-resistant design, thanks to its acetate sponge. The same sponge also absorbs a lot of water, so you don't have to keep refilling it often.
The battery life is quite decent as well. The unit can stay charged for up to 15 days, which is honestly quite impressive.
Pros:
It is easy to set up.
It is easy to use.
It is drip-resistant.
It has decent battery life.
It offers good value for the money.
Cons:
Users report issues with the attachment mechanism on the humidifier.
Some components are not very durable.
Verdict:
If you're a beginner who needs a humidifier and hygrometer combo, we highly recommend the Oasis HH Combo OH-30 Humidifier-Hygrometer. With its surprising features and impressive battery life, you surely won't regret this purchase. It also retails for a reasonable price, which makes the whole package more appealing.
---
Things to Consider When Buying a Hygrometer for Guitar
Now that you know our top picks, we're sure that you might be torn between two or more of these options. To help you narrow down your choices, here are some of the things to consider when buying a hygrometer for a guitar.
Accuracy
Without a doubt, accuracy should be your first consideration when buying the best guitar hygrometer. As much as possible, it should be extra sensitive to the humidity levels surrounding your guitar to deliver accurate readings.
When the readings are not accurate, you run the risk of maintaining humidity inside a guitar case or guitar room that's beyond the recommended range. As a result, that will cause the guitar's material to deteriorate faster than it should. That means the purpose of buying the guitar humidity meter will be defeated.
Attachment Options
The best hygrometer for musical instruments often features attachment mechanisms. This feature allows it to be mounted on various parts of the instrument to accurately measure relative humidity levels. this is often the case for guitars, where you can mount the hygrometer on the soundhole or the neck.
But in most cases, users are satisfied with placing the device near the guitar. In this case, you won't need an attachment mechanism, since it can easily fit inside the compartment on your guitar case. The choice depends on which will be the most convenient for you.
Readability
It's also important to consider the readability of the hygrometer, so you can easily tell the status of the air surrounding the guitar.
Fortunately, most modern hygrometers now come with a digital display that allows us to read everything. We don't have to rely on a shifty dial just to get a good reading on the relative humidity.
Battery Life
If you're using a digital hygrometer for guitar, it's best to check its battery life as well.
When a device has a decent battery life, you don't have to keep recharging or replacing the battery often. That will save you a lot of time and effort – not to mention, you will be able to continuously monitor the air's humidity. Also, the worst thing that could happen is to have the battery die out when you need it most.
It also helps if the battery is fast charging. This way, your guitar won't be left unmonitored for long.
Extra Features
Some hygrometers come with a thermometer, while others come with a convenient clock feature. In some cases, you can purchase a hygrometer and humidifier combo, so you can truly maintain the correct humidity level for your guitar.
Of course, these added features also come with an extra cost. If you're planning to use a device other than as a hygrometer, then there's no harm in investing in them. But if you're only using it for checking humidity levels, the practical route is to stick with a simple hygrometer.
Are hygrometers accurate?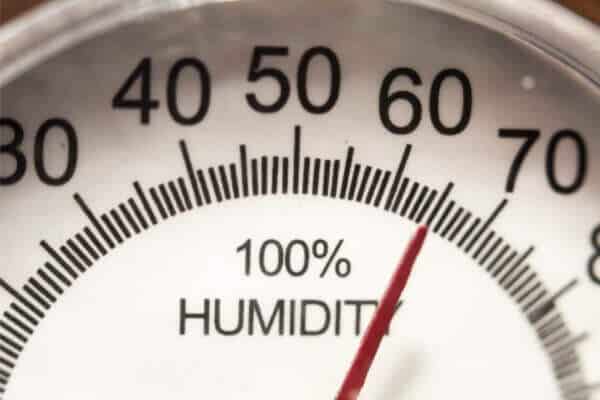 One of the biggest questions that we usually get pertains to the accuracy of hygrometers.
Generally, hygrometers are quite accurate. A margin of error of 3% is already quite decent, and anything beyond that should be bought with caution. This is to make sure that your guitar will be safely stored in a place with the recommended humidity level.
Nevertheless, some experts believe that digital hygrometers offer better accuracy than their analog counterparts. This is due to the more advanced hardware used in these digital devices.
But we have come across analog hygrometers that delivered fairly accurate readings. The only downside is that these devices need frequent hardware calibration to maintain accuracy.
So overall, yes, hygrometers are quite accurate. As a tip, make sure to look into the unit's margin of error before you buy it to ensure the best performance.
How to test hygrometer accuracy?
If you still have doubts as to the accuracy of your device, there is an easy way to test it out. All you need is a lockable food storage bag, a bottle cap, some salt, and a little bit of water.
To start the test, simply fill the bottle cap with salt and add a little bit of water. It should only create a slurry-like substance with the salt not fully dissolved.
With the salt slurry ready, place it inside the food-storage plastic bag with the hygrometer and seal them together. Leave this for six hours.
Once the 6-hour limit is up, it's time to check the reading on the hygrometer. If the reading is at 75%, then you know it's calibrated to accuracy.
Another test is to wrap the hygrometer with a damp towel and leave it for around 30 minutes. Once the time's up, quickly unwrap the towel and read what's displayed on the hydrometer. You should do this fast because the humidity levels will quickly drop once the towel's removed. If the hygrometer reads between 98 to 100%, then your device is pretty accurate.
As a tip, we suggest performing any of these tips at least once every six months to make sure that your hygrometer remains accurately calibrated.
Frequently Asked Questions
What is the best humidity level for guitars?
The humidity levels for a guitar should not drop below 40% but should not exceed 55%. When it goes lower than this range, the wood tends to become brittle and prone to cracking. On the other hand, too much humidity can soften the wood – and similarly lead to damage.
Are digital or analog hygrometers better?
It depends on your preferences. Digital hygrometers are generally more accurate and easier to read, thanks to their modern hardware and technology. They also offer multiple features such as temperature reading and a clock. However, these digital devices can come with a steep price.
On the other hand, analog hygrometers are affordable and less complicated to use. However, they are high maintenance and would require frequent recalibration to ensure accuracy.
Where does the hygrometer go in a guitar case?
It is recommended to put the hygrometer inside the guitar case compartment or in the headstock for accurate readings.
Are hygrometers only for acoustic guitars?
No, hygrometers are not only useful for acoustic guitar but also beneficial for electric guitar. Most of us only think of acoustic guitars when addressing humidity issues, but particular electric guitars are also prone to damage from high and low temperatures. So humidity check and humidity control are also needed for some electric guitars depending on the wood quality.v
How long does it take for a hygrometer to get an accurate reading?
Hygrometers usually take around two hours to stabilize their readings. These devices have to consider several factors in the air, so this time frame is enough to deliver accurate readings.
Conclusion
To conclude, accuracy is the number one determinant to help you find the best hygrometer for guitar. After all, the goal is to preserve and ensure its longevity, so you can't risk it on a device that won't deliver.
Also, keep in mind that the purpose of a hygrometer is to inform you of inadequate or excessive moisture in the surrounding air.
Lucky for you, the items we have listed are proven to be accurate and serve the purpose well. And if you need help in narrowing down your options, you can always consult our buying guide for extra information.
Related Articles: