As an Amazon Associate, We earn from qualifying purchases.
Learn More
As an avid guitar player and enthusiast, keeping my instrument in peak condition is a top priority. From my years of experience, I've learned proper humidity control is essential for any wooden musical instrument.
When the relative humidity drops below 40%, the wood becomes brittle and you risk long-term damage. Trust me, I've been there! That's why I always recommend guitarists invest in a quality hygrometer to effortlessly monitor temperature and humidity.
After testing many models, I'm sharing my picks for the best guitar hygrometers and hygrometer-humidifier combos for foolproof guitar care.
I personally recommend the Oasis OH-2 Digital Hygrometer as a great value choice and the SensorPush HT1 as the best smart Hygrometer if you need remote monitoring capabilities. The Oasis OH-2 is accurate, easy to use, and very budget-friendly, while the SensorPush HT1 connects to your phone for real-time humidity readings.
You should read this article because I'll break down exactly what to look for in a hygrometer and provide helpful reviews of my top recommendations based on hands-on testing and experience.
With the right hygrometer, you can protect your prized guitar for years to come.
Do You Really Need a Hygrometer for Your Guitar?
As a guitarist, I used to wonder if buying a hygrometer was truly necessary. After all, can't you just eyeball the room conditions and assume everything is fine?
In my experience, the answer is a resounding no. Your eyes can be deceiving when it comes to subtle changes in temperature and humidity. Small fluctuations that seem harmless can wreak havoc on your beloved six-string over time.
Take it from me, investing in an accurate hygrometer is one of the smartest things you can do as a guitar owner. It provides indispensable feedback you just can't get otherwise.
With a quality hygrometer monitoring conditions inside your case or studio, you'll always know if the environment is optimal for your instrument.
You'll also be alerted early if humidity levels start to veer into dangerous territory for the wood. This gives you a chance to take corrective action before any serious damage occurs.
While an extra purchase may seem unnecessary, a hygrometer is essential insurance for your prized guitar. The relatively small upfront cost is well worth it for the peace of mind and protection it provides.
Don't make the mistake I did – get yourself a hygrometer and never look back.
Things to Consider When Buying a Hygrometer for Guitar
Now that you know our top picks, we're sure that you might be torn between two or more of these options. To help you narrow down your choices, here are some of the things to consider when buying a hygrometer for a guitar.
Accuracy
Without a doubt, accuracy should be your first consideration when buying the best guitar hygrometer. As much as possible, it should be extra sensitive to the humidity levels surrounding your guitar to deliver accurate readings.
When the readings are not accurate, you run the risk of maintaining humidity inside a guitar case or guitar room that's beyond the recommended range. As a result, that will cause the guitar's material to deteriorate faster than it should. That means the purpose of buying the guitar humidity meter will be defeated.
Attachment Options
The best hygrometer for musical instruments often features attachment mechanisms. This feature allows it to be mounted on various parts of the instrument to accurately measure relative humidity levels. this is often the case for guitars, where you can mount the hygrometer on the soundhole or the neck.
But in most cases, users are satisfied with placing the device near the guitar. In this case, you won't need an attachment mechanism, since it can easily fit inside the compartment on your guitar case. The choice depends on which will be the most convenient for you.
Readability
It's also important to consider the readability of the hygrometer, so you can easily tell the status of the air surrounding the guitar.
Fortunately, most modern hygrometers now come with a digital display that allows us to read everything. We don't have to rely on a shifty dial just to get a good reading on the relative humidity.
Battery Life
If you're using a digital hygrometer for a guitar, it's best to check its battery life as well.
When a device has a decent battery life, you don't have to keep recharging or replacing the battery often. That will save you a lot of time and effort – not to mention, you will be able to continuously monitor the air's humidity. Also, the worst thing that could happen is to have the battery die out when you need it most.
It also helps if the battery is fast charging. This way, your guitar won't be left unmonitored for long.
Extra Features
Some hygrometers come with a thermometer, while others come with a convenient clock feature. In some cases, you can purchase a hygrometer and humidifier combo, so you can truly maintain the correct humidity level for your guitar.
Of course, these added features also come with an extra cost. If you're planning to use a device other than a hygrometer, then there's no harm in investing in them. But if you're only using it for checking humidity levels, the practical route is to stick with a simple hygrometer.
Review of Top Hygrometers for Guitar Enthusiasts
1. Oasis OH-2 Digital Hygrometer
Oasis OH-2 Digital Hygrometer w/clip
Guaranteed for 5 full years
Super-slim profile design with secure Velcro mount fits anywhere
Advanced humidity sensor maintains exceptional accuracy for years
Records high/low temperatures
Specifications:
Humidity Range: 20-90% RH
Temperature: 0° to 50°C or 32° to 122°F
Reading Interval: 10 Seconds
Battery Life: 1 Year
The Oasis OH-2 Digital Hygrometer is one of the best affordable options for monitoring humidity levels around your guitar. Its slim profile slides easily into a case, while Velcro straps allow secure mounting. The unit also displays temperatures in Celsius and Fahrenheit.
I appreciate the OH-2's easy-to-read display and accurate humidity readings. For the price, it's a reliable hygrometer that provides valuable feedback without breaking the bank. Oasis also backs it with a 5-year guarantee.
If calibration is important to you, consider the OH-2C or OH-2+ models. The OH-2C adds a calibration feature, while the OH-2+ has an advanced humidity sensor and extended 10% RH measurement capability. However, the original OH-2 will suit most users' needs just fine.
The Oasis OH-2 Digital Hygrometer succeeds as an affordable, easy-to-use humidity monitor. While the advanced OH-2+ may be better for some, the original model provides excellent functionality for most guitarists needing reliable humidity readings.
In my experience, the main downsides are potential issues with long-term Velcro mounting and lack of calibration on the basic OH-2 model. For monitoring your guitar's environment on a budget, the OH-2 is a great choice.
---
2. SensorPush Wireless Thermometer/Hygrometer for iPhone/Android
Specifications:
Humidity Range: 0-100% RH
Temperature: -40° to 60°C or -40° to 140°F
Reading Interval: 60 Seconds
Battery Life: Over 1 Year
The SensorPush Wireless Hygrometer lives up to its premium reputation as one of the most advanced guitar hygrometers available. Its Bluetooth connectivity sends real-time temperature and humidity data directly to your smartphone from up to 325 feet or almost 100 meters away.
At the core is an incredibly accurate Swiss sensor that delivers precision readings every time. Despite the compact size, it packs impressive technology into a durable, water-resistant housing.
I appreciate how simple it is to monitor conditions remotely via the mobile app. You can also monitor data and get alerts over the internet by using a compatible WiFi device, which is sold separately.
With customizable alerts, you can stay on top of any fluctuations the moment they occur, even when away from your guitar.
Battery life is also stellar, so you aren't constantly recharging. For tech-savvy guitarists seeking top-tier performance, the seamless smartphone integration and highly sensitive sensor make the SensorPush Wireless an unbeatable hygrometer.
The main drawback is the lack of an integrated display, as you must rely on a connected mobile device. However, for those wanting real-time remote monitoring and access to in-depth data, this all-in-one solution delivers.
Overall, the SensorPush Wireless Hygrometer is the ultimate high-tech humidity monitoring system for guitarists who want precision tracking and complete mobile control. The hefty price tag is justified by its unmatched accuracy and connectivity.
---
3. MusicNomad Premium Humidity Care System
Specifications:
Humidity Range: 20-99% RH
Temperature: 0° to 50°C or 32° to 122°F
Reading Interval: 20 Seconds
Battery Life: Over 1 Year
The MusicNomad Premium Humidity Care System takes the guesswork out of monitoring and controlling humidity for your guitar. This handy combo includes separate hygrometer and humidifier units for versatile mounting.
The innovative hygrometer clips to your strings and clearly displays all essential temperature and humidity data. I've found readings to be highly accurate and reliable.
The matching humidifier attaches securely inside the soundhole and uses an anti-drip sponge to release moisture gradually. This prevents messes while keeping your guitar's environment at optimal humidity.
Since both pieces mount securely, you can position the hygrometer on the exterior and the humidifier inside to suit your needs. The ability to customize placement is a major plus.
My main gripe is that some plastic components feel a bit flimsy. However, the performance is sound, and the system simplifies humidity maintenance.
Overall, the MusicNomad Premium Humidity Care System is an excellent all-in-one solution for guitarists seeking robust humidity management.
Keeping your instrument's environment optimized is hassle-free with this durable and thoughtfully designed humidifier/hygrometer combo. For convenience and accuracy, it's hard to beat.
---
4. MusicNomad HumiReader (MN 305)
MusicNomad HumiReader Hygrometer (MN305)
Measures humidity and temperature every 20 seconds
Innovative 3-in-1 design for sound hole, Case, or room
Hang from strings to monitor sound hole or use case holster
Reads Fahrenheit or Celsius
Specifications:
Humidity Range: 1-99% RH
Temperature: 0° to 50°C or 32° to 122°F
Reading Interval: 20 Seconds
Battery Life: 1 Year
The MusicNomad HumiReader Hygrometer stands out for its versatility and fast, frequent readings. It updates humidity levels every 20 seconds, providing real-time insight into your guitar's environment.
I appreciate the three mounting options – on the soundhole, case exterior, or as a standalone unit. The durable attachment mechanism keeps the hygrometer securely in place, regardless of positioning.
Adding to the functionality is a built-in thermometer displaying temperature in Celsius and Fahrenheit. You can also view minimum and maximum readings to understand humidity fluctuations over time.
While some users report accuracy issues, I've found the HumiReader's performance to be reliable. For the price, it's hard to beat the combination of fast response, versatile mounting, and temperature tracking in a compact package.
The ability to position the HumiReader in multiple configurations is invaluable. It provides flexibility to meet your specific monitoring needs. Durable construction also ensures this humble hygrometer will provide humidity insight for years to come.
For these reasons, I believe the MusicNomad HumiReader is the premier hygrometer for guitar cases. The adaptable design and rapid sensor make dialing in your guitar's ideal humidity effortless.
---
5. Inkbird ITH-10 Humidity Monitor
Sale
Specifications:
Humidity Range: 30-90% RH
Temperature: -5° to 50°C or 23° to 140°F
Reading Interval: 20 Seconds
Battery Life: 6 months
The Inkbird ITH-10 hygrometer delivers accurate humidity and temperature tracking at a budget-friendly price point. It monitors relative humidity from 30% to 90%, providing a sufficient range for most guitars.
Despite the low cost, readings are reliably precise. The minimalist display clearly shows humidity and temperature in Celsius and Fahrenheit without any complicated controls. This simplicity makes operation a breeze.
While humidity response feels slightly sluggish, it's adequate for monitoring gradual environmental changes. The slim profile also lets the ITH-10 fit conveniently into tight guitar case spaces.
For the price, the ITH-10 impresses me with its combination of accuracy, straightforward interface, compact size, and versatility. You'd expect far less functionality from such an affordable hygrometer.
If you want a no-frills humidity monitor without breaking the bank, the Inkbird ITH-10 hits the mark. It provides the core functionality most guitarists need, including easy-to-read measurements and compact portability.
Reliable performance at a bargain price makes this a hygrometer with outstanding value.
---
Are hygrometers accurate?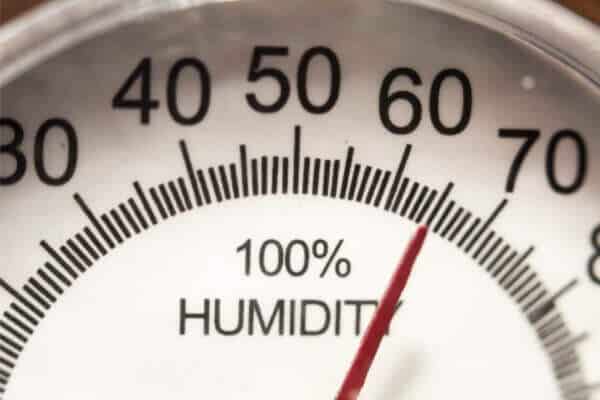 One of the biggest questions that we usually get pertains to the accuracy of hygrometers.
Generally, hygrometers are quite accurate. A margin of error of 3% is already quite decent, and anything beyond that should be bought with caution. This is to make sure that your guitar will be safely stored in a place with the recommended humidity level.
Nevertheless, some experts believe that digital hygrometers offer better accuracy than their analog counterparts. This is due to the more advanced hardware used in these digital devices.
But we have come across analog hygrometers that deliver fairly accurate readings. The only downside is that these devices need frequent hardware calibration to maintain accuracy.
So overall, yes, hygrometers are quite accurate. As a tip, make sure to look into the unit's margin of error before you buy it to ensure the best performance.
How to test hygrometer accuracy?
If you still have doubts as to the accuracy of your device, there is an easy way to test it out. All you need is a lockable food storage bag, a bottle cap, some salt, and a little bit of water.
To start the test, simply fill the bottle cap with salt and add a little bit of water. It should only create a slurry-like substance with the salt not fully dissolved.
With the salt slurry ready, place it inside the food-storage plastic bag with the hygrometer and seal it together. Leave this for six hours.
Once the 6-hour limit is up, it's time to check the reading on the hygrometer. If the reading is at 75%, then you know it's calibrated to accuracy.
Another test is to wrap the hygrometer with a damp towel and leave it for around 30 minutes. Once the time's up, quickly unwrap the towel and read what's displayed on the hydrometer.
You should do this fast because the humidity levels will quickly drop once the towel is removed. If the hygrometer reads between 98 to 100%, then your device is pretty accurate.
As a tip, we suggest performing any of these tips at least once every six months to make sure that your hygrometer remains accurately calibrated.
Frequently Asked Questions
What is the best humidity level for guitars?
The humidity levels for a guitar should not drop below 40% but should not exceed 55%. When it goes lower than this range, the wood tends to become brittle and prone to cracking. On the other hand, too much humidity can soften the wood – and similarly lead to damage.
Are digital or analog hygrometers better?
It depends on your preferences. Digital hygrometers are generally more accurate and easier to read, thanks to their modern hardware and technology. They also offer multiple features such as temperature readings and a clock. However, these digital devices can come with a steep price.
On the other hand, analog hygrometers are affordable and less complicated to use. However, they are high maintenance and would require frequent recalibration to ensure accuracy.
Where does the hygrometer go in a guitar case?
It is recommended to put the hygrometer inside the guitar case compartment or in the headstock for accurate readings.
Are hygrometers only for acoustic guitars?
No, hygrometers are not only useful for acoustic guitar but also beneficial for electric guitar. Most of us only think of acoustic guitars when addressing humidity issues, but particular electric guitars are also prone to damage from high and low temperatures.
So humidity check and humidity control are also needed for some electric guitars depending on the wood quality.
How long does it take for a hygrometer to get an accurate reading?
Hygrometers usually take around two hours to stabilize their readings. These devices have to consider several factors in the air, so this time frame is enough to deliver accurate readings.
Related Articles: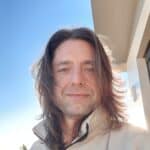 Fabian, a Brazilian guitarist now based in Dublin, Ireland, has passionately played the electric guitar since 2003. As a luthier and product specialist, he boasts nearly two decades of collaboration with top musical instrument brands. Fabian is a sought-after expert, sharing his extensive knowledge with fellow guitar enthusiasts.