As an Amazon Associate, We earn from qualifying purchases.
Learn More
Discover the perfect harmony of guitar playing on the go with the Washburn Rover, an exceptional addition to the world of travel guitar offerings. The Washburn Rover line has redefined the concept of portable guitars with its small body and reasonable sound, making it the ultimate companion for musical adventurers.
Whether you're a wandering troubadour, a globetrotting enthusiast, or simply seeking an instrument to accompany you wherever your journey takes you, the Washburn Rover is designed to cater to your every musical whim.
I am going to introduce you to the budget-friendly Rover RO10SK travel guitar. For the sake of simplicity, I'll call this instrument Rover or RO10 in our review. Now, keep reading to find out how well RO10 works as a travel guitar at its price point.
Washburn Rover Travel Guitar Review
In this Washburn Rover review, explore its build, sound, feel, and budget-friendly pricing for an informed decision.
Build Quality
The construction of the Rover guitar is fairly nice, considering the price. In fact, for the money, it was quite a surprise for us to see a solid spruce top. Typically, guitars in this price range are all laminated wood, so the solid top is definitely a plus for the Rover.
The back and sides are made of select mahogany, but they're not solid, unlike the top.
The solid spruce top may also mature and start to sound better as you play the Rover guitar. This is one of the best traits of solid wood since it can actually start bringing more value for the money down the line.
Also, the Quartersawn X-scalloped Sitka spruce bracing is a game-changer. It not only enhances the sound and projection stability but also delivers beautifully balanced tones.
As for the body, the matte finish gives it a sleek look and a smooth feel. Plus, the guitar comes in four stunning colors – natural, black, blue, and red – so you can choose the one that suits your style.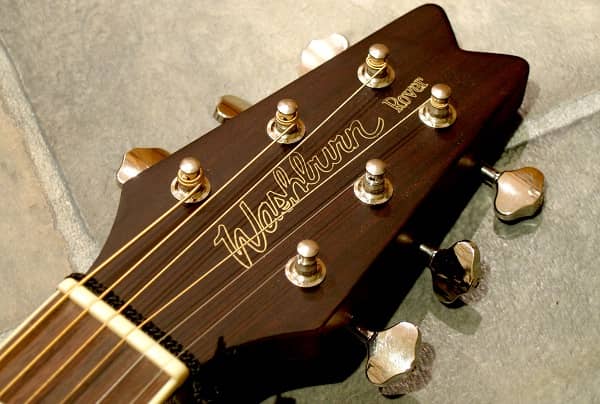 Now, let's dive into the neck. The guitar design features a slim body with a dreadnought style chunky round neck and there's no heel at all, thanks to that unique tape at the back. A bit odd, but it works!
The satin-finished mahogany neck is attached to the tiny body at the 15th fret. Its engineered wood fretboard boasts 17 full frets, with two more on the treble side, ensuring easy access across the fretboard.
The scale length is 23.75 inches (60.33 cm) which is shorter than a standard acoustic guitar, but still long enough to provide good intonation and tension. The neck also has offset dot inlays for easy navigation.
The nut width is 1.6875 inches (43mm) which is comfortable for most hand sizes. The neck also has chrome diecast tuners that provide smooth and accurate tuning.
One thing to note is that it might feel a bit neck-heavy, but using a strap and attaching it to the headstock solves that issue. It takes a few minutes to get used to for an experienced player, but for some beginners, it may take a longer time and can turn out to be a major issue.
Sound Quality
In terms of tones, you are going to get the warm and punchy sound of mahogany combined with the clear notes of spruce. Nothing spectacular here, though the sound of this guitar is pretty nice for the buck.
With that said, the compact form factor of this guitar affects not only the dimensions – it also affects the sound. High-end travel guitars have a sound that is no worse than in full-size guitars, but this doesn't apply to cheaper guitars like Washburn RO10. But hey, that doesn't mean it lacks character.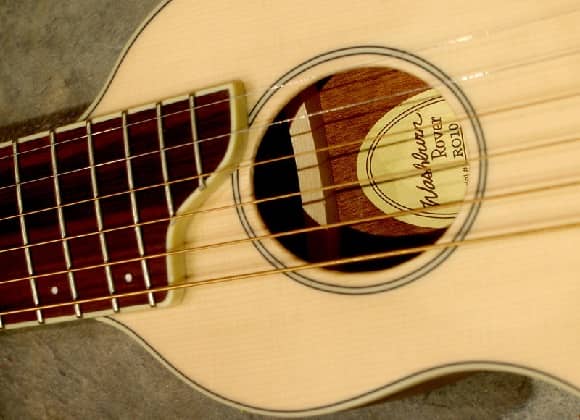 It's more in line with what you'd typically find in parlor and travel guitars. The Rover still delivers a clear, twangy, and overall fun sound.
Still, it's essential to set your expectations right – don't expect the full, rich tones of a performance guitar. This little gem is more suited for intimate settings like campfires, campus areas, hotel rooms, or even airports, where it shines bright.
If you want good sound at this price point, then you should just purchase a full-size guitar.
When I got my hands on this guitar, the action was a bit high, but I soon learned that it's intentional to boost the volume. If you're mainly playing chords from the first couple of frets, it's perfect. However, if you want to explore more frets, you might need to adjust the action.
All in all, the Washburn Rover may not be the star of the stage, but it certainly has its unique charm and versatility for those on-the-go musical moments.
Compact Size
The highlight and main reason to buy the Washburn RO10 guitar is its size. This guitar is very narrow, which makes it space-saving and convenient for travel. But despite the narrowness, this guitar has a full 23.75-inch scale length – pretty standard for acoustic guitars.
Now, needless to say, you are going to sacrifice some sound quality and range to get such a compact musical instrument. However, if you truly need a travel-friendly guitar, then you'll have to live with the sound.
Unless you are willing to spend a lot of money on a high-end travel guitar, you will need to sacrifice tone quality. That's the trade-off of the compact body – there are going to be consequences if you remove material from a guitar and make it smaller.
Pricing
Finally, another good reason to buy the Washburn Rover travel guitar is its wallet-friendly pricing.
This is a budget guitar, so it's suitable for those who don't have the money or just don't need a spectacular sound. Though the pricing can vary depending on factors like the seller, product condition and availability.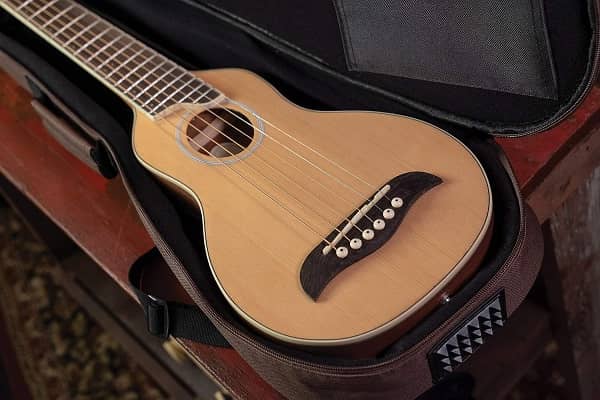 From my research, the average price range for a brand-new Washburn RO-10 falls between $249 and $300. Keep in mind that the higher-priced options may include a deluxe gigbag, adding extra value to the package.
If you're on a tighter budget, keep an eye out for used or discontinued models, which might come with a lower price tag, depending on their quality and rarity.
Pros & Cons
As a recap, here are the pros and cons of the Rover steel-string travel acoustic guitar.
Pros:
Affordable price tag
Compact travel-friendly sizing
Solid top – will sound better as you play more
Boasts the warm tones of mahogany and the clarity of spruce
Cons:
The compact form factor will limit the tonal range of the guitar
A little top heavy
No electronics
Washburn RO10 Review: Key Specs
Model: Washburn Rover 10SK
Style: 6-string Acoustic Travel Guitar
Body Shape: Miniature dreadnought
Top Wood : Solid spruce
Back and Sides: Mahogany
Neck Material: Mahogany
Fretboard & Bridge: Engineered Wood
Strings: D'Addario EXP16
Electronics: None (no built-in pickup)
Overall Length: 35.25 inches (89.54 cm)
Weight: Approximately 2.8 pounds (1.27 kg)
Washburn Rover Review: Video Demo
Alternatives Of Washburn Backpacker Guitar
When exploring alternative options to the Washburn Rover, the music industry offers a selection of great sounding and portable travel instruments that cater to the needs of musicians on the go. Two viable alternatives in the same price range are the Martin Backpacker and the Enya NOVA Go.
Martin Backpacker Travel Guitar
Renowned for their craftsmanship and high-quality instruments, Martin delivers the Backpacker Travel Guitar as a solid contender. This compact acoustic is designed for portability and features a unique shape that easily fits into backpacks.
Despite its size, the Backpacker boasts a surprisingly rich tone, thanks to its solid spruce top. Its slender body enhances resonance, making it a great choice for musicians seeking a balanced and clear sound while traveling.
Enya NOVA Go Carbon Fiber Travel Guitar
Enya NOVA Go SP1 Carbon Fiber Acoustic Electric Guitar with Smart AcousticPlus 35 Inch Travel Acustica Guitarra Starter...
♫ WHY CARBON FIBER - Nova Go SP1 is made of carbon fiber composite material, which means it's impervious to temperature and...
♫ WHERE THINGS GET INTERESTING - The absolute differentiator of this guitar is that it's equipped with the SP1 pickup system....
♫ A PRODUCTIVITY WORKHORSE - SP1 pickup system not only allows you to have tons of fun unplugged. But if you plug it into an amp...
♫ SOLID BUILD & EASY TO PLAY - The body of this Nova Go SP1 carbon fiber acoustic-electric Guitarra is 1/2 sized (35 in.),...
For those seeking innovation in travel guitars, the Enya NOVA Go stands out as an excellent option. Crafted from carbon fiber, this guitar offers exceptional durability and is impervious to weather changes, ensuring reliable performance in any climate.
Its ergonomic design provides a great feeling while playing, and the combination of carbon fiber and a round edged body contributes to enhanced projection and tone. The Enya NOVA Go's small body with modern aesthetics and affordability make it an attractive choice for musicians looking for similar items to the Rover RO-10.
Frequently Asked Questions
Is Washburn a good guitar brand?
Washburn appears to be a solid guitar brand to buy from, especially if you are a beginning or amateur player. The brand offers plenty of pocket-friendly guitar options, and its models have universally good feedback online.
Where are Washburn guitars made?
Washburn guitars appear to be primarily manufactured in China. Before 2017, Washburn had its instruments manufactured primarily in Korea – now, it seems that most of its guitars are made in China. This isn't an issue in terms of quality, but buyers who prefer to buy American-made products may find this problematic.
Final Words
In conclusion, the Washburn Rover is a solid guitar, perfect for convenient transport during your travels. It offers fair enough sound quality, making it ideal for playing finger style or flat picking on the go.
However, if you prioritize fuller tones and space isn't an issue, opting for a full-size guitar might be the better choice.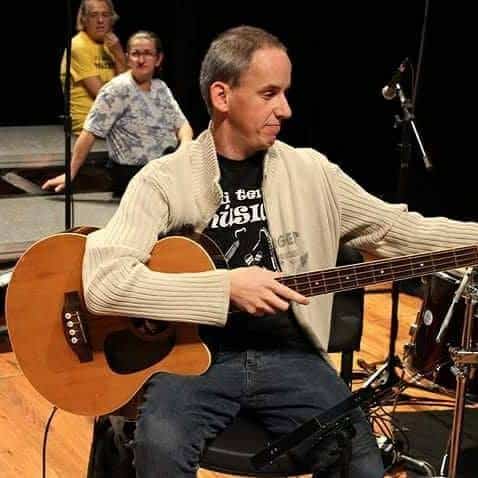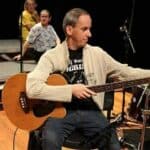 Gustavo is a music teacher and classical guitar player from Brazil, currently residing in Dublin, Ireland. He holds a graduate degree in Classical Guitar Performance from the Federal University of Pelotas. In 2020, Gustavo successfully completed a Master's degree in Sound Engineering from the Academy of Sound in Ireland.