To say there are a lot of online guitar lesson platforms out there would be a gross understatement. As a guitarist and reviewer, I've tried many, if not most of them. To be honest, I doubted Pickup Music would impress me much–how could it, being but one of a vast sea of platforms, most of which contain more content than any guitarist could possibly digest in one lifetime?
I took advantage of Pickup Music's free trial, fully expecting that would be the extent of my dealings with the platform; as I write this, I expect I'll likely continue on as a paid member. I recognized quickly that Pickup Music has something special going on.
It's hard to say what, exactly, it is–it could be the attractive personalities of the instructors, or the brilliant arrangement and accessibility of their top-quality content, or something else entirely. Whatever the case, Pickup Music is a rising star in the industry, and justifiably so.
Pickup Music Review: An Overview
Key Features
The majority of lesson content on Pickup Music is broken into four easily identifiable and accessible formats: structured learning pathways, master classes, five-minute lessons, and essential licks.
Pickup Music also features Jam Tracks and what they call the "Song Squads." The jam tracks, which allow users to play along with pre-recorded progressions, are available in a variety of styles including Blues, Jazz, and Neo-Soul.
Pickup Music also offers a modest library of drum tracks you can practice along to or use to write your own progressions, and a number of tracks focused on scales and music theory.
Song Squads, a feature unique to Pickup Music, are songs written and recorded by Pickup instructors. Available in a variety of genres and styles, every Song Squad features an accompanying video lesson and corresponding guitar tablature. Users can record their own covers of Song Squads and submit them for a chance to have their performance featured on the site.
Genres/Styles Taught
Pickup Music offers lessons in a comprehensive range of styles, including blues, neo-soul, R&B, country, fingerstyle, classical, funk, fusion, progressive, gospel, and modern jazz guitar. Subjects like music theory, the CAGED system, soloing, and technique are also explored in depth.
Instructors
One of the things that help set Pickup Music apart is the quality and personalities of their instructors. A user's first experience with the site, once signed on, is a video welcome message from owner/instructor Sam Blakelock. Having earned a master's in jazz performance and subsequently performed around the world, Sam remains an affable, down-to-earth person and a more-than-effective instructor.
Sam is more than a skilled musician and accessible teacher, though. Understanding a guitar-lessons site will only ever be as good as its instructors, Sam has staffed his platform accordingly, hiring only the most skilled, knowledgeable, and charismatic guitarists to create content for Pickup Music.
Having recently joined, I can only relate my personal experience with a few of Pickup Music's instructors. Seth Rosenbloom, for example, teaches the blues learning pathway, which I've been working through and enjoying. Like Sam, Rosenbloom is likable, and he knows his stuff. A well-regarded guitarist in the modern blues scene, Seth has played alongside legendary musicians yet remains humble in his delivery.
Few guitarists can lay claim to having their work praised by the likes of Quincy Jones and John Mayer, but Melanie Faye can. One of Pickup's R&B gurus, Melanie teaches, among other courses, "R&B Techniques in Seven Days," a master's class I'm very much enjoying.
Sophie Guiliani teaches Pickup Music's master class "Melodic Caged Soloing," among others. A graduate of the Musician's Institute College of Contemporary Music, Sophie has earned endorsement deals with major guitar companies and has performed with pop acts such as Olivia Holt.
Community Corner
Pickup Music is more than an online guitar lesson resource; it's an online community of guitarists looking to further their skills. Visit the Community Corner for Pickup's Office Hours, Community Video Archive, and Community News.
Every Monday morning at ten Los Angeles time, Pickup music offers live guitar lessons via Zoom. Cleverly branded as "Office Hours," this provides students with many of the benefits of private lessons via a digital format.
If you miss Office Hours, don't panic. Recordings of live lessons are available to watch through Pickup's Community Video Archive, along with a host of other valuable content.
Pricing
As mentioned above, Pickup Music offers a fourteen-day free trial; after that, the subscription costs $14.99 monthly, or $149.99 annually (a savings of thirty dollars yearly.)

Pickup Music doesn't issue refunds on payments that have been processed, but subscribers can cancel at any time and continue to enjoy the service until their next scheduled payment date. Pickup Music may, however, consider certain refund requests on a case-by-case basis and at their own discretion.
How Does Pickup Music Work?
First Impression
The first thing that impressed me about Pickup Music was the layout of the site itself. Many online-based guitar lessons sites clutter their homepages in an attempt to display the breadth and depth of their content libraries, Pickup Music's homepage is designed not to overwhelm; it directs the user rather than dropping them headlong into an ocean of content.
Further streamlining the user experience, Pickup Music allows users to pin content to a digital dashboard. This is one of my favorite features of Pickup Music, as it allows for a more personalized – not to mention convenient – experience; it's like having your own Pickup Music homepage.
Learning Pathways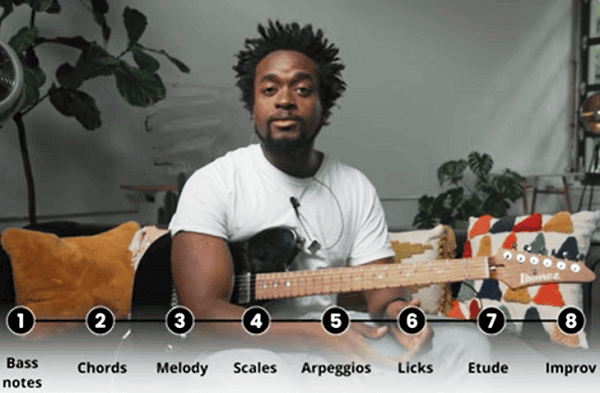 As mentioned above, the majority of Pickup Music's content is arranged into learning pathways, master classes, five-minute lessons and "essential licks." Learning pathways are deep dives into a genre, style, or subject. These courses are weeks long and punctuated frequently by summaries and review modules.
A very cool feature of Pickup Music's learning pathways is you can record yourself playing the review lessons and get personalized feedback from an experienced instructor on your performances.
Five Minute Lessons
For those of us short on available time, five-minute lessons provide a bounty of guitar knowledge offered in bite-sized morsels.

A small sampling of the most popular five-minute lesson titles includes Picking Technique, How to Solo with Modes, Introduction to Secondary Dominants, Technique Tips for Speed, CAGED Quick-Start, and Ten Tips for the Gigging Guitarist.
Master Classes
More advanced players will likely be drawn to Pickup Music's master classes. Covering a wide range of genres and styles, Pickup's master classes offer members an opportunity to sure up their fundamentals while exploring the finer points of their preferred discipline.
As mentioned above, I started Melanie Faye's master class, "R&B Techniques in Seven Days." I've also taken a number of the lessons included in Sophie Guiliani's "Melodic CAGED Soloing" master class.
The latter is a ten-day program and, as its name implies, the former is a seven-day study. Both classes are accessible, packed with useful content, and – perhaps most importantly – thoroughly enjoyable.
Essential Licks
Pickup Music's "Essential Licks" are a series of video tutorials explaining how to play useful and engaging guitar licks in a wide variety of styles and genres.
A sampling of the most popular titles includes "Ten John Mayer Blues Licks," taught by Seth Rosenbloom, "Ten Extended Fusion Licks," with instructor Kaspar Jalily, and "Ten Colorful Jazz Licks," taught by Horace Bray.
Each Essential Lick includes a series of video tutorials and corresponding tablature, which makes learning great-sounding licks a breeze.
Who Is Pickup Music For?
As someone with absolutely no connection to or financial stake in the service, I can honestly say that if you play guitar, Pickup Music is for you.
Beginner guitar players, intermediate guitarists, and even seasoned players will find more than simply a wealth of valuable content; Pickup Music provides a unique and personalized learning experience for players of all genres and skill levels.
Reasons To Buy/Not To Buy
Reasons To Buy A Subscription:
User-friendly and easy to navigate
Multiple learning options suitable for players with little free time
Knowledgeable and likable instructors
Lessons are engaging and easy to follow
Direct feedback on your guitar playing from experienced guitarists
Reasons Not To Buy A Subscription:
Little, if any, rock or heavy metal content [although the platform is currently developing a Rock Learning Pathway which should address this issue in the future.]
How Does Pickup Music Stack Up Against Competing Platforms?
There are some excellent online guitar lesson platforms out there, many of which I've tried and enjoyed. Pickup Music, thanks not only to the quality of its content but its organization and accessibility, can stand toe-to-toe with any of the big names out there.
Pickup music may not have as large a content library as some of its competitors, and they've yet to attract guest instructors as popular as those featured by some other, as yet larger sites; still, as I stated earlier, Pickup Music has something special that simply can't be overlooked.
Check out this welcome video by the founder, Sam :
Frequently Asked Questions
Who Owns Pickup Music?
Pickup Music is owned by Sam Blakelock, a professional jazz guitarist from New Zealand now based in Los Angeles. Sam co-founded the company together with Cam Nolan, with the aim of building a stronger community for musicians, creators, and music lovers.
The community originally started as an Instagram page and has since expanded to more than 850K followers through three pages (@PickupMusic, @pickupjazz, and @PickupBeats).
Is Pickup Music Worth It?
Whether Pickup Music is worth it or not is subjective and depends on your individual needs and goals as a guitarist. However, with over 40,000 guitarists using the platform and a 4.8-star rating on Trust Pilot, it can be concluded that many guitarists have found value in using Pickup Music.
In addition, the platform provides personalized feedback and guidance from professional guitar instructors, as well as step-by-step learning programs in different styles of guitar through the Learning Pathways feature. If you're interested in seeing if Pickup Music is right for you, they offer a 14-day free trial.
Final Verdict
If you're learning guitar or looking to sharpen your musical skills, you owe it to yourself to sign up for Pickup Music's free fourteen-day trial. Truly a standout among the myriad online guitar lessons platforms out there, Pickup Music is a personalized and thoroughly engaging online learning experience.