Hey there! As an Amazon Associate, We earn from qualifying purchases. We greatly appreciate your support!
Learn More
Looking for the best acoustic-electric guitar to engage in music art or looking for something better than your old instrument? Then you are in the right place.
Today, we will review the newer version of Ovation AB24-5 which is named Ovation Applause 6 String Acoustic Electric Guitar, which will maybe give an end to your searches. Let's dig into the Ovation Applause Balladeer review without further ado!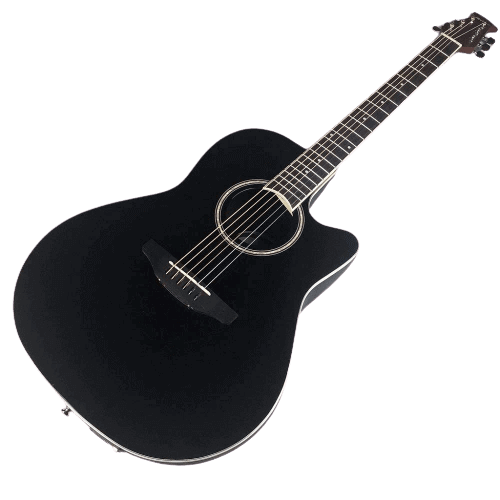 Features of Ovation AB24II-5 Cutaway Guitar
Materials and Body
The guitar is comprised of a layered instead of a solid spruce top with a gloss black finish and round-back Lyrachord (R) body, ensuring durability and a balanced tone. The layered top with scalloped X-bracing is very thin but strong, making the guitar quite lightweight for its sturdiness.
The round-back Lyrachord body attaches greater volume, deep bass, and projection to the guitar, contributing to its excellent balance and durability. The materials not only make the guitar an instrument with quality sound but also attach pleasantness to the eye and touch.
The AB24II-5 model features a mid-depth cutaway for a unique appearance. The soft 'V' shape mahogany neck with satin finish and ovangkol fingerboard greatly add to the premium quality and provide comfort due to the guitar's body shape.
Finally, this new line Ovation Applause Balladeer Standard is pre-strung with a beautiful set of Adamas 1818E steel strings.
Comfort
Besides making the image of the instrument remarkable, the mid-depth cutaway design has its own benefits for the comfort of the guitar. It makes access to the end portion of the fret much easier for the player. So if you frequently stay in the zone closer to the body, cutaway acoustic-electric guitars are a great choice for you.
Despite the strength of the wood, the guitar isn't even remotely heavy. The excellent weight-to-strength ratio makes spruce tops both durable and lightweight for increased comfort. Obviously, less weight means that you will get less tired during your plays!
A correctly regulated neck won't let you worry about any readjustment. These guitar strings won't unnecessarily touch the frets causing buzzing and other undesirable sounds, which will keep the level of your performance high! Moreover, the easy-playing neck profile will prevent premature fatigue and help you deliver more masterpieces to your audience!
Sound
This guitar features an excellently balanced sound. Although the mid-depth cutaway somewhat weakens the bass of the sound, it sounds more balanced than full-body acoustic guitars. Worried about buzzing? Think about it no longer as the balanced neck won't allow any unwanted sounds to disturb the sound of the guitar.
Besides aesthetic touch, sturdiness, and lightweight, the layered top actually develops the very base of the outstanding sound of the guitar. Generally, spruce-top acoustic guitars sound more resonant and won't get overloaded during live plays.

Moreover, they mature with time and deliver better quality sound. Add to that the balancing feel of the cutaway, and you get a marvelously acoustic-balanced sounding.
Equipment
Are you a beginner and don't know what amplifier and tuner to choose for your first acoustic-electric guitar? Worry no more as the built-in preamp and tuner eliminate the necessity to acquire dedicated equipment from the get-go.
As one of the cheapest electro-acoustic guitars, Ovation offers basic electronics i.e, slimline piezo pickup and CE304T preamp with bass, mid, and treble control. Also, there have some fancy features included in this budget guitar like an onboard tuner with LCD, low battery indicator, etc.
Until you get well-acquainted with acoustic-electric and its equipment and find the right preamplifier and tuner, you can use the built-in ones to develop the very base of your knowledge about them, making it a temporary choice for beginners.
Variation of Applause Balladeer AB24 Model
Applause Balladeer 6 String Acoustic-Electric Guitar comes in two different styles- Standard and Standard Exotic. The Standard series offers all the same material and features in 4 different colors. The AB24II-5 in a black finish, the AB24II-HB in the honey burst, the AB24II-RR in ruby red, and the AB24II-4 in a natural finish.
On the other hand, you can get the Standard Exotic AB 24IIP-Koa version with a layered koa top in a natural finish or the Standard Exotic AB 24IIP-VF with a layered flamed maple top in the vintage flame for extra 60 bucks. Mentionable that both these exotic models have 23-fret, whereas standard model guitars have 20-fret.
Besides all these steel-string guitars, the Applause Balladeer series has included nylon-string guitars for classical, jazz, Latin, flamenco, and folk-style music. Applause Balladeer Standard Nylon Series offer AB24CII-CED mid-depth classical guitar with a layered cedar top and AB24CII-SPR with layered spruce top woods.
Pros And Cons
Pros:
The mid-depth cutaway makes the sound of the guitar more balanced and refined by reducing the guitar's bass.
Besides, the cutaway makes it easier for you to access the last frets of the fingerboard.
Built-in preamp with tuner allows you to postpone the purchase of separate gear.
A variety of finishes is available that suits every guitar player's taste.
Cons:
While the onboard amplifier and tuner will probably satisfy beginning guitar players, more experienced individuals will surely notice that the sound differs significantly from the full-sized analogs.
The reduction of basses by the cut-out might make the sound too bright.
It's a deep bowl guitar so the shape and size of this guitar could be quite big for some people.
Ovation has not included any extra accessories like a gig bag or case with the guitar.
Ovation Applause Guitar Review: Video
FAQ: Ovation Applause Balladeer Review
Should I get a full-sized amplifier and tuner for this guitar?
While the onboard equipment of the Ovation AB24II-5 might be sufficient for most people, more experienced players surely won't be satisfied with its sounding characteristics. If the sound quality of the preamp is a priority for you, you should definitely get a separate guitar amp and tuner.
Keep in mind that every piece of equipment sounds different, so you should try a couple of amplifiers before making your final choice. If you do not need much from the equipment, you don't need to get additional gear for the guitar.
Will the cut-out design affect the sound in a negative way?
As sound is greatly subjective, we cannot surely say whether you will consider the reduced bass of the guitar better or worse. If you are going to pick this guitar or any other one, try playing on them to understand which aspects of their sounding you like and which ones you can't stand.
Besides, the amplifier of the guitar will somewhat counteract that loss in the bass, so if you like a specific guitar for its appearance or any other characteristic but the lack of acoustic bass is the only thing bothering you, try to play with its onboard or full-sized amplifier to see if it changes the sounding to something you like more.
Alternatives of Applause Balladeer
Conclusion
As the Ovation Applause Balladeer review has shown that some great features make it a balanced, comfortable, and well-sounding musical instrument. This is one of the best guitars for beginners at an affordable price tag. Also, advanced players can use this instrument as their backup guitar or practice guitar.
Of course, it has its own downsides, but they can be easily neutralized with some minor adjustments. Besides, you may find out that the more balanced sound of the guitar suits your musical taste more. If the built-in amplifier doesn't satisfy your style, you can always find matching equipment to make your performance more complete for you and your audience.
We hope that our today's Ovation Applause review has shed some light and will make your search easier. We wish you have a nice buy!