It's a common rookie mistake to replace strings only when they start to fall apart. But to make sure that our guitar always sounds great is to replace the strings once every three to six months, depending on how often you use it. If you don't, you'll notice a change in its intonation and overall quality.
To make the most of your strings, we recommend using Martin Guitar Retro Strings. But if you're unsure whether you should get it or not, here is our Martin Retro Strings review for your reference.
Martin Retro Guitar Strings Review
Quality
The very first thing you have to consider in every Martin Retro Monel Strings review is its quality. After all, no one wants to spend money on guitar strings that won't even last for a couple of days – especially if you're a forceful player.
Fortunately, Martin Retro Strings are known for being one of the toughest in the market. It uses a nickel and copper alloy blend that allows it to fight against the toughest pick attacks without easily wearing out.
These materials are known for their durability, so you know that they won't be easily susceptible to breakage. Also, these martin strings are wrapped with Monel coating, which is known for being naturally corrosion resistant.
As a result, that makes it less likely to be brittle, even when exposed to high humidity levels. That also means that it will look great for a long time.
Performance
Aside from its quality, Martin guitars and strings are known for their impressive performance and Retro strings are no exception.
The combination of nickel and copper allows it to reduce vibration to ensure tonal quality with every strum. Even if you aggressively attack it with a pick, it will still deliver that clear and warm guitar sound that's truly enviable.
Martin Retros also performs better and smoother than most bronze or phosphor bronze strings to unveil your guitar's true voice. Thanks to Martin's special Monel wrap wire.
These Monel strings also deliver a warm vintage tone, making them the perfect string replacement for most acoustic guitars.
Whether you're planning to play as is or plugged in, you can count on these strings to deliver your guitar's full potential. And that's quite impressive.
String Gauge Options
Another reason why we love the Martin Retro Strings is its versatility. It has one of the widest gauge options we've encountered, so you're bound to find one that best suits your acoustic guitar.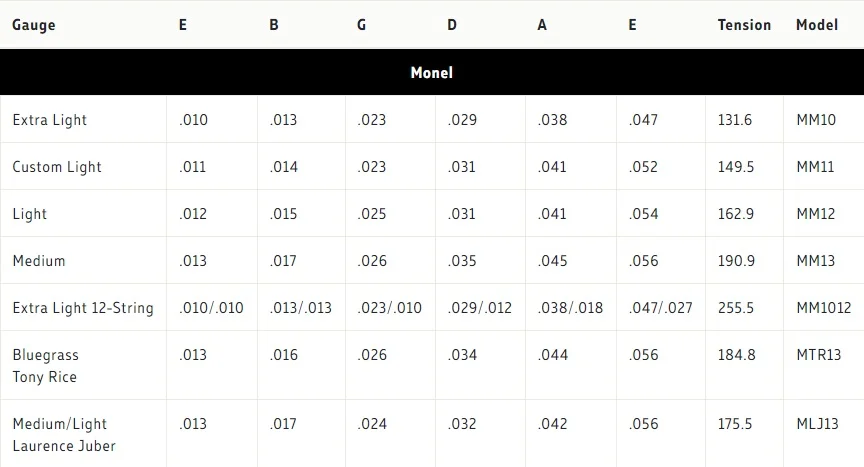 From there, you can see that the Martin Retro Acoustic Guitar Strings offers a wide selection of coated strings in the light to medium range. That makes it perfect for acoustic guitars, whether the player is an absolute beginner or a skilled guitarist.
When picking the string gauge, always remember that picking the right gauge for your guitar will help deliver a better and more consistent tone. While there's a belief that the heavier gauge will produce a better sound, that's not always the case if the added tension makes it extremely hard to fret.
Thus, this impressive range from Martin Retro Strings guarantees is perfect for a wide variety of guitars and guitarists.
Recommended For
Strings are a personal preference, and your choice depends on what kind of sound you want. Though we recommend the Martin Retro Strings for a wide variety of guitar players, the tonal quality of these strings is most suitable for Americana and Bluegrass styles.
Light gauge strings are perfect for beginners, especially considering the lower tension and easier playability. On the other hand, those on the heavier side are perfect for more experienced players, since they have already mastered how to control their guitars.
In choosing the right gauge, a good rule to remember is that acoustic guitars with smaller bodies work well with strings with light gauges. However, larger or jumbo-sized acoustic guitars are better off with medium to heavier gauges.
All things considered, there's no doubt that the Martin Retro Monel Strings is a versatile set that's meant for guitarists of different skill sets, as well as for different guitar styles like fingerpicking, country, roots-rock, folk, bluegrass, and blues.
Pros
It uses premium and durable materials.
It helps deliver a rich, warm, and full sound.
It helps reduce vibration to deliver overall tonal clarity.
It is easy to install and play.
Cons
It may be on the pricey side, but it's a real deal to make your guitar sound great.
Now, check out the demo of Retro & Authentic acoustic strings from Martin Guitar
Final Words
We can conclude that it's one of the top-rated acoustic guitar strings we've tried. With its wide selection of available gauges, there's one to fit your guitar size and playing type.
While it's one of the more expensive strings out there, we believe that its benefits far outweigh the costs – making it the ideal investment for any serious guitarist.