As an Amazon Associate, We earn from qualifying purchases.
Learn More
There's probably no name across the music industry that's more relevant than the Loog brand when it comes to kids' guitars. They design and manufacture their products with passion and with hopes that that passion translates to the development of future musicians.
As they say, start them young and that's what exactly Loog guitars have in mind. This is our Loog guitar review, let's inspire your future guitarist as early as now!
Loog Guitars Review
Here we've checked out a few of their products and reviewed them to help you decide which one to buy for your little ones.
1. Loog Pro VI Acoustic
Our featured product on this Loog Pro review is none other than the Loog Pro VI Acoustic. This is the brand's first-ever six-string guitar and we're loving it and we are sure that your future rockstar will appreciate it too.
Made with real wood for maximum satisfaction in terms of durability and performance. It's got a basswood body and a maple neck that's designed for perfect intonation so your child's ear will be trained properly. The low string action should also be child-friendly so they will have more time for practicing and less strain or pain for their hands and fingers.
Think your child is ready for a six-string? Then get them this Loog Pro VI Acoustic. Specially designed for kids 12 years and older it comes with flashcards and a free Loog guitar app armed with features for better and faster learning. It's the full package!
Comes in all sorts of colors to add a little bit of aesthetics to make the guitar more attractive to your kid should they be hesitant to learn one at first. Easy to play, easy to handle, and fun to learn that's what the Loog Pro VI Acoustic brings to the table.
This should act as a good set of training wheels to learn how to play songs and form chords. Eventually, it will lower the learning curve and prepare them for full-size guitars soon. Go grab yours now!
Pros
Great ergonomic design
Pleasing to the eye colors and shape
Durable construction
Comes with the full package for learning guitar the right way
Cons
2. Loog 3 String Pro Acoustic

Back to the 3-string variety, we present the Loog 3 String Pro Acoustic. This guitar has an award-winning design among educators and musicians alike. As with all of Loog's guitars for kids, this one is also made out of real wood so your kids get the real guitar experience.
It's got a basswood body and maple neck for a perfect intonation you wouldn't have expected a little guitar would have. Also, it's got a low-string action made with your kid's welfare in mind plus it's quite playable even for those with really small hands and short fingers.
This is a new 2020 model that comes with steel strings and a new body shape which your young rockstar would definitely love.
Pros
Light and easy to carry around
Playable and nice feel around the fretboard
Pretty durable little guitar
Cons
The neck is admittedly though a bit flimsy
3. Loog Pro Electric Guitar

If you think that your kids will benefit more from an electric mini version of the guitar then go get them the Loog Pro Electric Guitar. This is also a 3 string guitar that will teach your kids what it's like to play guitar, especially an electric one.
This new model actually has a vastly improved tone and also has low action for its strings so it will have a much better feel and be more playable. It's got a solid wood body and then a maple neck with a design that's kid-friendly. Let your kids shred early on!
However, we consider in this review that though these are labeled as 'Pro', kids above 12 yrs should learn on a real six-string guitar (electric models) instead of a three-string.
Pros
Cool looking design
Pretty easy to play
Punchy and bright tone
Cons
The electronics are a bit doubtful in terms of quality
A little bit pricey in terms of overall quality.
4. Loog Mini 3-String Guitar

If you think the aforementioned instruments are still a bit too much for your kids, get them this Loog Mini 3-string acoustic guitar for children and beginners. Meant for complete beginners and smaller kids so they do not get intimidated.
This instrument has a basswood body, sides, and back. Pretty good tone and easy to handle.
Pros
Perfect for smaller kids
Easy to play
Good tone
Nice shape
Cons
Cheap but not very durable
Relatively high action, need adjustment
Overall Build Quality
Learning a new instrument is always fun. Along with the understanding of music, it also helps to develop fine motor skills among children. We have mentioned that these guitars are available in several different designs and sizes catered toward children of different age limits.
Loog has an award-winning design that's thoroughly approved by music educators. Well, you're probably skeptical about buying a children's guitar as most of them are made with subpar quality wood. Well, this is where Loog stands out in the crowd.
Construction
The construction of the guitar is nothing over the top. However, considering a beginner guitar for kids, it does a spectacular job. It has a robust build quality that can take some heavy beatings from the little musicians.
The guitars are available in a wide range of colors such as red, black, pink, green, and yellow. Overall, the construction is satisfactory and makes the Loog guitar quite a reliable instrument.
Body and Neck
The body of the Loog guitar is made with basswood that generates a strong and powerful sound. Both the neck and body are made of wood and there is no sign of the flimsy plastic that we generally see on many children's guitars out there.

The fretboard is designed in a way so that the tiny fingers don't need to stretch too much to play the chords.
Playability
The playability of the Loog is absolutely stellar. These guitars are specifically designed for children of different ages so that they don't have to struggle with finger placement due to the abnormal neck width of a wrongly-sized instrument.
The 3-string concept is quite similar to the first 3-strings of a regular 6-string guitar. The idea is that once the child understands the grammar, he/she will quickly be able to adhere to a full-sized guitar.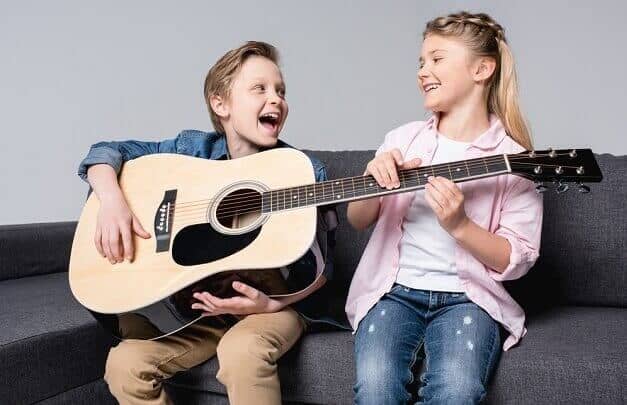 Hardware
The hardware on the guitar is quite basic yet sufficient enough for the children to give a jump start to their musical journey. It features three open-gear tuners at the top of the instrument. There are chrome buttons on the Pro version and white buttons on the Loog Mini.
The Mini version features classical nylon strings so that it doesn't hurt those tiny soft hands while preparing them for the steel strings. On the other hand, the Pro version is equipped with steel strings that deliver fuller and louder sound.
Sound Quality
Loog guitars are made with high-quality material that delivers exceptional tonal quality. Despite its budget-friendly price, the sound is crisp and detailed enough so that the little ears can understand the concept of tones clearly.
It delivers a rich and mellow tone with decent volume and clarity. Keep in mind it's targeted at children, so, you'll not find the complex overtones of the full-sized guitars.
The Loog Brand
Loog guitar was started way back in 2010 as an academic project by Rafael Atijas and this was his Master's Thesis project at New York University. Ever since the brand's goal is to put out the best possible product and not for the most profit and its beginnings reinforce this idea.
It was a hit and was able to raise funds even tripled their initial ask on Kickstarter and then it became so popular with the idea of making guitars for kids.
The company manufactures 3 string guitars that are easier to handle and control for kids. They are quite playable and kids can play comfortably a few tunes out of the guitars much like that of a ukulele. The guitars have thin necks and a lightweight body with pretty attractive designs so your little ones would want to grab it off the shelf for some strumming sessions.
And guess what. They don't only manufacture mini-acoustic guitars but electric guitars as well for your future rockstar. And as we reviewed above, they now even have a 6-string variety with the Loog Pro VI. An actual mini-acoustic should guide and train your kids for the standard-sized ones later on.
Loog Guitar Lessons
Loog guitar has provided some basic guitar lessons for your future rockstar through the Loog Academy. These fundamental video lessons include an introduction to chords, chord progression, stringing, and Loog guitar tuning.
Grammy Award winner Tim Kubart has hosted these video lessons and is similarly available on Loog Guitar's YouTube Channel and Loog app.
If your kids need more assistance, there has a paid option for live one-on-one online music lessons from a Loog-certified guitar teacher. Also, kids under 8 yrs can enroll in 30-minute FREE video group lessons to learn some guitar basics.
Extra features
Loog guitars aside from their unique and kid-friendly designs have some pretty cool accessories and add-ons to their products too.
They have handy guitar cases, guitar stands, wall hanger, straps, and even a guitar amp. And if you purchase a Loog guitar, you are sure to enjoy some educational add-ons to your purchase.
We are, of course, talking about the Loog guitar app, flashcards, chord diagrams, tuners, and many more to fast-track the learning process of your aspiring guitarist.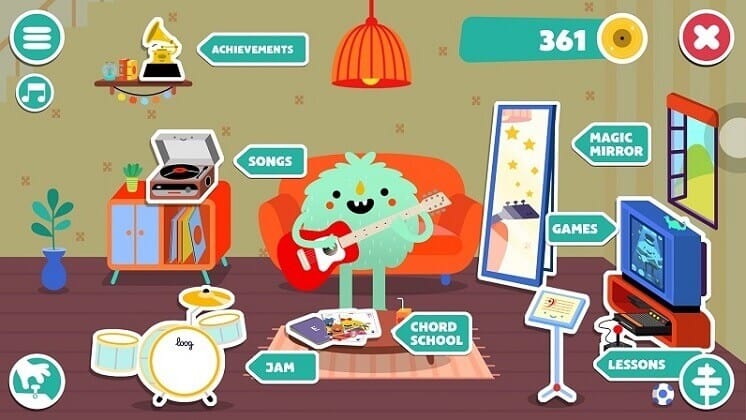 Are Loog Guitars good?
If you're looking for a decent quality instrument that will open up the door of music for your child the Loog guitar is an excellent choice. Don't go for the funky appearance, these guitars are not toys but rather real instruments made with quality materials.
The best part about the Loog guitars is that they are designed especially for children. Your little one doesn't need to struggle through those large fretboards to find the right chords.
The Loog guitars are available in different versions so that kids of different ages and expertise levels can find their best match. Also, the colors are super funky and vibrant which the kids will fall in love with at very first sight.
Loog guitar strings are the same as the first three strings of the regular full-sized guitar with the same tuning. This paves the path for the kids to make the learning process easier as it helps create a solid foundation right from the start. Overall, these guitars are absolutely magnificent for the price and they'll offer a smooth transition to a full-sized guitar.
Frequently Asked Questions
How to tune your Loog guitar?
You can tune the Loog guitar the same way you tune the first three strings of a regular guitar. It goes G, B, E from low to high. You can play any song you want on these guitars.
The best part is that your children can use their understanding of music gained from the Loog guitar and tune to a standard 6-string guitar later.
Is a 3-string guitar easier to play?
Yes, a 3-string guitar is comparatively easier to play than the standard guitar. Playing real songs on a 3-stringed Loog guitar is not completely different than a traditional guitar. Rather it's much simpler.
If a child learns to play a 3-string guitar, can he/she apply those learnings to play a standard six-string guitar?
This is a question that we come around to very frequently. As we said, playing the 3-strings on the Loog guitar is the same as the first three strings on a regular full-sized guitar.
Therefore, it develops the basic skill necessary for the child to learn guitar and it'll only enhance their expertise in the future rather than acting as a barrier.
What strings are on a Loog guitar?
The Loog mini-features nylon strings and the Pro version features steel strings.
Best Alternatives
1/4 Size Guitar:
1/2 Size Guitar:
3/4 Size Guitar (Electric):
Final Thoughts
Loog guitars have long done their part in creating quality beginner's instruments that are suitable for the young ones to play. The Standard of these cheap guitars is better than a toy but inferior to an actual guitar.
These instruments are good as a starter or 1st guitar to build your aspiring guitarist's basics so that they can be ready for six strings later on or a bass guitar. No doubt, there's no better brand to do it.
So start your kid's musical journey today and grab a Loog guitar.
Related Articles: