As an Amazon Associate, We earn from qualifying purchases.
Learn More
There is no shortage of inexpensive acoustic guitars on the market. And among the variety of options available, not every guitar is good enough even for complete newbies. So how would you be able to find a good acoustic guitar among this broad range of instruments?
To possibly help you with that, we've decided to showcase the Epiphone DR-100 review, an affordable acoustic guitar. But is it going to be the right instrument for you? Let's proceed further to find out that.
Epiphone DR-100 Dreadnought Acoustic Guitar Review
In this Epiphone DR 100 acoustic guitar review, we have gone through the detailed feature and examined what Epiphone has offered in this budget-friendly instrument. Check it out here.
Epiphone DR 100 Specs (Songmaker Version)
| | | | |
| --- | --- | --- | --- |
| Body Shape | Dreadnought | Scale Lenght | 25.5 inches |
| Top Material | Select Spruce | Nut Width | 1.69 inches |
| Body Material | Mahogany | Truss Rod | Yes, 2 way adjustable |
| Neck Profile | SlimTaper C-profile | Electronics | No |
Appearance & Design
The first thing to catch the eye of the Epiphone DR-100 acoustic guitar is its square shoulder dreadnought shape body. It is a classic design that is immediately impressive.
It features a large and broader body than other guitar types due to its classic dreadnought body shape. It means practically the DR-100 Epiphone is louder with clean bass. However, the DR 100 looks much more inspiring than concert-style smaller bodies from an appearance standpoint.
The appeal of the DR-100 guitar somewhat comes from the color schemes offered by the Epiphone. It comes in a range of finishes including ebony, natural, and vintage sunburst. The finish is semi-gloss, which means it is not as glossy as a full gloss finish, but it is still easy to wipe down and keep clean.
The binding is either white or black, has Pearloid fret inlays, and the pickguard features an iconic Epiphone E logo. Overall, the Epiphone DR-100 is a very well-designed and good-looking guitar that looks much more expensive than it is.
Body & Fretboard
The component that impacts a guitar's sound the most is its body and top. Namely, what matters is what kind of wood they are made from. In DR100 the top is made from spruce, while the body is made from mahogany.
Spruce has a crisp character that contributes to the overall volume of the guitar. This wood combines nicely with mahogany, bringing clarity to its tonal quality and producing rich and full sound.
The balanced sound makes mahogany suitable for both newbie and seasoned players and musical styles. Plus, being a hardwood, mahogany imparts plenty of structural strength to the guitar.
The top and body of this guitar are both laminated, so the sound of the guitar won't improve with time, as it would happen with solid wood. For amateur players, this should be completely alright though. There's no issue with the overall build quality and craftsmanship.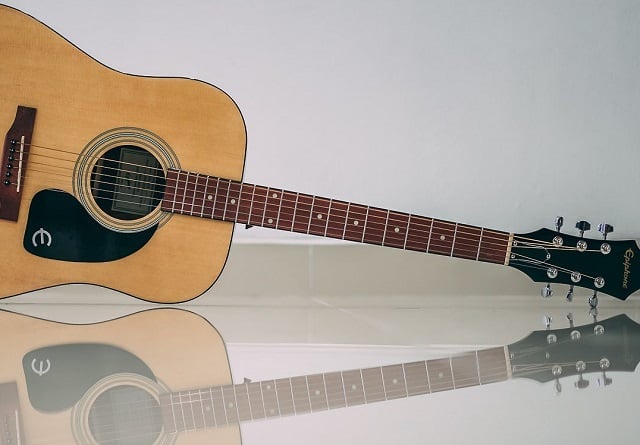 The Epiphone DR-100 has 20 frets on a rosewood fingerboard, a common wood in fretboards, and furthermore impacts the fretboard's sounding. The fretboard inlays are easy to see with simple dots and are made for quick reference when you are playing.
First of all, the fretboard is comfortable and durable. Aside from that, rosewood imparts bright and warmer tones to the guitar, albeit its effect isn't as noticeable as the top & body.
The Epiphone DR100 has a 25.5-inches scale length which is the standard for most top acoustic guitars. The string spacing at the saddle is a bit wider than some other guitars but not so wider that it would be hard to play.
Guitar Neck (Mahogany/Okoume)
There is confusion about the neck material of DR 100 since different websites mention either mahogany or okoume wood as the neck material.
Epiphone released an updated version of DR 100 in the name of Songmaker DR-100 that is almost identical to the previous version except for the neck material.
The neck of the DR 100 (previous version) is made of Okoume wood which is much lighter than other wood typically used on the neck as; Maple, mahogany or rosewood. Due to its similarly bright tone and lightweight, it is often regarded as a cost-effective replacement for maple.
It doesn't resist impact well, and even the smallest crack may be detrimental to the guitar's sound. And besides, you certainly won't be able to use some heavier string gauges with such a neck.
The neck of the Epiphone Songmaker DR 100 (newer version) is made from mahogany, the most commonly used wood for acoustic guitars. Since the tension of the steel strings can put a lot of pressure on the neck, mahogany is a good choice for its strong but light characteristics.
The neck profile also features a 1960's slim taper neck. This C-shape neck with medium jumbo frets makes playing guitar more comfortable for beginners and even for small hands.
Here, Epiphone has done a great job by changing the neck wood to mahogany for the newer Songmaker version. This replacement of neck material has increased the overall quality and sturdiness of this cheap guitar a bit more.
Since the previous version of the Epiphone DR 100 is currently unavailable at most stores. So before buying, it would be wise to ensure the neck material and check whether the model is the previous DR100 or Songmaker DR-100.
Hardware
Epiphone has managed to grant the DR-100 above-average quality hardware, especially for a budget guitar.

Epiphone also used pre-1930's headstock style on the DR-100, giving it a classic and attractive look. It is a beautiful head that comprises nickel-plated hardware and premium die cast tuners/tuning machines.
The only downside to the hardware is the basic set of strings that it comes with. This guitar includes the D'Addario light-gauge strings may limit its potential a lot. If you wish to get the best of thick lows and complex highs from the given string set, you would be disappointed.
Sure, you won't be getting mind-boggling sound from DR-100, but you could improve it by adjusting the string height and swapping out the stock strings for something better. I would highly suggest changing them as soon as you get the guitar.
The guitar comes with some cheap synthetic nuts and compensated synthetic saddle, which can be upgraded to bone or similar material bridge pins and saddle for better tone quality. Upgrading the die-cast tuners will also help with tuning stability.
The Epiphone DR-100 has a two-way adjustable truss rod that runs through its mahogany neck. It gives the neck extra strength against the tension of the steel strings.
You can adjust the truss rod to fix any buzzing or to get a clear sound. But you'll probably need to address a professional or contact your local guitar shop to do it.
Guitar Sounds
The Epiphone DR-100 is a great-sounding acoustic guitar, especially for the price. The guitar is responsive to both strumming and fingerpicking, and the dreadnought shape provides excellent projection.
The DR-100 shines in its projection and sustain, delivering a clear tone at any volume that is slow to decay. For beginners who are deficient in strumming skills, this guitar is a great choice.
It has a clear and bright tone, with good projection and sustains. However, the DR-100 sound does lack in low-end presence, and that sound may not feel compelling enough to more experienced players or may not be ideal for singer-songwriter ambitions.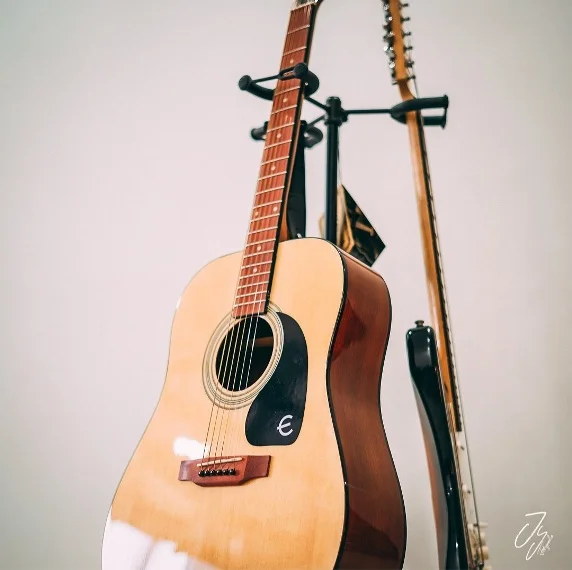 Playability
The Epiphone DR-100 has excellent playability, thanks to the ergonomic design of the classic SlimTaper neck and jumbo frets. The low action makes it easy for even beginners to get clear notes up and down the fretboard.
The Epiphone DR-100 is a great beginner guitar for those who want to start learning on a full-size guitar. It has a comfortable neck design that won't cause fatigue, and the dreadnought body is perfect for developing proper technique.
The strap buttons on the bottom and side of the heel make it trouble-free to fasten a strap which is hard to find in most entry-level guitars, and most people report that the guitar has easy action and good intonation from the factory settings.
However, some people may find the sharp frets on the higher strings a bit bothersome, though easily repairable with a quick setup. Overall, the DR-100 is a great choice for those who want a durable and playable starter guitar at a low price range.
Summary
The Epiphone DR-100 is a great-sounding, entry-level acoustic perfect for beginners. The low action with jumbo frets makes it an excellent choice for electric players as well. However, experienced guitar players may want to look elsewhere for a more complex sound.
Another plus point is that you'll get a Limited Lifetime Warranty from Epiphone and Gibson Brands™ Customer Service within this low price range.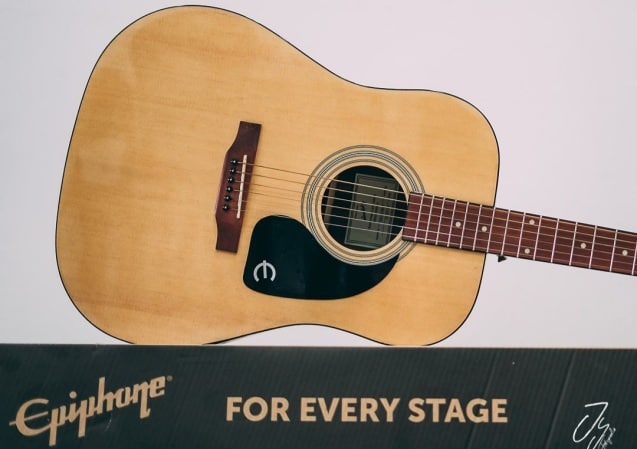 So, I would like to have this good guitar if I am a beginner and looking for my first guitar such as a full-size pure acoustic within a limited budget. Also, experienced guitarists can own this dreadnought guitar as a practice or a tailgate/campfire guitar that they do not need to be too concerned about.
Pros:
Incredible value for an entry-level instrument.
Beautiful dreadnought design.
Warm mahogany tone combined with the clarity of spruce.
Three color options.
The truss rod can be adjusted.
Cons:
Fret ends might be a bit rough in some cases.
It may develop some fret buzz when you switch string gauge or brand and you may need to do a truss adjustment.
For the older version DR 100, the Okoume neck isn't very impact-resistant.
Check out an interesting comparison video of the Epiphone DR-100 with a high-end Martin:
Frequently Asked Questions
Does the DR-100 have an electric pickup built in it?
No, this guitar doesn't have a built-in electric pickup. This is a basic acoustic guitar without any electronics that can amplify its sound.
But you can install a soundhole pickup to convert your acoustic into an acoustic-electric guitar. It will let you plug your guitar into an acoustic amp, mixer, or PA system.
Does the DR-100 come in a left-handed version?
Epiphone Songmaker has released only a left-handed version in a natural color variant which is also not within easy reach. However, hand orientation for this guitar is ambidextrous, which means that the guitar body is equal on either side.
So, physically it can be reversed and played left-handed. You need to remove strings and put them back in the opposite order for a right-handed player.
How suitable is the DR-100 for someone completely inexperienced?
Being a very inexpensive guitar – albeit not the cheapest out there – Epiphone DR-100 is a good option for completely new guitar players. It has quite a balanced tone that suits the majority of playing styles, so it can serve as a good baseline for most people.
But, as you progress, you would most likely need to switch to a better guitar. If you stay satisfied with its sound though, you won't need to get a better instrument
Alternative Guitars To Consider
Here are the two best alternative acoustic guitars with similar budget and quality that you can consider instead of the Epiphone DR-100:
1. Yamaha FG800 Acoustic Guitar
The Yamaha FG800 Guitar is one of the best alternative acoustics to the Epiphone DR-100. It has a solid Sitka spruce top that gives exceptional sound quality. The guitar is easy to play and has a comfortable neck. It is a great choice for beginners and intermediate players.
The main difference that you might find between Yamaha FG800 and Epiphone DR-100 is that Yamaha has a solid top with a slightly higher price tag. But, it is worth the extra money as it offers better sound quality and playability.
2. Jasmine S35 Acoustic Guitar
If you are looking for an acoustic guitar with a lower price tag, Jasmine S35 is the best alternative to Epiphone DR-100. It has a laminated spruce top and agathis back and sides that offer good quality sound. This is easy to play with and has a comfortable slim neck profile.
Though the price is quite lower, it does not compromise on quality. It is an excellent guitar for beginners and intermediate players.
So, these are the best two alternative budget guitars that you can consider instead of the Epiphone DR-100.
Final Thoughts
Epiphone guitars made good quality and better-sounding affordable acoustic guitars in the low price segment than other manufacturers. The main reason for this outcome is due to Epiphone's experience, knowledge, and application of proper materials.
It turns out that the Epiphone DR 100 dreadnought guitar offers good durability and sound tone, but there are some things that may hold its potential back. It's a very nice guitar with solid construction that sounds good but is not a perfect guitar.
So don't expect a great guitar at such moderate pricing. We still think this guitar is an appropriate choice among most beginner guitars available in the market due to its cheap price and tone balance.