Hey there! As an Amazon Associate, We earn from qualifying purchases. We greatly appreciate your support!
Learn More
It's been a few years since Disney and Pixar's baby "Coco" came out. I remember going to see it in theatres with the kids and leaving bawling as loud as any baby in the theatre. Disney movies have always been one of my weaknesses. The storyline, animation, loveable characters, and of course the always heart-touching music.
I'm always trying to recapture those characters somehow and bring them to life – if only that were possible sighs. The kids are the same, and that's why Cordoba's new Coco-themed guitar has been the gift of their little heart's dream.
And in this cordoba coco guitar review, we are going to explore if the guitar has the potential to be a great companion for beginners and small kids.
Cordoba Coco Guitar Review
The new Cordoba x Coco guitar is one of the best guitars when it comes to learning how to play for first-timers, especially the younguns. Take them on their own magical musical adventure with this gem of an instrument.
Here I have done a detailed Cordoba Coco guitar review and I will talk about how amazing it feels to have this instrument.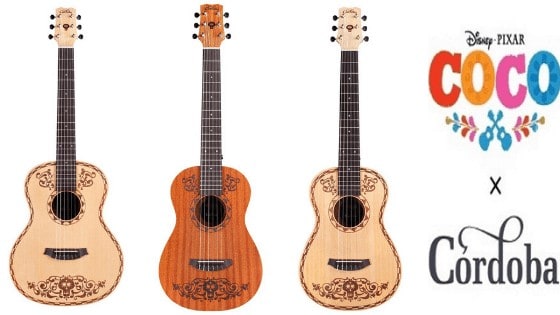 It is a beauty to look at, as well as feel. Coming in three variations – Coco Mini Spruce, Coco Mini Mahogany, and Coco Guitar ⅞ size, there's going to be one that is guaranteed to fit your kids' itching, hopefully, virtuoso hands. Etched with patterns that echo the film's Mexican origin, heritage, and Cordoba's own Spanish craftsmanship.
Simplistic, without frills and pure in character, quality, and beauty; its clean structure allows it to be less daunting and cozy in the arms of a young wannabe guitarist.
The mini size is compact enough for travel and yet gives maximum functionality when compared to larger sizes, standing at about 580 mm or 22.8 inches in scale length. The mini size would be the right fit for kids' acoustic guitars.
The smaller than full-size ⅞ will give your child the taste and feel of a more traditional guitar. You may want to take it out for a spin itself; I know I did!
It's A Real Guitar! Not A Toy
The guitars are lightweight, completely handmade- a traditional Spanish-style guitar with a touch of ease that comes with modern technology and production. The robust mahogany bridge is crowned with a synthetic bone handle, a laminated spruce top coated with a durable finish with laser etched Coco design, and accompanying X bracing.
The Mahogany neck is a dual-action truss rod built for a few neck adjustments and keeps your child's tuning easy, fresh, and secure. It has the standard 20 frets dotted by Pearloid dot inlays.

Made with quality Sitka spruce, laminated mahogany wood, few others can boast the smoothness, richness, and density that comes with the great guitar's structure, form, and design.
This is further echoed in the loud and rich volume that is expressed when the guitar is played.
Finally, the strings are Savarez Cristal Corum High Tension 500CJ, top-of-the-line nylon, a well-seasoned favorite among beginners for their solid stable quality and ease of finesse.
Beautiful Sound for the Size and Price
The Coco x Cordoba's line of guitars evoke both melodic yet bold resonant sounds it strums and the practical, fun sizes as well the magic and aura contained in basically everything Disney creates, is guaranteed to make your child scream and hug and never let you go with delight. You'll undoubtedly be the favorite parents, at least for a while!
Now at this Cordoba Coco guitar review let's have a look at the technical aspects of the guitar – the sound quality. The tone is loud, vibrant, and melodic, perfect for campfire nights and small performances designed to impress the cute girl or boy your nine-year-old has been fawning over.
Fretting is easy and relaxed, requiring no substantial effort, perfect for those younger aspiring Shawn Mendes out there or even a smooth John Mayer. For playability, it is great and easy as it is aimed at beginners.
Nevertheless, be prepared for an occasional jagged strumming noise, this is something that cannot be avoided in most beginner models. The overall sounds that come from the Coco x Cordoba are loud, well balanced, and impressive voice, particularly on the high notes.
It is absolutely not comparable to a 500 dollar purchase, but it may be just what you need, offering clean and clear sound, tone, and ease designed for helping a beginner increase his or her confidence and skills.
Mini Comes with freebies
Only mini versions of Coco x Cordoba Guitar offer a gig bag to keep dirt, termites, and negligence away from your trusty guitar and a strap to aid in swinging that wandering minstrel's instrument onto your kids or your back.
As well as all of that Cordova offers you a limited edition box, again inspired by the movie's Mexican roots.
Quality for the price
Covering off at less than 170 dollars for the whole set, this excellent piece of Disney merchandise is a bargain for the sensitive buyer with most beginners' guitars being priced at around 400 dollars, some even soaring up to 600 to 700 depending on the brand.
With Cordoba's x Coco guitar, you are getting its premium craftsmanship as well as its long history in building great solid Spanish guitars and saving around 75 percent of your hard-earned money as well. Disney's artistic finery and the essence embodied in the movie just add the cherry on top.
Also Read:
If you are a beginner and looking for the best value acoustic guitar then check our article on best value acoustic guitar for beginners.
Is It Best For Kids and Beginners?
Check out all the pros and cons of the Cordoba Coco guitar that will help you to determine if this mini guitar is appropriate for your kids or first-time learner.
Things we like:
Comes with great playability
Easy to carry on travel
Equipped with high-quality strings
Great design and appearance
Things we don't:
7/8th size is on the expensive side without gig bag and strap
Customer service is not up to the mark
Fret edges may feel sharp for some player
Coco x Cordoba Guitar Demo
Alternatives of Disney Pixar Coco Guitar
Final Words
Buying your kids' first guitar is a daunting experience for sure. A first guitar is not solely an instrument. It is their best friend accompanying them on a musical quest. It will carry them through their formative years as they are building skills, set them up for your long-term dreams, and be a sweet memory all their lives.
This guitar will be a present for you as sure as it'll be for them. So why not pick a Coco x Cordoba guitar and watch their eyes light up with Joy? After all, isn't that what Disney promises are made of?
Related Articles: