As an Amazon Associate, We earn from qualifying purchases.
Learn More
One of the most famous quotes used to inspire peace is by Edward Lytton, "The pen is mightier than the sword, but the tongue is mightier than them both put together." If the statement is true, artists have one of the most powerful platforms for influencing and effecting change.
This list of best songs about peace reflects people who chose to use their words and voices to advocate for a peaceful, more harmonious world. Some are soft-spoken, some go straight for the jugular, but all these artists come together to sing the same song.
1. One Love by Bob Marley and the Wailers
Album: The Wailing Wailers (1965) | Genre: Reggae
One Love was originally released as a single by Bob Marley's group, The Wailers. It is not this version but rather the updated version released in 1977 that became a chart-topper.
Bob Marley wrote this inspiring song when Jamaica was going through a tumultuous election. More than forty years later, "One Love" is still a regular on my reggae playlist, not just because it is about peace but also because the ideas proposed by Marley were part of his persona and ethos.
2. World Peace Is None Of Your Business by Morrissey
Album: World Peace Is None Of Your Business (2014) | Genres: Alternative Rock, Pop Rock
Ironically, this song may be about peace, but it does not take the expected kumbaya approach. Recorded in France, the song is a political satire on the effect that an average person would have on world peace.
According to Morrissey, it doesn't matter how much you protest, pay taxes, or vote; things will always remain as they are. Although his stance isn't realistic, I do understand his perspective. There are only so many online petitions you can sign, right?
In a way, it can also be a song about peace of mind; once you let go of the feeling that you have to change the world, you can move more freely.
3. Peace Train by Cat Stevens
Album: Teaser And The Firecat (1971) | Genre: Soft Rock
Peace Train was, and still is, the hippie anthem about peace. It has that relentlessness that leaves you thinking that if you believe hard enough, we can all come together aboard the peace train.
It was Cat Steven's first top-10 hit in the US and the song he liked to perform at the end of his shows. In 2021, years after converting to Islam and adopting Yusuf Islam as his other name, he released a new version of the song, collaborating with different artists from different places worldwide.
4. Imagine by John Lennon
Album: Imagine (1971) | Genres: Soft Rock, Pop
This peace anthem reminds me of all the sci-fi movies I have watched. Most of them create a society where resources are shared equitably, where there is no religion causing division, and where there are no causes for wars or death.
Even though Lennon didn't see such a world materialize, this song about peace in the world reminds listeners that we can all still try to build a more tranquil society. John Lennon got the inspiration for the song from his wife's collection of poems called Grapefruit. It was his most successful single.
Related Post: We also include this track on our playlist of songs about life.
5. Get Along by Kenny Chesney
Album: Songs For The Saints (2018) | Genre: Country
When Shane McAnally, Ross Copperman, and Josh Osborne wrote Get Along, they had to wait for two years before Kenny Chesney could be ready to sing it, seeing as he had just completed another project.
Their intention when writing it was not for it to be a grand symbol of peace. Instead, it was to remind people that both our similarities and our differences unite us.
6. Heal The World by Michael Jackson
Album: Dangerous (1992) | Genre: Pop
Like the singer's legacy, Heal the World is a song about peace and kindness that hasn't yet outlived its essence. The lyrics talk about ensuring that we make the world a habitable place for each other. Interestingly, it was Chimpanzees that inspired Michael Jackson to write this peace song.
He loved spending time with them, and he wanted to do something to help make them less endangered. After releasing the song, Michael created the Heal the World Foundation, whose aim was to fight hunger and abuse in children.
7. Man Of Peace by Grateful Dead and Bob Dylan
Album: Infidels (1983) | Genre: Classic Rock
This is one of many Bob Dylan songs to borrow from a religious text. Man Of Peace is loosely based on an idea from the Bible which warns people to be aware of wolves in sheep's clothing.
The song's premise is that sometimes, we are so keen to look for what is good and peaceful in others that we let our guards down too low, "Good intentions can be evil…you know that sometimes Satan comes as a man of peace."
8. Holiday by Green Day
Album: American Idiot (2004) | Genres: Pop-punk, Alternative/Indie
Even if we don't understand each other, it doesn't mean we have to fight. Holiday criticizes the Bush Administration's policies on the Iraq war.
The song is also an acknowledgment of the brutal nature of war. During the war, people get caught up in bureaucracies and politics and forget that thousands of people caught in the middle end up paying the price, "…The shame, the ones who died without a name."
Also Read: Easy Green Day Songs
9. Give Me Love (Give Me Peace On Earth) by George Harrison
Album: Living in the Material World (1973) | Genre: Rock
George Harrison wrote this song at a point in his life when he had just begun immersing himself in the Hindu Religion. Harrison said that the song was something he created for himself, God, and anyone else who would relate.
In it, George asks the Lord to give him Love and keep him from things that lead to a lack of peace, including a lack of understanding of God and easing the burdens he is carrying.
10. While My Guitar Gently Weeps by The Beatles
Album: The Beatles (1968) | Genres: Rock, Blues

I Ching, or the Book of Changes, is an ancient Chinese text that, among other things, promotes the philosophy that everything has a purpose at any given point. George Harrison was inspired to write this song after coming across this book.
The poetic nature of the lyrics is my favorite aspect of this song. George speaks of how the world was meant for so much good, but it has been diverted and perverted.
11. People Get Ready by The Impressions
Studio Album (1965) | Genre: Soul
This song is usually recognized by many as a Christian song about peace because it talks about that peaceful place Christians believe they will go to in the next life.
Although it cannot be strictly categorized as a gospel song, it borrows a lot from the voice and technique Mayfield developed while singing in a gospel group.
It was written when America needed a lot of peace, faith, and inspiration. It followed many historical events, including the famous "I have a dream" speech by Martin Luther King and the assassination of President Kennedy. The song won the Grammy Hall of Fame Award in 1988.
12. Land Of Hope And Dreams by Bruce Springsteen
The American dream is the belief that if people can pull together peacefully, everyone can be successful. In 1999, Bruce Springsteen dedicated this song to immigrant workers who were mistreated and ignored by a nation claiming to be a place for everyone.
However, Bruce was preaching a different kind of peace when he performed it at the Lincoln Memorial in 2021. He was perpetuating the idea that despite the country coming from a problematic Trump administration, it could still be a land of hope and dreams.
13. Give Peace A Chance by Plastic Ono Band
I have deep respect for but have never quite gotten used to John Lennon's and Yoko Ono's forms of peace advocacy. Instead of spending their honeymoon nestled together, Lennon and Ono decided to advocate for peace by spending entire days in bed and growing out their hair.
Born from their second bed-in advocacy in Montreal, "Give Peace a Chance" is a song about peace and unity in the world.
14. 911 For Peace by Anti Flag
Album: Mobilize (2002) | Genre: Alternative/Indie
This song is an urgent rallying for peace, like how you would call 911 just for emergencies. The message sounds even more pressing when delivered in Anti Flag's loud, aggressive punk sound.

Released in the wake of 9/11, when many Americans were advocating for revenge, 911 for peace wasn't well received by everyone. Despite this, Anti Flag maintained that avenging the unfortunate attack wasn't the answer.
Anti Flag borrowed a part of the lyrics from Martin Luther King's speech, "Isn't everybody tired of the fighting? Isn't everybody tired of the killing? Isn't everybody tired of the dying?"
15. Let It Grow by Eric Clapton
Album: 461 Ocean Boulevard (1974) | Genres: Pop, Rock
It will sound tacky, but this song grew on me. I was not too fond of it at first. Written after Clapton's long struggle with drug addiction, I felt he had yet to regain his groove.
However, his vocals, paired with Marcy Levy and Yvonne Elliman in the background, sounded good enough to give the song a second chance.
"Let It Grow" talks about seeking peace by patiently cultivating Love, "Plant and your love and let it grow…let it blossom, let it flow, love is lovely, let it grow."
16. Waiting On The World To Change by John Mayer
Album: Continuum (2006) | Genre: Soft Rock, Blues Rock
Unlike other times when I listen to songs about peace for a little dose of calm and hope, I love this song by John Mayer because it fits different occasions. It won John Mayer a Grammy for Best Male Pop Vocal Performance.
My favorite lines from the song are the opening ones, "Me and all my friends, we're all misunderstood, they say we stand for nothing, and there's no way we ever could."
This part accurately captures the struggle I feel when I can't decide if I should be numb to everything happening around me or be more proactive in effecting change.
17. Star Spangled Banner by Jimi Hendrix
No song can inspire peace like a national anthem, a singular rallying cry that a nation can come together behind, regardless of race or political views.
America's Anthem, The Star-Spangled Banner, was written by lawyer Francis Scott when he was sent for negotiation talks with the British.
However, when Jimi Hendrix performed it during the Woodstock Festival in 1969, he did an angrier, more aggressive rendition to protest the Vietnam war. The performance was not planned for but went down in history as the go-to song for opposing tyranny.
18. Fortunate Son by Creedence Clearwater Revival
Album: Willy and the Poor Boys (1969) | Genre: Rock
Yet another song on this list that was written to protest the Vietnam War, showing how much the war policies affected daily American life.
Written in the height of the Vietnam War, where any young man could be drafted at any time, Forgety was calling out the system's unfairness. He observed that if you were a fortunate son born into wealth and political power, the draft system would favor you.
19. What's Going On by Marvin Gaye
Album: What's Going On (1971) | Genres: Soul, Pop
In 1971, when Marvin Gaye looked at what was happening in the world, he decided he could no longer be okay with just singing love songs. Despite discouragement from his boss, Marvin decided that it was time he created music that inspired change.
Although bits of "What's Going On" were inspired by the Vietnam War, Marvin also commented on the social injustices against the Black Community.
The song easily passes as a modern song about peace given how fifty years after Marvin wrote it, issues like police brutality which he addressed in the song are still being tackled by the Black Lives Matter movement.
20. Fire In The Sky by John Butler Trio
Album: Grand National (2007) | Genre: Rock
I only knew a little about this Australian rock band before I came across this song. Off many peace songs I have heard, this has always come out as one of the most relaxed and unpretentious. The song talks about regular people who have no option but to deal with the after-effects of war.
21. I Wish You Peace by The Eagles
Album: One of These Nights (1975) | Genre: Rock
Almost like a love letter, this is a song about peace and love that moves away from the war and strife narrative to focus on an honest intention to wish your loved one a sober kind of peace, "I wish you hope when things are going bad…I wish you peace when times are hard."
Eagles guitarist Bernie Leadon and Patti Davis (Nancy Reagan's daughter) co-wrote it. The song caused a lot of disagreements with the rest of The Eagles members, who felt like it didn't represent their standards.
22. I Give You Power by Arcade Fire feat. Mavis Staples
Album: I Give You Power (2017) | Genre: Alternative/Indie
Three things made this song about peace on earth politically charged. The first was its timely release. It was made available for streaming the day before former President Trump was inaugurated.
The second was the lyrics. Though simple and a bit repetitive, they reinforced the idea that despite the problematic campaign and elections, the true power still lay in the hands of the American people.
Lastly, Power Arcade partnered with Mavis Staples, a renowned civil rights leader. Their intention for the song was to remind people to look out for each other regardless of their political stances.
23. Where Is the Love? by Black Eyed Peas
Album: Elephunk (2003) | Genre: R&B/Soul, Hip-Hop/Rap
From the moment the smooth guitar riffs signal the beginning of this song, I usually start gearing myself to sing this song word for word.
Written after 9/11, it is about how people got so engrossed in war and vengeance that they forgot to love each other, "Nations droppin' bombs, Chemical gasses fillin' lungs of little ones, with ongoin' sufferin' as the youth die young, so ask yourself, is the lovin' really gone?"
It topped the UK Charts for six weeks and was nominated for Record of the Year at the 2004 Grammys.
A Few More Peace Songs
| | | |
| --- | --- | --- |
| SL | Song Name | Artist |
| 24. | Peace | Taylor Swift |
| 25. | People Have The Power | Patti Smith |
| 26. | What The World Needs Now Is Love | Jackie DeShannon |
| 27. | Peace, Love, and Understanding | Elvis Costello and the Attractions |
| 28. | Love Train | The O'Jays |
| 29. | Pipes Of Peace | Paul McCartney |
| 30. | For What It's Worth | Buffalo Springfield |
| 31. | Blowing In The Wind | Bob Dylan |
| 32. | Heaven Help Us All | Stevie Wonder |
| 33. | A Change Is Gonna Come | Sam Cooke |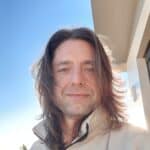 Fabian, a Brazilian guitarist now based in Dublin, Ireland, has passionately played the electric guitar since 2003. As a luthier and product specialist, he boasts nearly two decades of collaboration with top musical instrument brands. Fabian is a sought-after expert, sharing his extensive knowledge with fellow guitar enthusiasts.