Hey there! As an Amazon Associate, We earn from qualifying purchases. We greatly appreciate your support!
Learn More
When most kids are busy watching videos and learning nothing from them, parents are busy trying to find a productive hobby for their child. Are you looking for a fun and rewarding hobby for your child? If so, you might want to consider getting them a guitar.
Learning to play the guitar can be a great way to express yourself, boost your confidence, and make new friends. But before you do that, you need to find the right guitar for your kid.
As a guitar teacher for almost 20 years, I know how important it is to choose a guitar that fits your child's age, size, and preferences. A wrong guitar can make learning frustrating, painful, and boring. That's why I've created this guide to help you find the best guitars for kids in 2023.
In this article, I'll share with you my top 10 picks based on my personal experience and feedback from my students. I'll also give you some tips on how to choose the best guitar for kids. So, let's get started!
Our Recommended Guitar For Your Kid
Acoustic Choice
Body: Dreadnought

Top: Spruce

Fretboard: Rosewood

Scale Length: 21.25"

Total Length: 33.25"

String Type: Steel
Electric Choice
Body: Stratocaster
Top: Poplar
Fretboard: Indian Laurel
Scale Length: 22.75"
Total Length: 30.75"
String: Nickel Plated Steel
Classical Option
Body: Classical
Top: Spruce
Fretboard: Rosewood
Scale Length: 22.83"
Total Length: 36.22"
String Type: Nylon
Review Of Best Acoustic Guitars For Kids
1. Yamaha JR1 FG Junior: A Young Player's Dream Kit
If you're looking for the best junior acoustic guitar or need a complete package for your kid's first guitar, you can't go wrong with the Yamaha JR1 FG Junior 3/4-Size Acoustic Guitar. Luckily, you can expect excellent quality from it as well.
The guitar is small and lightweight, with a 21 1/4-inch scale length that suits young beginners between 8 to 11 years old, and a top alternative for travelers as a lightweight travel guitar or campfire guitar.
The guitar has a rosewood fretboard, a spruce top, and nato back and sides with a glossy finish. It produces a decent sound for its size that is not very loud but clear and warm. Apart from that, the bundle comes with everything you need starting from a guitar strap to a gig bag.
I have used this guitar with some of my students and they loved the guitar for its low action and smaller body which makes it quite easy to learn. However, keep in mind that this guitar will not last long as your kid grows and needs a bigger size.
Pros:
Outstanding brand reputation.
Excellent build quality.
Good size and lightweight for young ones and travelers
Comes with a bundle of accessories that make it ready to play
Great value for the price.
Cons:
Too small for playing when the kid grows up.
The sound is not the loudest or brightest.
Laminated instead of solid Sitka spruce top.
---
2. Martin LX1 Little Martin: Small Size, Big Sound, Legendary Brand
Sometimes size really does not matter much when the materials making it are used in the best proportions. The Martin LX1 Little Martin is an acoustic guitar that is not very big and even adults detect it convenient to play on as they can carry it anywhere as a travel guitar. The smaller size also exposes kids to an easy world of guitar learning at the finest possible quality.
Martin is quite a famous brand and when it comes to quality, you can expect nothing but the best from it. Firstly, this LX1 acoustic guitar is made of the finest materials, and definitely choose the hard shell one. It has a high-pressure laminated finish which keeps it quite safe from the environment as well.
It also has a rosewood fingerboard and mahogany neck, the finest there is out there. Furthermore, the most amazing thing about this acoustic guitar for kids is that the tone is quite loud and bright. However, as the tone is a subjective choice, many might not like the tone.
Apart from that, the size is considerable for young persons between 8 to 12 years old and the low action also makes it easier for them to learn. It also comes in a padded gig bag so you can easily carry it around. On top of it all, it is quite affordable.
Pros:
Very well-built.
Small in size which is great for kids.
Deliver a pleasant guitar experience.
Excellent quality.
Loud tone.
Good value for money.
Cons:
---
3. Loog Pro VI Acoustic: Fun And Easy Guitar Learning System
The Loog Pro VI acoustic guitar is a fun and easy way to introduce kids to the world of music. Though the company recommended this guitar for ages 9 and up, but it can also be enjoyed by younger kids between 5 to 8 years old who are comfortable with its size and tuning.
It has a 15.6-inch scale length and a 22.2-inch overall length, which makes the learning process as smooth as possible for small hands and fingers. The guitar body is made of basswood whereas the neck and fret board are made of maple. It's for ambidextrous players and comes with steel strings.
One of the best things about the Loog Pro VI is that it comes with a free app that includes video lessons, games, and a digital songbook that makes learning fun and engaging. You can also use the flashcard set that comes with the guitar to learn chords and songs in a visual and interactive way.
The Loog Pro VI acoustic guitar is not only a learning tool, but also a beautiful instrument that you can customize according to your preference. You can choose from six different colors, such as green, red, black, white, pink, and natural. You can also add straps, picks, and other accessories to make it your own.
Check out our complete Loog Guitars review here.
Pros:
Known for its ergonomic design
Great aesthetics that are attractive to the young ones
Top of the line construction
Near perfect intonation perfect for beginners while learning
The kids will learn the right way with a complete package of learning materials
Cons:
A little bit of fret buzz might be experienced
---
4. Taylor Swift Signature Baby Taylor: Swift and Sweet
If you are looking for a guitar for a girl child, this Taylor Swift Signature Baby Taylor guitar may be the perfect gift. However, you need to have more budget than usual for this. But, let me tell you this when your child tries to play Taylor Swift songs on it, it will all be worth it.
With such a high-end product you can only expect the topnotch in terms of quality. Apparently, it has mahogany in the build, a spruce top, and laminated Sapele back and sides.
While it is an electro-acoustic guitar that comes with adjustments for connecting to an electric amplifier, it might only be among the best kids acoustic guitar. Apart from that, the sound it produces is amazingly warm and balanced.
This signature model looks really unique as well. Your kid will attract eyes when she plays on it. The three-quarter dreadnought acoustic guitar size is quite perfect as a starter guitar rather than a full size.
Apparently, the low action helps to pick up guitar learning fast as well.
Pros:
With Taylor Swift's signature, this guitar can motivate kids to keep learning.
Extremely well-built.
It has a slim neck profile that's ideal for smaller hands
Great tone.
Cons:
Very expensive.
Not the best acoustic-electric combo.
---
Best Electric Guitars For Children
5. Squier by Fender Mini Strat: A Mini Rock Icon
If you are looking for an electric guitar that is easy to play and sounds great for your kids, you might want to consider the Fender Squier Mini Stratocaster. This is a 3/4-size version of the iconic Fender Stratocaster, which means it has a smaller body and shorter scale length (22.75 inches) that are ideal for younger players.
The guitar features a maple neck with a C-shaped profile and a laurel fingerboard with 20 frets. The three single-coil pickups deliver a classic Strat tone and tone control with a five-way switch for versatile sound shaping that can handle any style of music, from rock and roll to blues to pop.
The build is perfect with strong and clever materials used. Likewise, the guitar does produce a really nice loud tone. However, it may need to be tuned too often.
This Mini Stratocaster is suitable for kids aged 6 to 12 years old, depending on their height and hand size. It is available in several colors, such as black, surf green, metallic orange and brown sunburst. It has a classic look and sound that will inspire your kids to practice and enjoy music, so you should definitely check out this Mini Strat.
Pros:
A very loud and warm tone.
Excellent build quality.
Great electric components.
C-Shaped maple neck
Good price.
Cons:
---
6. Ibanez Mikro Electric: Small Guitar For Big Shredders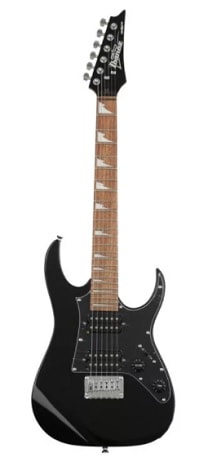 Everyone who's ever picked up a guitar knows about Ibanez and their cool designs for guitars. Here we present the Ibanez Mikro GRGM21BKN 3/4 Size Mikro electric guitar meant for your aspiring shredder.
This is the brand's first compact guitar and of course, it comes with its signature look. This short-scale ax has a 22 inches maple neck with low tension and small in size so your child can work his or her around the fretboard rather easily.
This is perfect for practicing especially if you have an aspiring lead guitarist in the household. But while it's perfect for beginners this unit is set up like the full-sized solid body GRG guitars coming out of Ibanez. So your kid gets to experience what it's like to play an actual 6-string meant for performances early on and get them ready for the actual thing.
The Ibanez Mikro Electric Guitar has a configuration ready for left-handed guitar players so go grab yours now!
Pros:
Suited for actual lead guitar and performance practices
Even grown-ups can utilize this unit for rehearsals
Signature Ibanez aesthetics
Great feel and easy to handle and play for the youngster
Long-lasting build
Cons:
It's quite known to go off tune easily
Does not use a tremolo bar
---
7. Mitchell MM100 Mini: Versatile And Budget-Friendly Electric
Want a starter guitar that does not only sound good but looks good as well? Then, read this Mitchell MM100 Mini review and feel free to consider this solid body guitar because it is a good option for a kid with small hands and less strength.
As an electric guitar, it does not have a high action anyway so your child will notice it easy to practice. Also, the 22.5″ short scale shallow C-shape maple neck and rosewood fingerboard will make playing much more comfortable.
The build is of an excellent kind and the sound quality is great also. What you may have to do is adjust the guitar a bit. At first, the strings that it comes with may not suit your taste. So, change the strings if necessary. Other than that you may have to slightly adjust other parts for a good result.
Pros:
Excellent quality build.
Great sound quality
Easy to learn.
Good size for a youngster.
Cons:
Needs some adjustment.
May need changing strings.
---
8. Epiphone Slash Appetite Les Paul Special-II: Slash Your Way to Rock Stardom
If you are looking for a guitar that will inspire your child to rock like a legend, the Epiphone Slash Appetite Les Paul Special-II Performance Pack might be a perfect choice. This pack includes a Les Paul style electric guitar with a stunning Appetite Amber finish, a 15-watt Snakepit amplifier, a custom gig bag, a strap, picks, and free online lessons from eMedia.
The guitar is suitable for beginners and pros alike, but this guitar also weighs about 8.5 pounds which might be too big or heavy for some younger or smaller kids. It might be more appropriate for older kids (10 years and above) who have some experience with playing guitar or who are fans of Slash and his music.
The guitar produces a rich and powerful sound that can handle any genre of music, from blues to metal. The amplifier is loud enough for practice and jamming but also has a headphone output for silent playing. The pack includes everything your child needs to start playing right away, and the online lessons are helpful for beginners.

Pros:
Beautiful and well-made guitar that looks and sounds like Slash's signature model
A complete package that includes accessories and online lessons
Great value for money
Cons:
The guitar might be too big or heavy for some younger or smaller kids
The amplifier might not be powerful enough for larger venues or performances
The gig bag might not offer enough protection for the guitar
---
Best Classical Guitars For Kids
9. Yamaha CGS103A Classical: Play It Young, Play It Classic
If you want your kids to learn classical guitar playing then there's nothing better than to get them the Yamaha CGS103A Classical Guitar. Yamaha is a great brand not just for automobiles but for musical instruments as well.
Having said that, this guitar is for sure quite durable and beautiful sounding for practice and performance sessions alike. Its body includes a solid spruce top, meranti back and sides, and sonokeling fingerboard as well as the bridge.
The action and handle on the nylon strings should train your child for fingerpicking and chord progressions fast as it will have a different feel compared to a ¾ electric guitar or standard acoustic guitar.
Pros:
Perfect tone and sound
Durable wood construction (meant to last)
A perfect starter instrument to train your beginner guitar player
Great value for money
Nice finish and great overall aesthetics
Cons:
Not as low tension as the others on our list
---
10. Hohner HAG250P Guitar: Great Introduction To The Classical World
Scared that your kid may try out the guitar a few times then feel his sore fingers and give up altogether? Then, this Hohner HAG250P Classical Acoustic guitar has your back. Whether your child continues to play or decides to give up (chances are low), you do not lose much as this guitar is quite affordable.
This is something you can buy as just a guitar to learn on. This is a 1/2 size guitar that is designed for children aged 4 to 8 years old.
The guitar has a solid build quality that can withstand the wear and tear of kids' playing. The string action is low, which means that the strings are close to the fretboard and easy to press. The string quality is decent, but you may want to replace them with better ones after some time.
Also, you may need to tune the guitar more often than usual, especially in the beginning. This is normal for nylon strings, as they tend to stretch and lose tension over time.
The Hohner HAG250P is a great choice for parents who want to introduce their kids to classical music and guitar playing. It is affordable, durable, and attractive. It has received many positive reviews from customers who praised its quality, sound, and value.
Pros:
A budget-friendly option
Suitable for preschoolers and middle childhood
Nylon strings are gentle on the fingers
Cons:
May need frequent tuning
May be too small for older or taller kids
May not have enough volume for some players
---
What Size Guitar Should I Buy For My Child?
Kids 4 to 6 years of age should have a ¼ size guitar with an overall length of 30 inches. Kids 5 to 8 years old can now then handle a ½ size guitar with a length of 34 inches. Kids that are a bit older about 8 to 11 years old are suitable for guitars of ¾ size with a length of 36 inches.
Children ten years older can then handle a 7/8 size guitar with an overall length of 39 inches. While kids 12 years older should be suitable for 4/4 size guitar or the types with a length of 40 inches.
It is best if you make your kid hold the guitar and see if he can reach every part easily. So, you got your answer to "What size guitar should I buy for my child?".
For better understanding, check out this video about different types and sizes of Guitar:
How To Measure Guitar Size?
Guitars no matter the type are measured in two different ways. It may be measured by its full length or its scale length. Naturally, to measure a guitar by its full length then you start your measurement from the bottom of the body to the top of your headstock.
And speaking of which, a guitar has three main parts, the body, neck, and headstock. Standard guitars will have a full-length size of 36 to 40 inches but most certainly not limited to that due to the vast designs of guitars both acoustic and electric.
But the full-length size of a guitar is not quite a good way to measure it. Just like what we mentioned, different manufacturers design their guitars differently. And so, that results in different neck size, body size, and headstock size going back to our 2 main parts.
This design difference would ultimately lead to a different feel and playability of a guitar. This is where measuring a guitar through its scale length comes into the picture.
When you measure a guitar using its scale, then you are just talking about measuring from the bridge to the nut. These are the parts where both your hands handle to play the guitar and so knowing its scale length gives you an idea as to how it would feel like to play.
Knowing both the full and scale length of a guitar would then allow you to judge whether it's a kid's guitar or for adults.
A full size guitar by the way should be about 38 inches in length and with a scale length of about 25.5 inches. Guitars will also vary in their number of frets which is a factor of their playability and what style of music you can play with them.
Standard classical guitars or even acoustic guitars will have 19 frets while electric guitars usually have 21 to 24 frets with some even reaching 27. This is important to know especially for lead guitarists if they want to achieve certain riffs, licks, or solos with the guitar they are about to purchase.
What Is The Best Age To Learn Guitar?
There's never a best age to learn a guitar or a musical instrument in general. But there are factors that you need to watch out for though. Is your kid musically inclined? Are you a family of musicians? Or do they need it in school? These aspects are just a few to consider.
Your children can learn how to strum a guitar without any proper chords as early as 4 years old and can have proper training by 6. Eight years old should be ideal but most of the time passion should manifest around 12.
How To Choose A Good Guitar For A Child?
If you just randomly buy your kid a guitar and he comes to you crying because it broke for no reason at all then it is totally on you. So, in order to not be blamed for careless shopping, check out the following factors before buying a guitar.
1. The Type Of Guitar You Should Buy
This is always the first thing you have to check when buying anything- the types available. Apparently, you are quite familiar with the guitar types as there aren't many and if you are into music then you have experienced all three of the types. These are:
Acoustic:
This is basically the 6-string guitar that you see people playing at picnics or road trips. Acoustic guitars are usually bigger in size with a thin neck. Apparently, what you should know is that they are the hardest to master.
It is completely manual and your child will not get any aid when playing on it. Other than that, the strings are usually made of steel or bronze or something else and are quite hard on the fingers. People usually get bruises and sore fingers when practicing on acoustic guitars due to string.
However, the skill earned over time is unbeatable and a kid will find playing any other type of guitar super easy if he starts his guitar lesson on children acoustic guitar. These are more affordable as well. We advise starting with a 1/2 or 3/4 sized acoustic guitar instead of a full-size acoustic guitar which would be bigger than your kid.
Classical:
Classical guitars are usually made of nylon strings and are smaller in size than acoustic guitars with broader neck. These are easier to play than acoustic guitars. This is because the string is smoother and lighter on the fingers.
Also Read: Difference Between Acoustic And Classical Guitar
Electric:
The rocking sound that most children love is the contribution of electric guitars. Chances are your child will want to learn on electric guitars for kids right away. Because it is just that cool.
While learning electric guitar is quite easy as you do not have to put much pressure on the strings, it is very comfortable. You do not only have to buy the guitar which costs more than the other types but you also have to buy an amplifier and possibly more electric accessories. Those things sure will cost a lot.
Now, what is the best first guitar to start with is a question most people ask. The answer is- it depends on your child. You cannot force your child to like something so it is best to leave it up to him to decide which he wants to learn.
2. The Build Of The Guitar
You will track down endless kids guitars available but let me tell you one thing, rarely any of them will be suitable for your kid unless you look hard enough. Apparently, due to increased demand, most guitars available are of lesser quality with lesser material in them. Therefore, do not trust the most popular ones.
Make sure the guitar has a solid wooden build. Do not buy the toy-like colorful ones that your kid will probably be throwing a tantrum to buy. This is on you as the kid does not know that these will make them cry more in the future as they will just break.
The varnished wooden guitars are a better choice in this case as you can completely see what it is made of- no chance to trick.
3. The Finish Or Surface Of The Guitar
Your kid will probably be jumping up and down seeing the colorful guitars with graphics on them. But, as we mentioned earlier it is easy to trick with these designs. As a result, keep the option of buying a guitar and letting your child put stickers on it later.
Apart from that, you can select a laminated guitar as it will protect the guitar against rough usage by a kid and also the environmental conditions.
4. The Action Of The Guitar
The distance between the fretboard and the strings is what affects this matter. Apparently, the more the distance, the more pressure you have to put on the strings. This will encourage blisters and sores on your finger.
On the other hand, low action means that there is less distance between the fretboard and the strings. So, you will have to put less pressure and it will be easier to improve your guitar skill. This is why choose a guitar with low action for your kid.
5. The Accessories
You will need a number of accessories with the guitar for your kid. At times, a brand offers these accessories themselves. For example, your guitar is likely to come with a basic set of strings.
The good news is that many brands offer all the necessary things together in a budget-friendly package. However, you have to check the quality of the guitar itself in such packages.
6. Price Of The Guitar
If you are looking for a guitar for your kid, you might wonder how much you should pay for it. A beginner guitar typically costs between $100 and $300, depending on the size, quality and brand. However, for kids, you might not want to spend too much on a guitar that they might outgrow or lose interest in.
A reasonable price range for a kid's guitar is between $50 and $200. This way, you can get a decent instrument that is suitable for their age and skill level. You should also look for a guitar that is easy to play, durable and has good sound. You can find some best deals online or at your local music store.
Do you think that your children have a passion for it? Then it may be prudent to invest in something more expensive not for the price but for its sound quality and durability.
The bottom line is that you should pay for a kid's guitar what you can afford and what you think is fair for the value and quality of the instrument. You don't have to break the bank to get your child started on their musical journey, but you also don't want to skimp on something that will discourage them or fall apart quickly.
How To Choose The Right Guitar Lessons For Your Child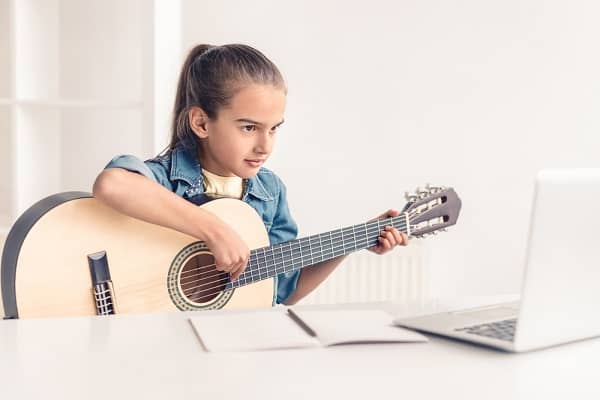 If you have decided to buy a guitar for your child, you might be wondering whether they need guitar lessons as well. The answer depends on how they like to learn and what they want to achieve.
Private guitar instructions can give your kid one-on-one attention and feedback from a professional teacher. They can help your kid learn proper technique, musical expression and confidence. But they can also be costly, time-consuming and hard to find.
Online guitar tuition can let your kid learn from videos, apps or websites at their own time and pace. They can offer more variety, flexibility and affordability than private lessons. Some popular online platforms are Jam Play, TrueFire, Fender Play and Justin Guitar. But they may not offer the same level of interaction, motivation and accountability as private lessons.
Ultimately, the best guitar lessons for your little one are the ones that suit their needs, preferences and budget. You can also combine both private and online lessons to get the best of both worlds.
Best Guitars for Kids: Frequently Asked Questions
Is A Smaller Guitar Easier To Play?
Yes, smaller guitars for kids are relatively easier to play and so they are ideal to practice on. Although we are talking about children probably 12 years old below as teenagers are better off practicing using a full-sized guitar if they want to be accustomed to it fast.
Small body guitars can be like training wheels for aspiring guitarists and they are also easier to handle, carry, and are relatively lightweight.
Does Hand Size Matter For Guitar?
It won't matter much at all. Even full-sized guitars can be handled and played by people with relatively smaller hand sizes and most especially kids.
You may choose a smaller guitar for children below 12 or 10 years old but they will soon adjust and flex their hands and fingers to accommodate the fretboard of a guitar.