Hey there! As an Amazon Associate, We earn from qualifying purchases. We greatly appreciate your support!
Learn More
With so many chord books on the market, choosing the one that best suits your needs can be challenging. Guitarists who take traditional lessons have the advantage of some guidance in this endeavor; those of us who are primarily self-taught will have to do a bit of digging to discover which is the best guitar chord book for our particular knowledge and skill levels.
If you're overwhelmed by the sheer number of guitar books out there, don't be. We've reviewed the best chord and guitar reference books out there, so you won't have to, and we've even included a few that, though they didn't make the cut, deserve honorable mention.
Review Of Top 6 Guitar Chord Books
If you're looking for the best chord books (for an acoustic or electric guitar player) that will help you learn faster, we have the perfect list for you. From beginners to experts, these books will help you acquire the knowledge and skills needed to play guitar like a pro in no time.
1. The First 100 Chords For Guitar
| | | | |
| --- | --- | --- | --- |
| Author | Joseph Alexander | Publisher | Fundamental Changes |
| Print Length | 83 Pages | Publication Date | November 19, 2016 |
| Formats | Paperback & Kindle | Written For | Entry Level/Beginner |
As its name would imply, The First 100 Chords For Guitar was written with the beginner guitarist in mind. The ultimate chord learning guide for the novice and beginning guitarist, this book is more than merely a collection of useful and easy-to-read chord diagrams.
This book is a comprehensive guitar course that goes beyond chord memorization; it encourages an understanding of how chords are built and applied. From basic chords and their construction to more advanced concepts like chord progressions and substitution, strumming pattern, and chord theory; the book covers it all.
With clear and concise explanations, over 100 full-color fretboard diagrams, and plenty of helpful tips and practice suggestions, this is the best guitar chord book for beginner guitar students.
Every chapter of this book ends with a review exercise to help you incorporate the new chords you've learned into progressions. It also comes with downloadable, listenable audio examples and three backing tracks, making this inexpensive chord book an excellent value and a must-have for the beginner guitarist.
---
2. Picture Chord Encyclopedia: Photos & Diagrams For Over 2,600 Guitar Chords
| | | | |
| --- | --- | --- | --- |
| Creator | Hal Leonard Corp. | Publisher | Hal Leonard Corp. |
| Print Length | 274 Pages | Publication Date | February 1, 2002 |
| Formats | Paperback & Kindle | Written For | All Level |
Hal Leonard's Picture Chord Encyclopedia is, perhaps, the best no-nonsense chord book on the market today. A complete reference guide covering 2,640 chords, this encyclopedia covers barre chords, open chords, movable chord shapes, partial chords, and broken set forms.
This volume begins with a section on how best to use the book, and there are also sections covering how to build chords and choose the most suitable voicings. The guitar book features not only easy-to-read chord frames of every chord but actual photos of each chord being fingered.
There is also a strumming pattern for each chord and the photos are in color, so you can see which string is being fingered where. You'll find basic chords, chords with added notes, moveable shapes, partial voicings, and even broken-set forms inside this user-friendly guitar chord reference book.
---
3. Rhythm Guitar: Essential Concepts Series
| | | | |
| --- | --- | --- | --- |
| Author | Bruce Buckingham & Eric Paschal | Print Length | 144 Pages |
| Publisher | Musicians Institute Press | Publication Date | October 1, 1997 |
| Formats | Paperback | Written For | Rhythm Guitarist |
The next entry on our list has a more narrowed focus than the others. As its name suggests, Hal Leonard's Rhythm Guitar: Essential Concepts Series approaches chords and the basics of music theory with an eye toward shaping solid rhythm guitar players.
With sections on strumming, flat-picking, chord progressions, and arpeggiation, this guitar chord book is a must-have for aspiring rhythm players of all genres.
Just because this book focuses on becoming a better rhythm guitarist doesn't mean it isn't also a valuable chord encyclopedia; it's filled with useful information for beginner and intermediate guitarists.
It covers chord theory and all varieties of chords, including major/minor/diminished, sixth, seventh, and ninth chords/ add2 and add9 chords/diminished 7th chord resolutions.
---
4. The Chord Factory: Build Your Own Guitar Chord Dictionary
| | | | |
| --- | --- | --- | --- |
| Author | Jon Damian | Publisher | Berklee Press |
| Print Length | 192 Pages | Publication Date | October 1, 2007 |
| Formats | Paperback & Sheet Music | Written For | All Level |
The Chord Factory is another of the guitar chord books we recommend. Though advertised as suitable for guitarists from all levels from beginner to advanced–and there is plenty of great content for beginners–intermediate and advanced players will benefit most from this in-depth exploration of chord theory and practice.
An introduction covering such fundamentals as chord-building language, music notation, chord symbol language, and interval language serves as an excellent foundation for beginning guitarists and the perfect refresher for those more advanced.
From there, it dives deep, examining, in detail, all manner of guitar chords. Monads, diads, triads, four-part chords, adding tensions, and slash chords are all broken down and examined in detail, making this comprehensive volume essential for serious guitarists.
---
5. The Guitar Grimoire: Chords And Voicings
| | | | |
| --- | --- | --- | --- |
| Author | Adam Kadmon | Publisher | Carl Fischer Music Distributor |
| Print Length | 220 Pages | Publication Date | June 1, 1993 |
| Formats | Paperback | Written For | Mid to High Level |
Every chord in every key and mode is featured in our next entry, making it an invaluable reference resource. Chords And Voicings, from The Guitar Grimoire series, is more than simply 220 pages featuring thousands of chord diagrams and charts; it's a college-level guitar course designed to be easy to understand.
There's a lot of information packed into this relatively small book, and despite its accessibility, it's likely to be a bit overwhelming to the beginning guitarist. Intermediate and advanced players, though, are sure to find the book an invaluable tool.
The book is a standout among the best guitar chord books as it provides interval maps in all twelve keys for every chord and comes with a scale-compatibility chart.
With lessons on chord families, chord progression, inversions, and slash chords, this book is essential for those who want to understand chords and voicings on a deeper level. The Guitar Grimoire: Chords And Voicings is one of the most comprehensive books on guitar chords available, and its benefits go far beyond mere reference guidance.
---
6. Chord Chemistry
| | | | |
| --- | --- | --- | --- |
| Author | Ted Greene | Publisher | Alfred Music |
| Print Length | 112 Pages | Publication Date | March 1, 1985 |
| Formats | Paperback & Kindle | Written For | Mid to High Level |
A seminal publication in guitar chord books, Ted Greene's Chord Chemistry was first published in 1971. Throughout its many printings, it has enlightened generations of aspiring and practicing guitarists and, to this day, remains a mainstay among the best chord books.
Though there's certainly a lot of helpful information for beginner guitarists, this guitar book is more appropriate for intermediate and advanced-level players. This chord book covers right-handed technique, the major scale, chord formulas and families, moving voices, chord melodies, blues progressions, ear training, and more, making it a treasure trove of guitar and music theory.
In addition to the many clear and concise fingerboard diagrams, Chord Chemistry also features a number of useful photos and illustrations. Chord Chemistry is a real classic among guitar books and a must-have for every serious student of the instrument.
If you are looking to broaden your understanding of how chords are built and applied, it is one of the best guitar chord books on the market. Although the book is a kind of harmony reference book and guide geared towards jazz guitar players, it's still a great chord sourcebook for any guitarist.
---
Honorary Mention:
While the abovementioned 06 (six) chord books stand out as some of the best offerings on the market, other publications deserve at least an honorable mention. The following are a few guitar chords books we feel are worth your time.
Chord Orbits (The Progressive Guitarist Series)
Often described as a thesaurus of guitar chords, Chord Orbits offers eight different voicings for every chord. Rather than presenting a series of fingering diagrams to memorize, it examines the chord's progression up the fretboard, opening vast swatches of the neck hitherto neglected or ignored by the beginner guitarist.
More a reference guide than an introduction to chord theory, it is an indispensable tool for guitarists of all genres and styles looking to expand their chord vocabularies.
Joe Pass Guitar Chords
If you aspire to play jazz guitar, or if you're looking to expand your chord vocabulary, Joe Pass Guitar Chords may be your answer. The book is divided into two parts, chord forms, and passages, and explores subjects such as chord substitutions and inversions.
This book examines how to play chords and how they sound and fit together to create chord progressions. The volume also features information on soloing and is available in print or digital versions.
Guitar Chord Bible: Over 500 Illustrated Chords
As its name suggests, The Guitar Chord Bible is a reference book for guitarists of all genres and skill levels. Written by Phil Capone, the book contains illustrations of over five hundred guitar chords.
The Chord Bible is a compact reference guide featuring the most popular voicings of the chords you'll need to play rock, blues, country, jazz, or classical. It also offers tips on proper chord-fingering techniques.
What Do You Need To Know Before You Buy A Guitar Chord Book?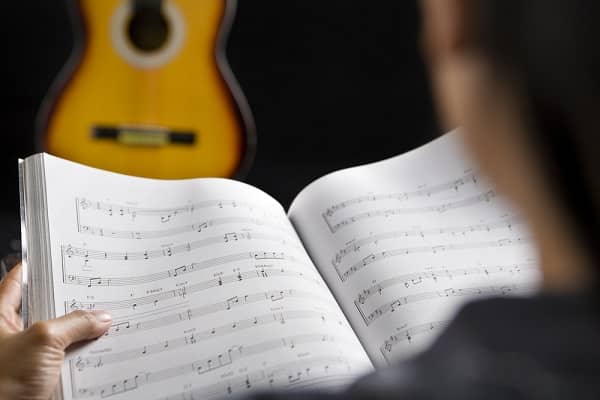 There are several things to keep in mind when determining the best guitar chord book for your current needs. Being aware and honest with yourself about your skill level, knowledge of music theory, and guitar goals will help you choose the right chord book most suitable for you.
Most guitar chord books will suffice if all you're looking for is a reference guide; the best chord books all contain more chord variations than you'll likely ever need. What separates the best books from the rest of the pack, aside from their visual presentation, is how they approach and present chord and music theory.
Your short and long-term guitar goals should also factor into selecting a chord book. If your goal is to become a proficient rocker, you likely won't need a chord book chock full of minor seventh and jazz chords; if, on the other hand, you're aiming to play genres that incorporate a wider variety of chords or you want to compose music, you'll want a book that provides a more in-depth study of chord-building and progressions.
Lots of guitarists, myself included, put off diving into music theory until we simply cannot progress further without it. We can go quite a way on our instruments with very little knowledge of theory, after all; often, it isn't until we approach writing solos or composing music that a greater understanding of theory becomes indispensable.
How deeply you plan to immerse yourself in music and guitar theory is, perhaps, the most important factor in determining which book of guitar chords is best for you.
Related Article: 
If you are looking for a music theory book for guitar, we have an article on that topic. The article includes a list of the best music theory books for guitar, as well as a description of each book with related information.
Alternative Ways To Learn Guitar Chords
Chord books, of course, are not the only way to learn new chords or the basics of theory; there are also many websites and apps dedicated to helping developing guitarists understand chord fundamentals.
One such resource is all-guitar-chords.com, an interactive resource for guitarists of all skill levels and styles. A truly expansive and comprehensive tool, the site is broken into four sections: chords, scales, tools, and information. An interactive virtual guitar neck clearly displays the chord or scale you choose, making this an excellent site for beginners and seasoned players.
The site offers a chord identifier function as well as a scale identifier, which makes this website a goldmine of information for those of us working to improve our soloing or songwriting skills. There's also a tool to help identify arpeggios of any key in all positions of the virtual guitar neck, with accompanying tab diagrams.
The tools section provides a metronome, an online tuner, and a circle of fifths. The information tab leads to a vast library of online guitar lessons for beginner, intermediate, and advanced guitarists. I just pinned the website to my favorites, in fact, and plan to use it myself.

If you prefer video lessons, Justin Guitar is an excellent online guitar resource that offers free video lessons on a variety of topics including chord theory and chord construction.
There are also many excellent guitar learning apps that can help you learn chords in a fun and interactive way. Some of my favorites are TrueFire, Yousician, and Guitar Tricks.
For those who prefer a more practical approach, fretboard trainer applications such as Fretboard Warrior can be of great help. These apps test your knowledge of fretboard by asking you to identify chords, scale patterns, and intervals on the guitar neck.
By gradually increasing the level of difficulty as you progress, these applications not only allow you to quickly learn new chords but also retain what you have learned in the long run.
Whatever method you choose, there is no doubt that with a little effort and dedication, you will play these chords as a pro in no time!