Hey there! As an Amazon Associate, We earn from qualifying purchases. We greatly appreciate your support!
Learn More
So finally, you've decided to get your dream guitar. You've been dreaming about this moment for a while now. The acoustic beauty that you've been wanting is yours now! I'm sure you can't wait to plug in that axe and start playing but, you haven't made up your mind about the acoustic amp yet. That's normal considering the best acoustic guitar amp is not easy to find.
There are so many alternatives and you can't decide if you're going to go with a Fender, Marshall, or an AER Compact and that's what this article is all about. Unlike choosing an amplifying option for an electric guitar, choosing a good acoustic amplifier can be quite challenging.
Our recommended best acoustic guitar amps
Preview
For Solo Performers
Best Overall
For Singer-Songwriters
Title
Blackstar Sonnet 120-Watt Acoustic Combo
Fishman Loudbox PRO-LBX-600
BOSS Acoustic Singer Live
Drivers
6.5" Woofer & Dome Tweeter
Special Feature
Anti-Feedback System, MP3/line Input And Bluetooth Connectivity
Feedback Control & Bluetooth Wireless Connectivity
Dedicated Channel With Acoustic Resonance
For Solo Performers
Preview
Title
Blackstar Sonnet 120-Watt Acoustic Combo
Special Feature
Anti-Feedback System, MP3/line Input And Bluetooth Connectivity
Best Overall
Preview
Title
Fishman Loudbox PRO-LBX-600
Special Feature
Feedback Control & Bluetooth Wireless Connectivity
For Singer-Songwriters
Preview
Title
BOSS Acoustic Singer Live
Drivers
6.5" Woofer & Dome Tweeter
Special Feature
Dedicated Channel With Acoustic Resonance
1. Fishman Loudbox Artist Pro LBX-600: Best Amp For The Money
The Fishman Loudbox Artist PRO-LBX-600 is a 120-watt bi-amped unit (100-watt woofer and a 20-watt tweeter). It has two channels for guitar/microphone which accept ¼ and XLR sources. Both input channels include 3 bands independent EQ.
It also features an auxiliary stereo input with input level control and ¼" and ⅛" connectors. This amp comes with input gain with a 10 dB pad and clip indicator and a wide selection of effects like flanger, reverb, chorus, delay, echo, and slap echo.
It has a dual digital effects section with a reverb and FX effects loop. This acoustic amp also has a headphone output feature.
This is one of the best acoustic guitar amps under 500 and a great selection if you play a lot. Perfect for live concerts, jam sessions, and practice.
Also, acoustic players can check another 60-watt output variant, Fishman Loudbox Mini, if they need a less powerful setup.
Things we like:
Variety of effects
Feedback-fighting control
Things we don't like:
---
2. Blackstar Sonnet 120: Best Acoustic Combo Amp
The Blackstar Sonnet 120-watt acoustic guitar combo amp is an excellent solution if you want versatility. Sonnet is one of the most feature-rich and best acoustic guitar amps on this list, boasting things like 3-b EQs, pad polarity reverse, and an anti-feedback system.
The Blackstar Sonnet also has two independent channels, a separate phantom power option for each channel, necessary effects, and a rich set of connection interfaces. You have two sets of XLR D.I. outputs for the two channels that Sonnet supports, and you've also got MP3/line-in, USB audio, as well as MIX D.I. output.
The Sonnet acoustic guitar combo features an 8" full range speaker with 2x tweeter setup as well to enhance the highs of your compositions. Each channel can also be adjusted with effects independently. The sound produced by the Sonnet acoustic amplifier is very clean as well – as expected for the price.
One thing we dislike about Sonnet is that reaching for the controls isn't as easy as with some other models on this list. It looks cleaner from the front though thanks to the control panel's location, which may matter to some musicians.
Things we like:
Transparent sound.
Dual channels.
+48V Phantom Power for each channel.
Functional and versatile.
Studio-quality reverb.
Things we don't like:
The controls for some reason are pushed toward the back.
---
3. BOSS Acoustic Singer Live: Best Amp For Vocals
The BOSS Acoustic Singer Live offers a less powerful acoustic setup than the Sonnet. The power here is at 60 watts, while the woofer is sized at a smaller 6.5 inches. On the other hand, the Acoustic Singer is cheaper as well, so it's a great pick if you don't need 120 watts.
When it comes to features, the Acoustic Singer is excellent. It has dedicated channels for vocal mic and guitar with discrete analog input electronics like anti-feedback controls and effects like reverb.
The sound quality here is great as you can shape it using the three band EQ. With proper setup, expect to get a clean sound with no buzzing or other distortions.
In terms of connection interfaces, Acoustic Singer provides XLR combo-type mic jack, 1/4 inch phone type guitar jack, XLR DI output, AUX-in, as well as several ports for foot-control effects.
The control panel in the BOSS Acoustic Singer is situated at the front, so although this acoustic amplifier doesn't look as clean as the Sonnet, it certainly is easier to adjust.
If you do not need the looper and harmony features of Acoustic Singer amps, then check the simplified and less expensive lite version, The Acoustic Singer Live LT.
Things we like:
Great sound quality.
Has dual channels.
Very functional.
Loud enough for small audiences and venues.
Things we don't like:
Nothing to complain about.
---
4. ROLAND AC-60: Compact Acoustic Guitar Practice Amp
This ROLAND Acoustic Chorus Guitar Amplifier has a pure and natural acoustic sound which makes it one of a kind!
The Roland AC-60 is a very easy-to-use amp, the controls are simple. It offers two input channels, a guitar channel and a Mic channel with a phantom power switch for using a condenser mic for your acoustic guitar. And four outputs which are Line Out, DI Out, Stereo Out, and Phones.
The Subwoofer output increases the bass which can come in handy. It comes with 3 band EQ per channel and an automatic anti-feedback function which allows for maximum volume without extra noise and a mute switch for silent tuning.
Roland AC-60 features three different chorus effects, reverb, and delay with footswitch control but, the reverb can be selected on vocals only. It has a built-in tilt stand which helps in projecting the sound. Its design is very unique and straightforward and it even comes with a gig bag included!
Overall this compact amp is perfect for both practicing and performing in small venues.
Roland AC-33 would be another good choice if you are looking for something less powerful output or a battery-powered amp that is incredibly versatile and great for busking.
Things we like:
Suitable for practicing and casual performance.
Built-in anti-feedback switch (frequency knob).
Excellent build quality.
Things we don't like:
---
5. Yamaha THR5A Modeling Combo: Small Acoustic Guitar Amp
The Yamaha THR5A is the perfect selection if you're on a tight budget. It's a desktop modeling acoustic guitar combo amp. It has some great features for a small amp with only 10w output.
This amp includes a bunch of knobs like a gain knob, master knob, tone knob, effect knob, master volume control, tuner knob, and a mic type knob which simulates four microphone types like condenser, dynamic mic, tube, and nylon preset.
It also comes with a wide selection of studio-grade effects like reverb, chorus, flanger, compression, delay, phaser, tremolo, and noise gate.
Along with the variety of onboard effects this best acoustic amp offers, it can also be connected to your computer via USB, you can record and jam with audio playback, edit your amp's tone and use Yamaha's THR Editor Software.
Yamaha THR5A is battery powered which comes in handy if you're a busker, or like playing outside. It uses 8 AA batteries. You can also just use the power adaptor (included) if you want to play at home. It also includes Steinberg's Cubase Al recording software that you can record and edit your guitar playing with.
It's best for off-stage playing, practicing, performing in the living room, and home studio recording.
Things we like:
Portable and lightweight.
Affordable.
Optimized for Acoustic-Electric Guitars and Silent Guitars.
• Dual 3.15″ speakers provide stereo sound.
Things we don't like:
Buzzes when the guitar is plugged in
---
6. Fender Acoustasonic 40: Portable Acoustic Amp
The Fender Acoustasonic 40 is a very simple and lightweight 40-watt power amp that features two 6" special design Whizzer cone speakers and has two channels, they're both combined with jack inputs and XLR mic inputs.
That can be used for both guitar and microphone, and also can be plugged into a PA system. Both channels have a volume knob, bass, mid, treble, and reverb controls.
It comes with a 3 band EQ which allows all the control needed. Also, external audio devices like headphones can be used through auxiliary input ports.
One notable option that this Fender acoustic guitar amplifier has is the digital hall reverb which sounds amazing compared to some built-in effects in other amplifiers. It has a very quiet and clean acoustic tone.
Things we like:
Lightweight.
Simple & easy to use.
Front-panel inputs.
Things we don't like:
Isn't battery operated.
Can't be used for big performances.
---
7. Marshall Soloist AS50D: Best 50 Watt Amp
The iconic Marshall AS50D soloist amp is the most suitable companion for gigs. This compact and versatile amp comes with two 8-inch drivers which makes it great for small live shows.
It contains two channels that allow you to input multiple instruments or a guitar and a microphone. Channel 1 has a ¼" input and the second channel has an RCA input and a phantom power XLR input. There's a two-band Eq for each channel. This amp also comes with an internal effects loop, an auxiliary input, and effects like reverb, chorus, etc.
The chorus in Marshall AS50D has speed and in-depth control and you can assign both effects to both channels, which makes this amplifier very flexible. One of the best controls that this acoustic amplifier offers is the anti-feedback control system. It helps you get rid of noisy responses at some frequencies.
Things we like:
Clean sound.
Easy to use control.
Can operate as a small PA system.
Things we don't like:
Brittle.
Doesn't have an auxiliary input.
---
What is an acoustic guitar amp?
An acoustic guitar amp is a type of amplifier designed to help you amplify the sound of an acoustic guitar, which is especially useful for on-stage performances.
The purpose and general design of acoustic amps are similar to those of any other amp, but there are some subtle differences that set acoustic amps apart.
Difference between an acoustic amp and a regular amp
The main difference between an acoustic and a regular electric guitar amp lies in how they process sound.
Typically, electric guitar amplifiers enhance the tonal spectrum of electric guitars. In contrast, good acoustic amps usually only amplify the sound without altering its natural tone too much.
Aside from that, electric amps usually have a stronger mid-range, while best acoustic amplifiers typically feature tweeters for better high-end frequencies.
Additionally, acoustic guitar amps very often have a mic input for vocals, as well as to allow you to hook an acoustic guitar without piezo pickups to the amp. Electric amplifiers typically don't have mic inputs.
With that said, many acoustic guitar amps today have onboard effects anyway, so they may also be used to enhance the sound of an acoustic guitar.
The boundaries between acoustic and electric amps these days are fairly blurred, and you may use any type of amp as long as it has the necessary inputs and satisfies your needs.
If you want to learn more about the differences between an acoustic amp and a regular electric amp, check the following post acoustic vs electric guitar amp.
What guitar amp should a beginner choose?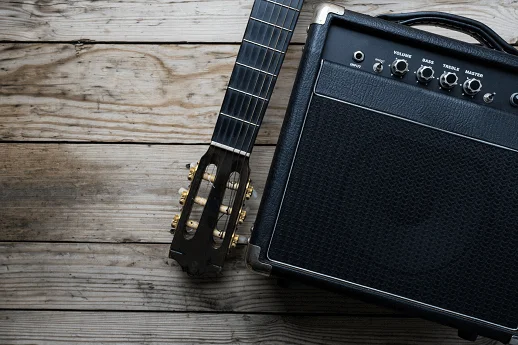 Choosing the right amp is a bit difficult if you're a beginner, there are so many models and you're not sure which amplification system will suit you. There are a couple of things you should keep in mind before buying one.
Bigger Isn't Better: The bigger the better? Nope, if you're playing at home you won't need anything bigger than a 100-watt amp. Even 50 or less will do if you are not a professional. Amplifiers of 100 watts or more are for playing outdoor concerts and gigs. Also, keep in mind the portability issue.
Choose An Amp With Simple Controls: Using an amp can be complicated for beginners, so, choosing an amplifying system with simple controls can be helpful. Starting off with an amplifier that has one channel and some features like gain and reverb is a good choice.
How to get the best out of your amp?
Acoustic guitar amps have different tones and each one of them is unique. But how do you get your amp to make that sweet and natural acoustic tone that you've always wanted to hear? Here are some tips on how to get the perfect acoustic tone.
Location of the amp
Put your amplifier against the wall and jam for a bit then, move it and put it on a table. As soon as you start playing, you'll notice that the tone has changed! Moving your guitar amp will result in different tones.
So, if you don't like your amp's tone you can simply change its position. You can also look for an amplifier stand if you like the acoustic guitar tone of the amp when it's raised off the floor.
Cables
The cables you're using have a very big effect on the amp's tone. Using low-quality cables will give you a weak and distorted tone.
Strings
So, your amp's tone has become dim? Check your strings. Cleaning your strings regularly and changing them helps a lot with getting a better tone. So always make sure to change your strings every once in a while.
Also Read: Best Acoustic Guitar Strings for Beginners
Features you should look for in an amp
Choosing the right amplifier depends on what you're going to do with it, some amplifiers are fit for playing gigs, some are for just playing in the practice room and some are best suitable for a recording studio.
This is why deciding what you're going to do with your new amp is essential before getting one.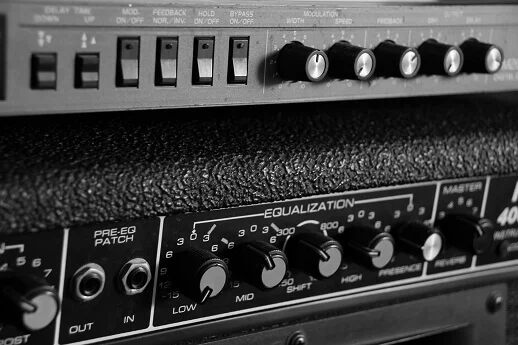 Acoustic guitar amps differ in size, power, controls, effects, and number of channels. So to make things easier for you, we've made a list of features that you should look for in the best acoustic amp.
1. Power output
If you're planning on getting an amplifier for gigs and live performances you should look for a 100-watt amp or more. Amplifiers of less than 100 watts are usually for home use and practice.
2. Channels
Most acoustic amps with 1 channel will make do. But acoustic guitar amps with 2 channels come in handy if you want to plug another guitar/instrument in.
You can also plug in a microphone so you can sing while you're playing. Make sure that each channel has its own controls so you can adjust the volume, reverb, and tone of each channel.
3. Effects
Guitar amplifiers usually come with built-in guitar effects. But, not all of them have the same effects. Some have reverb effect while some have built-in chorus effect, some have both.
If you get an amp with many built-in effects, you won't have to break the bank on effect pedals.
4. Inputs
Best a coustic guitar amps typically have various input interfaces – usually 1/4-inch connectors for the guitar itself and an XLR connection for microphones. If your acoustic guitar doesn't have a piezo pickup, then a microphone input is a must.
For most people, these inputs are more than enough. Some guitar amplifiers also have 3.5mm ports that allow you to connect a laptop or smartphone to the amp.
Needless to say, your acoustic amplifier should have all the inputs you need.
5. Feedback control
Feedback adjustment is an important amenity because the pickup or microphone via which the signal is sent from the guitar to the amp may have feedback. Control on the unwanted response suppresses this phenomenon.
Simple forms of noise control have no adjustability, while more complex systems may allow you to treat specific frequencies. Obviously, the latter drives amp costs up quite a bit.
Do you need a tube or solid state amp?
There's a huge difference between tube and solid-state amps. Tube amps use vacuum tubes to increase the power of guitar signal to the amp while solid-state amps use solid-state electronics like diodes and transistors. Tube amps can be a bit pricey and you have to change the tubes every once in a while.
Each one of those amps has its own tone. Tube amps have a warm tone and the overdrive is smooth while the distortion in solid-state amps can be a bit fizzy and harsh. Tube amps sound louder than solid-state, if you have both 20-watt solid and tube amps you'll see that the 20-watt tube amp is louder.
Most of the acoustic amplifiers are combo hybrid amps. They're a combination of both solid and tube amps. It uses both vacuum tubes and solid-state electronics.
Can you play an acoustic through a tube amp?
Yes, you can play an acoustic guitar through a tube amp. And despite what some people may suggest, playing an acoustic through a tube amp doesn't damage the amp. If your tube amp has the right inputs for your acoustic/acoustic-electric guitar, you will be able to use it to amplify the instrument.
With that said, tube amps aren't the finest choice for acoustic guitars because they don't deliver as natural sound as acoustic guitar amps. So unless you have no other options, don't pair an acoustic guitar with a tube amp.
Another issue to consider is that tube amps don't always have mic inputs. This will matter with acoustic guitars that don't have piezo pickups.
Top guitar amplifier brands in the market
Fender: Fender Musical instruments corporation is a well-known company that produces acoustic and electric guitars, basses, and amplifiers.
Many guitarists like Kurt Cobain, Jimi Hendrix, Eric Clapton, and Buddy Holly have used Fender gears for their unique sound and elegant design. Fender has been around for a while now, it was founded by Clarence Leonidas Fender in 1964.
Marshall: Marshall Amplification is an English company that designs and makes amps and speaker cabinets. It was founded by Jim Marshall back in 1962, It has been celebrated by some of the world's greatest bands and artists including Slash, Jimi Hendrix, Eric Clapton, Gorillaz, and many more.
Yamaha: Yamaha Corporation is a Japanese corporation that produces a lot of good electric and acoustic instruments like pianos, keyboard instruments, guitars, basses, drums, and many more. It was named after one of the founders called Torakusu Yamaha. Yamaha has been around for a long time. It was founded in Japan in 1887.
Roland: Roland Corporation is a Japanese corporation that makes electronic musical instruments, electronic equipment, and software. It was founded in 1972 by the Japanese engineer and inventor Ikutaro Kakehashi. This company has a great reputation for making quality instruments.
Mesa Boogie: Mesa/Boogie is an American company that produces high-end amplifiers for electric, acoustic, and bass guitars along with tubes, pedals, tone tools, and other related music gear. It was founded in 1969 by Randall Smith. Mesa boogie rosette 300 acoustic combo is a great but expensive amplifying tool for acoustic guitarists.
In January 2021 Gibson announce the acquisition of Mesa/Boogie, one of the prominent brands known for making some best of the best product for guitar amplification.
Frequently asked questions
How do I choose an acoustic guitar amp?
When choosing the best acoustic guitar amplifier for you, you have to consider your needs as a musician. Not all amplifiers are built equally, so you have to look into the particular specs that will help bring your musical talents to light.
To serve as a guide, we believe the Fishman Loudbox Pro is a great acoustic guitar amp for a variety of musicians. It offers impressive settings control and Bluetooth connectivity, so you're bound to deliver your best performance every time.
If you want to highlight your acoustics, the BOSS Acoustic Singer Live is a great alternative. it delivers an acoustic resonance like no other.
And if you're a solo performer, the best guitar amp would be the Blackstar Sonnet Acoustic Guitar Combo. It's one of the easiest amps to operate, so you don't need a whole team to set it up for your performance.
Do you need a special amp for acoustic guitars?
You don't really need a special amp for acoustic guitars, although acoustic amps are distinct from other types of amps. As long as an amp has the right inputs, it will work with an acoustic guitar no matter what.
If your guitar doesn't have a piezo pickup, then the amp should have a mic input so that you can mic up the guitar.
Can I play my electric guitar through an acoustic amp?
You may play an electric guitar through any amplifier, including an acoustic guitar amplification system. You will be able to hook an electric guitar to any amp as long as it has the right inputs.
However, the sound may be a bit dry because acoustic guitar amps don't enhance the mid-range as standard electric guitar amps do. Unless you have a good reason, don't pair an electric guitar with an acoustic amp – this doesn't make much sense.
How can I make my acoustic guitar sound better with an amp?
The primary way of making an acoustic guitar sound better with an amp is by adjusting the EQ. Most acoustic amplifiers have an equalizer that you can play around with to squeeze the most out of your guitar.
Another thing you may do is to use effects like reverb and chorus to enhance the acoustic sound. Effects don't work well in some compositions, and not everybody likes to distort the natural sound of their guitars, but this is a viable way of improving sound.
Keep in mind that "better" is subjective and depends entirely on your preferences and musical needs. Educate yourself as to what your amplifier can do and try to play around with its settings to see what works the best for you.
Other best acoustic amps we considered
Conclusion
With damaging drums, you'll need a cranking guitar, and for an axe to wail and shatter the roof off the place, you need a quality amplifier. If you're a rocker with a bit of money to spend, a tube amp will give you that classic rock tone you desire.
On the other hand, a solid-state amp is your best friend if you're looking for a more modern sound without breaking the bank. The above-mentioned manufacturers are extremely reputable for putting out high-quality and, dare I say, iconic products, so you're less than likely to be let down by any of them.
Music is fuel to the soul, so don't hesitate to get the best acoustic guitar amps that will help you climb the stairway to heaven or go full speed ahead on the highway to hell.
Related Articles: