If you have just started playing the guitar then there must be so many questions on your mind related to it. Whether you are learning on your own from the internet or you are attending music classes, joining the best acoustic guitar forum or quite a few forums is a great idea.
If you are anything like me who still believes in the classic style of posting and conversing with others with similar interests then you have come to the right place.
In this post, I have included 7 great guitar forums that you can join today. I am a member of quite a few of them which I feel are my kind of platforms but then again each musician has his or her own preference so I have decided to include all the good ones I know of.
Top Acoustic Guitar Forums on the Internet
Check them below if you want to be a part of a community that has members sharing common grounds as yourself. If you are a new guitar player then joining these forums will be a great idea.
1. The Acoustic Guitar Forum
As a beginner, this is probably one of the best acoustic guitar forums out there for you. The acoustic guitar is what most people start off with and this forum is all about acoustic guitars.
Other members here are either learners looking for answers to their questions or experienced guitarists ready to provide those answers. As it is not a very hi-tech forum you should be able to feel comfortable right away.
If you are interested in writing your own songs then you will be glad to know that this forum also has a section where you can get tips on how to write original songs and play them on your guitar accordingly.
Acoustic guitar enthusiasts seeking to purchase affordable and good quality guitars without having to spend a fortune on it will be able to find some great deals here in the 'For Sale' section.
2. Harmony Central Forums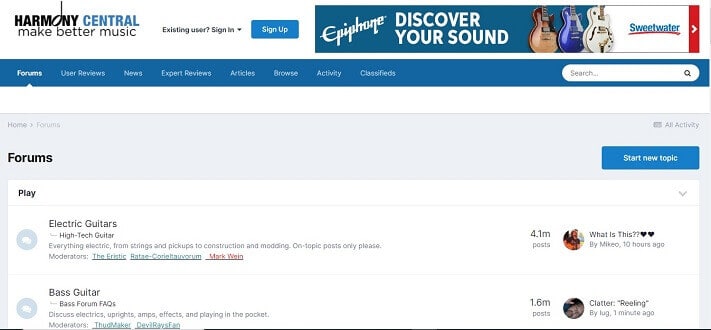 Another great place to check out if you want to browse a wide range of sections related to guitars. There are expert reviews, user reviews, opinions, news, and of course ideas among many other interesting articles.
Alongside acoustic guitars, you will also be able to read and find out more information about electric guitars, bass guitars, and music in general.
Thinking of starting a band? You will be delighted to know that you can also promote your band on this forum by releasing your tracks here and getting many expert reviews on it or just post your videos to display your talent. If you want to learn how to write your own songs then that is also possible here.
3. The Gear Page
The Gear Page Link | Join on Facebook
This forum is a great platform for beginners as it has both previous posts made by old members and administrators as well as consisting of trending topics that are related to queries made by new members.
As well as that they have various announcements in respect to the membership programs and interactive administrator's threads for existing associates.

To member's delight, there is also a recording/live sound discussion thread in which members can share their opinions and questions regarding the respective topic and also check out relatable videos.
4. Acoustic Guitar Community
Acoustic Guitar Community Link
To start off, you will love the layout of this forum. They have taken a step ahead and designed a forum that not only has interesting content but is also visually pleasing.
Many guitarists find forums boring mainly due to the plain old format that can also be quite confusing for beginners who have little idea about forums in general. However, the Acoustic Guitar Community is one such forum that will attract you from the get-go.
Now coming to what you can expect here. Well for starters, there are sections that include discussions regarding the most common types of styles and genres beginners can learn how to play.
It also has a section that involves queries made by existing and newly joined users regarding topics such as how to take care of your treasured guitar and such. There are lots of interesting topics and fun facts such as '10 Greatest Guitarists of All Time' and tips on how to improve your guitar skills.

5. Ultimate Guitar Community
Ultimate Guitar Community Link | Join on Facebook
This is a forum with a mixture of contents, ranging from solely discussions about guitars to hot topics of a wide range.
Forums under instruments include topics such as guitar techniques, gear and accessories, and customization. Discussions are not only limited to acoustic guitars, if you are interested in electric or bass guitars then there are countless threads on them.
For music lovers in general, there is a whole different section that includes information on bands and artists as well as lyrics and poetry. This is also a great forum to promote your band or just be part of the 'Musician Talk' thread that covers just about everything related to producing music.
6. Guitar Forums
Although this is a great guitar forum as the name clearly implies, it also consists of various other contents that are not necessarily just related to guitars or music.
Believe it or not, people here talk about fascinating topics that could range from ghosts to birthdays! Is that hard to believe? Just click on the 'Open Discussion' thread and find out for yourself.
Now coming back to more serious discussions, this is an excellent platform where you as a new guitarist and a new forum member can introduce yourself and state your issues regarding the forum.
Categories such as 'Skills', 'In the Studio', and 'The Gear' make up the layout of this forum in which smaller subcategories include almost everything that a guitarist could think of.
If you are interested in collaborating with other aspiring artists then you will find many others on this site with the same wishes, hence allowing you to show off your talents and broaden your knowledge of music.
7. Guitar Noise Forums
Guitar Noise Link | Join on Facebook
If you are new to Guitar Noise, you can first check out the 'Meet and Greet' section to introduce yourself and get to know other new members. This is an excellent thread to meet new musicians who share the same passion and love for guitars as well as making great music.
There is a 'Beginners Q&A Forum' where you can post your questions and have an experienced guitarist or teacher get back to you with proper answers.
If you do not want to limit yourself to just one kind of technique then join discussions with guitar players with different tastes and levels of experience.
Conclusion
The discussed forums have everything a beginner might want to know of, provided with clear explanations for every query submitted by users. No matter what your style of playing may be, joining any of the above will help you improve your skills and also help you get in touch with new people of similar hobbies.
Join an acoustic guitar forum today and become a part of a great new community.
Related Articles: